Sunday, May 23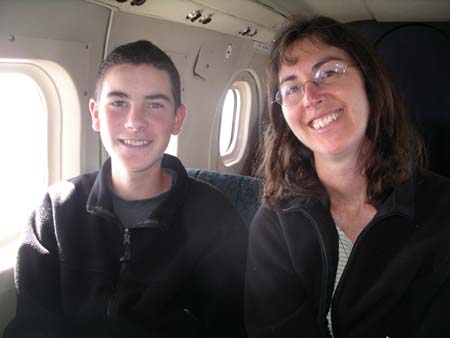 Paula: As we flew over the sweeping plains of the Serengeti, we couldn't believe that this part of our adventure was about to begin. When we planned the trip, Africa seemed so far away. It was a part of our trip that we had all dreamed about and now it was actually happening. We all sat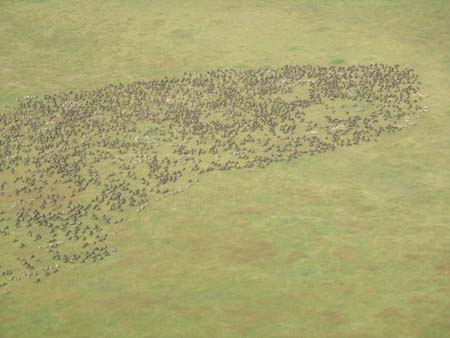 high in the sky wondering what animals would we see, whether we would see the migration of the wildebeests, what would it be like to spend time with the Hadzas and Maasai tribes, and could Africa really be like the images we have all watched on National Geographic and Discovery.
It didn't take long to for us to begin getting answers. As our small plane began its descent, we began to see patterns in the sea of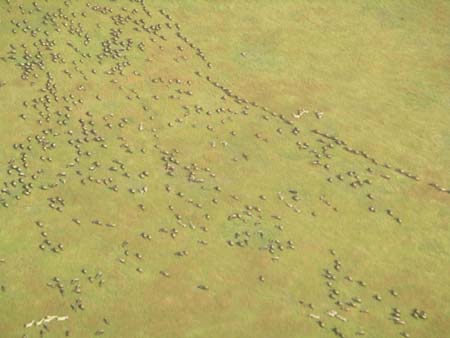 grass below. Soon we realized that these patterns were actually huge herds of moving wildebeests. As we got closer we could make out the groups as they surrounded watering holes and formed long lines across the plains. Five minutes later, the plane hit the dirt runway at Seronera in the central Serengeti, and from the windows we immediately saw a large antelope at the end of the strip. Then, within just minutes of stepping out of our plane we were seeing giraffes and gazelles within 50 feet of our Land Rover. Yes, the animals are really here!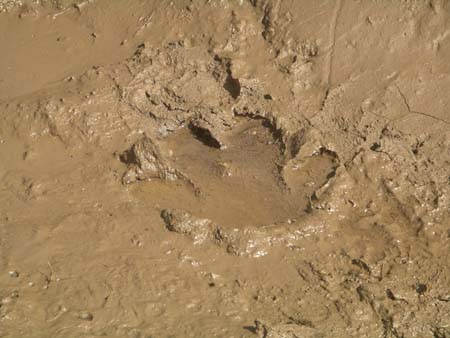 We can already tell Nassibu is a wonderful guide and we quickly took to his friendly, easy going nature. He seemed anxious to show us Tanzania and began by showing us fresh hippo tracks right along the airport roadway. We spent the next three hours slowly making our way to our campsite with Nassibu pointing out animals, birds and flora all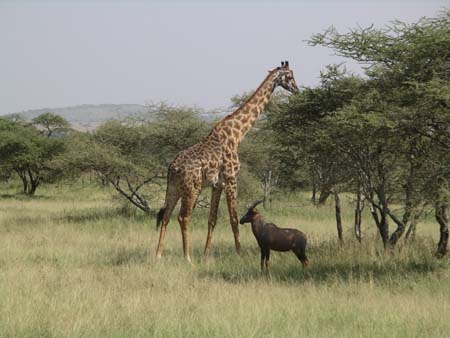 along the way. "The animals have set up a fine welcoming committee," he declared after we had spotted a large herd of giraffes, gazelles, topi, impalas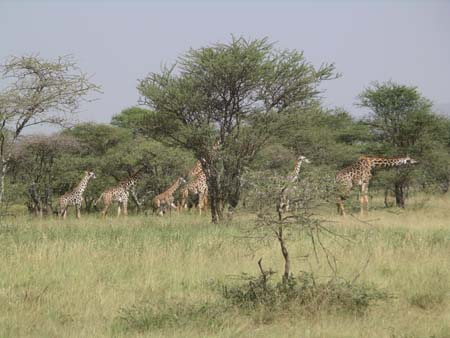 and warthogs after just a few minutes. It was fantastic to see these beautiful animals free and in abundance. Nassibu even spotted a large leopard sleeping in a distant tree. Through our binoculars we had a wonderful view of him but wondered how Nassibu was able to spot him at such a distance. "It was his tail dangling down that gave him away," Nassibu told us. "You are going to have a wonderful safari - I know because we have already spotted the most difficult animal." With this we headed north to our camp in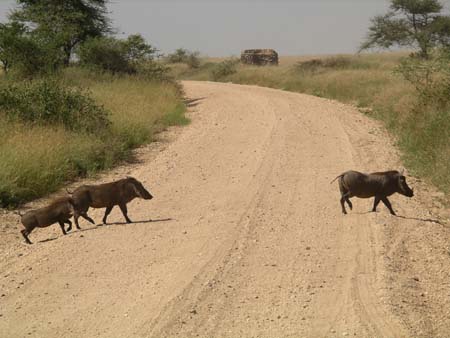 the just outside the Ikoma Gate in the northern Serengeti.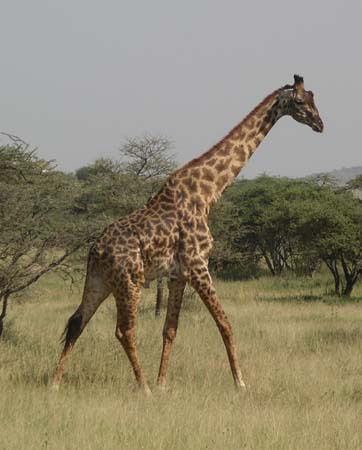 It was a very strange feeling driving on the dirt roads of the Serengeti and encountering such beautiful animals that until now we had only seen in zoos. Some of our favorites today were the giraffes that appeared all along the road in families peacefully grazing on the tops of tall trees. We were amazed at their size, and there is something very special about seeing such a unique animal in the wild.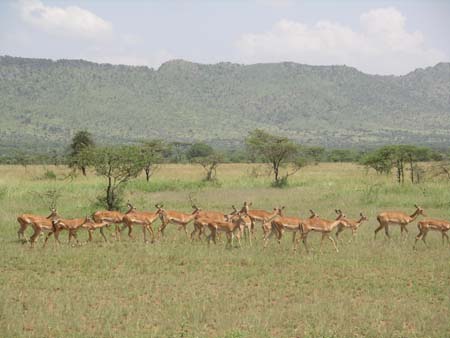 The Thomson Classic Camp is just outside the Serengeti Park and after exiting the park gate we traveled another 20 minutes on tracks through tall grass. The wildebeests will eat and tromp this down eventually, but have not been here yet. As we spotted the camp's green canvas tents set among acacia trees, we knew we were in for a real wilderness treat. The camp is extremely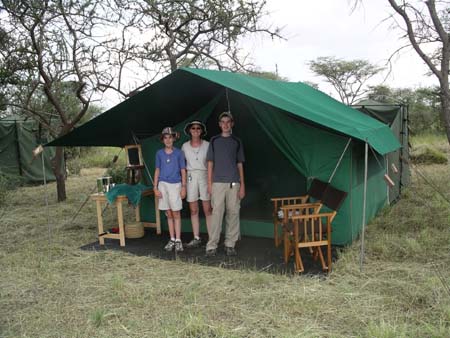 comfortable and we even have shower bags supplied with hot water at our request, so Steve is happy. Our lunch was lovely and dinner was served by candlelight after we had enjoyed a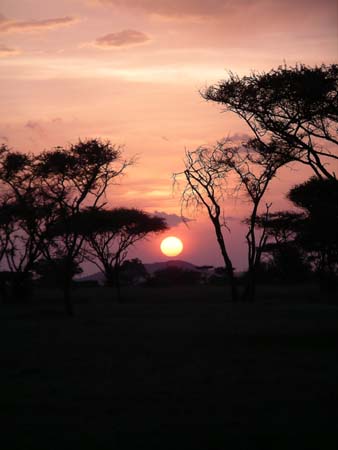 beautiful sunset and snacks around a small campfire. There was even a birthday cake for me for dessert, but the day itself was the most wonderful treat and gift I can imagine. This was certainly a birthday I will never forget.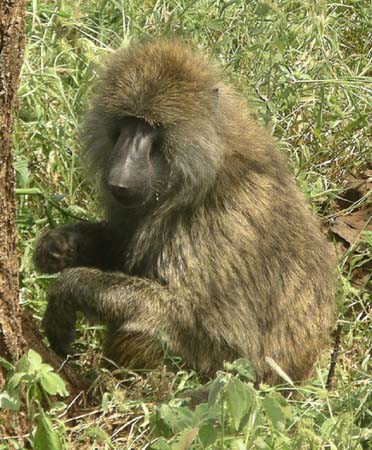 Tonight's sunset was spectacular, and we hope to see the sunrise in the morning. The stars were also wonderful tonight. We easily drifted to sleep dreaming of tomorrow's full day exploration. Nassibu is intent on having us see the migration and suggests that we pack a picnic lunch in the morning so that we can spend the entire day exploring the Serengeti. This sounded great to us, and we can already see that Nassibu is definitely the type of guide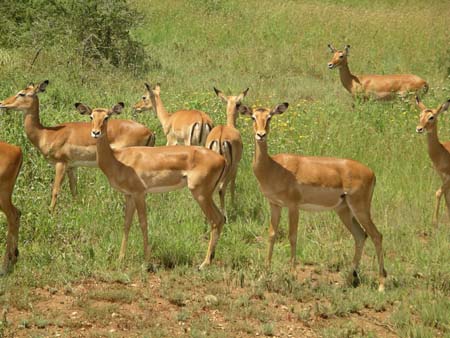 we were hoping for.
Before going to bed, the staff assured us we had nothing to worry about at night. Local people patrol the camp, and I could only smile as I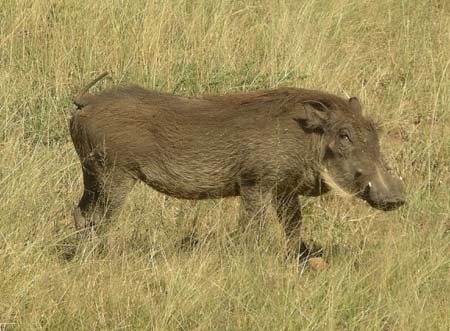 watched the night guard walking the grounds armed with a bow and arrow.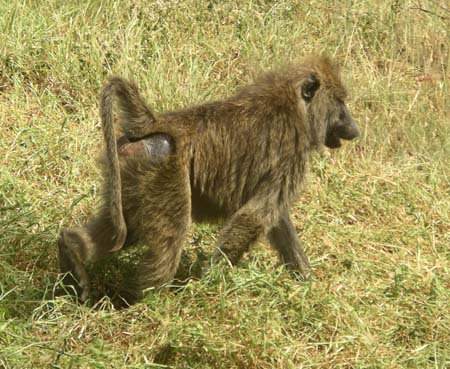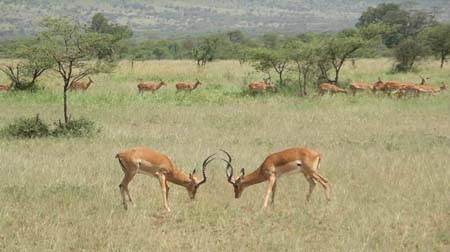 We have decided to list the animals we spot each day. Today's sightings included:
Topi
Grants Gazelle
Giraffe
Warthog
Impalas
Hyrax
Vervet Monkey
Hippopotamus
Olive Baboon
Leopard
Spotted Hyena
Steenbok

We also saw the following birds (I'm uncertain of the spellings on the names):
Helmeted Guineafowls
African Fish Eagle
Secretary Bird
Blue-Faced Go Away Bird
Grey Headed Social Webblers
Speckled Moss Bird
White Browed Cou Cal
Black Chested Snake Eagle
White Crowned Shrike
African Hoopoe
Black Bellied Bustard
Unfortunately we have also seen and had to deal with many tsetse flies. The tsetse flies bite and remind us of the greenhead flies at home. The kids have had fun trying to take care of them in our Land Rover which is equipped with swatters!