MAY 19 THROUGH 22 PICTURE ALBUM
Wednesday, May 19 through Saturday, May 22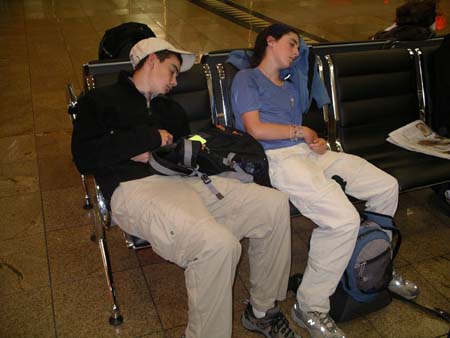 Steve: These were our "pre-safari days", taking us all the way from Atlanta to Arusha in Tanzania. We had all been somewhat dreading this marathon journey, by far the worst of our entire trip. The task of getting from South America to Africa was not an easy one, and flight schedules presented some of our most difficult challenges when planning our itinerary. At one point, we were considering flying all the way to Amsterdam from Miami, as that would have allowed us to fly directly into Kilimanjaro Airport (Arusha). However, after much time spent considering all options, we eventually settled on an itinerary that went from Atlanta to Johannesburg, then to Dar es Salaam, and finally to Arusha.
The flight to Johannesburg was predictably brutal. Fifteen hours crammed into seats no larger than the ones used for short domestic flights at home is certainly no fun. Making matters worse was the fact that our plane from Atlanta took off two hours late, not only adding to the time we spent on the plane but also meaning that we were likely to miss our connection in Johannesburg. However, despite the length of the journey, we all did remarkably well and arrived in Johannesburg at 10:00AM local time not feeling much worse than any of our other long-haul flights (most notably our flights from LA to New Zealand, and Tokyo to LA).
We did in fact miss our connection to Dar es Salaam (which meant we could no longer get to Arusha that evening), but fortunately there was another flight at 2:20 which would at least get us into Tanzania. We made arrangements to spend the night in Dar es Salaam, with a flight the following morning to Arusha. Amazingly, our baggage did in fact get correctly transferred from South African Airways to Air Tanzania. This was our biggest concern in Johannesburg, as we had visions of arriving in Tanzania with no bags, and the unpleasant prospect of having to track down our luggage back in South Africa.
Finally, we arrived in Arusha on Friday morning feeling extremely relieved that this part of our travel was behind us. Even with the delays involved, we were still amazed at how far we had ventured in such a relatively short period of time. As we travel more and more, the world keeps feeling like a smaller and smaller place…
Friday afternoon was spent getting oriented and briefed in regard to our upcoming safari. Working with one of the guides from Thomson (the company who is taking us on our safari), we developed lists of items that we still need for the trip, including some gear for the hiking and camping that we will do around some of the craters in Tanzania's highlands. The more we learned, the more excited we became. From what we are hearing, we are in for a very special adventure. We all took naps before dinner, trying to catch up on our sleep so that we are as rested as possible before Sunday.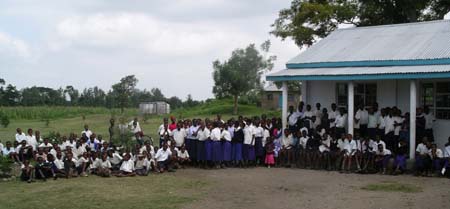 Saturday began with a trip to the Ngyeku Primary School in Arusha. Thomson has had a relationship with this school for several years, and has provided financial support primarily for the building of much needed classrooms. David and Katie had also exchanged e-mails with two pen pals from the school, and were scheduled to meet them today.
We weren't sure exactly what to expect from this visit, especially since it was Saturday. We guessed that we would be greeted by a small group, including Glory and Donald, our new pen pals. To our surprise, when we arrived at the school we saw at least 200 school children (all in uniform) and a large group of adults. When we commented that it looked like there actually was school today, we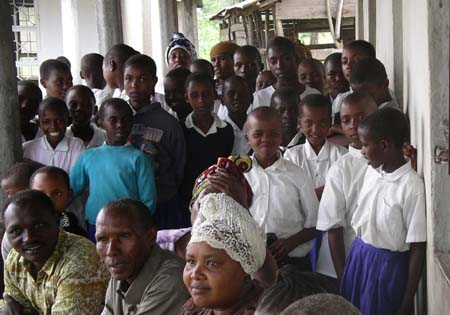 were told that in fact these people had all been waiting just for us! As we continually learn, each visit to a school, home or village always seems to produce unexpected surprises, and today was no exception.
We first received a warm greeting from Mr. Peter Laizer, the head of the school. He in turn introduced us to several of his teachers and school board members, and proceeded to give us a tour of the facility. He explained that there are 800 students here, all crammed into 11 permanent classrooms. Nine more classrooms are needed to accommodate all the students (40 per room), plus an additional 5 teachers (there are 15 currently). We were shown some of the newer rooms that have recently been built with the support of Thomson and others. We also saw the temporary wooden structures that have been used to handle the overflow and are obviously inadequate. Mr. Laizer explained that much progress has been made in recent years, but that there is much more to do.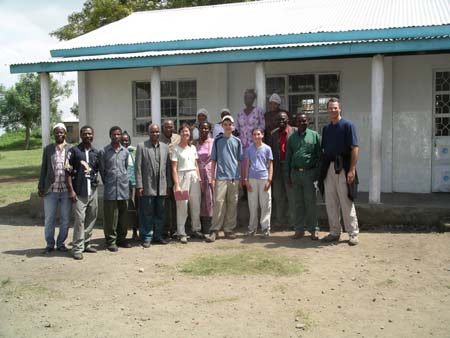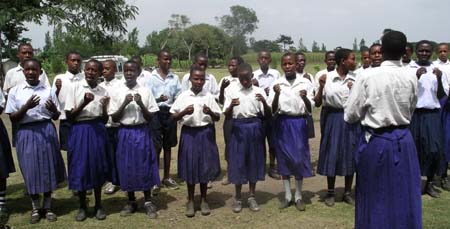 After our tour, we were shown our seats in front of the school, and were treated to several songs performed by the school choir. The rest of the students gathered around us, all wide-eyed and very inquisitive. Mr. Laizer then read a prepared speech, welcoming us and thanking us for our visit. The faculty and board members were all introduced, and then we were each asked to introduce ourselves to the Ngyeku school community. Such formalities, just for us! Finally, David and Katie were each given the opportunity to meet their pen pals and exchange gifts. They both did a great job of trying to engage Donald and Glory in conversation, and found their new friends to both be quite shy.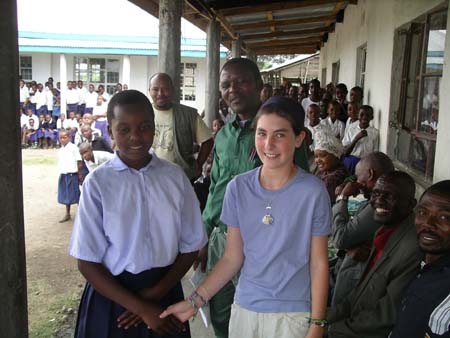 At the end of our introductions, we presented Mr. Laizer with a financial contribution, and also a box of notepads and pens that we had purchased this morning from the school. Our contributions were warmly received, and it felt good to help and to also recognize the community for having given us such a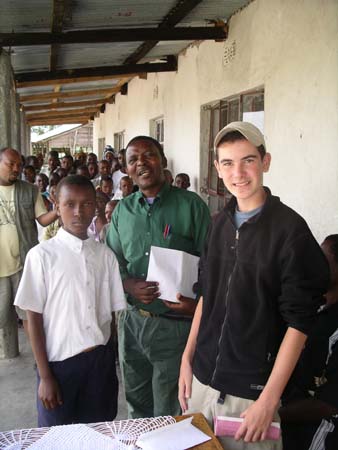 warm welcome today. Our visit concluded with David and Katie being invited to participate in a soccer game with the students. It was very enjoyable to watch, and the school children were all careful to involve David and Katie as much as possible in

their fun. David even had a sideline breakaway that was thwarted at the last minute by a meddling youngster with quick feet…
This was a wonderful and totally unexpected experience for us all. We hope to keep in touch with the school, and promised to send back some of the pictures that we took today.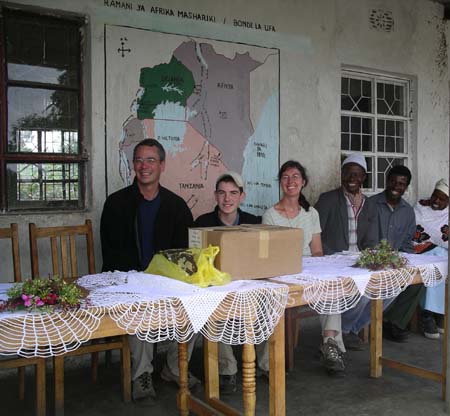 During the afternoon we had lunch at the local home of one of the Thomson guides, and then took a short walk in a forest in search of monkeys. Although we didn't find monkeys, it was fun to see some large and very different spiders, caterpillars, along with several huge flock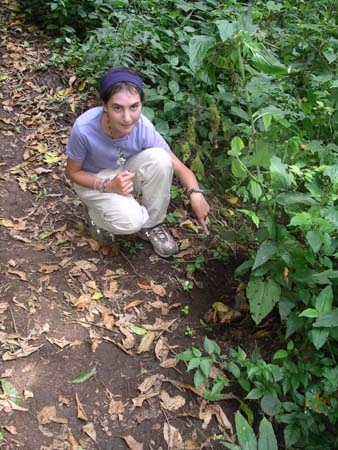 s of butterflies. We also saw several elephant tracks, and were amazed to learn that wild elephants actually roam these local forests.
On our way back to Arusha, we stopped at the Tengeru market, a very lively and colorful weekly event. The market was filled with people a variety of traditional dress, and it was clear that we quickly stood out. With so many people staring at us, it actually reminded us a bit of how we felt in similar situations in India. We were somewhat intimidated, probably partially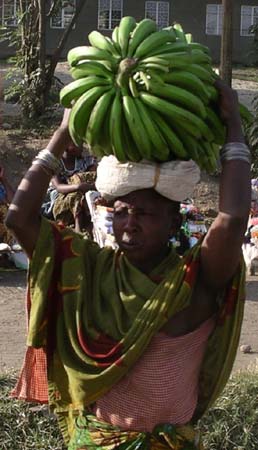 because of the number of warnings we have received about pickpockets and people who will actually try to snatch cameras from our hands. In fact, we were followed several times by youngsters with seemingly bad intentions (our escort, a friend of the Thomson guide who stayed with the car, had to interject to get them to leave us alone).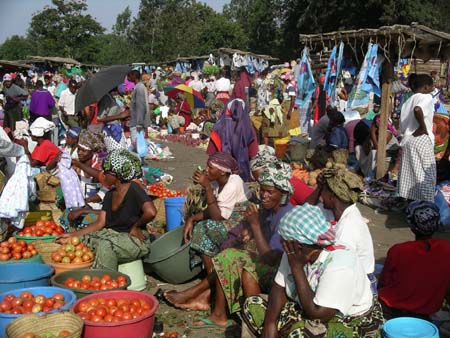 Despite these annoyances, it was great to walk through this market with all its people and unique products for sale. Similar to India, the women here carry all kinds of things on their heads. Most impressive were the women who were walking around the market with huge bunches of green bananas on their heads.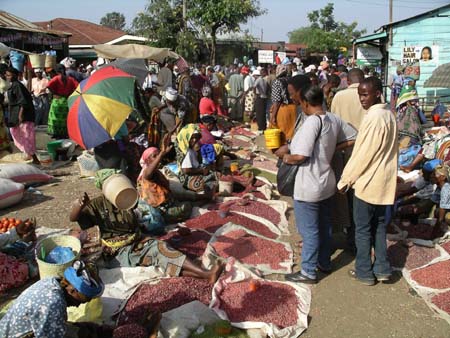 We did manage to take several pictures (always firmly gripping the camera with two hands), and know that we'll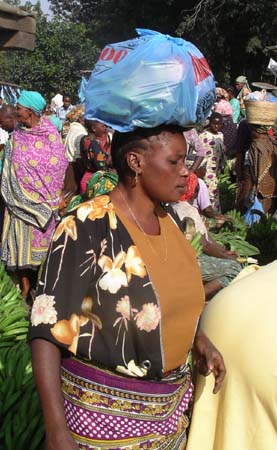 have several additional opportunities to see some of the color of Africa as we venture out among the local tribes while on safari.
The number of warnings we have received about spending time in Arusha or its neighboring markets has caught us by surprise. It seems like there have been some unfortunate events that have occurred, and the tour operators are now exceptionally cautious with the people who come here as their departure point for safaris.
Finally, we returned to our lodge to complete our packing and preparations for tomorrow. We leave on an 8:45AM flight that will take us to the Serengeti. By the afternoon, we should be set up in our campsite and ready to begin our first search for wildlife!