Friday, October 31 (ONE WEEK LEFT!)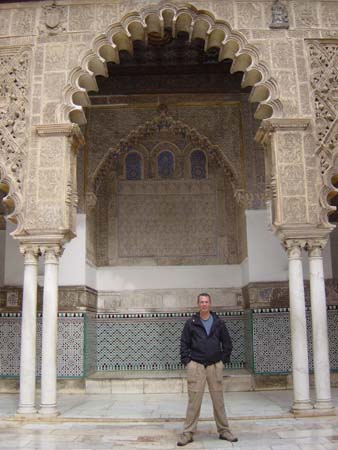 Steve: This morning brought cold, rain and wind - the decision to stay inside was an easy one, especially with us all fighting various ailments and in need of some additional rest. We made good use of the time, doing schoolwork and reading more about Andalucia and our remaining destinations in Spain. This worked out perfectly, because by early afternoon the skies were clear again.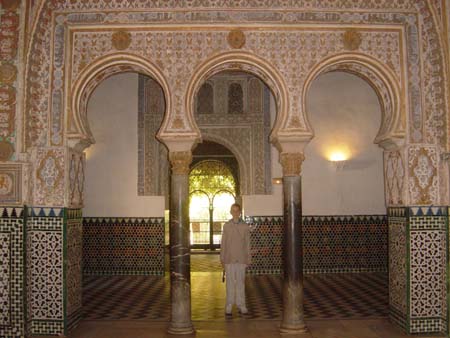 We walked to the Alcazar, a spectacular palace with immaculate gardens. The Alcazar was built originally as a Muslim fortress in 913 AD. Since then, it's been used as a residence for all of Seville's rulers, resulting in a wide array of styles. Today, the palace is still used as the official residence for the royal family when they come to Seville. The combination of Moorish and Christian carvings, doors, ceilings and courtyards is fascinating. Outside the palace are huge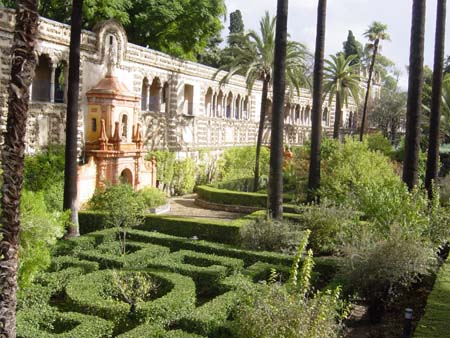 gardens filled with fountains, fruit trees, palms and flowers - they're extremely beautiful, and are a great place to relax. Based purely on beauty, Alcazar ranks right at the top of all the palaces we've seen.
We had lunch in the Barrio de Santa Cruz, and then walked to the riverbank. This is a delightful area, and we imagine that in the warmer months it's crowded with people. There were very few people out today, and we enjoyed strolling along the river.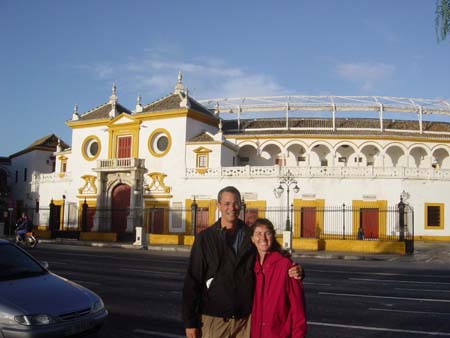 We stopped at Seville's famous bullring, the Plaza del Toros de la Real Maestranza, to take a tour of the arena and its museum. The bullring is the oldest in Spain, and is where bullfighting on foot began in the 18th century. The arena is very beautiful, and we learned about several famous bullfighters who fought here in Seville. This was also a good way to get some exposure to the art of bullfighting, without actually going to one (the season has ended for the year anyway). The tour took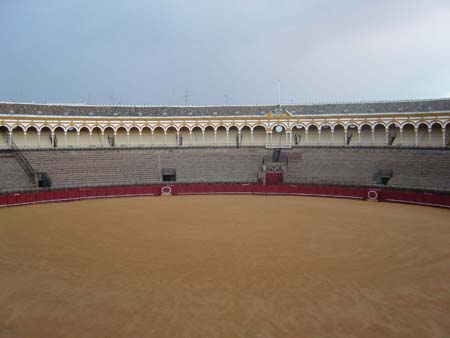 us through the arena, a museum, the horse stables, the chapel where the bullfighters pray, and the infirmary that's used when "accidents" happen. The infirmary actually looks like a small operating room, and we learned that 20% of all fights end in injuries to the bullfighter. There have been three deaths here - two of them came in 1992. The museum houses the head of the mother of the bull that killed a famous bullfighter - the decision was made to kill the bull's mother so that she couldn't create any more "killer bulls." We found this to be cruel and somewhat strange.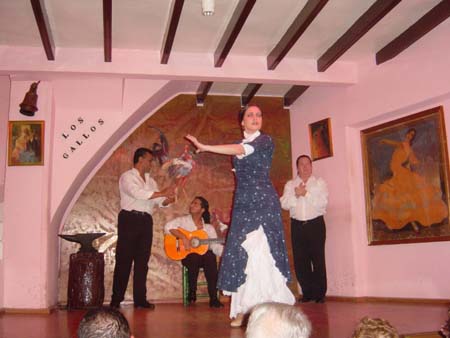 This evening we went to a Flamenco dance at a place called Los Gallos. Flamenco is a very passionate combination of music, dance and song, and is Andalucia's most defining art form. Apparently, it is now at its peak of popularity, and there are several famous singers who have produced top-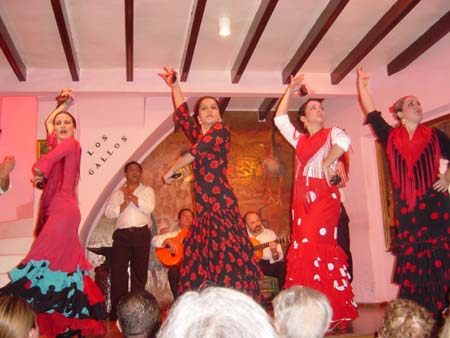 selling albums. Los Gallos is a very small place, and we were able to enjoy this evening's performance from very close seats. The best performer was a male dancer who could move his feet at unbelievably high speeds.
Tomorrow we'll rent a car and drive to Granada, where we hope to arrive by mid-afternoon.
Distance Walked: 2.85 miles