Saturday, November 1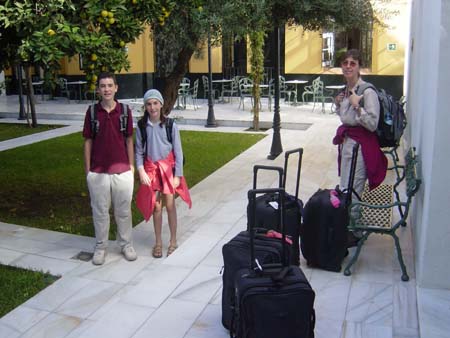 Steve: With yesterday's late night out (bed time was 1:00 AM!) we got a late start for our drive to Granada today, but arrived safely around 2:30 PM. The drive was very pretty - most of the way we were traveling through hills and valleys that were totally covered with olive trees. The olive groves form beautiful patterns that are visible for miles, and today we also saw several people picking the ripe olives. It appeared that the picking was happening by hand, and it is hard to imagine how much work must be required to harvest the thousands of trees that we saw today. Some of the landscape reminded us of Tuscany, but instead of vineyards all we saw were olive trees.
We also passed by several traditional Spanish towns, all painted traditional white. From the road we could also make out some of the same traditional Spanish architecture that we saw in Seville.
As we approached Granada, the snow-capped Sierra mountains came into view, providing a striking backdrop for the city. Today's cloud cover obscured our view, but we're hoping for sunnier skies tomorrow.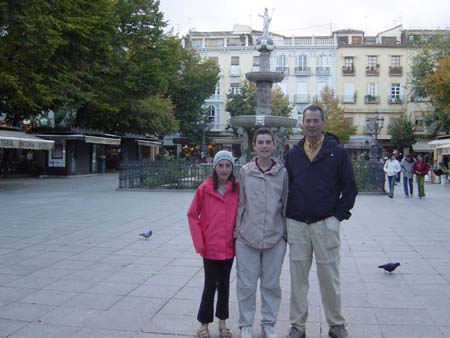 After getting settled in to our hotel, food was the first order of business. We went to a traditional Spanish restaurant called Las Tinajas, and were unexpectedly treated to one of the best meals that we've had on our entire trip. When we arrived at 4:00 PM, the restaurant was totally packed with locals finishing their "lunches" (the restaurant was just about to close). We saw that they all seemed to have ordered one of the several multi-course meals that appear on the menu, so we decided to splurge and follow course. The menus consisted of seven courses - salad, soup, stuffed vegetables, fish, meat, sorbet and dessert. Some of our favorite dishes were an almond soup, an unusual but tasty salad with fish and pieces of orange, a steamed cod au gratin, a sirloin with sherry sauce, and a wonderful assortment of cakes. David and Katie continue to amaze us with their willingness to eat anything that's served to them. They unhesitatingly ordered the same menu as Paula and I, and proceeded to eat absolutely everything (including several foods that none of us recognized either by sight or by taste).
After our feast, we took a quick walk through the city, and stopped briefly in the Granada's Gothic cathedral before tiring and heading back to the hotel. Similar to Seville, it looks like Granada becomes more active at night.
Tomorrow we plan to visit the Alhambra, and hope to have some time to explore some of the interesting neighborhoods that surround the city.
Distance Walked: 1.25 miles