Tuesday, November 4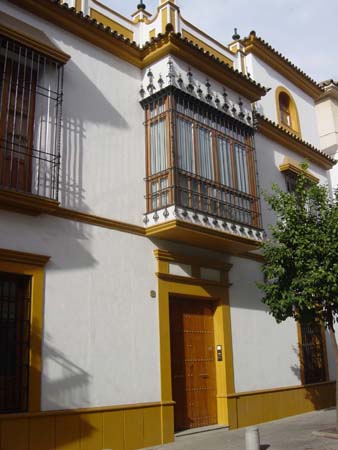 Paula: Cordoba, like the other cities in Andalucia we have visited, has Muslim influences throughout. In fact Cordoba was the Muslim capital of the Iberian Peninsula and the largest city in Western Europe in the 10th century. Today, Cordoba has less people than it did in the 10th century (unless you count the tourists) and is surrounded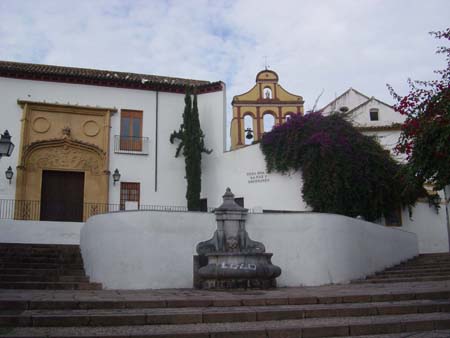 by olive groves and rural countryside. In addition to wandering through the labyrinthine Jewish and Muslim quarters, most people come to see the Mezquita, and this was first on our plan for the day.
We started out by walking from our hotel toward Plaza Tendillas, in the modern section of Cordoba. We immediately found the streets to be quiet and charming. Each building had lovely terraces with decorative rod iron railings and pots of flowers - many still blooming in November. The more modern Plaza Tendillas is nice with fountains and palm trees. From here we found ourselves in the old Muslim medina in narrow streets and Moorish-style homes with beautiful inner courtyards. On a funny note, we saw a van stuck between the walls of two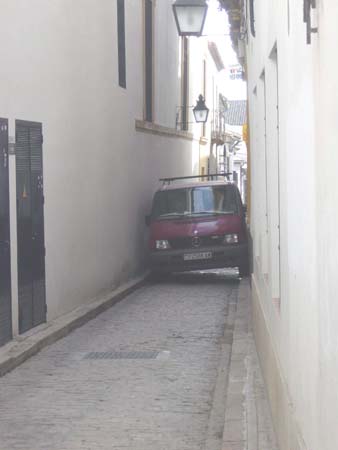 buildings on one of the narrow streets - throughout the trip we have often commented that there are very few large cars in Europe - I guess this at least partially explains why!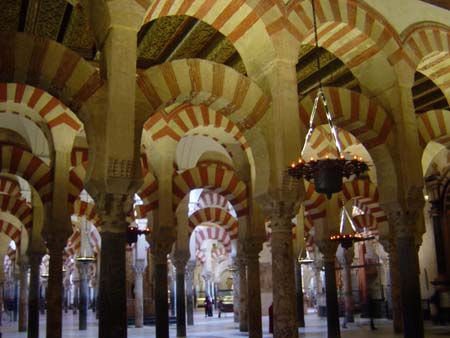 The Mezquita is an unusual building. Originally built as a mosque during the 8-10th centuries, it was so large that after the Catholics took the city in the 13th century, an entire cathedral was built inside the middle of the mosque. Despite this, the building is absolutely magnificent. The quiet courtyard is populated by orange trees and as you enter the Mezquita you are immediately surrounded by beautiful columns and arches. The arches of the Mezquita are distinctive. Their double arch design with thin columns below, and stronger supportive columns above, give the mosque a light and open feeling. The marble columns are of different colors and many came from earlier churches and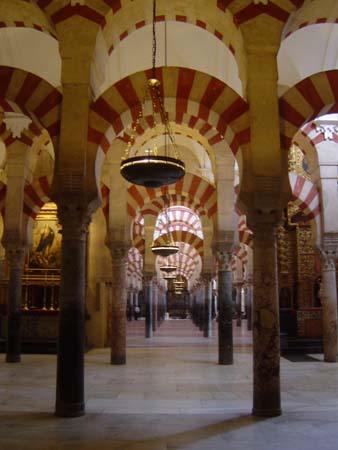 Roman temples. There are also beautiful mosaic tiled ceilings and walls. The Mezquita and its unusual combination of architecture served to again remind us of Spain's dynamic history. We spent a great deal of time simply admiring the serenity of the columns (850 remained after the completion of the cathedral from an original 1,300) and of course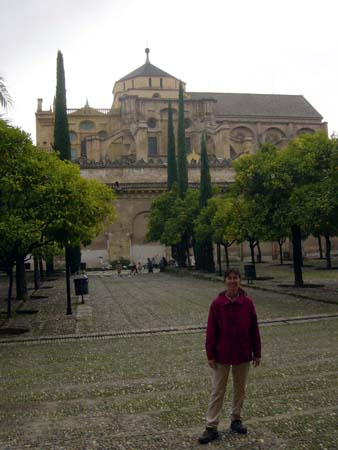 Steve enjoyed trying to capture their beauty on film.
After visiting the Mezquita, we walked through the Juderia, the Jewish quarters. Here we found a wonderful store where we were able to taste the many food products of Cordoba including olive and tomato spreads, olive oil and wine. We had a wonderful conversation with the shopkeeper who helped David and Katie practice their Spanish. She told us that children in Cordoba begin learning English at age 6 and study our language for 10 years. We were surprised by this because we have found many people are not able (or maybe unwilling) to speak English. Thankfully, everyone appreciates our efforts to speak Spanish.
We enjoyed another nice lunch in the Jewish quarters and had several Andalucian specialties including jamon (Iberian pork) and salmorejo cordobes (thick gazpacho-type soup). We also visited a beautiful small medieval synagogue before heading back to our hotel.
We spent the evening writing (we are all preparing lists of our most vivid memories) and preparing for our trip to Madrid tomorrow.
Distance Walked: 2.97 miles