Monday, November 3
Steve: We were reminded again today of how important it's been for us to be willing to rent cars and drive whenever possible.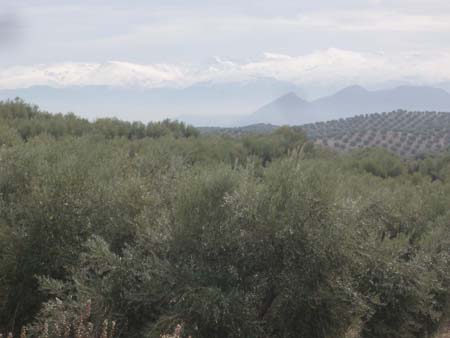 Today's drive from Granada to Cordoba was unexpectedly beautiful, and we took advantage of the scenery by making several stops, including a visit to a wonderfully charming village called Zuheros.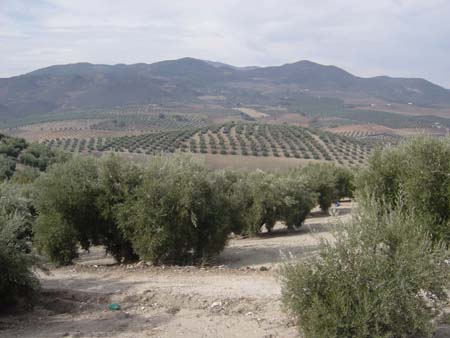 As soon as we left the metropolitan area of Granada, we headed into the Cordillera Betica Mountains, a range that runs from the west and broadens across Andalucia as it heads toward the Mediterranean. The sides of these mountains are dotted with groves of olive trees that form beautiful patterns, especially when seen from a distance. There are also several small Spanish villages scattered through the area, with their distinguishing white buildings and fortresses perched on hilltops. We stopped often to take in the great views, including one panorama looking back toward Granada and the snow-capped Sierra Nevada mountains in the distance. On a clear day, the sight of the green olive trees, the white mountains and a deep blue sky must be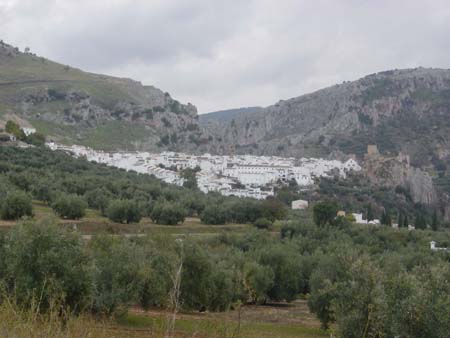 spectacular - today's clouds obscured the view somewhat, but it was still extraordinary.
We decided to stop to have lunch and explore Zuheros, a small village that had been mentioned in our book and was only a short distance from the road. This turned out to be a real treat, and produced some great memories for us all. Zuheros has a population of 905, and is exceptionally charming. It's set high on a hillside, and has sweeping views of mountains and olive groves. Zuheros' white buildings are especially beautiful, and provide a wonderfully striking contrast to the limestone cliffs that shoot up behind the village. The streets are filled with cute Sp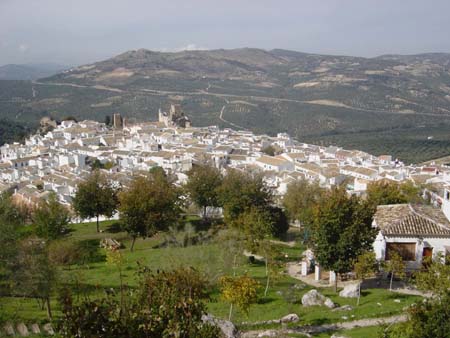 anish-style homes, many of which have terraces lined with flowers. As we walked the narrow streets, we almost felt like we were the only ones in the village - this is a very quiet and relaxed place. In the summer, we've read that Zuheros is used as a base for hikers who explore the region - today we're pretty sure that we were the only visitors in town.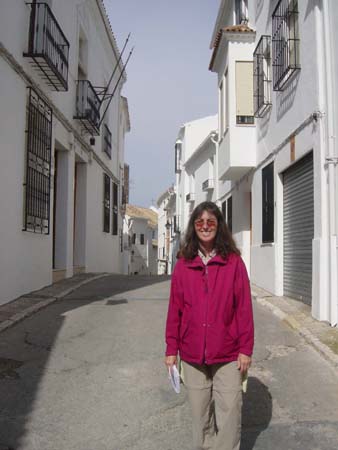 Zuheros has a central plaza - it's a tiny square with a modest 8th century Muslim castle, a church, a small café and wonderful views into the mountains. Today the square was populated with a handful of older men who were engaged in deep conversations while gazing out toward the mountains. We suspect that the same people gather here each day to enjoy the view and to catch up with each other.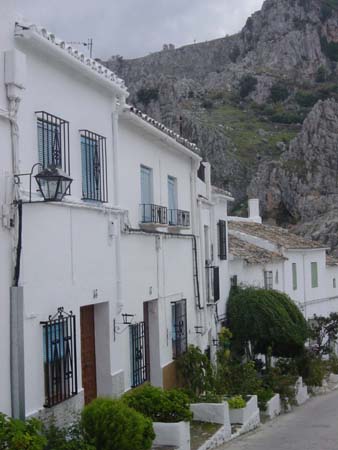 We stopped at the café to see if it was open for lunch (there was no one else eating - only a couple of locals sitting at the bar). Of course, no one speaks English here so David and Katie handled the communication for us. As soon as we began interacting with the waiter, we knew we were in for an adventure!
After we established that we could in fact have a meal (we think the waiter was telling us that we only had 30 minutes, because he takes a siesta starting at 2:00), we were faced with the unexpected challenge of ordering our food. First, the waiter appeared to expect us to be able to order with no menus. After reluctantly bringing us Spani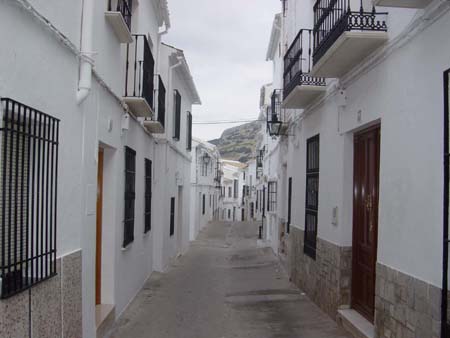 sh menus, he stood over us again seemingly expecting us to order immediately. He was friendly, but kept speaking to us in very fast Spanish as if we understood. Paula and I looked repeatedly to the kids for help, but it was quite a struggle. David successfully communicated the fact that we needed some time to figure out what was on the menu, and the waiter grudgingly left.
Our next strategy was to leave our table and walk to a blackboard menu of daily specials that we had seen displayed along the sidewalk - we were cautiously optimistic in this approach since the board did in fact include some English translations. No luck. The waiter quickly emerged, waved us away, and seemed to say that none of the items on the board were available - we'd have to order from the menu. Was he serious, or was this all some kind of mean trick?
So we sat and worked to decipher the menu. When we had sorted things out the best we could, the waiter came out and we pointed to our choices, trying to look as confident as possible in what we were doing. This was met with an immediate and definitive shake of the head. For some reason, none of what we had selected was available. Bad luck again.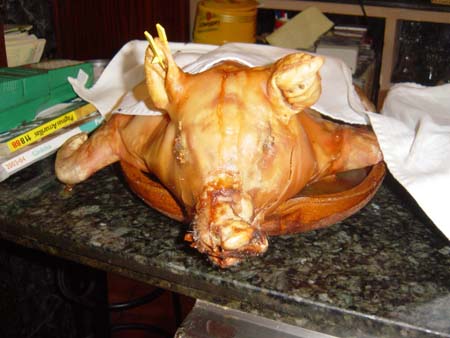 At this point, appearing somewhat frustrated (siesta time was drawing closer), the waiter motioned for David to join him inside. I was too curious to sit and wait, so I followed. We were escorted to the bar area, and to our surprise the waiter approached a whole roasted pig which was sitting right there on the bar, its legs spread out and its poor face looking directly at us. The waiter then started using cutting motions on various parts of the pig's body, asking us which parts we wanted and how much to cut off! I had to hold back my laughter as I saw David interacting with the waiter and his roasted pig.
David and I returned to the table, and after a quick family consultation we decided to go ahead and order pork. What alternative did we have? The waiter followed us, asked us how many orders of pork we wanted, and also now informed us that one of the chicken dishes we had originally wanted was somehow now available (we knew this simply by hearing him say the word "pollo" and holding up two fingers). The decision was final - two orders of pork and two orders of chicken. Of course, we had no idea what we'd really be served…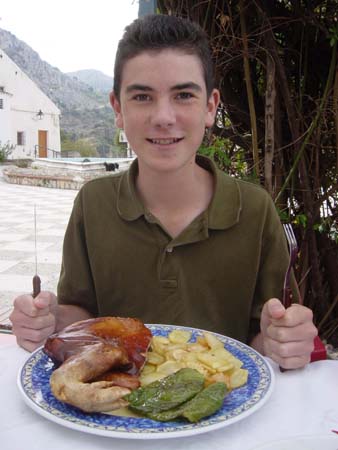 As it turned out, this ended up being a great little meal. David and Paula each received pork legs, complete with the poor pig's little feet. They loved it! Katie and I had chicken fillets which were also very good. What will always make this meal special to us was our experience communicating with the waiter. We still can't figure out whether he was giving us a hard time in fun, or whether he was frustrated with our inability to communicate. It's ironic that of all our experiences thus far, this specific incident represents the single hardest time we've had communicating with anyone, anywhere!
After our meal, David and Katie entered the bar to thank the waiter and to say goodbye. He received them with a broad smile and handshakes. We guess he didn't really hate us after all…
The rest of our drive to Cordoba was uneventful, and we arrived at the train station in the late afternoon. Despite what I said above about how important it's been to drive, we decided collectively that we're not up for the 400-kilometer drive to Madrid - especially when there's a "super-fast" train that covers the distance in 1 hour and 45 minutes. So today we returned our rental car at the Cordoba train station, and our plan is to take a train to Madrid on Wednesday morning. This will give also allow us some additional time in Madrid, and we won't be as tired when we arrive.
Tomorrow we plan to explore Cordoba, and especially its Mezquita, and its Jewish and Muslim quarters.
Distance Walked: .65 miles