JUNE 27 THROUGH 30 PICTURE ALBUM
Sunday, June 27 through Wednesday, June 30
Steve: We spent the last several days of our trip in Kruger National Park, one of the largest and most famous wildlife parks in the world. Kruger encompasses over 8,000 square miles (the same size as the state of New Jersey), and is best known for the diversity and number of animals that live within its confines. We were looking forward to an opportunity to view game independently, testing out the skills that we hopefully learned well during our recent trip to Tanzania.
Our trip to Kruger began with a long drive from Hluhluwe through the independent country of Swaziland. We didn't originally realize that driving to Kruger was going to be such a big undertaking. As it turns out, the options are to either drive around Swaziland and stay on the more developed highways or to cut directly through Swaziland. We learned that driving around Swaziland would add 3 hours onto a trip that was already looking to be about 9-10 hours, so after asking several questions about the roads and general safety in Sw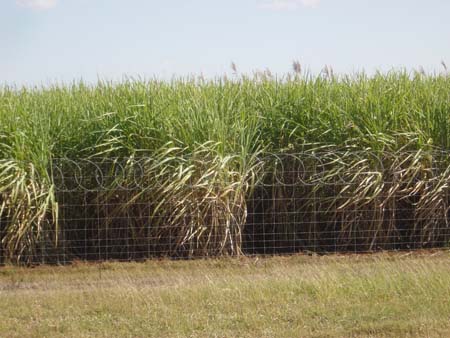 aziland, we decided to drive through the country.
Knowing that Kruger shuts its gates at 5:30PM and that the border crossings in Swaziland can be unpredictable, we left at the early hour of 5:00AM, driving on gravel roads in the darkness. We reached the Swaziland border station at 6:30AM, only to learn that they didn't open until 7:00AM (we received bad information on this one…). Not surprisingly, the border station is somewhat chaotic, especially given all the cars and trucks that had lined up waiting to pass. We kept getting pointed to different windows and receiving conflicting information about what we needed to do to enter the country. Finally after about 35 minutes of haggling (and an ominous threat from a customs officer regarding the prospect of immediate arrest for any violations) we entered Swaziland and were on our way.
Swaziland is the smallest country in the Southern Hemisphere, and we just read an article in the local newspaper that talked about the king who is in the process of taking his 11th wife. This is causing some controversy, since the woman's mother claims that her daughter doesn't want to marry the king. The article also said that an amazing 38% of all adults in Swaziland are infected with AIDS.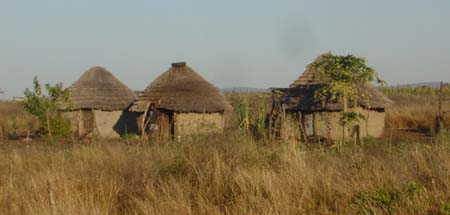 As it turned out, the roads in Swaziland were fine and we were able to make good time through much of the way. Bananas, sugar cane and lumber are all major products, and we passed by several large farms and forests during the drive. Much of the housing is similar to the Zulu homes that we saw in Zululand - small, round huts seem to be the favored design in the rural areas. We saw several people dressed in what appeared to be traditional clothing, perhaps for Sunday church services. These included gowns in bright blue or green colors.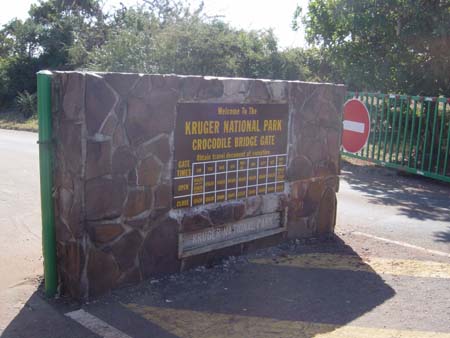 We arrived at Kruger's Crocodile Bridge Gate at 1:30PM, in plenty of time for us to make a leisurely drive up to our rest camp at Lower Sabie. We were relieved to make it in time, but arrived very tired after such an early start and long drive.
We spent the next three days exploring Kruger, driving through a variety of terrains in the southern and central sections of the park. For our first two nights we were based at the Lower Sabie rest camp in the south, and then moved north to the Satara camp for our final nights. We had been told that the southern section has the greatest density of wildlife, and that the central area contains more open plains with a greater number of lions and other cats.
We mapped out different routes for each day, including two days where we started right at 6:00AM when the gates opened and an evening where we stayed out until just before 5:30PM when the park closes. Kruger has a combination of tar and gravel, and we quickly found that we greatly preferred the dirt roads - they are less crowded and they create a much more natural setting.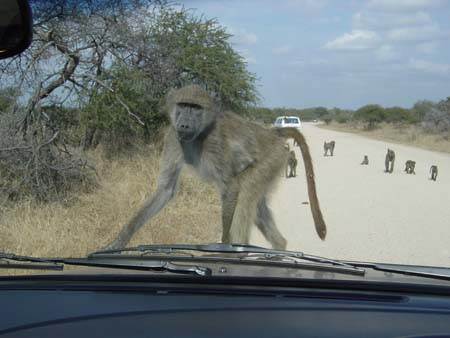 Over the three days, we did see several beautiful animals in very nice settings. The highlights were a serval (a splendid cat that's very hard to find), a leopard that we saw walking on the road during a guided sunset drive, kudus (large antelope with spectacular horns), a group of white rhinos and large numbers of giraffes at close range. We also had a new experience with baboons that jumped on our car. However, we were disappointed not to see any lions or cheetahs, some of the big draws at Kruger.
In general, we found that the wildlife viewing here is definitely a notch below what we found in Tanzania. This is supposed to be the best season for seeing animals at Kruger as the dry winter forces the animals to congregate near water and the fallen leaves make it easier to spot wildlife through the trees. It could be that our expectations were too high, but we thought we'd see animals in far greater numbers than what we did. We often drove long distances in Kruger without seeing any animals at all - we didn't find this to be the case in Tanzania. From the conversations we had with other people here, everyone agreed that things were very quiet. It could be that for whatever reason the animals were simply harder to spot this week - we just don't know.
When we look now at the lists of animals that we spotted each day, we definitely saw a great variety. However, given the amount of time and driving that was involved, we had hoped to see them in greater numbers.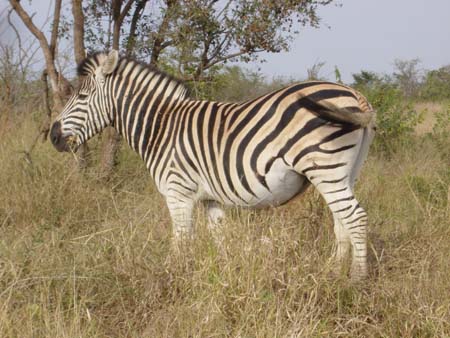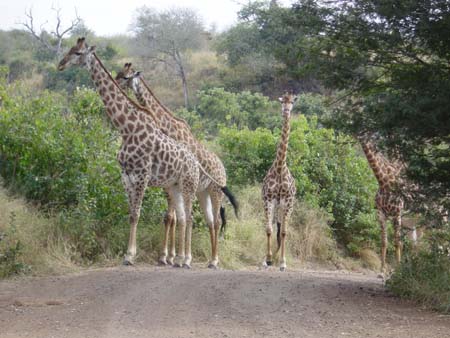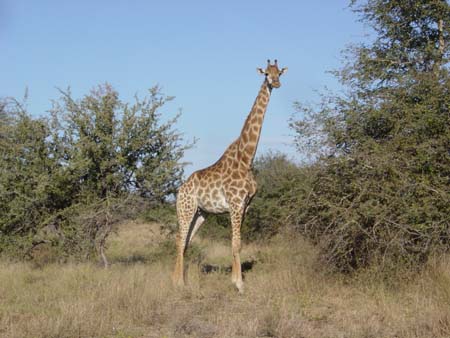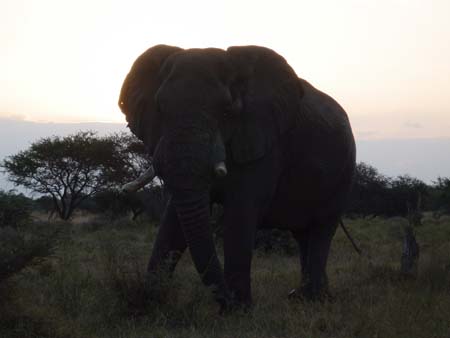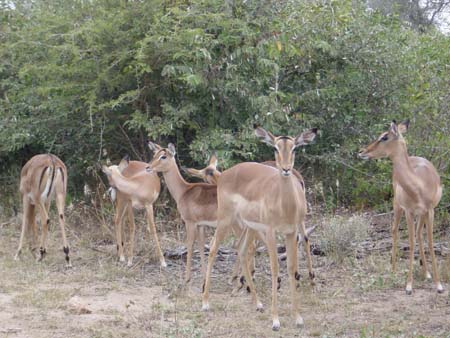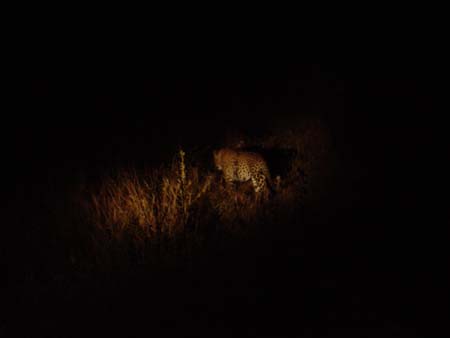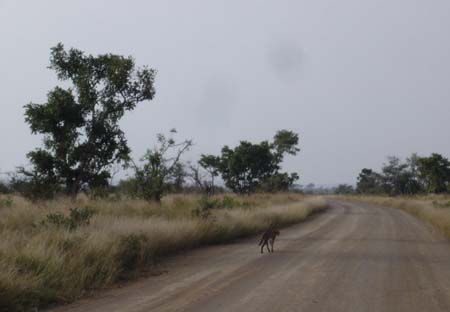 Kruger represents the final destination of our entire trip. Tomorrow, we will be driving to Johannesburg in preparation for our long flight home on Friday!
Animals Seen 6/27:
Dwarf mongoose
Impala
Warthog
Elephant
Giraffe
Wildebeest
Zebra
Common waterbuck
Hippo
Buffalo
Crocodile
Baboon
Vervet Monkey
Hyrax
Animals Seen 6/28:
Impala
Hippo
Crocodile
Steenbok
Baboon
Buffalo
Bushbuck
Leopard turtle
Nyala
Elephant
Giraffe
Zebra
Mongoose
Leopard
Rhino
Bushbaby
Jackal
African hare
Animals Seen 6/29:
Impala
Crocodile
Hippo
Zebra
Serval
Common duiker
Secretary bird
Elephant
Warthog
Steenbok
Vervet Monkey
Klipspringer
Python (his tail only)
Baboon
Giraffe
Buffalo
Wildebeest
Waterbuck
Nyala
Dwarf mongoose
Kudu
Animals Seen 6/30:
Wildebeest
Nyala
Impala
Hippo
Kudu
Slender mongoose
Giraffe
Buffalo
Baboon
Snake (unidentified)
Zebra
Vervet monkey
Rhino
Elephant
Waterbuck
Steenbok
Crocodile