Saturday, June 26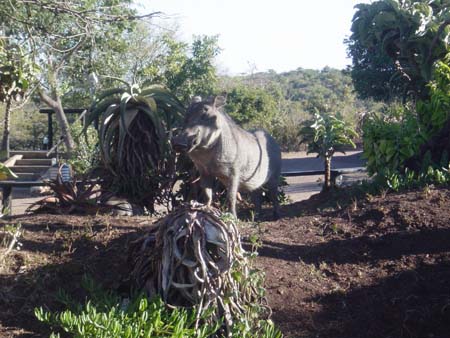 Steve: We spent the day at the Zulu Nyala Game Lodge, relaxing and getting ready for our trip tomorrow to Kruger National Park. We have found out that the drive is very long, and that the gates to the park close promptly at 5:30PM. We need to work our way north through the small, independent country of Swaziland, and have been told that the roads there are often not in good condition. Additionally we face the risk of long waits at both border stations (entering and leaving Swaziland), especially since it is a weekend. All told, we could be looking at a drive of 10 hours, not including unexpected delays. It looks like we'll be leaving at 5:00AM - ugh.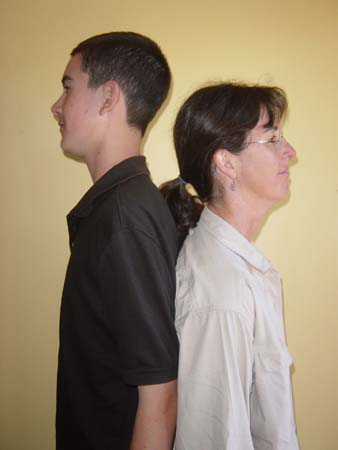 Similar to a photograph from November near the end of our first trip, today we took a picture of David and Paula to show the height difference between them. For fun, we compared this with the picture in November, and another from almost a year ago. It looks like someone has grown quite a bit (or has someone else been shrinking…)!
By tomorrow evening we should be in Kruger National Park, the last stop of our entire trip!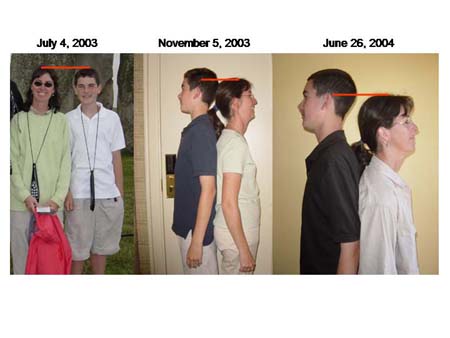 With everything that we try to do during our free time, it has been hard for Katie to draw as much as she would have liked. However, recently she completed a set of three drawings that we have now posted in her album on the web site. I have also included copies of them here.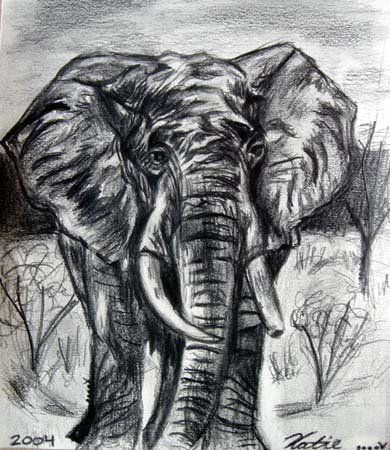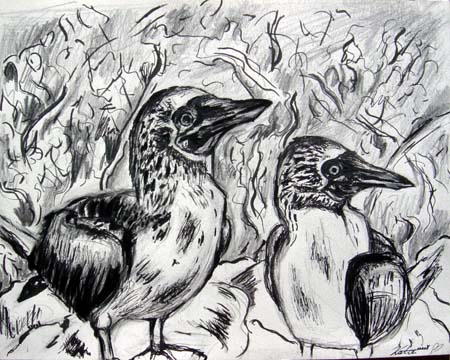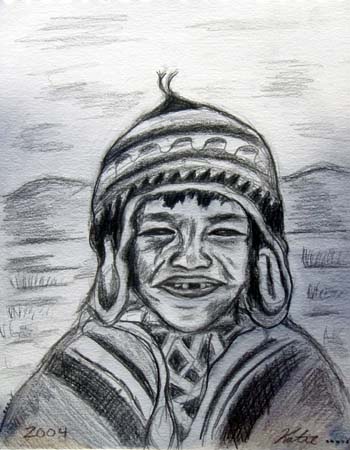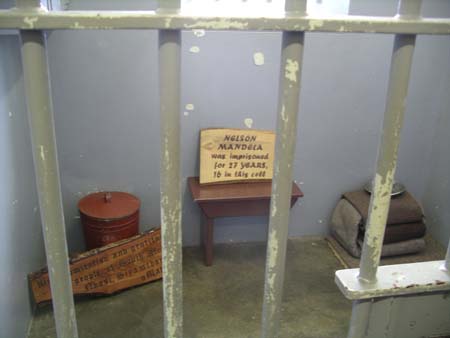 David's Daily Dump: Apartheid. During our stay here in South Africa, I have had the opportunity to learn about apartheid and the problems this country had with segregation until the late 1900s. I have read a biography of Nelson Mandela, and been able to visit Robben Island where he was imprisoned for 18 years. I have also read, Cry, the Beloved Country by Alan Paton. It has been very interesting for me to learn about these people and South Africa's history while actually being in the country. Here's a bit about what I learned…

The long struggle for freedom in South Africa lasted until 1994 when the first democracy was established. Throughout the 1900s, indigenous Africans were discriminated against and treated badly by the European government. The government separated the people into three categories. The British and Africaans (early white settlers that mostly came from Holland, Germany and France) made up the highest class. Asians, Indians, and Muslims made up the second class, and the indigenous black Africans were part of the lowest group.
The government tried to separate these groups as much as possible, and created separate toilets, benches, schools, buses, and restaurants. They even made the colored and black people live in totally different parts of the cities. In Cape Town, there was an area called District Six. District Six was cosmopolitan, an area where many ethnic groups lived together in harmony. This didn't appeal to the government and its apartheid policies, so in 1966 they classified District Six as a white area. Non-whites were relocated and existing buildings were destroyed. Fifty thousand people were moved miles away from the city into shanty towns. We met a man who grew up in District Six and listened to his story. He watched his home being bulldozed and moved out of the city with his family. He now lives in the center of Cape Town, and is very glad that things have now changed so much.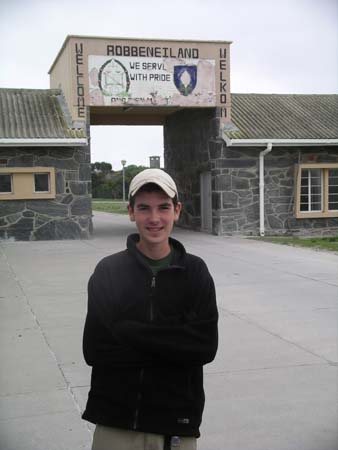 The natives recognized the unfairness of their society, and formed organizations such as the ANC (African National Congress) and PAC (Pan African Congress) to win freedom for over 70% of South Africa's population. Leaders like Nelson Mandela pursued their dreams of equality endlessly until 1994. These groups were constantly winning support from the people, and organized boycotts, protests, and strikes to fight the government. Although the government used force to stop these events and killed many people, these organizations continued to protest until things got out of hand. On the brink of civil war, the government and the ANC negotiated in the late 80s and early 90s and finally established a democracy. Nelson Mandela was voted as the first president, and served until 1999.
It's hard to believe that South Africa did not have a democracy until 10 years ago. I can't possibly imagine what it was like to live here twenty years ago when the government was still supporting the policy of apartheid. Even though non-whites are now free and treated equally, you can still sense the apartheid that once existed. Many black people don't have the money to live the same lifestyle as the white people. Miles and miles of land, filled with shacks made of wood and tin, can be seen from the highway. It's really very sad to see the living conditions of these people. The government has provided electricity and plumbing for these shanty towns, and is building low income housing near the city. The people we spoke to say that things are getting better and that things will continue to improve for these unfortunate people. I hope they are right.