Saturday, June 19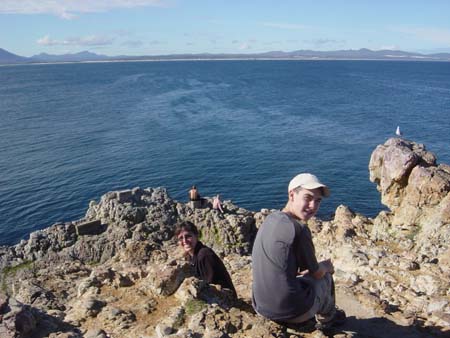 Paula: We bid farewell to Cape Town this morning and began our ambitious road trip up the eastern coast of South Africa. The next two weeks will take us from the southern tip of the continent all the way north to Kruger National Park. Except for a flight from George to Durban, we plan to make our way across the country by driving.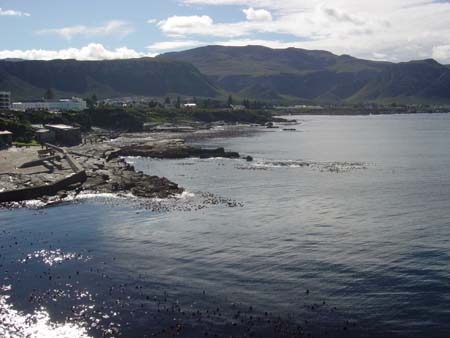 Our first stop today was the coastal town of Hermanus. This small town is known as a wonderful place to see whales, especially southern right whales. In fact, Hermanus has been named one of the top 10 places in the world for land-based whale watching. The rugged coastline with deep drop-offs allows the whales to swim very close to shore. The whales migrate from the Antarctic and come here each year to give birth to their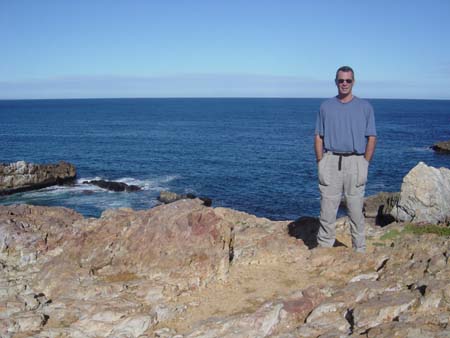 calves in the calm bay waters.. Whales are seen daily from September through December, often as close as five yards to shore. We had heard that their numbers are growing in number and that they seem to arrive earlier each year with some sightings in June, so we decided to take our chances.
We made our way through Hermanus' small but bustling main street and settled in on some rocks overlooking Walkers Bay. The bay was lovely and the waters calm. We watched the hyrax and sea gulls compete for space along the rocky shoreline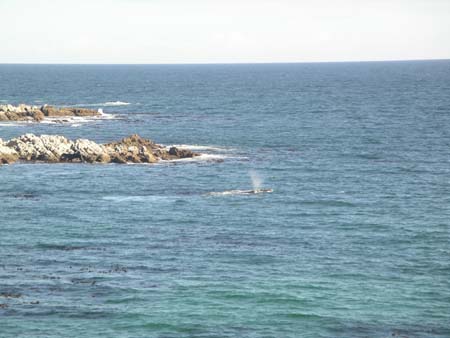 but didn't spot any whales. The visitor center suggested that we might try to drive another 40 kilometers along the shore to De Kelders, and we debated as to whether to make the additional drive since it put us that much further out of our way. We eventually decided to make the drive and were delighted to find two right whales immediately upon arriving in this small town. We watched the two swim lazily for almost an hour until they drifted out of our sight. They came within 50 yards of the shore and we could readily hear them blow water out their spouts and could also see their flippers, tails and even the barnacles on their massive bodies.
We then headed inland quite content after this wonderful encounter with one of nature's most amazing creatures. Our next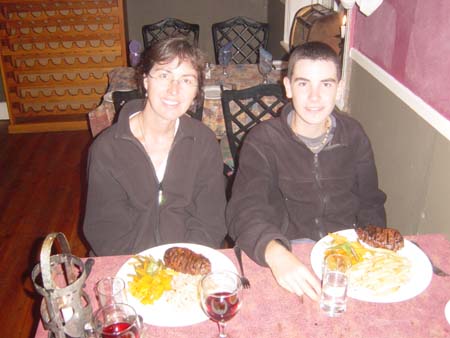 destination was Oudtshoorn, the ostrich capital of the world, where we had reservations to stay on an ostrich farm. The drive took us almost four hours through rolling hills and large farms. We made our way through a mountain pass just before the sunset and pulled into the ostrich farm about an hour later. It was difficult to see the farm in the dark but our log cabin was quite cute.
For dinner, we ventured into the center of town to eat at a restaurant serving ostrich. We had been told by many South Africans that the meat is lean and delicious, so we decided to be adventurous and ordered ostrich fillets. To our surprise they were wonderful and looked and tasted a lot like a good beef steak. Ostrich is much lower in fat and cholesterol than beef, and those South Africans who can afford it actually make this a standard part of their diets.
Once back at our cabin, we started a wonderful fire and settled in for the night. Tomorrow, we will explore an ostrich show farm here in Oudtshoorn, and may even try riding these intriguing birds.