Saturday, August 16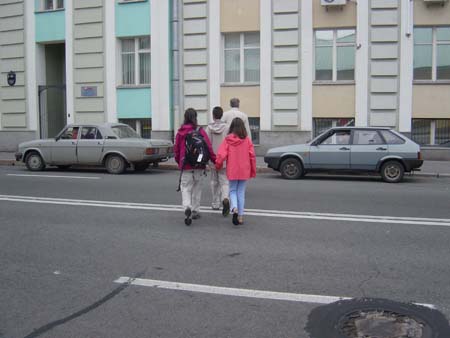 Steve: Sashsa met us at our hotel with two "taxis" (pictured here), and we were on our way. The transportation system here is very interesting. We've observed many types of buses, vans and cars that simply cruise the streets and give rides. Most of these aren't licensed, and each fare requires an up-front negotiation (obviously always done by Sasha). In several cases, Sasha has ended up not using a car he's flagged down, slamming the door after a brief conversation with the driver (sometimes due to price, and other times because the driver wasn't "going our way"). Even on the major streets like Nevsky Prospekt, this is how things work. The licensed taxis and buses are all many times more expensive than these private options. Sashsa told us that the $40 we paid for our ride from the airport should have only cost us $10!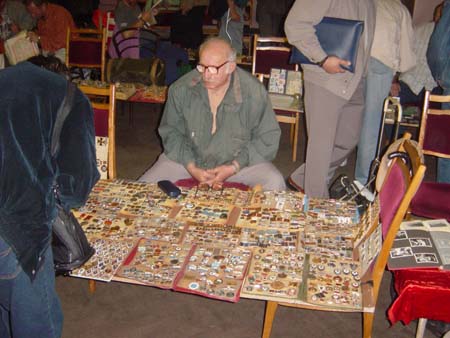 The first stop today after a brief subway ride was a collectors market that Sashsa knows is open on Saturday mornings. The market was in an old, totally unmarked building - no way to know what was inside. In fact, from the street the building looked totally empty - we were in for quite a surprise! Inside were two large rooms filled with hundreds of tables of items being sold by collectors. The most common items being sold were medals from various parts of Russia's history. We had a wonderful time buying several Soviet-era relics including pins from the Young Soviet League, Soviet Olympics and the Russian Army. Each purchase involved a brief negotiation - after Sasha showed us the ropes, we took this on independently and had some fun. The highest price for any of the medals we bought was 50 Rubles, which is about $1.70. However, Sasha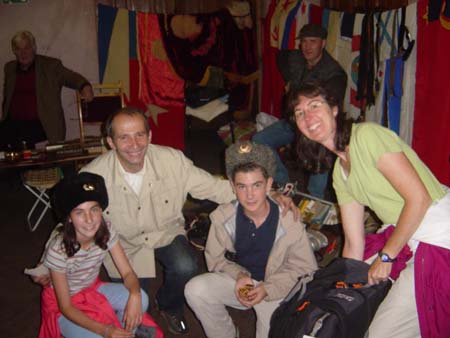 literally wouldn't let us buy anything without a negotiation with at least two competitive dealers - why buy a medal for 50 Rubles if you can buy the same thing from someone else for 40 Rubles? The kids initially were frustrated with this because they were worried we wouldn't end up buying anything. No one spoke any English (no tourists here), so the negotiations had to be done with hand signals and paper/pen. As it turned out, we bought plenty and had a blast! We picked out a whole handful of pins and medals. Katie bought a Soviet Navy hat and an old flag that used to hang on a Soviet ship. David bought some old coins. By the end of our shopping adventure, we actually had people coming up to us and smiling, asking us to "come again!"
We stopped in a local grocery store and continued our mini-analysis of the price of food in each country. These are certainly the cheapest prices we've seen so far - $.50 for a litre of milk and $.33 for a loaf of bread. The kids gawked at the chicken heads and hearts being sold! Interestingly, the store was set up so that many staple items were available only behind counters - you have to ask to buy these products. We assumed that this was for security reasons. We then walked to the subway, passing several more "babushkas" selling herbs, mushrooms and flowers, and decided that the weather was nice enough to make the 30-minute trip to Peterhof.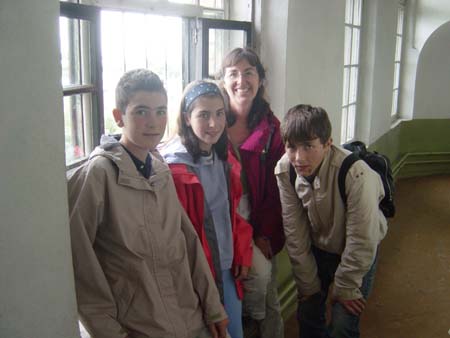 On the subway, Sashsa engaged a young boy (Vladimir) in conversation. As it turned out, Vladimir was on his way to his summer job where he spends 9 hours, 6 days/week, standing at a booth handing out information about products. His wages for a day are 200 Rubles ($7). Vladimir is 16 years old, and Sasha thought that he'd make an interesting companion for David for the day. Before we knew it, Sasha had offered to have Vladimir join us for our day trip to Peterhof, and told him that he'd pay him the 200 rubles that he would have received after his day at work. Vladimir accepted!
After a bit of prompting by us and Sasha, David and Vladimir began engaging in conversation (Vladimir speaks some basic English, and Sasha helped interpret as necessary). We learned that Vladimir is getting ready to enter St. Petersburg University, and will be there for five years before entering the Russian Army for two years. All Russian boys must serve two years in the Army, and Vladimir showed us the passport that he must carry at all times - this is because the police often stop youths on the street who look to be of the age where they're supposed to be in the military. It was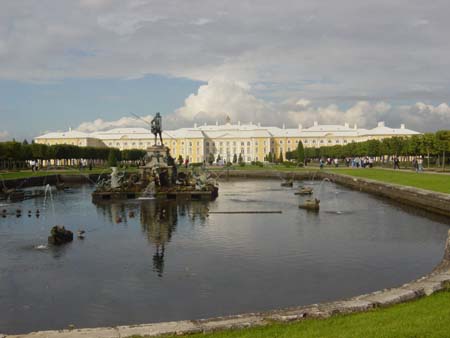 great to have Vladimir with us for the day, and to learn about what life is like for a teenage boy in Russia. We spoke about school, food, sports and travel - we even exchanged e-mail addresses with Vladimir and hope to keep in touch!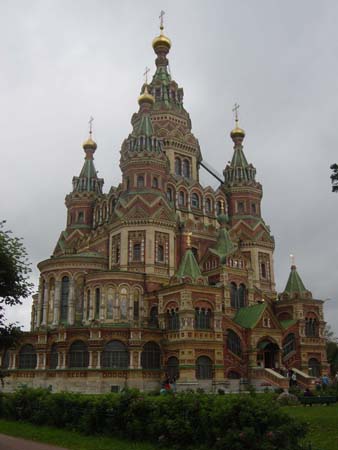 Peterhof was built by Peter the Great as a summer residence. It contains the Peter and Paul Cathedral (pictured on left) and many lavish palaces, gardens and very impressive gravity-powered fountains. It was intentionally built right on the coast of the Baltic Sea as a gesture to demonstrate Russia's power to the Swedes (whom they had just defeated). This was our first opportunity to really see and explore traditional Russian architecture, and it's certainly very impressive. Sasha explained that most of what we were looking at (including the brilliant gold domes and fountains) is a testament to Russia's reconstruction abilities - Peterhof was severely damaged during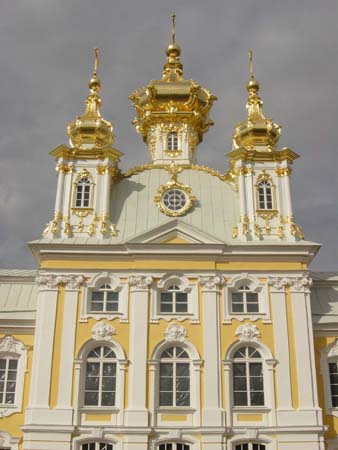 World War II. We enjoyed walking through all the beautiful gardens and fountains, and along the Baltic coast where we were able to see back to St. Petersburg in the distance.
At Peterhof, we observed several more wedding parties, and took some wedding photos! Sasha called these people "New Russians", referring to a rising group of upper-middle-class, educated and skilled people who will be a big part of the future of Russian society. Before 1992, not many people were getting married because they were worried that they couldn't afford to have families. From what we've seen the last couple of days, this trend has certainly reversed.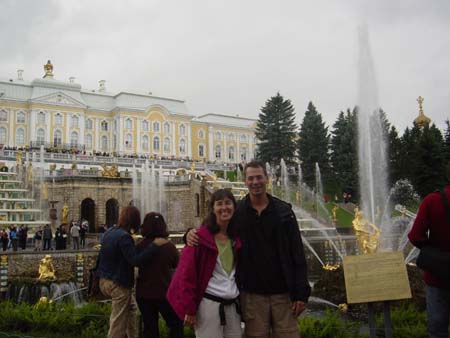 We rushed back to St. Petersburg to catch a 6:00 boat ride through the city that Sasha had highly recommended. The boat has a Russian jazz band and serves traditional Russian food, and is not frequented by tourists. After our 1-hour bus, subway and taxi journey, followed by a run to the dock, Sasha was informed that the boat left today at 4:00 instead of 6:00! The boat trip is clearly advertised as starting at 6:00. Sasha told us that "this is simply how things work in Russia", meaning that things often get opened, closed and scheduled randomly.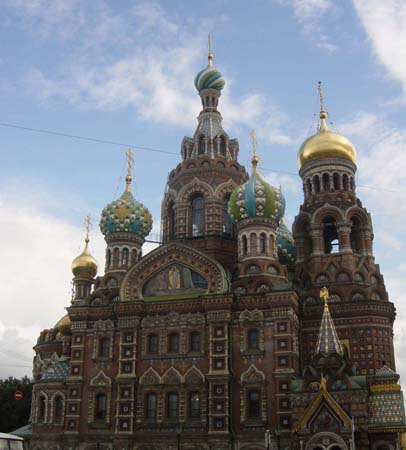 We left the dock and walked through several winding streets, toward the Church of Spilled Blood. The church was built originally in 1881 on the spot where Alexander II was killed (which is how it got its name). The exterior of the church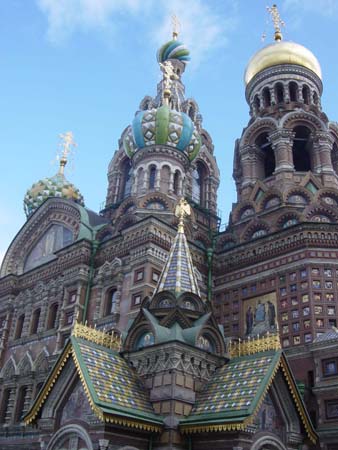 has an amazing array of colors, and Sasha called it a "candy-cake" style (we had to agree). This is certainly a one-of-a-kind!
Although we were disappointed in missing the boat, things worked out great because we ended up hiring our own small boat for a 1-hour cruise through the canals of St. Petersburg. Of course, the boat trip had to be preceded by a negotiation by Sasha. He was originally told that the boat would cost $40 (down from the normal "tourist" price of $75). However, he wasn't satisfied and said that we'd wait it out. Although we would have been more than happy to take the first boat for $40, we didn't dare tell this to Sasha! We stood by quietly as Sasha and the owner of the first boat jarred in Russian. Sure enough, things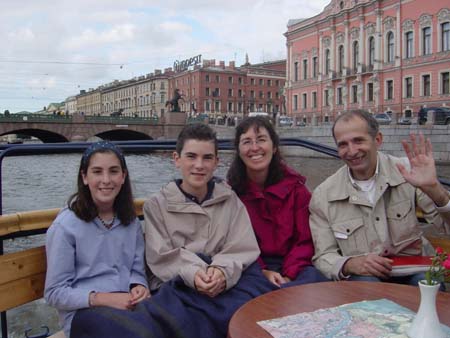 turned out perfectly - the next boat that pulled in was a beautifully charming wooden boat (much nicer than the first boat), complete with wool blankets (it was getting very cool). Sasha quickly pounced on the opportunity, and we were on our way for the final price of $30!!! From our little boat, we had a wonderful opportunity to see much of St. Petersburg's history, and Sasha seemed to be able to speak forever about every building and church we passed. This was a great way to complete today's exploration of St. Petersburg, and the boat ride was extremely relaxing and enjoyable.
Sasha took us to a wonderful Russian restaurant, complete with a view of The Church of Spilled Blood. He showed us several more of his picture albums (he has 200 of these, and we feel guilty about the fact that he lugs a very heavy bag along wherever we go), and gave us all a history lesson from the time of Catherine the Great.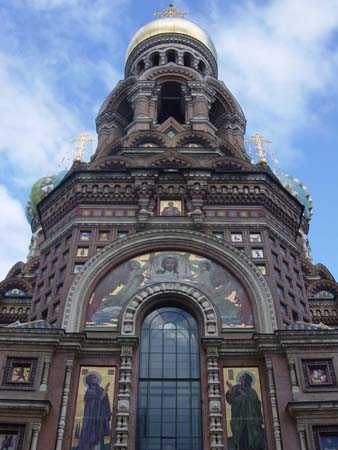 We had an interesting discussion with Sasha about the fact that there still seems to be an underground economy functioning in Russia. Much of what Sasha describes as matter-of-fact about how things operate here would be viewed as very foreign by Westerners. For example, the health care system is "free", but people often must pay doctors extra money for care in order to get the treatments they need (otherwise the doctors are free to simply delay procedures, saying that their schedules are "full"). Similarly, Sasha said that average wages are between $500 and $700 per month, but that almost everyone finds ways to supplement their "official" incomes so that they actually make the $1,200-1,500 per month necessary to live a reasonably comfortable lifestyle.
We had a great dinner (our first actual sit-down meal since we've been here), and we headed back to the hotel at 11:00PM. St. Petersburg is very far north, and it stays light here until 10:00, so we're on a late schedule again. We agreed with Sasha that tomorrow we'll sleep in, and don't plan to start up again until the early afternoon - we need the rest!
Distance Walked: 3.46 miles