Friday, August 15
Steve: Wow, today was a wonderful adventure!
We are unbelievably fortunate to have hooked up with an amazing man named Sasha as our personal guide. We spent our entire day with Sasha, and have now arranged to have him join us for much of our stay here in St. Petersburg. Sasha is a friendly, funny and exceptionally knowledgeable man who has been guiding people through St. Petersburg for most of his life. He has a strong love of Russia and its unique culture and history. He clearly enjoys sharing his passion with people, and we found ourselves fully absorbed in Sasha's stories, perspectives and skills as a guide.
Our day started with Sasha flagging down two "taxis" on the street. Taxis in St. Petersburg are usually people in run-down cars who cruise around looking for fares. Sasha said they charge 10% of what city cabs do, so this is the accepted (though not legal) way of getting around by car. These "taxis" are flagged by holding your arm out with you palm down. The cars all look to be at least 20 years old, and we weren't totally confident we'd even make it the several blocks to the Metro!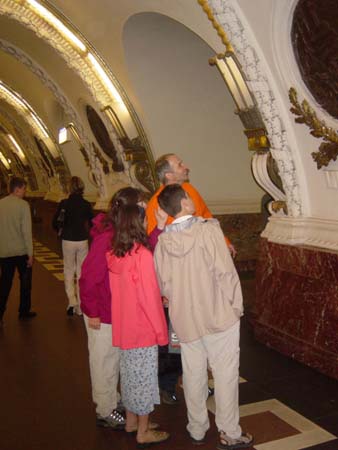 Sasha took us on the Metro, and explained that each Metro station was decorated in the Soviet era in ornate and unique styles. He showed us one of the only plaques left in St. Petersburg containing any reference to Stalin - all other images of Stalin were destroyed when Kruschev came to power. Sasha explained that the Soviets wanted the Metro stations to look somewhat like churches so that the working people could enjoy them each day as they went to work. He also told us that the stations had been designed to function as bomb shelters, which was part of the reason that they are so deep (at 60 meters, they're the deepest in the world).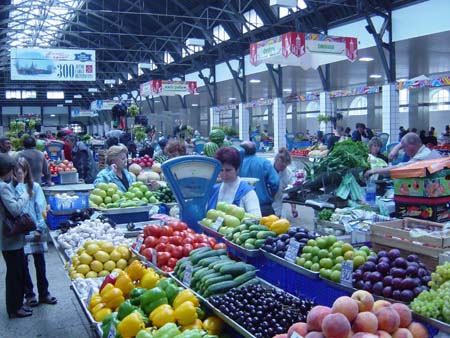 Our first stop was in the district where Dostoyevsky lived and did much of his writing. We walked through the streets and immediately started to get a wonderfully authentic picture of how Russians live. We went into a large food market that sells a huge selection of meat and produce. The kids got a kick out of seeing all the caviar for sale. Sasha explained how this market was originally used for small, individual growers to rent space and sell their product. Today, under the free market system, the market is rented by larger growers who bring in large amounts of product. This really hit home when we walked outside, and saw the lines of "babushkas" (Russian for old ladies) along the sidewalks selling home-grown mushroom, herbs and assorted vegetables. Sasha explained that these people complain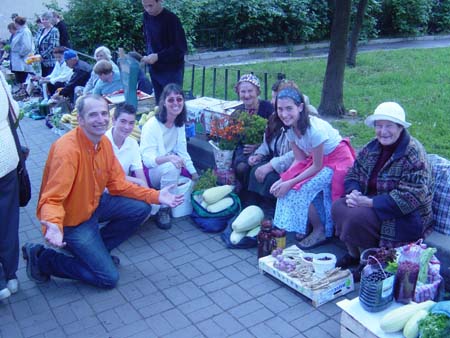 about the fact that although people have more rights, they have much less ability to earn money. It was hard to not feel sorry for these people, and we felt a little guilty when Sasha arranged to have our photo taken with them.
We walked into what looked to be a run-down church, but actually turned out to be a museum on Antarctica. Sasha wanted us to see an example of what the Communists did to churches throughout Russia starting in the late 1950's. It was bizarre to look inside this museum and see model polar bears directly under what used to be the altar. He told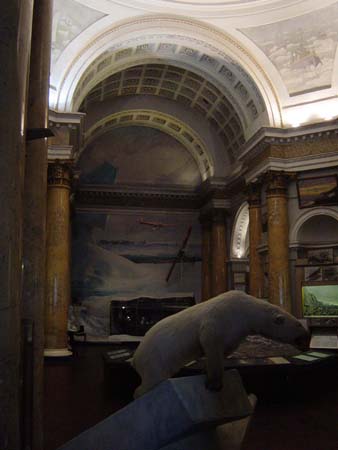 us that other churches had been converted to swimming pools, skating rinks and cultural centers. Sasha explained that under the Communist society, there was an intentional shift from religion to science, technology and culture.
We also went into a small store that sold beautiful Russian amber jewelry, and bought Katie a necklace for her birthday. The girl who helped us asked some very direct questions, including "What is the purpose of your visit here?" and "How does St Petersburg compare to the United States?" She had a serious and solemn composure, and from the conversation she obviously wished that she could live in America. Afterwards, Sasha explained that the people of St. Petersburg consider themselves to be the most Westernized part of Russia. They believe that their culture and way of life is most similar to America and Western Europe. However, they realize that they still don't have much of the luxuries and earning capacity of their counterparts in Western societies. Many young people from St. Petersburg are not optimistic about what their future holds. Sasha said that the Russian term for people (girls) like this is "sad mermaids."
We then rode the subway again to the center of the city. Sasha had warned us of the danger of pickpockets, and we witnessed this first-hand. A young man behind us had clearly targeted us, and was working hard to steal whatever he could. Fortunately, we recognized what he was doing, and were able to protect our belongings. Sasha said that many of the pickpockets work in teams, and that they become addicted. This is recognized as a big problem in St. Petersburg.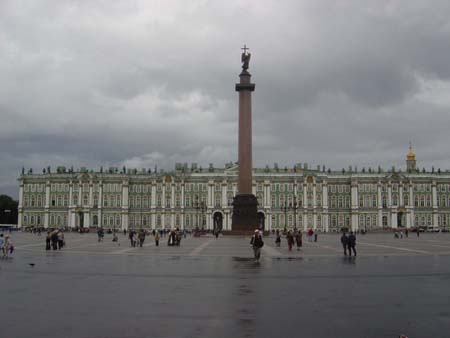 It was somewhat rainy and cool today (finally, a break from the heat!), so we decided to spend our afternoon in the Hermitage. The Hermitage is one of the largest and most impressive art museums in the world, and is located in the Winter Palace where Catherine the Great resided starting in 1762.
The Hermitage is a wonderful combination of art and antiquities all displayed inside a spectacular palace setting. It could literally take days to see everything, but Sasha was able to take us immediately to the most important sections and works of art. Sasha has an encyclopedic knowledge about the Hermitage, and was able to tell us interesting stories about all the art we viewed. We saw several masterpieces, including "The Return of the Prodigal Son" by Rembrandt.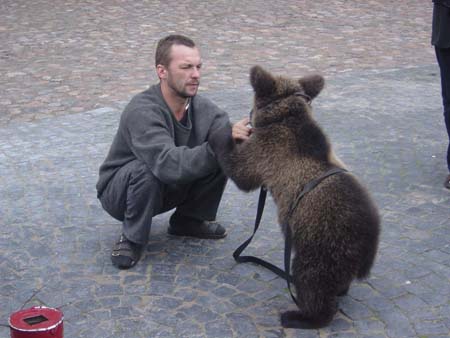 Outside the Hermitage, we saw street performers and vendors unlike any we had seen before. As an example, a man was wrestling on the sidewalk with a muzzled bear cub. He also allowed tourists to have their pictures taken while holding the bear. We all wondered if the Russian Society for the Prevention of Cruelty to Animals was aware of this guy!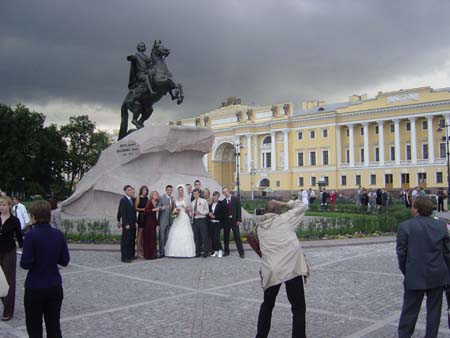 After the Hermitage, we walked along the Neva River, taking in some additional sites including St. Isaacs Cathedral and a large statue that was given by Catherine the Great to Peter the Great. Interestingly, there were probably five wedding parties that had gathered at the statue for pictures. Sasha explained that this is a tradition in St. Petersburg.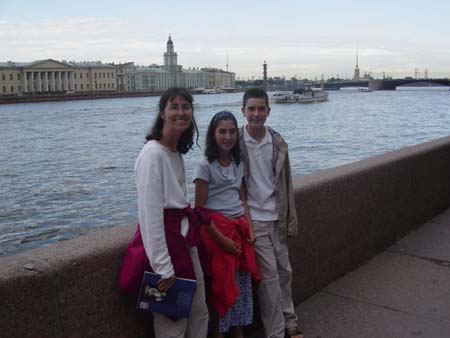 We proceeded to a second-hand book store that also sold original posters from the Soviet era. It was very interesting to see all the Communist propaganda, and we asked Sasha to translate several of the posters for us. Several of the posters dealt with Cold War themes, others dated to World War II, and some were focused on idolizing the Communist society and workers.
We walked along Nevsky Prospekt, and stopped along one of the pedestrian walkways for dinner. Nevsky Prospekt is recognized as one of the most impressive and busiest streets anywhere in Russia. Given our mental exhaustion by this time of day, we were somewhat overwhelmed by the whole scene, and will probably want to come back to explore it more fully on another day. This street certainly does not feel like some of the main restaurant/shopping areas that we've seen so far - it seems more like a large and very busy boulevard, and is certainly not pedestrian-friendly. We did take the time to stop at a café for dinner. During dinner, Sasha showed us many pictures illustrating various aspects of Russian life from Catherine's era in the 1700's, the pre-revolution years (1905 - 1917), and the early and late Communist years.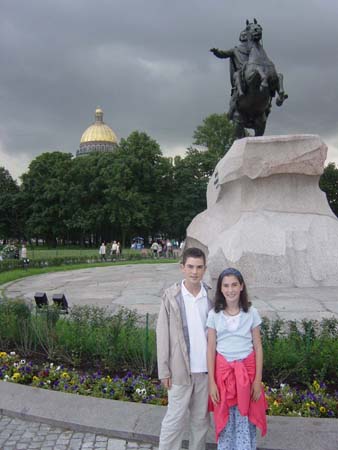 Finally, after a long and wonderful day, Sasha helped us flag (and negotiate the 50-ruble fare) a "taxi" that took us back to our hotel. We asked the driver in a very friendly way whether he spoke English, but he just snarled at us and kept driving… In general, we have found that people here are not particularly friendly. They don't smile and they certainly don't go out of their way to help. They all wear dark colored clothes. People were constantly glaring at us with stone faces on the subway. Today we often felt like Sasha was our boat in the middle of a large ocean.
Tomorrow we're meeting Sasha again at 10:30 AM, and aren't sure exactly what the day will bring!
As a side note, today was Katie's 12th birthday - we all agreed that this is one she'll probably never forget! Stay tuned for Katie's next entry telling her thoughts about what it was like celebrating her birthday in Russia.
Distance Walked: 3.64 miles (we probably rode 15 subway miles!)