Friday, April 9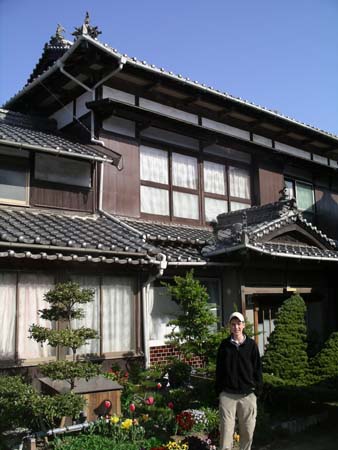 Steve: Today was one of those days where we had very little idea of what to expect, and yet turned out to be a thoroughly enjoyable and charming experience for us all. We arrived here in Asakura yesterday, the guests of some delightfully friendly and welcoming residents of this small village. Our hope was simply to experience a little of what life in the Japanese countryside is like - what we never expected was for so many people to go out of their way with such wonderful hospitality.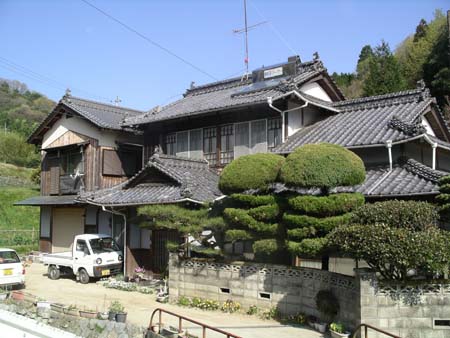 The day began for all of us with tasty home-cooked breakfasts in the homes of our hosts Yoshiko and Mitsuko (David and I are staying with Yoshiko, and Paula and Katie are with Mitsuko). Paula and Katie also received lessons on how to take a traditional Japanese bath, in what turned out to be a very fun and relaxing experience (they both have more to say about their experience this morning, and will probably write about it separately).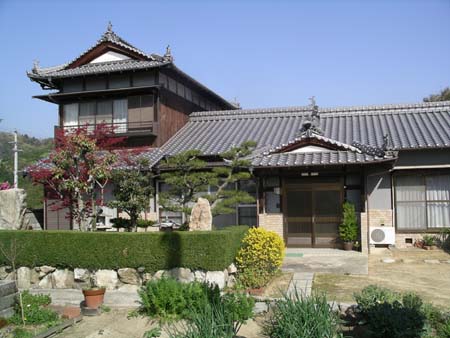 While Paula and Katie bathed, David and I rode along with Yoshiko as she delivered mail (a part-time job) to homes all across the village. Today was another beautifully bright and sunny day, and we specifically had asked to accompany Yoshiko so that we could see more of the neighborhoods and farms that make up this quaint and very pretty area. We love seeing the traditional Japanese homes, with their distinctive tiled roofs and beautiful gardens. Yoshiko laughed as we snapped pictures of several of the homes that she made morning deliveries…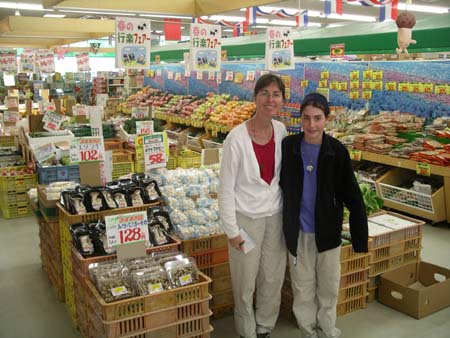 We picked up Paula and Katie at Mitsuko's, and headed to our first stop of the day - Asakura's main grocery store - "Value". We always enjoy visiting food stores to see the kinds of food that people buy, the prices,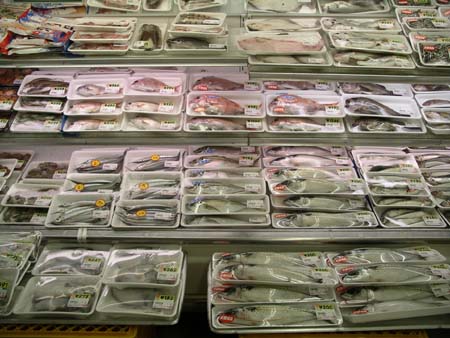 and how the shops are run and organized. Value is a small store, but sells a wide variety of vegetables, meats and seafood, most of which we have seen sold in food markets in Tokyo and Kyoto. In the produce section, we saw all the standard herbs, roots, mushrooms and leafy vegetables that make it into many of the Japanese dishes we have eaten. Of greatest interest was the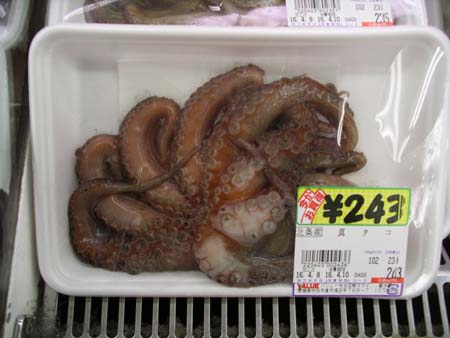 seafood section, where many different types of fish are packaged whole and sold in styrofoam containers similar to how we buy meat at home. In addition to the fish, we saw large squid and octopus for sale. Not surprisingly, there's a large section just for fresh tuna, where it's possible to buy several sizes and types of cu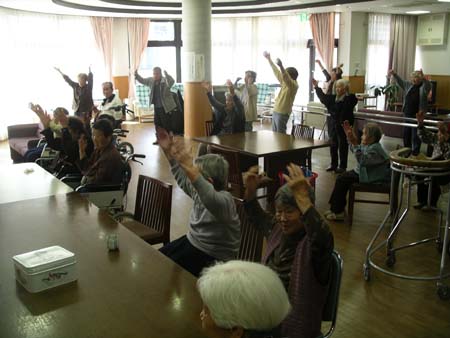 ts - all to be taken home and eaten as sushi.
Our next destination was care center in Asakura where older adults come during the day. This is a wonderful facility, and we enjoyed watching the staff lead the residents in a series of exercises. We received a tour, and were very impressed with the quality of this center and all it has to offer to those who stay here. With geriatrics being Paula's field, she was especially interested in some equipment that she hasn't even seen before at home. The facility even maintains a van that carries a portable whirlpool tub to people's home in situations where they're not able to travel to public baths.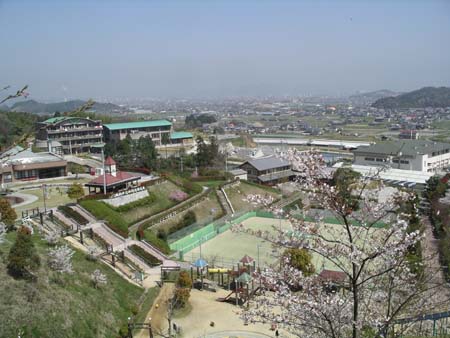 Behind the care center is a wonderful outdoor park. Like everything else in Asakura, this park is extremely well maintained and appears brand new. The park contains some really neat "toys", including two large slides that David and Katie enjoyed. One of the slides is made to be sledded on, similar to a snow-covered hill - the kids had a blast!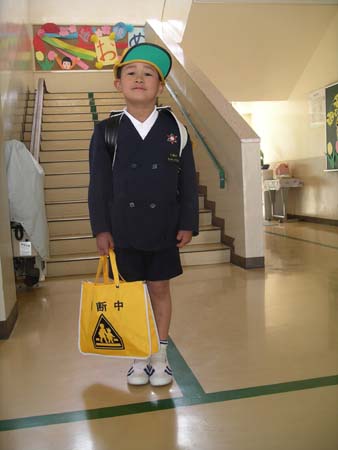 Yoshiko had arranged for us to visit two of Asakura's schools today, and our first stop was at one of the two elementary schools here. We have visited many schools in Asia, but this experience was our best yet. We were greeted by the principal and several members of her staff, served tea, and given an overview of the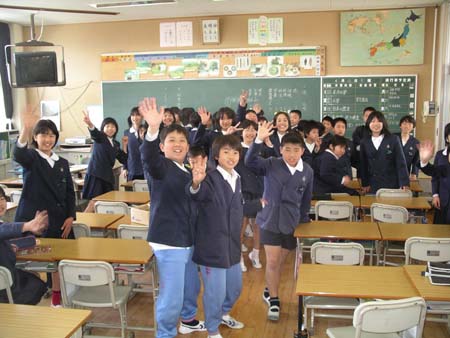 school. We then received a tour of this fantastic facility, including a beautiful technology center (unlike any we've seen in an elementary school at home), a huge and sparkling clean gymnasium, wonderful science labs, a home economics room (cooking and sewing are taught to 5th and 6th graders), and several classrooms.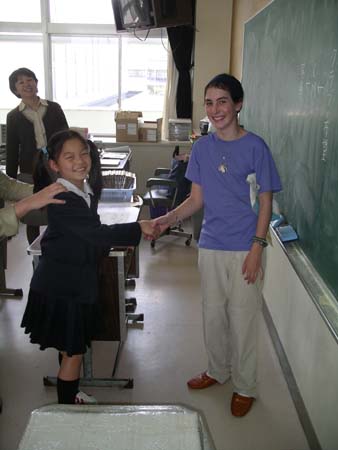 The children all wear very cute uniforms, and were more engaging than anyplace else we've been. They all smiled, laughed and spoke to us in whatever English they knew. "My name is XXXX, nice to meet you!" was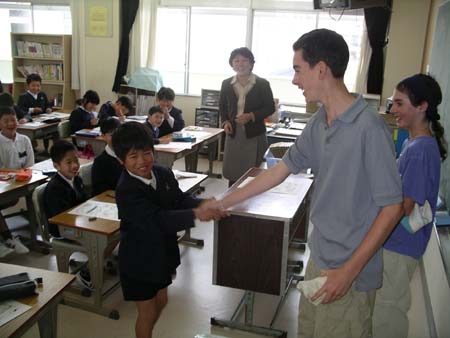 something we heard all day long…
In one particular classroom, we became engaged in a very fun question and answer session. A few of the students got very brave - they stood up, introduced themselves (in English), and approached David and Katie to give them huge handshakes (obviously not a typical Japanese greeting). It was all great fun to watch.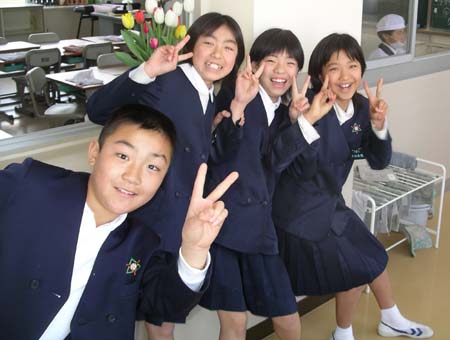 When it came time for lunch, we were invited to join a 3rd grade class - this was a really special experience. After the lunch bell rang, the children all put on white masks and gowns, and went downstairs to the cafeteria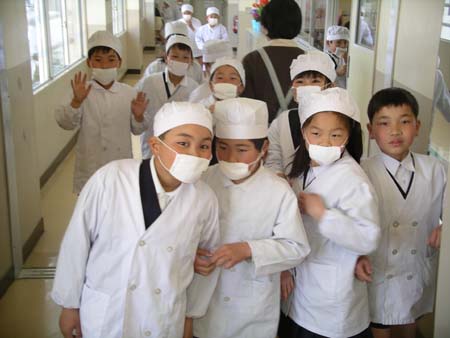 in order to bring food back to the classroom. They then formed a very orderly serving line, and we all filed by and had our plates filled with a lunch of stew, rice, fried fish, banana and milk. Everything on the plate has a very specific spot, and the children were quick to help us rearrange our food to match the prescribed sequence. The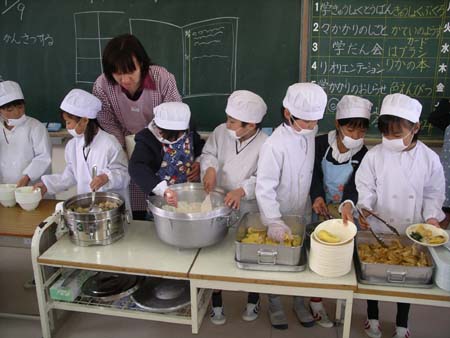 children all have their own plastic chopsticks with special cases that are kept in their desks - it's all very cute. Special stools were set out for us and spread across the classroom, and we had a fantastic time eating lunch with the students and engaging in all kinds of fun conversations (often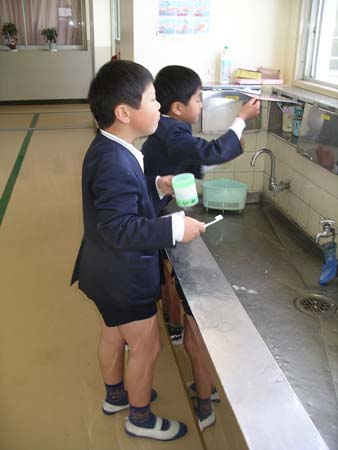 using sign language!).
After lunch, the children all help clean up, and then promptly use a special sink in the hall to brush their teeth. Although the kids all laughed and had great fun, we were struck by how organized, orderly and obedient they all are - these Japanese traits are obviously taught starting at very young ages. We also learned that each day, there's a 15 minute period where all students participate in helping to clean the school. Wow!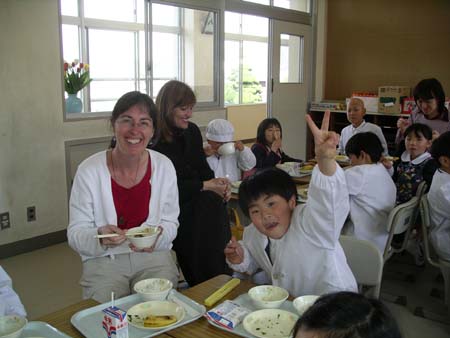 After lunch, we took a quick tour of the neighboring middle school. This school is brand new, just completed in August. None of us could ever remember having been in a new school before, and this one has been finished with sparkling wood floors, walls and ceilings. The classrooms are all large and extremely well equipped, and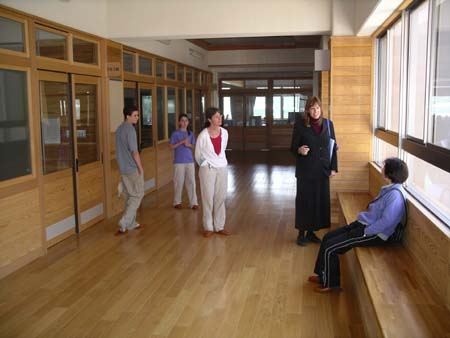 the technology center is the nicest we've ever seen (50 modern PC's all with flat-screen displays). Although school was not in session today (this is the start of a new term), we visited briefly with the principal who is obviously very proud of what they have created here. Before we left, he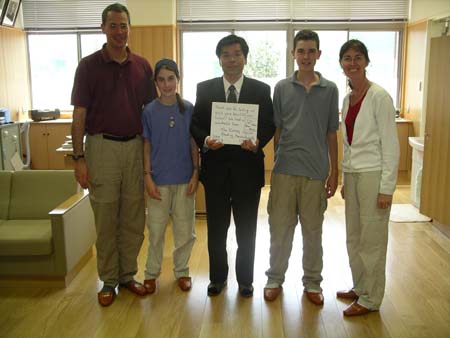 asked us to write a note to the school on a small certificate, and we took a picture of us all together in his office.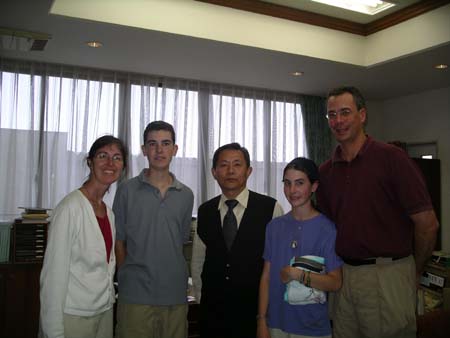 Before heading for our evening activities in Matsuyama, we stopped by Asakura's government building for a quick meeting with the mayor and the chairman of the local board of education. They both seemed extremely pleased that we had chosen Asakura as a place to visit, and we had nice conversations with both of them.
This afternoon we drove 1 hour to the city of Matsuyama (population 1.5 million) on the north shore of Shikoku. Tonight, a group of 42 middle school exchange students from California were scheduled to arrive at the airport here, and we had been invited to be part of their welcoming party. Our first destination was Matsuyama Castle,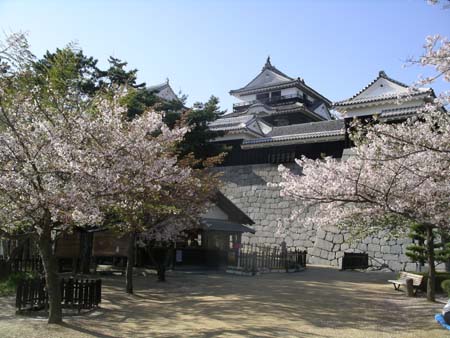 which sits high on a hill with fantastic views in all directions. This castle was built in the 15th century, and has been used by several feudal lords over the years. We enjoyed visiting the museum that's on site, and seeing many o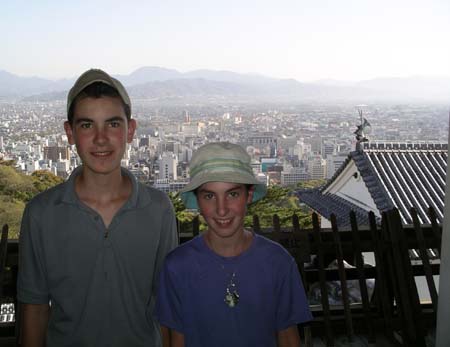 riginal uniforms and weapons used here by samurai warriors.
We had dinner in Matsuyama, and did some window shopping before the scheduled arrival of the flight from Tokyo. We also stopped briefly in one of the many "Pachinko Pinball" parlors that we've seen here. We were amazed to watch the rows of people sitting idly with huge bins of pachinko balls (small ball bearings), watching the machines literally eating their money. Just for fun, we bought a few balls and David took a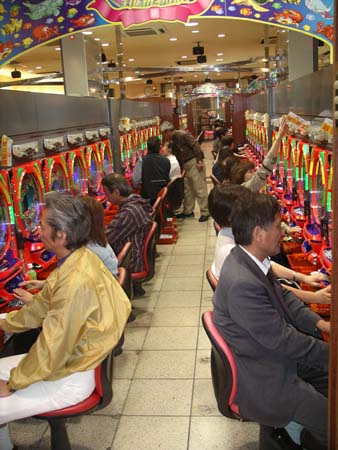 shot. Before we knew it, we'd blown $9 in 10 minutes! We decided that was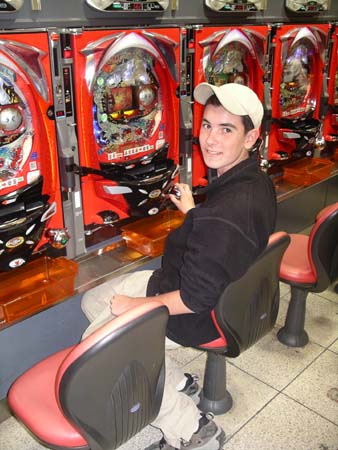 enough for us (especially since the minimum age is 18 - David clearly doesn't look 18, but no one seemed to care…).
Finally, it was time to head to the airport, and we had a great time greeting the students and their chaperones from California. Just two weeks ago, these students from San Jose had hosted a group from here in Asakura, and now it was time for the American students to make the trip to Japan. They'll spend 6 days here, with a wide variety of fun and educational activities planned. Yoshiko is vice president of the exchange club, and has been instrumental in putting this visit together. It was a real coincidence that we were here at the same time as the students, since this event occurs only once every three years.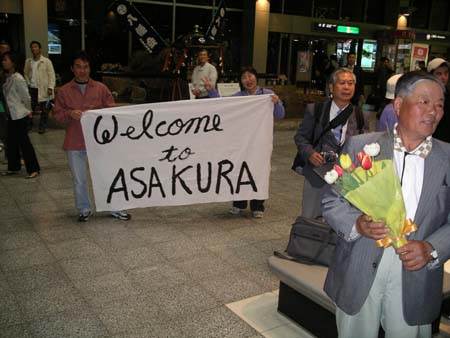 After a long and wonderful day, we returned to Asakura and the homes of our guests, Yoshiko and Mitsuko. We have been absolutely overwhelmed by the hospitality that we have received here. Yoshiko literally spent her entire day with us, despite the fact that the California students were arriving tonight and we're certain that many of the final preparations still needed to happen. Yoshiko and Mitsuko both prepared wonderful home-cooked breakfasts for us. Mr. Imon, also a member of the exchange club, graciously drives us everywhere in his large van. We have not been allowed to spend a single yen of our own money - not for meals, admission tickets, or anything. Everyone we have met has been unbelievably friendly and we have been warmly welcomed everywhere we go. It's actuallyvery hard for us to not feel guilty from everything that these wonderful people are doing to make our time here so special. What a fantastic group of people this is!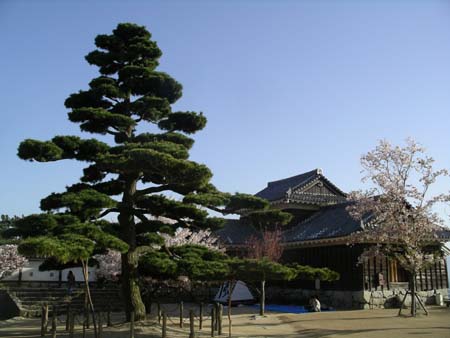 In addition to the people, we have found the actual village of Asakura to be a very enjoyable place. Similar to what we see everywhere in Japan, everything here is clean and well organized. We all joke about how we can never find any trash cans, yet there's never any litter on the ground. We assume that people must keep their trash in their pockets or purses, and then throw it away at home…
Tomorrow we plan to join the California middle school in their first day of activities here in Asakura. It should be fun!