Thursday, April 8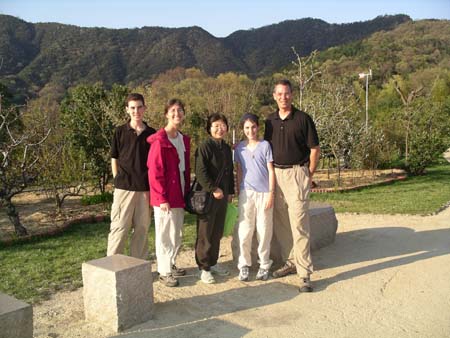 Steve: Today we traveled by train from Kyoto to the small village of Asakura, located on Shikoku which is the largest island in Japan. We decided to spend our last few days in Japan exploring its countryside, and a friend helped us arrange a visit to this scenic village where he lived for three years. We are staying in the homes of two members of the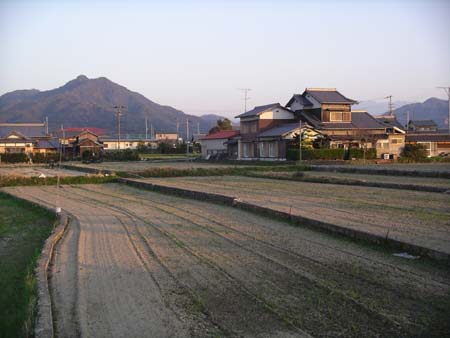 Asakura Student Exchange program, an organization that sponsors visits of middle-school students between schools in Asakura and Southern California. Coincidentally, a group of 42 students from California are scheduled to arrive here in Asakura tomorrow night, and so we'll be able to participate in welcoming them to Japan!
We were met at the Imabardi train station by Yoshiko, our wonderful hostess and also the vice president of the exchange program.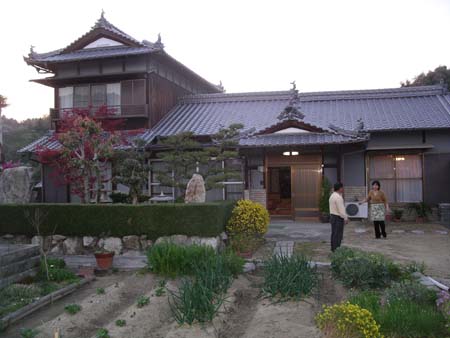 Despite being very busy getting ready for the students, Yoshiko has graciously made the time to plan our stay here in Asakura, and David and I are also sleeping in her home for the next two nights. Paula and Katie are sleeping at the home of Mitsuko, who is also a member of the exchange program and lives nearby.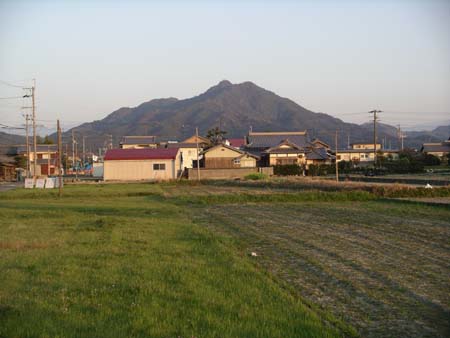 Asakura is a small village of 5,100 people located in the northern part of the island of Shikoku. It's a picturesque area, surrounded by rice fields and mountains. The highest peak is Mt. Kasamatsu, which is recognized as the symbol of Asakura. Most of the people who live here are rice and vegetable farmers.
After getting settled, Yoshiko gave us a quick tour around Asakura, and we made a visit to a "towel museum", which is actually the place where Asakura manufacturers towels that apparently are very well known across Japan (they're also exported to several countries). We were joined by Marina, a Canadian who is a friend of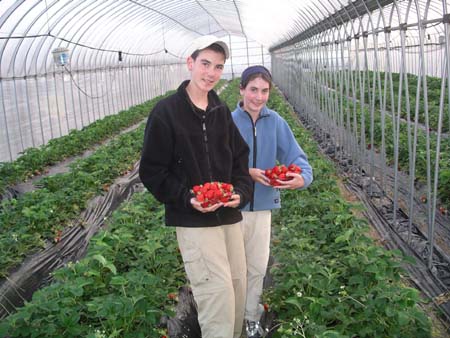 Yoshiko's and teaches English as part of the JET (Japanese Education and Training, I think) program that's sponsored by the Japanese government. After a quick break for tea, we were off again.
Our next stop was inside a strawberry greenhouse that's owned by Imon, a member of the exchange program and the person who drove us around today. We had a wonderful time picking strawberries that were absolutely the best any of us have ever tasted. These later became dessert…
We had an absolutely wonderful dinner this evening at Mitsuko's home, where she prepared the traditional Japanese dish of sukiyaki. This is a mixture of meat, noodles and vegetables that is cooked in a soy sauce in the center of the table, and then dipped in raw egg (the egg cooks from the heat of the food, and forms a tasty shell on the outside). Our dinner was wonderful, and we had a great time sharing stories with Mitsuko and her friend. We all worked hard to maintain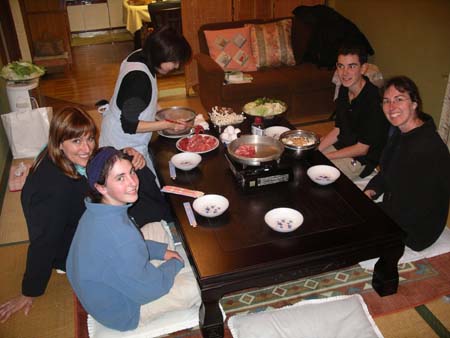 proper Japanese etiquette, and provided Mitsuko more than her fair share of laughs as we made various mistakes with our chopsticks and food. It was all great fun! David really enjoyed sharing pictures from home with our new Japanese friends (Yoshiko joined us at the end of our meal), and Mitsuko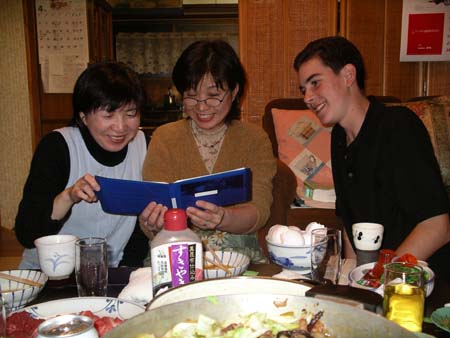 also showed us pictures of her family.
This was a wonderful day for us all, and we're really enjoying spending time with such friendly people in their homes (David and Katie have now decided that we need "tatami mats" at our house…). Yoshiko is taking wonderful care of us, and we're really looking forward to our next couple of days here.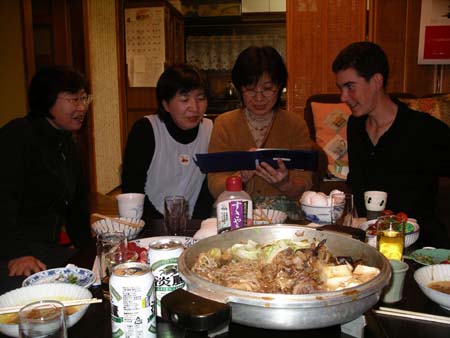 Tomorrow we'll be exploring Asakura, including trips to schools, a government office and a grocery store. In the afternoon we'll be heading to Matasayuma to see a castle and also to greet the California middle-schoolers who arrive in the evening. Every day continues to be a new adventure!