Sunday, April 4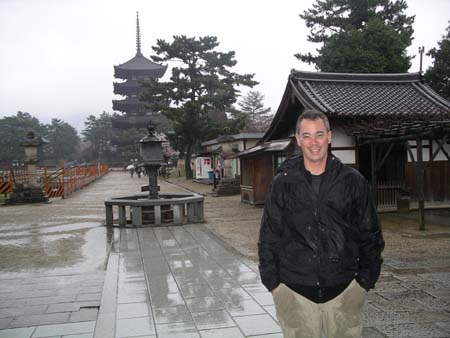 Steve: Our guide book describes a day-trip to Nara as one of the highlights of a stay in Kyoto. It also says that the excursion requires nice weather since the sites all involve a fair amount of walking. Unfortunately, today we were forced to try to enjoy Nara in the middle of a constant and cold rain, the first time that we can remember rain really impacting our plans since we were at Lake Moeraki in New Zealand (wow, does that seem like AGES ago!).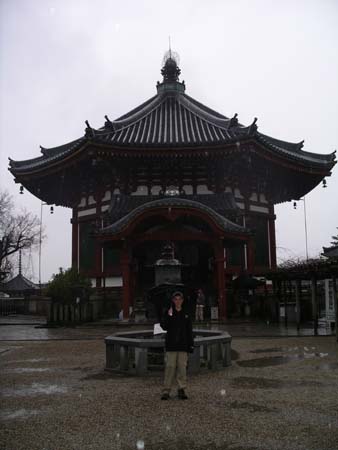 We had no trouble finding the correct train to Nara (we were a bit gun shy given our experience last night…), and successfully rendezvoused with Masahide, a volunteer student guide who we had arranged to spend the day with us. Apparently, there are a number of Japanese students who enjoy practicing their English (and also meeting international visitors), and this worked out great for us today.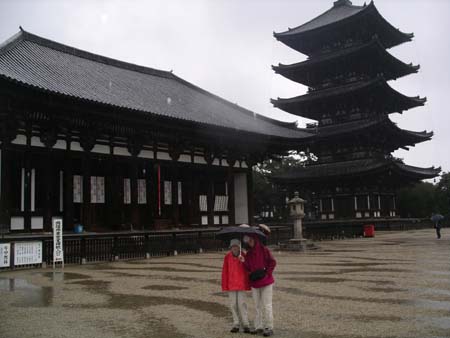 Nara was Japan's first real capital, established in 710. However, it only remained the capital for 75 years before it was moved to Kyoto (where it remained for another 1,200 years). Nara is known for its beautiful temples and shrines, and boasts eight separate sites that are designated as World Heritage Sites. In many ways, Nara reminded us of a very large park, and despite today's cold rain its beauty was obvious - especially with the cherry blossoms in full bloom.
Our first stop was at the Kofuku-ji Temple and its two large pagodas. This temple was transferred here from Kyoto in 710, and is considered an important pilgrimage site for Japanese who come here from all over the country. We enjoyed receiving a quick lesson from Masahide in how to pray - including the washing of the hands and m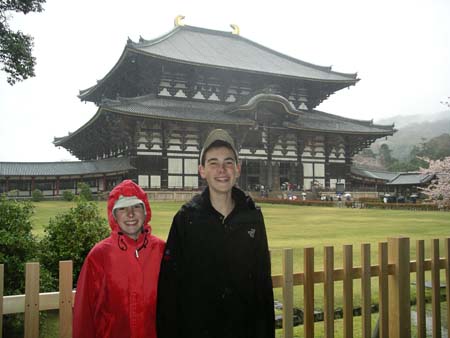 outh, clapping, bowing, and of course donating money.
We then made a very wet walk towards Nara's main attraction - the Todai-Ji temple. This temple is extremely impressive, and contains an enormous bronze Buddha image. The Buddha is sitting with one raised hand poised in a position which symbolizes, "don't worry, I will care for you." We decided that this Buddha is the largest we've seen anywhere, sitting majestically inside the temple and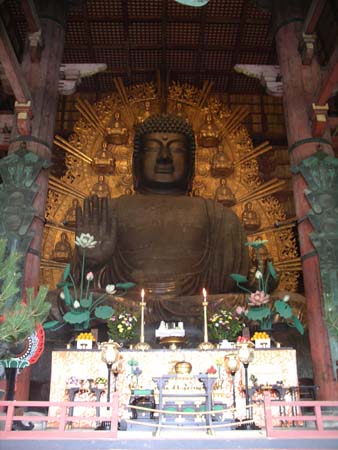 protected by large guardian statues. The temple is framed beautifully by carefully manicured landscaping and cherry blossoms. We tried to imagine how stunning the scene would look in nice weather…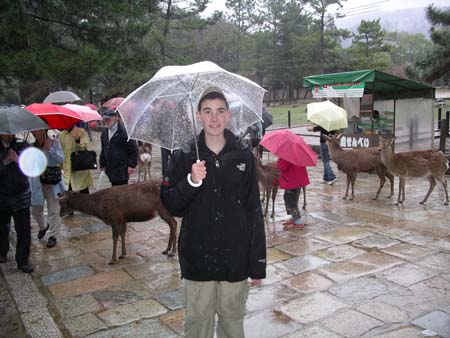 Nara is home to over 1,200 very tame deer that roam the grounds, sidewalks and streets. The deer have learned to follow tourists, and several vendors sell food. We've never seen so many deer in one place, and it's very strange to see them so aggressive in approaching people looking to be fed. Masahide told us that there is now concern regarding the large number of deer here and the shortage of food for them that's resulting from their rapid population growth.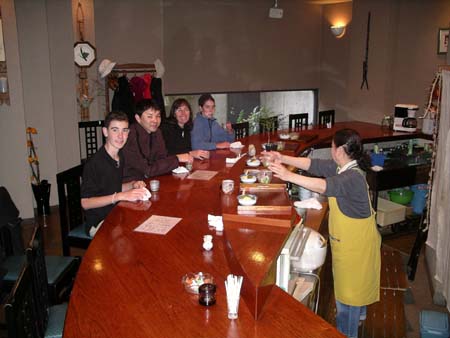 We had a wonderful traditional Japanese lunch at a small restaurant in Nara's Naramichi section. This area of town has many well-preserved homes and shops, and it was interesting to walk through its quiet streets. We stopped in a small local museum and also a traditional Japanese home that's been preserved here.
We enjoyed talking with Masahide who unlike most of our guides has traveled to the States (NYC and San Francisco). We asked what he thought of America and his response was interesting. He told us he was amazed at how big it is and how friendly everyone is (surprising). He also said that he liked how there are so many different kinds of people from everywhere, saying that "there were so many Japanese people that I didn't feel alone." His acknowledgement of our diversity is understandable now that we have experienced the homogeneous nature of Japan and much of Asia.
We also talked with him a little about education here in Japan. He admitted that students study very hard in school through high school but that life in the university is a bit easier for most majors. He told us that many students feel this "break" is important before they begin the very hard work that is expected once they enter the job market.
By now, we were all extremely cold and wet, and unfortunately decided that it was best to cut our day in Nara short and head back to Kyoto. Especially with us all just getting over colds, we really needed to warm up and change into dry clothes. So we said goodbye to Masahide and took an express train back to Kyoto.
Once in Kyoto, we moved from our hotel by the train station to a location that's much nicer and more convenient for seeing most of the important sites. Tomorrow we have a full day planned exploring Kyoto.