Monday, March 20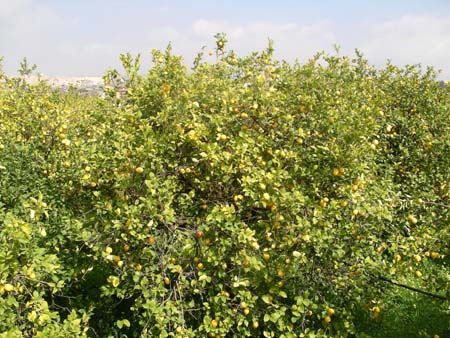 We left Ragusa this morning, passing by the picturesque city of Ibla one last time as we began the 90-minute trip to Syracuse. We continue to really enjoy the drives through Sicily's countryside, and today we were amazed at the huge number of lemon trees that lined the roads and highways. The trees are absolutely packed with ripe fruit, and we couldn't resist stopping along a small street and letting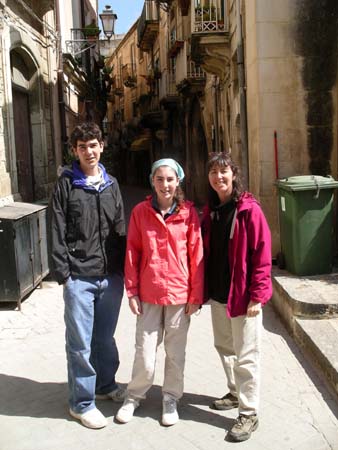 David dart out of the car to pluck a couple of lemons off an inviting tree. David and Katie enjoyed eating the lemons, deciding that the juice from the freshly-picked fruit is extra bitter.
We arrived in Syracuse late in the morning, and decided to first explore the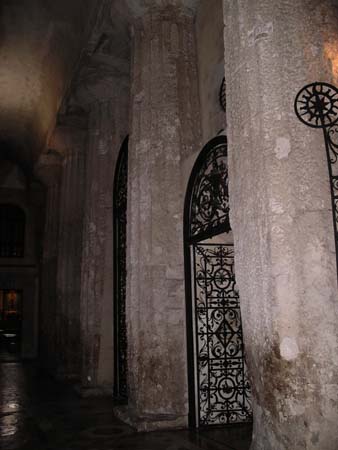 island of Ortygia. This is the old section of Syracuse, similar to the relationship between Ragusa and Ibla. While much of Ortygia has the same interesting mix of architecture that we've seen in other small cities, it seemed busier and much less relaxing to explore than places like Erice, Modica and Ibla.
The Piazza Duomo is very nice and is probably the largest open public space that we've seen in any of the older Sicilian cities. However, similar to what we've seen in so many places in Sicily, the Duomo is undergoing major reconstruction and the façade of the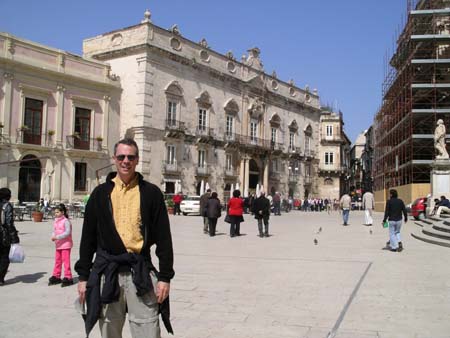 church isn't visible at all behind the scaffolding. The church itself is very interesting as it was built in the 1700's on the site of a Greek temple that dates to the 6th century BC. The original Doric columns from the temple were incorporated into the construction of the Duomo are still visible inside the church.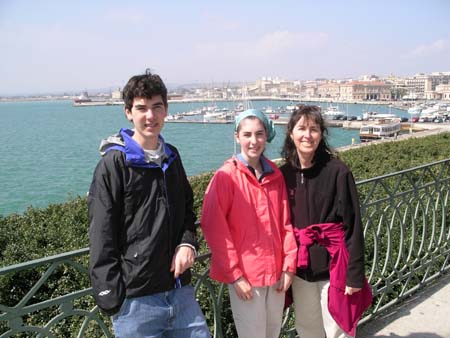 After visiting the Piazza Duomo and exploring a few of Ortygia's side streets, we enjoyed an outdoor lunch of pizza and pasta. This was one of the warmest days we've had and it was nice to take advantage of the nice, sunny weather.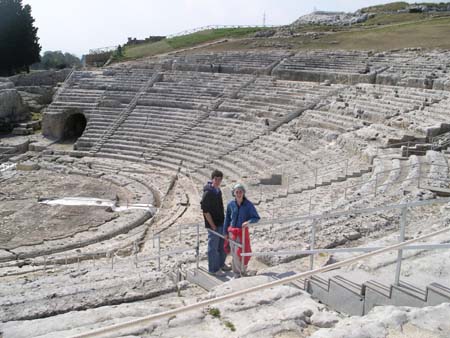 Our next stop was the archeological park back in the city of Syracuse. This houses a huge Greek theater dating to the 5th century BC that is still used today for summer theater festivals. It is considered to be one of the finest theaters ever discovered, and it was interesting to explore the site, including the tombs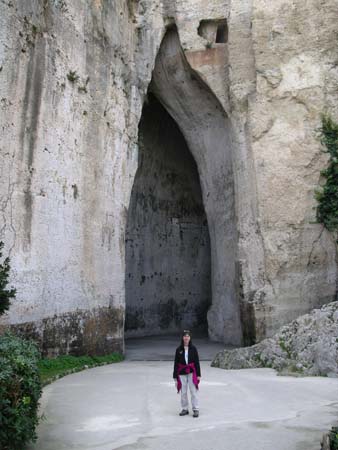 that surround it. It was also fun to walk into one of the huge caves from which ancient architects extracted huge amounts of stone that was used in construction of buildings in Syracuse. One of the caves, called the Ear of Dionysius, is over 200 feet high. We walked into this cave and were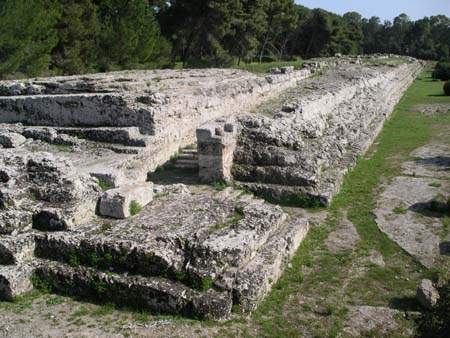 amazed at how deep it goes into the rocky cliff. There is also a Roman theater here that is kind of a mini version of the Roman Coliseum.
We left Syracuse mid-afternoon and headed north along the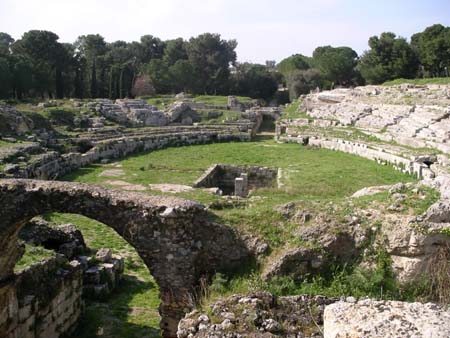 coast on our way to Taormina. Although much of the drive was on 4-lane highway, it was anything but easy. The combination of old clunkers that drive at 40 mph or slower along with aggressive speedsters that come out of nowhere at speeds well over 100 mph makes driving a very harrowing experience. When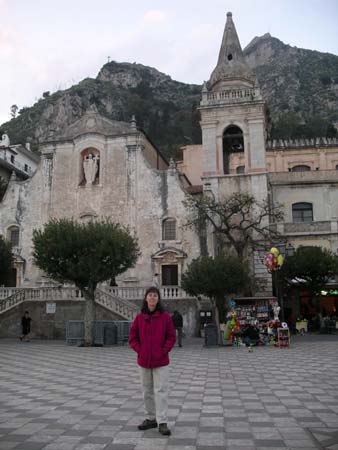 passing slower cars, it's not unusual to see the speed burners come out of nowhere, blinking their lights and riding right on our bumper until we move over. Then they pass intentionally close to our car, obviously trying to send some sort of mes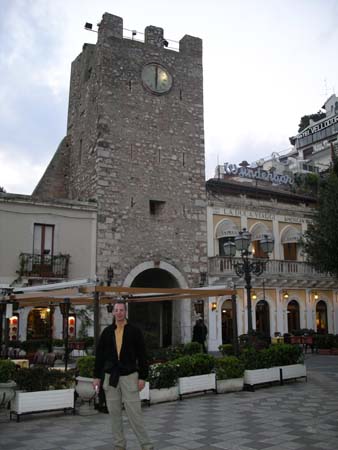 sage. On two-lane roads, the passing is worse. People are unbelievably aggressive in deciding when it's safe to pass, and expect you to adjust your speed or move over into the breakdown area if an oncoming car approaches in their passing lane. We don't know the statistics, but there have to be a huge number of automobile accidents and fatalities that occur here.
This evening we arrived in Taormina, Sicily's glitziest resort community. It's a city built high on a cliff in a spectacular setting that overlooks the Ionian Sea with fantastic views of Mt. Etna. Mt. Etna is Europe's largest active volcano,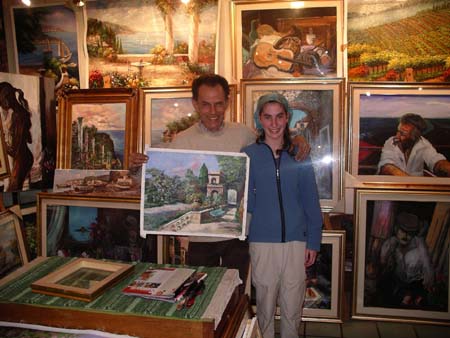 and today we caught faint glimpses of the snow-covered peak through the clouds that often shroud it from view. After checking into the Villa Paradiso Hotel and its great views, we enjoyed walking through Taormina's shop-lined streets. This is the first true tourist area that we've visited in Sicily, and we didn't mind doing a little shopping and walking among tourists through Taormina's pretty streets. The highlight was our stop in a local art gallery, where Katie quickly befriended the artist (Franco Pavone). He was a real character and enjoyed giving Katie all kinds of advice about life as a professional artist. Katie purchased an original oil painting from Franco that she plans to hang in her room at home.
Tomorrow we look forward to exploring more of Taormina.