Saturday, March 18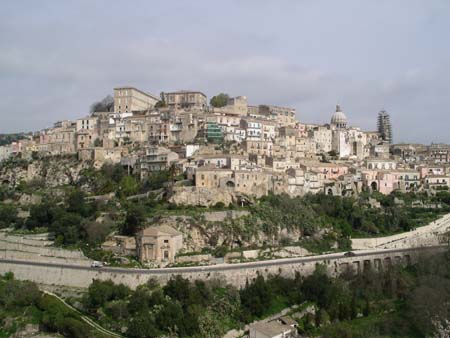 After stopping to take a few daytime photos of Ibla Ragusa perched along the hillsid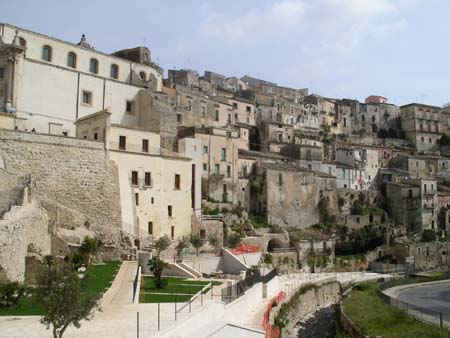 e, we headed to Modica. The drive through the countryside was again just beautiful. The rolling landscape bought farm after farm, many separated by old stone walls. We also began seeing dairies and grazing cows, accounting for the wond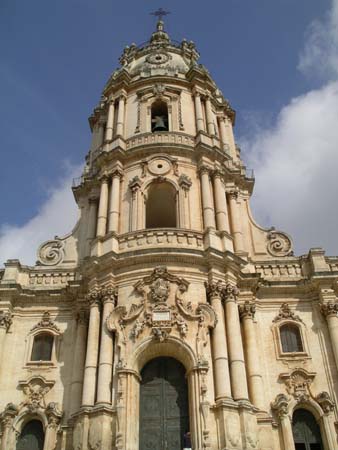 erful fresh cheeses we have been feasting on.
We immediately drove into the old city of Modica and to its majestic cathedral, San Giorgio Duomo, at the very top of the city. The city is known for its historical strategic position and has been inhabited as long as mankind has been in Sicily. Like Ragusa, it was rebuilt after the earthquake in the 17th century. Modica is not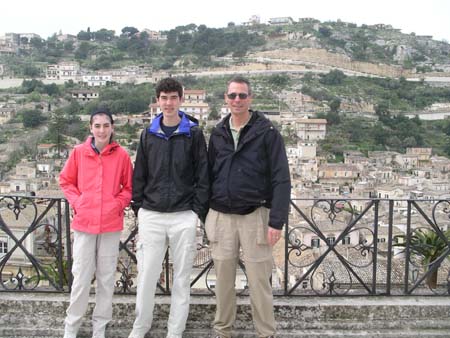 a common tourist destination and we quickly discovered that few people speak any English at all. Despite this, we walked through the city and made several purchases, including some of Modica's famous chocolate. Modica is well known in Sicily for using an old, traditional recipe to produce chocolate. The chocolate is distinctive in that no butter is used and the sugar is not melted and therefore can be tasted separately. We also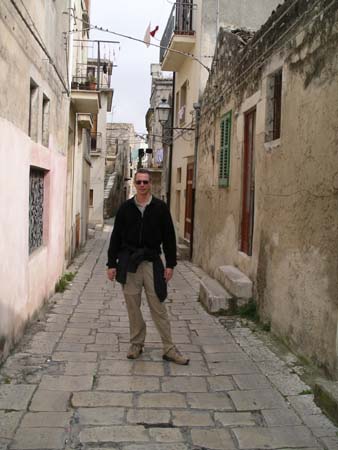 purchased cookies in a local bakery and cheese in another small store. With each purchase we enjoyed using our translator to look up words which helped us to communicate.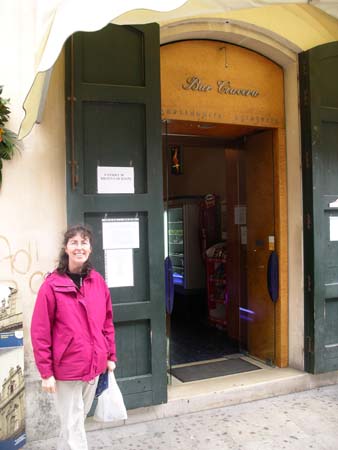 We also asked each storekeeper if they knew Georgio Ciacera. Georgio is a family member of a friend in Reading, and all we knew was that he owns a café somewhere in Modica. Amazingly, we eventually discovered someone who pointed us in the right direction and we found ourselves standing in front of Ciacera Café. Although Georgio was not at the café, we did manage to get his delightful granddaughter to understand who we were and she passed on our regards to her grandfather.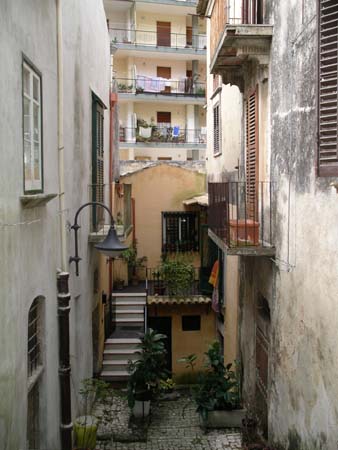 We had a nice lunch in Modica but mostly spent our time just wandering the narrow streets and stairways which make their way up and down this hillside city. At one point we climbed the 250 steps from Corso Umberto, the main street and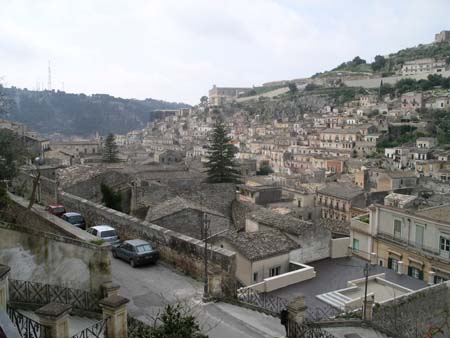 shopping area, to the Duomo. With few tourists here, we often were met with stares but found that if we smiled and greeted people with "buongiorno," we were rewarded with smiles and return greetings.
Traveling again through the beautiful countryside on narrow winding roads defined by old stone walls, we made our way to Marina di Ragusa. This seasid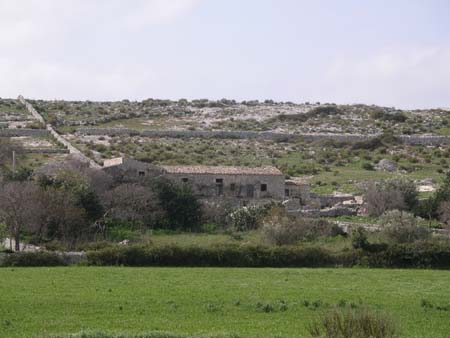 e resort was quiet today but we watched kite surfing on the wavy shore and relaxed on the fine sand beach. A quick gelato before we headed back to Ragusa hit the spot.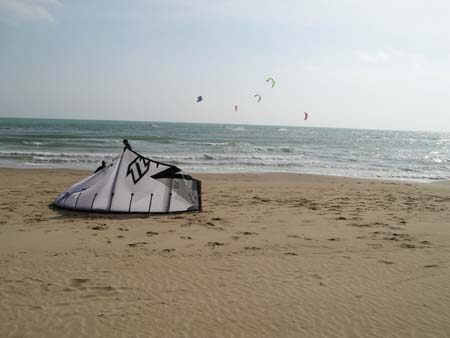 Our guidebooks said that one of the best restaurants in Sicily is the Il Duomo, so we again headed to the old city of Ibla for the evening. The elegant dining room featured gourmet Italian cuisine and we had the opportunity to try several traditional dishes including ravioli stuffed with fennel, pasta made with sepia (this black pasta is made from squid ink) and a pork chop with chocolate s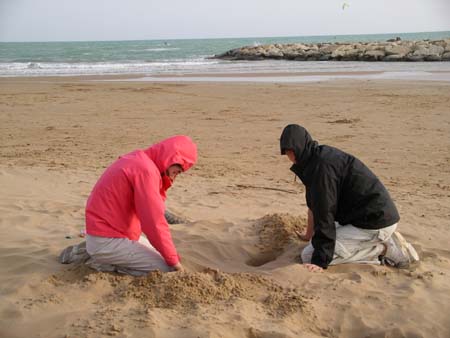 auce. The homemade breads, delicate appetizers, pasta, main courses, desserts and Modica chocolates left us extremely full. We also downed almost two bottles of wine, making it necessary to roll into bed as soon as we returned to our hotel. David was literally snoring within minutes of hitting the pillow.