Sunday, March 12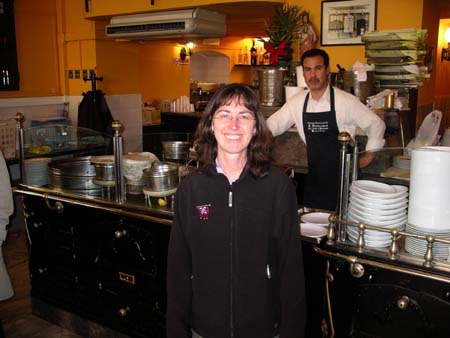 (2006)
Although it's been almost two full years since we traveled internationally (hard to believe!), our trip to Sicily still seemed relatively easy compared to several of our other journeys. We flew on Alitalia from Boston to Milan, and then made a comfortable connection to Palermo, arriving on time at 11:30AM.
After renting a car at the airport, we made our way on the A29 highway to Palermo. With our trusty laptop on Paula's lap and our mobile GPS receiver on the dash, we were able to track our progress in exactly the same way that we did when driving through Europe during the summer of 2003. Once on the A29, we quickly realized that Sicilian drivers are the most aggressive we've seen anywhere. They drive recklessly, approach your car from behind at unbelievably fast speeds, and blink their lights incessantly to get you to move aside. When passing, they seem to intentionally drive as close to the side of your car as possible, possibly as a method of intimidation. Anyway, the drive to the hotel was just the start of our driving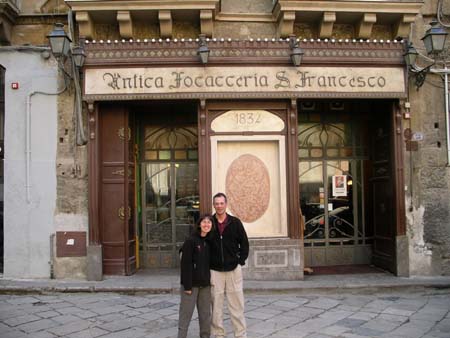 adventures - more on that later.
We stayed in Palermo in the heart of the old city, at the Hotel Letizia. It's a friendly place in a perfect location. After checking in and splashing water on our faces (no sleeping on the first afternoon following an overnight flight!), we set out to enjoy our first Sicilian meal at a restaurant called Antica Focacceria San Francesco.
Lunch was wonderful, and we were quickly reminded of the many fantastic meals we had enjoyed in Italy during our visit here in 2003. We absolutely feasted on caprese salads, pasta and wonderful desserts. The restaurant was loud and energetic with the voices of locals who were gorging themselves with late afternoon multi-course meals.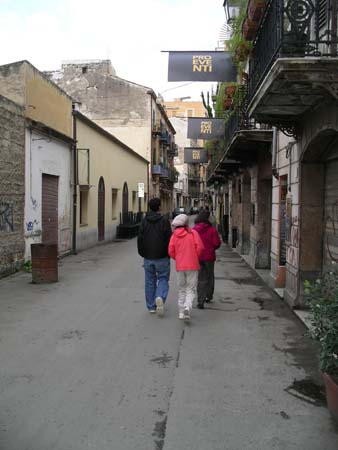 Despite cool and cloudy weather, we spent the rest of the afternoon exploring the labyrinth of streets that make up this part of Palermo - the old medina. This area of the city is split into quarters and our hotel and most of our walking today was in La Kalsa, the old Arab section. The narrow streets definitely reminded us of southern Spain and Morocco, both areas with large historical Arab influences.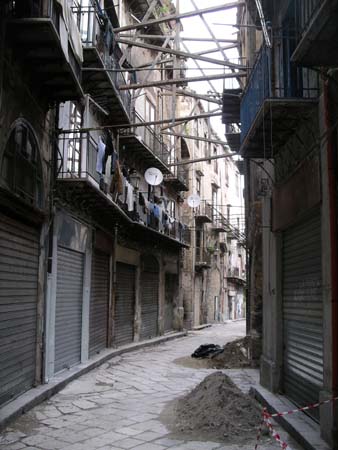 Unfortunately the entire city seems to shut down on Sundays, so we passed the time walking and getting an initial feel of Sicily's capital city. Palermo's narrow streets are difficult for pedestrians to walk through. Even with limited traffic, we found ourselves dodging cars and motorbikes and struggling to stay on the sidewalks that are often obscured with construction, trash receptacles and parked cars.
Dinner was somewhat of a washout, as the restaurants that had been recommended to us turned out to be closed on Sundays. We also found ourselves fading quickly and tempted to head to bed earlier than we knew we should. Finally, we headed back to Antica Focacceria San Francesco for some quick pieces of pizza that we enjoyed before crashing at around 8:00.