Thursday, February 12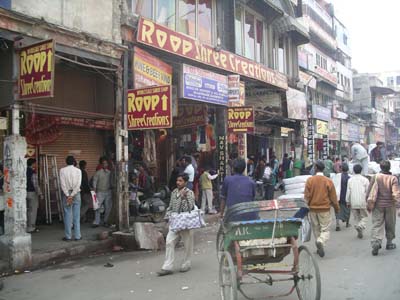 Steve: This was our day to explore Delhi, and we made the most of it. Utpal picked us up this morning and we immediately headed to Old Delhi. It was obvious when we left New Delhi and entered the old town - amazingly, the streets became even more congested than what we had experienced yesterday. Old Delhi is a bustling and very crowded commercial center, organized by the products that are for sale along its narrow streets. Utpal told us that there is a street for virtually anything we could imagine, including greeting cards, silk, silver, automobile parts, etc. This reminded us somewhat of the souqs in Morocco, but Old Delhi's streets are much livelier and somewhat intimidating because of all the cars, rickshaws, bikes and scooters that speed through the narrow passages.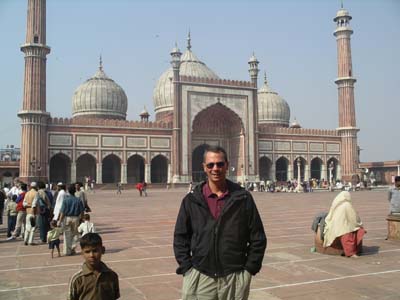 Before exploring the commercial district, we began at the mosque of Jama Masjid, the largest mosque in India. The population of India is 12% Moslem, and the Jama Masid is their most important place of worship. It was built by Sh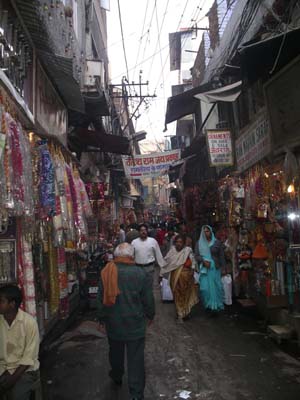 ah Jahan, who was also the architect of the Taj Mahal. Unlike the mosques we visited in Istanbul and Morocco, the Jama Masjid is all outside, with a large area that is used for prayers 5 times each day.
Next we took a tour through the streets of Old Delhi. The variety of people, transportation methods, foods and products for sale is amazing. Today's experience was even more eye-opening than when we walked through the medina in Marrakech. The noises, smells, crowds, trash and traffic are absolutely overwhelming. At times, it was hard not to be intimidated, and it was especially difficult to walk on the streets with rickshaws and other vehicles (motorized and non-motorized) cons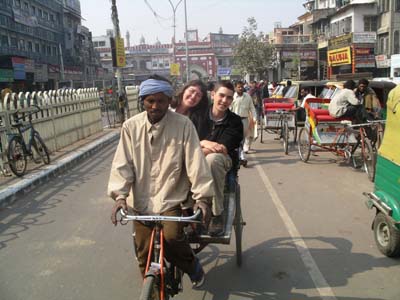 tantly pushing through. More than once we found ourselves stuck in an intersection or pinned up against a wall as traffic squeezed by. Utpal's reassurances were helpful, and we simply followed him as cautiously as possible and tried to stay close.
After exploring some of Old Delhi's streets by foot, Utpal flagged down 3 rickshaws and arranged for us to take a ride through the Chandni Chowk, Old Delhi's main street and a famous shopping bazaar. After overcoming our initial fear of riding unsteadily on the back of these rickety 3-wheelers (and also the risk of somehow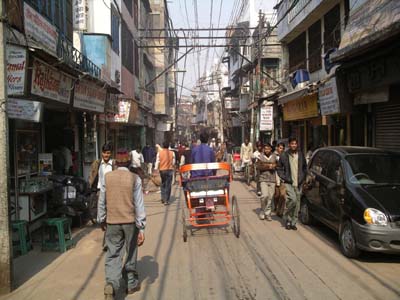 becoming separated), we tried to absorb everything that was going on around us. The rickshaws are everywhere, and really seem to clog things up (largely because of their width). The number of people who are traveling this street at any time is unbelievable. There are traffic lights at the intersections, but none were working and everyone simply pushed their way through. Horns blare constantly, often telling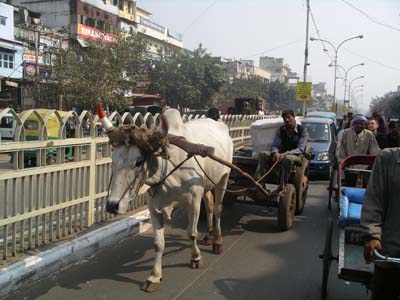 pedestrians or slower cycles to move or be hit. Amazingly, we didn't see any accidents today. However, Paula did get brushed twice - once by a rickshaw and another time by a large crate being carried by someone on their head. All part of a day on the streets of Delhi, we guess…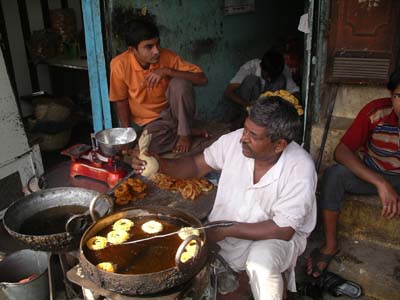 Chandni Chowk is lined with shops, street vendors, craftsmen working right on the sidewalk, beggars, touts, and many who seemed to be aimlessly hanging around. We were struck by the number of women and children who approached or followed us asking for money. This began as soon as we left our minibus for the first time. The begging here is much more prevalent than any place we've seen, and the people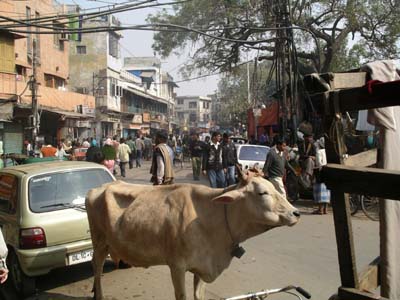 asking for money are extremely persistent. Sometimes, the beggars come right up to cars and go from window to window trying to get attention. While we were walking, they sometimes wouldn't leave us alone until Utpal spoke to them firmly in Hindi.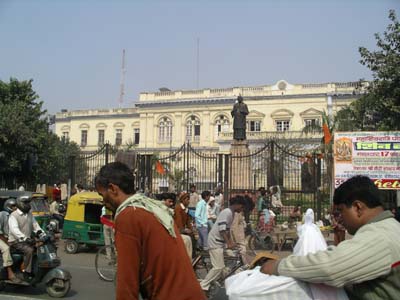 After the rickshaw ride, Utpal took us for a fascinating tour of Gurdwara Sis Ganj Sahib, a Sikh complex located directly on Chandni Chowk. As seems like it will frequently be the case here in India, we really had no idea of what we were in for. Uptal said he wanted us to see the "Real India." We started by meeting two Sikhs who asked us to remove our shoes and socks, and then covered our heads with yellow cloths. After a brief discussion of Sikhism and overview of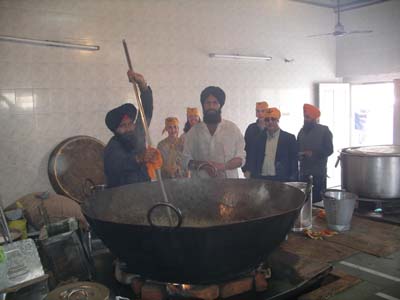 what we were about to see, we headed into the complex, walking over water that had been sprayed in the entryway. The water is considered to be holy, and is used to wash your feet. As we walked into the complex (along with many who were praying and splashing themselves with the water), we entered a large prayer hall. In the front, three men were chanting and playing Sikh music, and another was sitting with their holy book that was kept under a colorful blanket. The room was filled with all sorts of people engaged in what appeared to be different types of prayers.
We then walked into the area where food is prepared and served.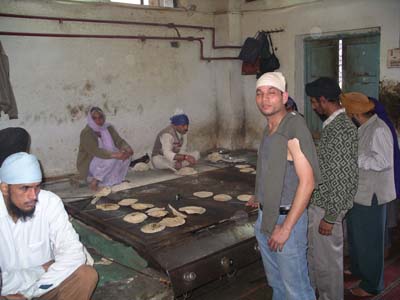 Each day, this complex feeds 10,000 people who come from Delhi and all over India. Many are Sikhs, but we saw several people of other religions. The kitchens are staffed by volunteers, and we were encouraged to take pictures of the food being prepared. The food, primarily bread and sweet pudding, is all provided free. We saw large numbers of people waiting for their meal, and Uptal told us that many were not here due to poverty, but for what they consider to be a holy experience.
As we walked through the Sikh complex, much of what was going through each of our minds was something like "I can't believe we're here." We saw no other Westerners inside. However, as strange (and admittedly somewhat uncomfortable) as it felt to be there, with our covered heads and bare feet (you can see Paula, David and Katie in the background of the picture above with the large pot), we did not feel unwelcome. Some people smiled at us and invited us to take pictures. Most went on with their prayers and other activities, as if we weren't there at all.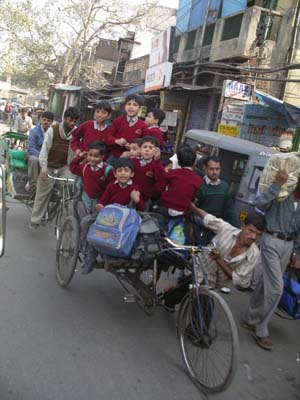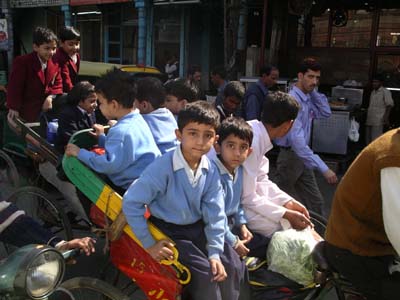 Leaving Old Delhi, we saw many uniformed children who were just getting out of school for the day. It was cute to see them huddled together on rickshaws that served as school buses. As we crept along the crowded streets, many of these children waved and smiled at us through our windows, and we were able to get a few pictures.
We left Old Delhi and drove to the Gandhi museum and memorial, a short distance away. The museum was extremely interesting, yet understated and very simple (as Gandhi would have wanted it). It follows his life chronologically with a series of pictures and explanatory plaques. The museum contains many of his personal belongings, including the blood-stained clothes and other items from his final day. Everything is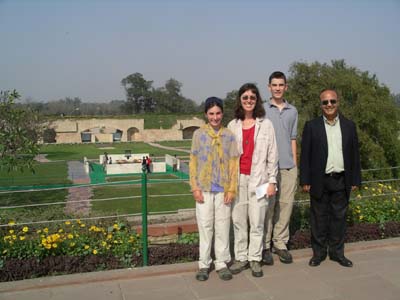 housed in very basic display cases. There is no charge for admission (only a request for small donations). We saw very few people inside, and we were certainly the only Westerners there today.
Outside the museum is the Gandhi Memorial, sitting on the site where his body was cremated shortly after his assassination in January 1948. This is a large, open and very green area and is visited by over 50,000 people every day. Today we saw a steady stream of people from a variety of religions (Utpal can tell us the religion and often the home of every person we see) paying their respects. Many world leaders have come here, and we were told that President Clinton visited in 2000.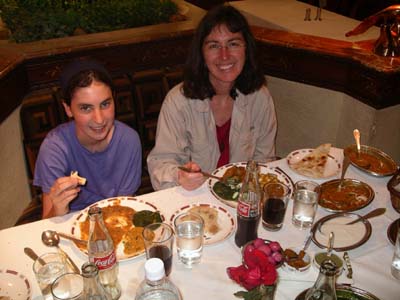 It was now after 3:00, and we were all very hungry. Utpal took us to one of his favorite restaurants in Delhi, knowing that the lunch rush was over and we could be seated immediately. After being seated, Utpal asked if we would trust him to order for the table, and we readily agreed (this brought back memories of this exact situation in Istanbul and the wonderful lunch we had with our guide Ali). Lunch was a tasty (and not too spicy) combination of mutton, lentils, cheese cooked with spinach, rice and wonderfully prepared breads. Other than last night, this was really our first Indian meal and despite our initial apprehension we enjoyed all our food. David literally cleaned his plate, wiping it with the delicious bread.
We realize that mutton will be the main (only?) type of meat we'll eat here. Obviously, beef is not served (except in some 5-star hotels), Katie doesn't eat lamb, and we've decided to not eat chicken (because of the Asian bird flu). So mutton it is!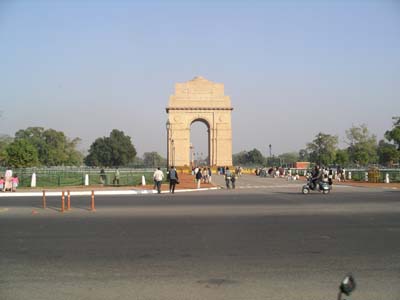 After lunch we took a drive through the government center area of Delhi, seeing the Indian War Memorial, the parliament building, and the President's House. Utpal told us that 10 years ago he was a neighbor (here in Delhi) of the current President. Utpal and his son have had a couple of occasions to meet the President, and he enjoyed telling us the stories around these encounters.
Our final stop was at the Lotus Temple, a Bahai house of worship that is shaped like a lotus flower. It's a new building and set in the middle of a group of pools and gardens. Interestingly, this is where we saw the greatest number of tourists all day. However, almost all the visitors were Indian, displaying a wide variety of colorful dress and face markings. As people walked by, Utpal told us where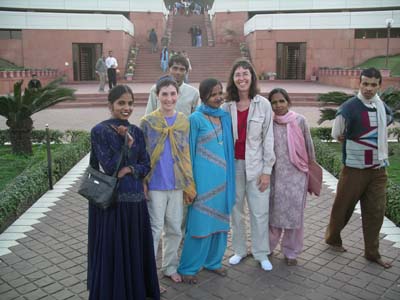 each group was from based on their appearance and language. Several times he asked people where they lived in order to confirm his guess, and we were impressed to find that each time he was right.
We were amused when one group of colorfully-dressed women actually asked us if they could have their picture taken with Paula and Katie. We said yes, as long as we could also take a picture! The attitude of the Indian people toward picture-taking is totally different from what we saw in Morocco, Russia or Istanbul (the only other non-Western countries we've been to so far). In these places, most people did not want to be photographed (with some agreeing only if they were paid). Here, it's just the opposite.

For all the pictures we've seen and what we have read about India and daily life on the streets, nothing could replicate the strikingly vivid and permanent image that today's activities in Delhi has created. We keep reminding ourselves that 1 billion people - fully 1/6 of the world's population - live in India. Only about 25% live in the cities, so we're looking forward to our upcoming visits to some of India's rural villages where we can get a sense for how most people in this huge country live.
Tomorrow morning we leave Delhi and our next stop will be Agra, site of the Taj Mahal. We also plan on stopping at several villages along the way.
Katie's Kwick Kwacks: Our Visit to a Sikh Temple. Today we visited a very interesting Sikh Temple. Sikhs are people who practice the religion of Sikhism. There are about eighteen million Sikh people in India, and mostly live in a city called Punjab. Sikh people always have their heads covered, so we had to put on bandanas and take off our shoes and socks. When we approached the temple, we noticed that the marble steps in front of it were very wet. We also saw people taking a little of the water on their hands, and putting it on certain spots of their face. We learned that they do this in hopes of picking up a little dirt to show they are humble before entering their holy place of worship.
As we entered the temple, we immediately heard music. The main altar had a small canopy with a man in the middle of it. He was kneeling behind a blanket with many flowers on it. We learned that underneath the blanket were the Sikh's holy books. Beside the main altar were three men chanting prayers and playing music. After making a small donation to the temple, we went into the courtyard of the complex. Here we entered a room with two men fixing pudding in an enormous pot. It smelled wonderful! We learned that the Sikh complex serves free food to people of all religions and backgrounds - about 10,000 people a day! We also learned that they have a guest house, open for people to sleep in the complex any time they want. After learning about how they organize this cafeteria, we went into a basement where we saw many volunteer women kneading dough, and men frying the dough. It was a fascinating sight. In the next section of the basement we saw many people waiting in line for their food. It was wonderful to see how welcoming the complex was to all kinds of people.
As you can see, this was a wonderful experience for us, and we look forward to learning more about India's many religious groups during our stay in this fascinating country.
David's Daily Dump: Our Rickshaw Ride in Delhi. Our exciting and frightening rickshaw ride through Delhi was one of the more adventurous things that we did yesterday. Rickshaws are old rusty bikes with a bench on the back meant for two people. They roam the streets carrying people from here to there and maneuver through cars, pedestrians, motorcycles, and bull carts on the busy streets. At first site they look dangerous and as if they will fall apart at any moment, but we soon learned that it is much safer to ride in one than to walk!
As I climbed aboard our old rickshaw with Mom I was a little frightened. I realized that we were going to ride on these bikes through the city trusting the driver to not let us get hit buy cars or run over by huge bulls! Not to mention that there are no handles. I was hanging on to Mom for dear life! Well, not exactly for dear life, but it sure seemed like it at the time. While we were riding, I realized that being on the rickshaw was actually safer than walking. It's one less thing that you can get hit by on the road! After we started I began to fell more comfortable and had fun trying to keep up with the rickshaw that Dad and Katie were on. Everyone was very friendly with us and always greeted us while we rode past them. One of the drivers of a bull cart even made his bull run to show us he was faster than us.
Like most crazy things we do, it seems scary at first, but in the end we have a great time and can call ourselves "adventurous."