Wednesday, February 11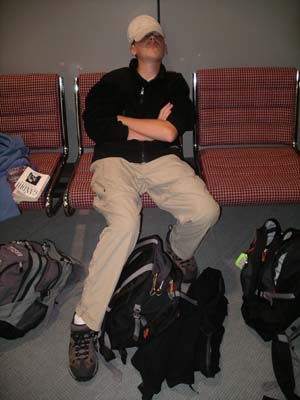 Steve: What a day! Things started very early when we left on a 1:15AM flight from Melbourne to Bangkok. That has to be a first for us, and we had to laugh as David fell asleep at the gate while we waited for our flight to leave. Actually, for a nine-hour flight this worked out very well since we basically all slept for the first five to six hours of flying. This is easier than flying to Europe because we end up with much more time to sleep on the plane. We arrived in Bangkok at 6:00AM local time feeling not too bad considering the length of the flight. We also made the good decision to pick up and re-check our bags in Bangkok rather than relying on Thai Airlines to successfully transfer our bags to Indian Airlines. However, this meant an extra trip through immigration and waiting at the check-in counter for Indian Airlines to open. It also resulted in unanticipated expense since we learned that Thailand charges a 500 Baht (roughly $12) passenger service charge for every person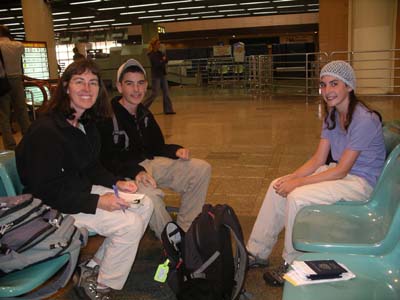 leaving the country. Since we will be transferring in the Bangkok Airport ten times over the next six weeks, this is going to get expensive! We wonder if they have a frequent-flyer discount…
We arrived in Delhi on time at 1:00PM. There is actually a 1 1/2 hour time change between Bangkok and Delhi, so we are now 10 1/2 hours ahead of US East Coast time. We're not sure where the 30 minutes comes from, but this is going to be a little bit harder to figure out on the fly. We were met at the airport by Ashok who works with Snow Lion and has personally planned our itinerary here in India. Ashok gave us a very warm welcome, including wonderful gifts that he picked out personally. David and Katie were thrilled to receive a wooden chess set, and wondered why we hadn't brought a set of our own on the trip.
During the drive to our hotel, Ashok gave us an overview of India and what we would be seeing during our 12 days here. Ashok explained that India is a country of wide extremes. This includes India's people, geography, climate, and economic classes. We have already begun to see some of these extremes, as we passed through several areas comprised of heavily rundown buildings, poverty in the streets, and pollution. Most striking were the small tents along the road that serve as homes for the poor.
We were not quite prepared for what traffic in Delhi is all about. We read that it's bad, but being on the roads is really an entirely different thing. Every motorized vehicle, bike, pedestrian, and animal acts as if they have their own right-of-way. The streets are jammed, and Ashok explained that the true challenge of driving is predicting the psyche of all the other drivers that you encounter. Fortunately, our minibus is larger than most everything else on the road, which certainly helps in establishing right-of-way. There are animals along the roads, including cows, oxen and dogs.
We were also immediately struck by the smog that filled the air here. Ashok told us that actually the air has improved significantly over the past several years, due to laws that prohibit diesel in all trucks, buses and tuk-tuks (small 3-wheel taxis).
We passed through areas of Delhi that are unlike anything we've seen before. The immediate surroundings as we left the airport were all military in nature. It was also a little unnerving to see so many government police officials who all carry machine guns as part of their standard issue.
The extremes of India were never more apparent than when we pulled off of a main street and into the driveway for our hotel. It's a large and modern facility as nice as any top-notch hotel at home. Walking into the lobby it felt as if we were entering a totally different world, and it was hard to not feel guilt in thinking about all we had just seen.
Our original plan was to make an initial trip into Delhi this afternoon. However, we were all tired and decided that it was probably best to relax in the hotel until dinner. Ashok told us that we had been invited to meet our guide, Utpaul, in his home for dinner this evening instead of heading to the restaurant that had been arranged for us. We quickly accepted this offer, eager to meet Utpaul and his family and to begin establishing a relationship prior to beginning our 12-day journey through Rajasthan.
We met our driver, Rajjan, in the lobby at 7:00PM and began what we assumed was a short drive to Utpaul's home in Delhi. It didn't take long to realize that this was not the case at all. Traffic was much worse than our trip from the airport, and we absolutely couldn't believe how many vehicles jammed the roads. At one point, Rajjan simply turned off the engines waiting for traffic to clear. We later learned that the traffic phenomenon in Delhi is fairly recent, as cars are now considered necessities by almost everyone of driving age. Seeing the roads this evening made us wonder how people can get around at all.
After about 40 minutes we arrived at Utpaul's flat in South Delhi. As we were led by Ashok up two flights of stairs, none of us knew exactly what to expect from the evening. We anticipated a small, intimate meal with Utpaul and his family. When the door to Utpaul's flat opened, we were surprised (an understatement) to be greeted not by a small family, but by 25 friends and family members who were obviously gathered for a communal meal. Immediately, we knew we were in for an interesting evening. First, we took off our shoes and put them in the pile by the front door. Ashok then introduced us to Utpaul who smiled warmly and greeted us all. Nervous at first and feeling very out-of-place, it didn't take long for us to feel welcome by everyone. Smiles, handshakes and friendly words came from everywhere.
Utpaul took us to an outdoor terrace just off the main room of his flat. We sat on a bed and Utpaul explained that today was the one-year anniversary of the death of his father. Just an hour earlier, Utpaul and his close-knit group of friends and family had completed a nine-hour service dedicated to his father. The ceremony had begun at 9:39AM which was the exact time that his father had died one year ago. Utpaul showed us where the ceremony had taken place and some of the physical elements of the service including the photo of his father that had been placed on the terrace. Utpaul explained that in the Hindu religion there are traditionally many ceremonies (often very lengthy) that are held around major life events including deaths, births, and marriages. When we expressed appreciation for being invited here on such an important day, Utpaul said that in life, his father was known for befriending foreigners, and that his spirit would be happy for us to be here. As we sat on the terrace, various friends and family members came out to meet and speak with us. We were overwhelmed by their hospitality and their genuine sense of joy of having us join them this evening.
Our conversations ranged from discussions about life in Delhi (including traffic, the cost of living, and education), to the Hindu religion, to politics in the United States. We were absolutely amazed at how much everyone knew about current events in America. When we told people that we were from Massachusetts, their first response was, "That's where Senator Kerry is from, right?" In fact they all knew Kerry had won the recent primaries in Virginia and Tennessee. We couldn't believe it. When we inquired about how they knew all this, we were told that CNN, BBC, and Voice of America are standard parts of their daily lives. One person also told us that he never misses a show of Larry King Live. We got the impression that these people know more about happenings at home than many Americans do. We asked about whether they also watch local news regarding India and Delhi. Of course they do, but we were left with the impression that many people are highly fascinated with events in America.
After much discussion and some wonderful tea that we were told was a special blend from Kashmir, it was time for dinner. We had seen much of the food being prepared through the window into the kitchen, and also could smell the strong aroma of Indian spices. It was hard to not be at least a little apprehensive on about our upcoming dinner. We all had expected that our first Indian meal would be in a large restaurant that catered to foreigners - not a traditional meal served in a home. However, it didn't take long before we were all thoroughly enjoying a variety of traditional Indian foods.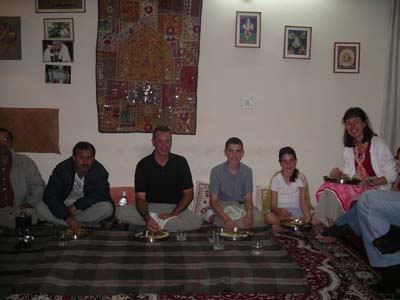 We sat on the floor along with everyone else, and immediately took comfort when Utpaul handed us two bottles of bottled water and said he knew we needed to be careful with what we ate and drank. Before long, the women of the family placed metal plates in front of us containing an appetizing combination of rice, meat, and vegetables. We were given the option to use silverware, but chose to eat with our right hands as everyone else was doing. I jokingly asked whether their special dispensation for lefthanders, but ended up clumsily picking up the rice and removing meat from the bone with my almost useless right hand. As we ate and continued our conversations, it was clear that Utpaul's guests were having fun in watching us experience what was obviously a new adventure for us all. Only a small amount of the food we picked up made it to our mouths, in stark contract to everyone else who deftly cleaned their plates using only one hand. As we started eating, new types of vegetables and meats streamed from the kitchen to our plates. We were told what each type of food was, and never felt pressured in any way. It was a wonderfully fun and exciting first venture into Indian cuisine. David and Katie did great. They tried and ate all that the foods that were served, and genuinely enjoyed themselves.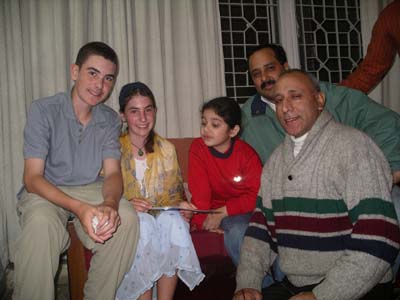 After our meals, we were led upstairs to a bathroom to wash our hands, something that was very much needed after the messes that we made. We then shared pictures that we had brought to show people where we live and to talk about our family and friends at home. Katie was invited upstairs to play with Utpaul's niece, and was very surprised by this girl's ability to speak English. We learned that English is taught starting at age 3. We already knew that it's one of India's "official" languages, but don't think any of us were prepared for being able to communicate so readily.
We had several additional conversations, many of which centered on Hindu thinking and philosophy. We also learned that although tradition is very important to Hindus, many rituals have evolved over the past several years and are not as strict as they once were. It was fascinating, to say the least.
At around 10:00PM, we decided that it was best to leave to get some rest before our upcoming day in Delhi. This evening was an absolutely perfect start over our stay in India. When we arrived back at the hotel, we all sat together on a bed and couldn't stop talking about all that happened. It was a great feeling.
Tomorrow, will start late in the morning and plan to visit several areas of Delhi. We are certain that this will be a fascinating day for us all.
David's Daily Dump: Our First Day in India. Yesterday was a long and exciting day for us. We got on the 9-hour flight to Bangkok at 1:00AM then waited for a connection to Delhi on Indian Airlines at the airport for four hours. We finally got to Delhi four hours later. We were too exhausted to figure out what time our bodies thought it was, but we tried to roll with the Delhi time which was 1:00PM. I was totally worn out and was ready to get to our nice hotel and take a nap or read the rest of the afternoon. I was also expecting maybe a casual meal at the hotel, or if I was lucky room service in bed! Little did I know what I was in for that night.
The first thing that took me off guard was the taxi ride to our hotel. I guess I felt a bit of an extreme culture shook. The flight to Delhi had already put me on edge for the day and I wasn't prepared for more. The flight contained almost all foreigners, and I wasn't feeling too comfortable at first. Anyway, the taxi ride was noisy, bumpy, and a little scary. When we first got in the taxi our greeter, who meet us at the airport, presented us with gifts. Katie and I got a wooden chess set with a colorful book of the Himalayas, Dad got two beautiful wooden elephants, and Mom got a wooden sculpture of one of the Hindu gods. I already felt spoiled, but not nearly as much as I would later on.
As we rode along, our window was filled with cattle roaming the dirty streets, old cars and motorcycles wizzing by, and tiny tents that looked like homes for some people. The general picture that I got riding through the city is very hard to explain and was very shocking. On the way, Ashok (our greeter) told us that our guide, who was going to travel with us the full two weeks, invited us for dinner at his house. I didn't really think too much about it as we gladly accepted the invitation. That dinner would turn out to be like nothing I had ever expected.
I was picturing that we would have a nice pleasant meal with Utpaul's family (not that it wasn't pleasant, it was great). I was thinking that we would meet his wife and possibly children, and enjoy a quiet evening. As I walked into Utpaul's apartment, a wave of disbelief tumbled over me.
Inside his house were at least twenty people, apparently over for a huge dinner party. Everyone stared at us as we stepped into his apartment and took our shoes off. In the middle of the room was a big rug, where people were sitting on the floor and eating with their fingers. I didn't know what to think. Utpaul then brought us outside and greeted us on his porch. There we talked about our travels and what we were going to do for the next couple weeks. We then meet his whole family, including cousins, son-in-laws, and nieces and nephews. Everyone was very friendly to us, and I began to feel more comfortable.
That's when I saw the women preparing our dinner in the kitchen. They were using their hands to scoop our rice and meat! Although I didn't realize it at the time, my parents told me later that I said, "I don't think I am going to have a very good summer." I have no clue where that came from (since it's not summer!) - probably from the combination of surprise and exhaustion. We were then served tea with cinnamon and almonds which was very good, and were offered sweet biscuits and crackers. We talked about many things with the family including weather, driving, and food, but the thing we were most surprised that they brought up was the presidential race. They told us about how Kerry had just won Virginia and Tennessee! We were amazed that they followed the primaries and knew more about home than we did! They said that they always watched CNN and BBC and liked to be up to date with the international news. Then we were called in for dinner…
First I will say that the meal was spectacular! Delicious! We all sat crossed legged on the floor and were served mutton, white rice, and lots of other things that I can't remember the names of. Eating with our hands is actually more fun than I thought it would be. We only used our right hand, and missed our left hand when we had to yank the meat off of the bones. After a long satisfying meal, we left Utpaul's family and headed back to the hotel with smiles on our faces.

Katie's Kwick Kwacks: Our First Day in India. Today we experienced our first major culture shock. We came from Australia - a clean, Western place, very similar to the United States. We then came to India. In the period of seventeen hours we went from a familiar and comfortable country, to a completely different country. We entered the part of our trip we like to call the "extremes." As we rode in our air-conditioned coach car, I looked out the window. I thought to myself, "Where the heck am I?" Around me was something I just could not fathom…extreme poverty. Surrounding me were tents, run-down garage-like structures used as homes, dusty school buses looking like they were about to fall apart. There were cows lying on the sides of the road. Was this a reality? I wondered how I'd feel sleeping in my own warm, comfortable house again. The images were burnt into my heart. As we pulled into our luxurious hotel called the "Taj Palace," I began to feel numb. Compared to what most Indians were living in, this hotel was indeed a palace. I felt like a queen - believe me it was not a good feeling. I didn't know what to do or how to feel. It was too much for me to handle…
When we got settled into our hotel room, I was exhausted. The exhaustion was not only from being on airplanes for thirteen hours, but also from the shock I had coming into India.
Although this experience was a very difficult one, I realize how important it really is to my understanding of the country. I hope that when we leave India, I will have a much better understanding of it than when we first came here. My first day in India was one I will never forget.