Friday, July 25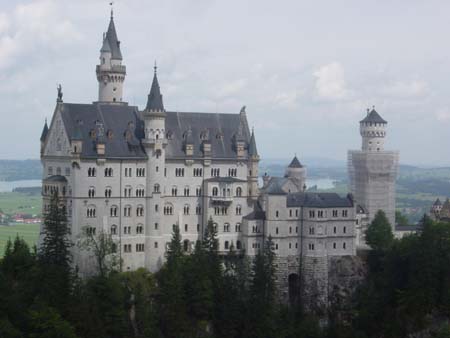 Today we spent the day in Fussen, a beautiful town at the very southern end of Germany. The drive to Fussen gave us all a wonderful appreciation for the beauty of Bavaria. We drove through rolling hills dotted with small villages, lakes, forests and farms. We particularly liked seeing the villages, each with its own church and beautiful steeple. The mountains of Austria were visible in the background, providing a beautiful contrast with the green landscape along our drive.
Fussen is best known for King Ludwig II's castles - Neuschwanstein and Hohenschwangau. Neuschwanstein is known by some as the "Cinderalla Castle", and it is said that Disney modeled its castle at Disneyland after it. The setting for the castle is spectacular, and most people at home have probably seen pictures of it. However, we were most interested in the stories about its construction, and seeing the rooms inside. Some of the fun tidbits we learned included the fact that only 1/3 of the rooms were complete when King Ludwig II died in a mysterious drowning. He had lived in the castle for only 172 days! His bedroom was amazing - 14 woodworkers spent 4 ½ years in his bedroom doing intricate carvi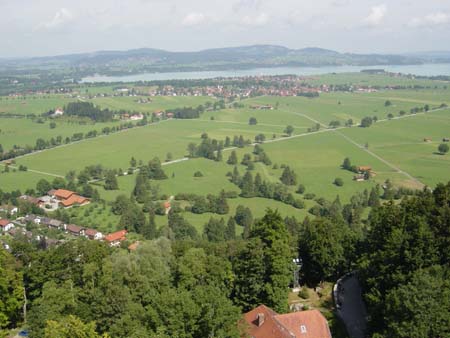 ngs. King Ludwig loved swans, and there are swans everywhere inside. We also learned that the King was very popular for having decided to build the castle because it created excellent employment opportunities for hundreds of Bavarians.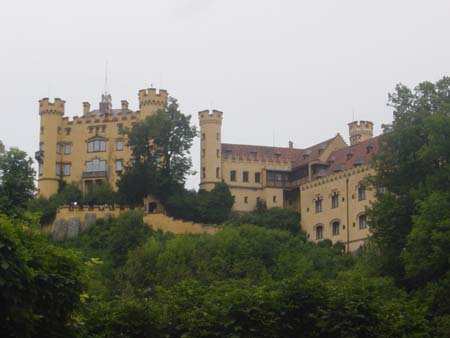 After visiting the castle, we spent time walking through Fussen, a delightful town. The streets are a combination of nice restaurants and shops, plus many historic buildings. There are also some very quiet, winding streets that we enjoyed walking on. After lunch, we decided to relax by Forggensee, a lake in the town. There is a lovely park by the lake, and we spent the afternoon reading, relaxing and painting (Katie), joining several local families who enjoying this beautiful Friday afternoon. ~Steve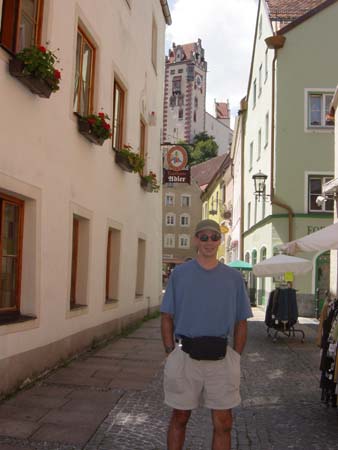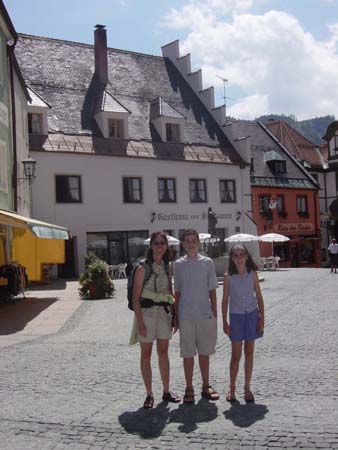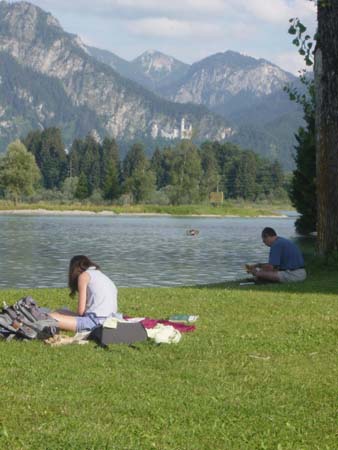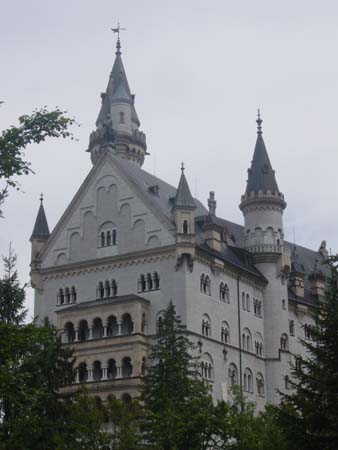 We had a discussion with David and Katie today to find out what things have stuck in their minds thus far on our trip. It wasn't very hard for them to come up with the following list (in the order that came to their minds):
- The size and beauty of the mountains we hiked in
- Being in Monet's garden and seeing the actual scenery that he painted
- How close we were able to get to the players and matches at Wimbledon
- The beauty of the hourly light show on the Eiffel Tower
- The overall size of Paris
- The cleanliness of Switzerland
- How late it stays light (10:00 PM), and how late people eat dinner in Europe
- The fantastic collection of art at the Museum d'Orsay in Paris
- The bantering and lively debating that takes place in the British House of Commons
- The large number of people who speak English
- The use of multi-color currency for easier visual recognition
- The sounds, sights and smells of the outdoor markets on the Left Bank of Paris
- The huge difference in temperature from the mountains to the valleys
- The size of the castles we've visited, and how well they've been preserved
- The differences in road signs (no mention of North/South/East/West, highway numbers change frequently, directional signs often difficult to understand, etc.)
- How fast people in Europe drive
- The diversity of London's population
- The degree to which people in large European cities rely on subways
Distance Walked: 4.73 miles