Sunday, July 13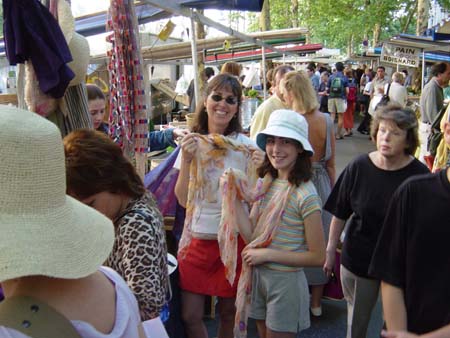 Despite the unusually hot weather (33 degrees Centigrade, which is around 95 Fahrenheit!), we decided to spend a good deal of the day walking through the city. We've found that by getting an early start, we can walk in reasonably cool weather and we all last much longer. We started by walking through the Louvre and crossing the Seine by the Musee d'Orsay. We quickly entered an area which is known as the Left Bank of Paris (the city is divided into neighborhoods, each with some sort of historical or cultural significance). The Left Bank is filled with interesting stores, restaurants and markets, and we had fun meandering through the streets and admiring all the sights. Our favorite was an outdoor market along the Boulevard Raspain. Here you can buy all kinds of foods including produce, meat, seafood, and, of course, cheese. There are also people selling flowers, clothes, books and herbs. Paula and Katie enjoyed picking out scarves - they're trying to fit in with the other women on the streets of Paris! David was happy buying and gobbling down a bag of cherry tomatoes (a favorite snack from back home). My choice was another one of those delicious chocolate crepes that are sold throughout the streets of Paris. This is not a tourist market - it is clearly is place where local Parisians come (mostly in the morning) to shop for each day's needs. We enjoyed taking in the sounds, sights and smells, and we stayed for nearly an hour.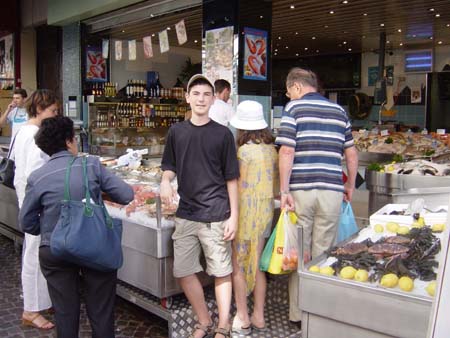 We continued exploring the Left Bank by heading through the Jardins du Luxembourg, to a street called Rue Mouffetard. What a great place this is! Rue Mouffetard is a narrow street lined with every imaginable shop, market and restaurant. The atmosphere here is wonderful - everyone here seemed to be enjoying life to its fullest. People were singing, dancing, eating and simply hanging out on this warm summer morning. We've been told that Rue Mouffetard has changed very little in the last 50 years, and is one of the best places in Paris to see and experience life in this wonderful city.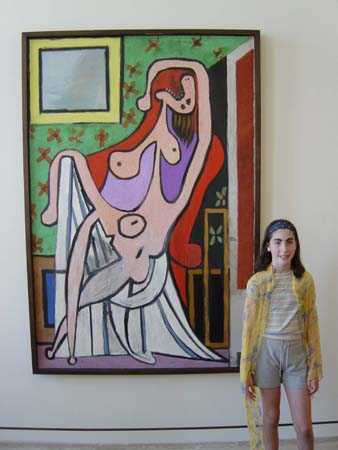 After lunching on roasted chicken, pizza, berries, baguettes and ice cream (what a combination!), we walked back across the Seine, passing through the Ile de la Citie (an island on the Seine where Notre Dame is), and through the Right Bank to see Musee Picasso. The museum contains over 3,500 of Picasso's paintings, drawings and sculptures, and it was fun to see the variety of emotions and expressions represented by Picasso's work. The museum itself is housed in a 17th Century hotel, and is very beautiful. We have found that our favorite museums in Paris have been the smaller, more personal ones - they're much less overwhelming and easier to enjoy.
We took the Metro back to the hotel to rest and escape the heat for a couple of hours before the evening's activities. We also discovered a nearby laundromat, and we decided early in this trip that we need to take advantage of such luxuries when they present themselves! We had dinner at an Italian restaurant near our hotel, and made plans for spending Bastille Day in Paris tomorrow. ~Steve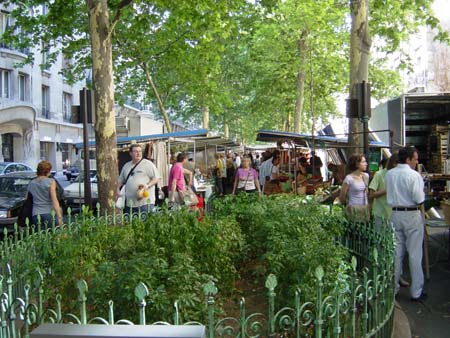 Today I experienced something very interesting and different. I experienced the noisy, crowded and in many ways crazy outdoor markets. I had been to a couple of outdoor markets in Boston before, but the ones in Paris were completely different. The ones I had been to in Boston were well organized and not overcrowded. The ones we went to today were extremely unorganized with people pushing and shoving to get something first, digging through piles of clothing, and yelling strange phrases in French. It was a zoo!
I thought the market in the Latin Quarter was the most unique as it was bigger and therefore had a larger variety of shops. The atmosphere of it was incredible - shop cashiers yelling out, trying to convince people to buy their products, people shoving through the crowd, the enthusiastic street performers crowding the lanes. I didn't see one policeman there - we would never have seen this at home!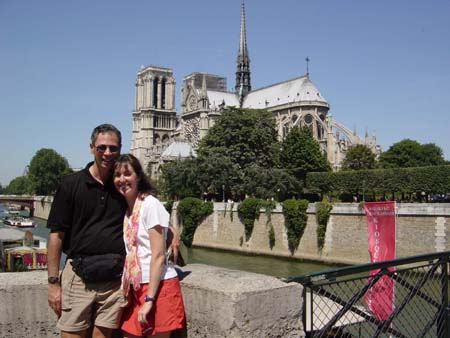 We saw whole chickens turning on big poles as the crisp skin made crackling noises. They smelled delicious. Apparently a lot of people noticed the smell too, because there was an enormous crowd gathered around the counter, carefully picking out the chicken that looked the most delicious. When we had our picnic lunch we noticed another thing very different. We heard a chorus made up of mostly women singing in French, and saw some people dancing in the center. We originally thought the people dancing were married couples, but we were surprised to see that it was women dancing with each other. Apparently, the people didn't know each other because they were trying to convince me to come and join! I felt a little uncomfortable with this so I kindly backed off. They felt perfectly comfortable kissing each other on the cheeks. We never would experience this at home! ~Katie
Distance Walked: 7.45 miles