Saturday, July 12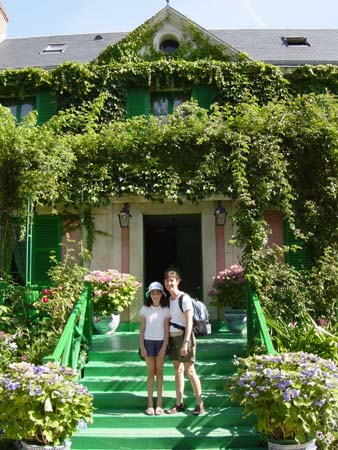 Today we got up early (around 6AM) and went on a train to Vernon, where we caught a bus to a small village called Giverny. I was so excited walking through the peaceful village, for I knew in just five minutes time I would be seeing something I have dreamed of seeing for a long time-Monet's house and gardens. Before I knew it a large pink house covered with roses and ivy came into view. We hurried into the garden and looked around us. The smell and beauty of the house and garden awakened our senses. We stepped into the house of famous impressionist artist, Claude Monet, who lived here from 1883 to 1926. We then explored the house's many rooms containing original furniture, statues, Japanese prints and other items that once belonged to Monet. Each room was colorful with different shades of blues and greens, but the room that really amazed us was Monet's famous dining room. This room unlike the others was a brilliant shade of yellow which we recognized from his oil paintings. We got some great pictures of me and Mom looking out of the window from Monet's bedroom!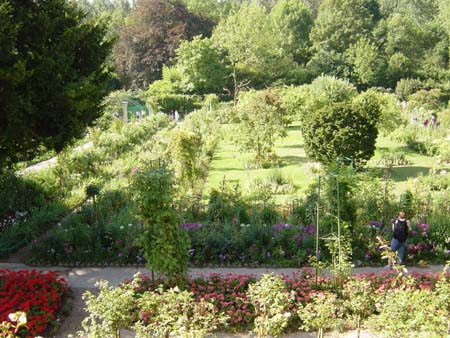 After exiting the house we began to explore Monet's enormous garden which he considered to be his greatest masterpiece. The flowers in the garden weren't the actual ones Monet planned, but the Claude Monet Foundation figured out Monet's design and were able to recreate it. As Mom showed us all the different kinds of flowers that made up Monet's masterpiece, we absorbed into our memories all the colors and beauty from the garden and the wonderful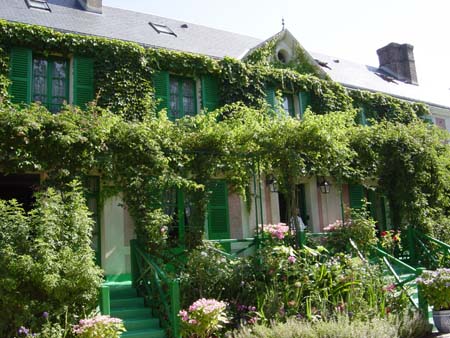 fragrance it gave off.
We then made our way to the perhaps most famous subject of Monet's paintings, his lily pond. I couldn't walk straight. I was about see in person what Monet had painted so many times with such passion and spirit. The pond was not only a major element that made up Monet's fame, but also one of the major elements that made up the beginning of the entire Impressionist period. As the pond came into view my heart leapt. It was absolutely beautiful. There was not a single place where the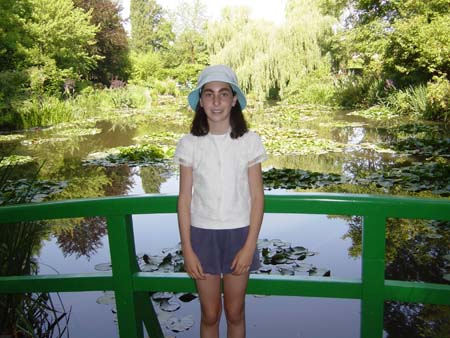 water was entirely still or clear, not a single patch of dirt without some kind of plant sprouting of it, yet it was entirely peaceful. The lily pads were exactly how I imagined them, except this time it wasn't imagining them. The lilies were all different colors ranging from cream to bright pink. There were enormous beautiful willow trees in the same place Monet painted up until 80 years ago.
We then made our way up to a bridge opposite the one he painted the most, and looked across the pond. The perspective was amazing. In the water were the wonderful lily pads slowly decreasing in size as we gazed upward. We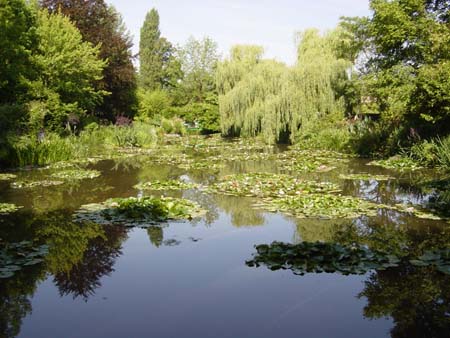 glanced at either side of the pond and saw flowers all reaching over the enormous area. Then, we saw the bridge and large willow trees with vines winding up its legs. It was just like Monet painted it and we could clearly see why Money painted this so many times. Suddenly something broke the stillness, and to our delight a tiny duckling came hopping through the lily pads. The duckling was quickly accompanied by its mother and siblings, and we

all watched the fuzzy creatures gently jump into the water. It was great to think that humans weren't the only ones enjoying this masterpiece. As we walked back around the pond, we encountered many snails, and then relaxed on a bench to organize all of our reflections of the pond. After 10 minutes or so David and I went down by another small pond next to Monet's house and raced leaf boats down the stream. We finally decided to leave, and purchased some food to prepare for what turned out to be a wonderful picnic under a cherry tree. ~Katie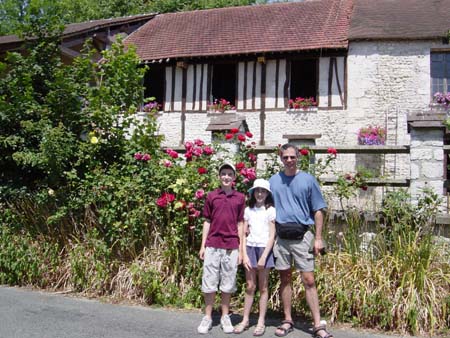 The gardens were just as I had imagined-I guess because they were just as Monet had painted them. David and Katie enjoyed the garden thoroughly-racing small boats made of fallen leaves down the tiny stream which feed the pond, laughing at baby ducks, admiring a land snail as it emerged from his shell. I felt Monet would have smiled knowing that his paintings of his garden not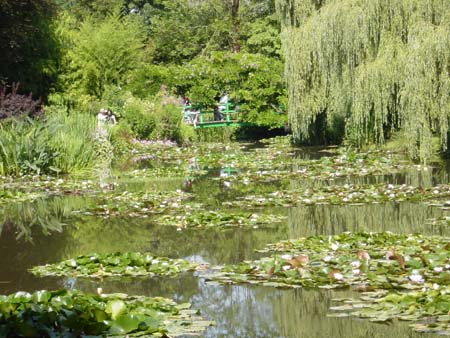 only continued to delight millions but that the garden itself still brought joy to all who were privileged to visit it. Katie and I had fun talking about her future art studio and home-perhaps with its own garden, pond and of course a flock of sheep! The tiny village of Giverny was quaint and peaceful-full of vibrant light and old houses with flower boxes in every window. We found a wonderful bakery and purchased everything we needed for our first authentic French picnic-fresh bread, sausage, cheese, fruit and tarts. Some shade under a cherry tree provided the finishing touches on our picnic. The kids seemed to love the food and how it was purchased-marching proudly down Rue de Claude Monet with their baguettes in hand! It was a moment that will live in my memory-knowing that David & Katie now had a real "taste" and feel for France. ~Paula
Distance Walked: 4.32 miles