Saturday, May 1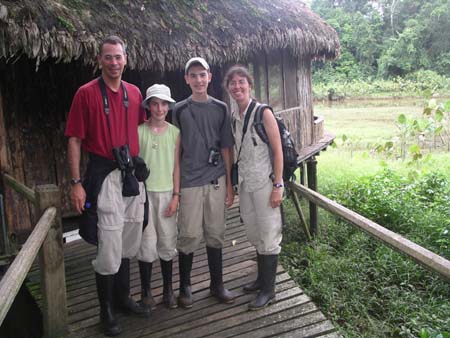 Paula and Steve: We awoke this morning amazingly refreshed and ready for the day's activities. Despite the heat, we all slept well under our mosquito nets serenaded by the very loud sounds of the jungle. The nighttime sounds are amazing - they primarily come from insects and frogs, but often we could sw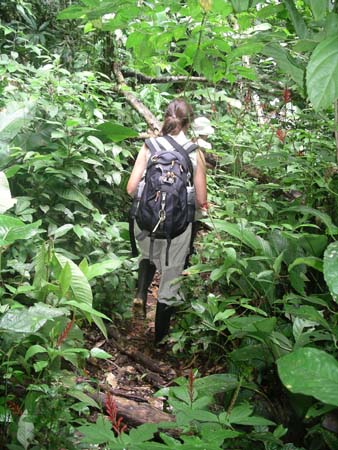 ear that they sound like very loud dogs with strange barks. After breakfast, we headed out to explore the Amazon Rainforest.
For each of our activities we are accompanied by two guides, one who can speak English and another Achuar guide from a local community. In this way, we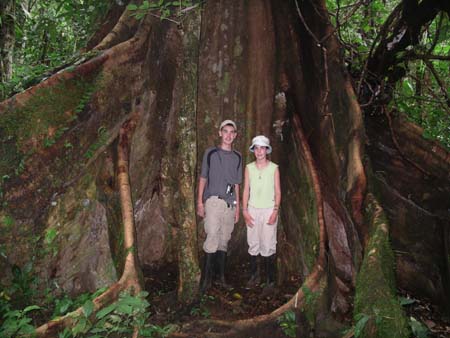 have the opportunity to learn from the indigenous people and they also are beginning to take responsibility for the operations in the lodge.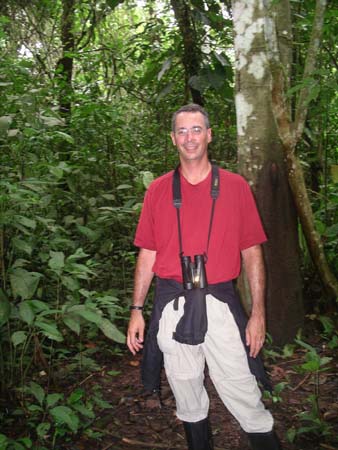 A ten minute ride in the canoe brought us to the beginning of our hike. All outfitted in our rubber boots and drenched with insect repellent, we were prepared for the muddy trail ahead. Our guides, Alex and Yaguar, pointed out a variety of beautiful plants, trees, fungi, and insects along the dense trail. Yaguar lead the way with machete in hand clearing the path as we walked. Unlike the well-worn paths we hiked in Costa Rica, here we really felt like we were digging our way through the jungle. This seemed much more isolated than we remember sensing during our hikes in Costa Rica.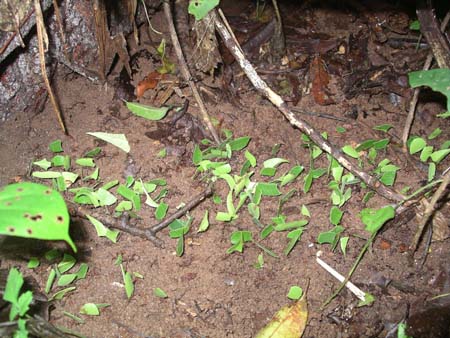 Alex told us that every one hectare of rainforest contains 900 tons of biological matter, 99% of which are plants and 1% animals. He also advised us about touching the leaves and insects, explaining that most of the species are toxic. Yaguar pointed out the barks of specific trees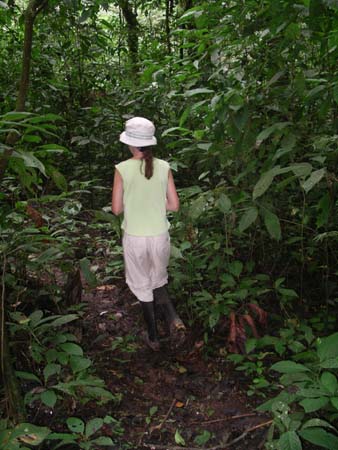 and plants throughout our hike which are used for various medicinal purposes. Some are used for malaria treatment, others for arthritis and stomach pains. We saw plants with anesthetic and antibiotic properties as well as spices like clove. Yaguar told us that the Achuar consider the forest to be their pharmacy and by the end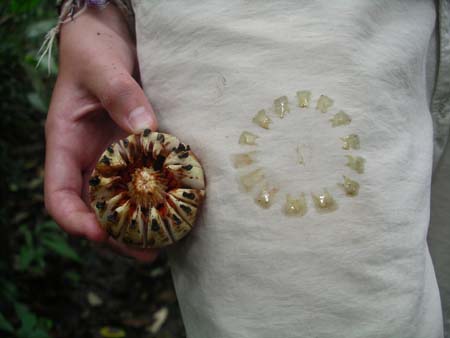 of our hike he had showed us countless natural remedies. Alex confirmed that these remedies are also highly sought after in the markets of Quito.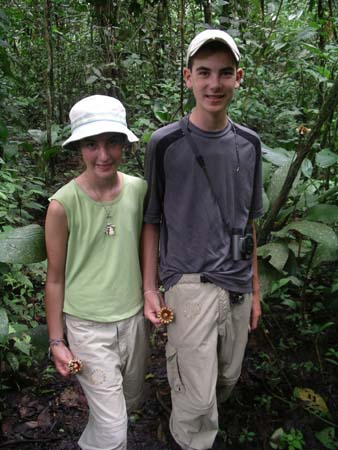 At one point, Yaguar showed us how to use the seed of one tree to make a candle and the fruit of a "forest stamp" tree to dye a beautiful design of permanent ink on our clothing. Of course, David and Katie volunteered their clothes immediately for the forest imprint.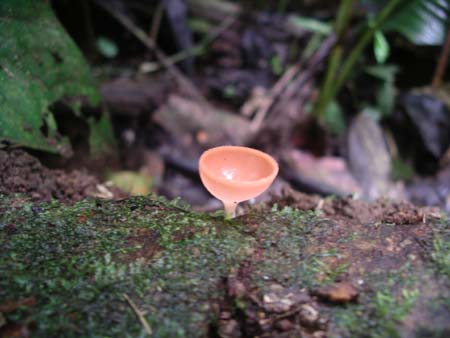 We saw remarkable vegetation all struggling to reach the light in the canopy of the forest. The vegetation varies from very large palms, elephant ears and trees that towered above us to the tiny moss and fungi. We admired a huge variety of vines, monkey ladders and bromeliads supported by the trees. The colorful "bird of paradise" flower is one of the most beautiful in the rainforest, and there were several lining our trail today. We saw the walking palm and fichus trees with root systems above the ground that at times literally inch their way toward areas of more sunlight. We observed a large strangler vine literally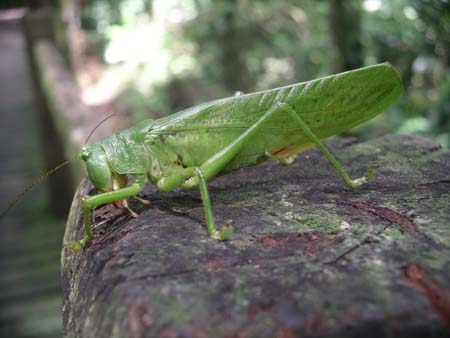 choking a palm and a fichus tree with huge buttresses to support its tall slender trunk and shallow roots. And of course we saw, heard and felt hundreds of insects. These included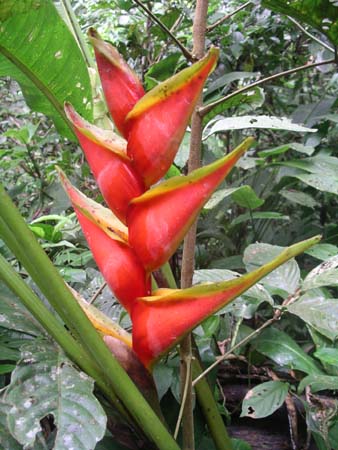 beautiful mono butterflies, dangerous congo ants (their sting and bite produce pain for 12 hours plus a day of high fever), industrious leaf-cutter ants, large katydids, a jumping spider and a lovely damsel fly.
One of the other guests in our group is an ecologist from Maine who has a special interest in fungi, so we all had fun pointing out different mushrooms for her to examine. It was amazing how many varieties we discovered during our 2-3 hour hike.
After lunch and time to relax in our cabana, we set out for a fishing expedition in the various rivers and lakes that appear throughout the rainforest. Our hope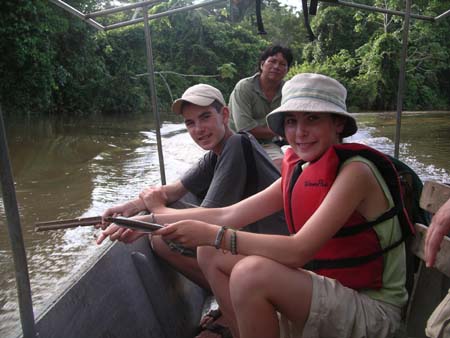 was to catch piranhas, since that's the fish that we all associate with the jungle. The fishing was done with drop lines, baited with pieces of meat. Although we didn't catch any piranha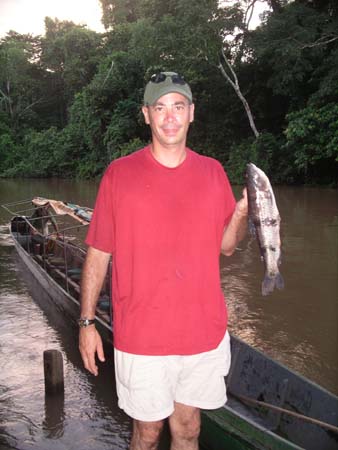 s, Steve succeeded in landing a nice sized "tranglan" (or something like that…), and we all really enjoyed experiencing this very new kind of fishing. The driver of our boat caught two fairly large fish (we're not sure what kind) that put up good fights before finally being landed.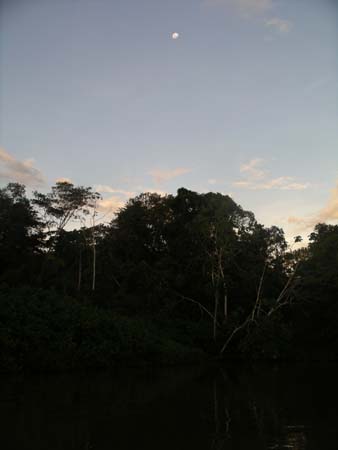 We were amazed to learn that the rivers are filled with very large catfish, some as large as 400 pounds. We heard about how the staff here likes to leave baited lines attached to trees overnight. Once, they awoke to find a 230 pound fish hooked on the line, and it was apparently quite an effort to subdue the fish and drag it back to the lodge using a canoe.
This evening we attended a cultural discussion with one of the Achuar guides, who explained the importance in Achuar society for young boys to make contact with the god of the forest. There is a very elaborate process and ritual surrounding this event, and we learned about the role it plays in the Achuar culture.
Tomorrow we have another full day planned. We start with an early-morning boat trip to a clay lick where macaws like to gather. Then we'll take another hike, followed by a visit to one of the local Achuar communities. Finally, tomorrow night we hope to take a boat ride in search of caimans. It should be another great day.