Friday, April 30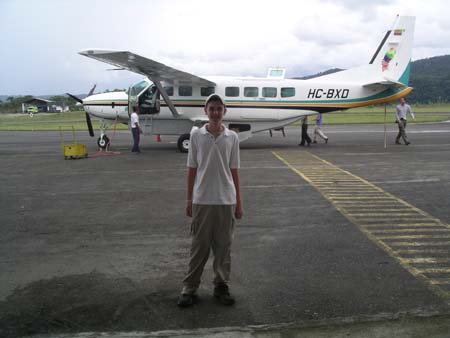 Steve: We awoke early to catch our 8:00AM flight to the Kapawi Lodge deep in Ecuador's Amazon Rainforest. Kapawi located in a very isolated area, southeast of Quito and right on the Peruvian border. It's accessible only by small aircraft (landing on a dirt runway in the middle of the rainforest), followed by a ride in a motorized canoe. We will be spending the next three days at Kapawi, looking forward to our longest rainforest experience so far (we have also visited rainforests during our stays in Costa Rica and New Zealand).
After receiving our pre-flight briefing and weigh-in (there are strict weight limits for the flights), we learned that due to rain at Kapawi, we were no longer able to take a direct flight to the lodge. Instead, we would fly an hour south to a place called Shell (n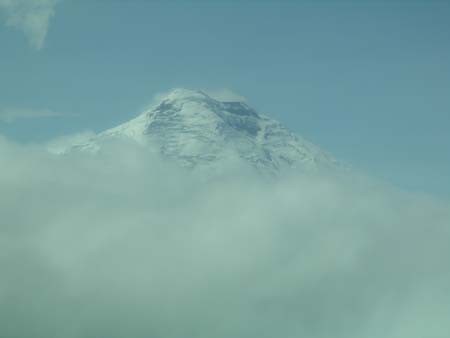 amed after Shell Oil who built the airport here but never established any operations). Here we would visit an Amazon wildlife rescue center, and wait for the weather to hopefully clear at Kapawi.
After normal nervousness regarding flying on our first small plane as a family (this was David and Katie's first flight on a lig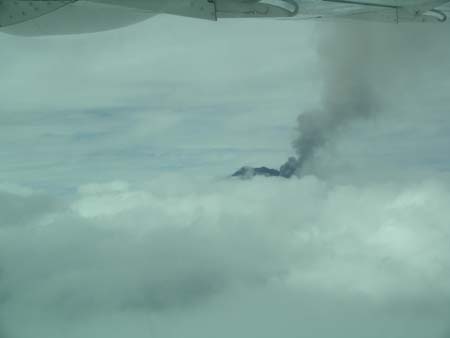 ht aircraft), things went fine. Our plane held 12 passengers, and the flight itself was remarkably smooth. Along the way, we had some nice views of the snow-covered Cotapaxi Volcano (the highest active volcano in the world) and anoth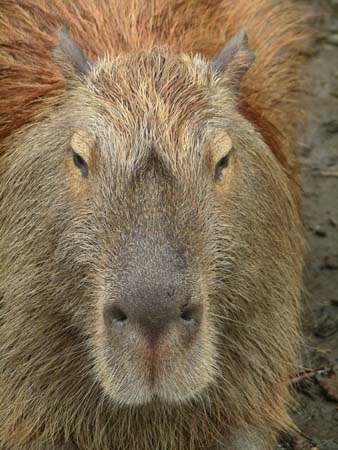 er volcano that we actually could see smoke rising from.
From Shell, we drove 30 minutes to "Zoocriadero Fatima", a rescue center for endangered Amaz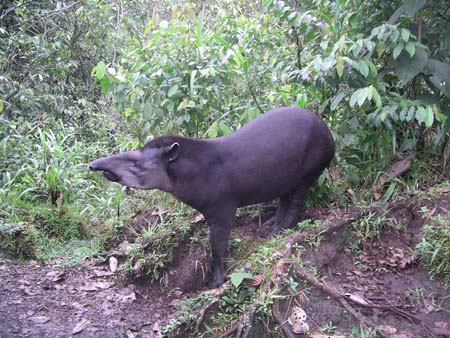 on wildlife. Here we enjoyed seeing boa constrictors, caimans, giant tapirs, and a variety of native turtles and rodents. It was also great to see beautiful blue and yellow macaws flying in the wild. All of the animals here were either recovering from injuries or had been confiscated from people who had held them illegally.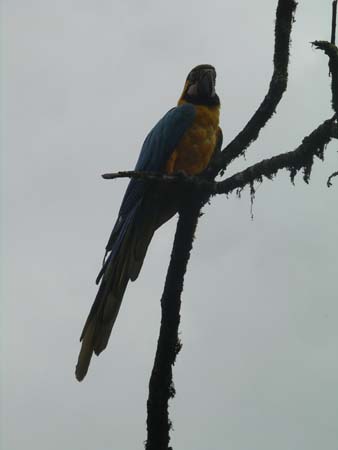 One of the objectives of this reserve is quite unique. Instead of releasing the wild animals after they have recovered, the owners are actually are trying to breed these animals and eventually hope to raise these species for consumption by the indigenous people. Because patrolling for poaching has been largely unsuccessful, they hope to raise the native species for the local people so that they will no longer hunt them in the rainforest.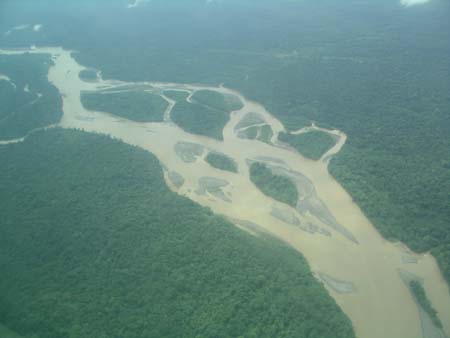 Finally, we were told that the weather at Kapawi had cleared and that we needed to hurry back to the plane so that we could fly during what could be a short window of opportunity. This came as a big relief, since we were all wondering what would happen if it simply rained all day at Kapawi…
The second part of our flight was much shorter (35 minutes), and was entirely over rainforest where we could a vast expanse of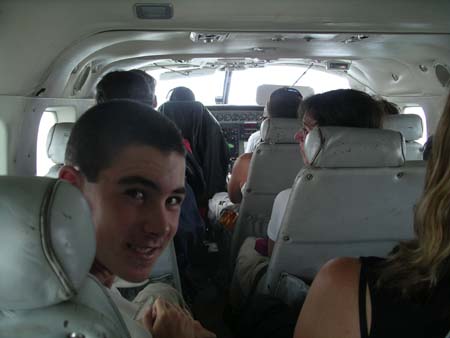 green trees and muddy rivers extending all the way to the horizon. Looking down, we all imagined the incredible variety of plant and animal life that lay below us. After several minutes of gradual descent, we spotted the runway, which from above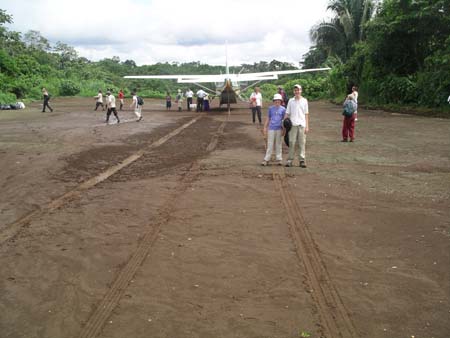 looked like nothing more than a tiny muddy clearing in the jungle. The plane circled around, made a steep drop and then plopped onto the runway, literally sloshing its way through the mud and puddles on its way to a stop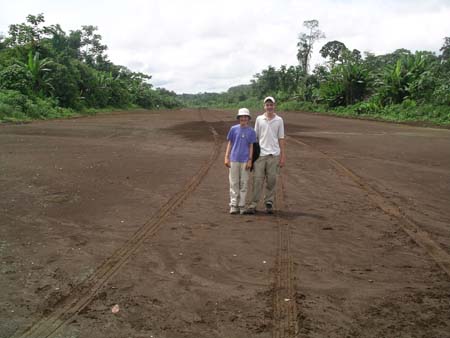 . Very happy to have landed safely, we took several pictures that clearly showed the tracks that our plane had dug into the mud.
Kapawi is a very interesting concept that began in 1996 as the brainchild of a local businessman who had been involved in the newspaper business. His vision was to create an eco-tourist site that would help build awareness of the need to preserve rainforests (it is estimated that 35% of the Amazon Rainforest has been destroyed). What made the project unique was the nature of the agreement made with the local Achuar natives who own the land that Kapawi is built on. This agreement included requirements such as construction methods that used traditional Achuar eco-friendly techniques (e.g. no nails were used), the use of natural energy (solar), and most interestingly the commitment to turn over the entire operation to the Achuars after a 15-year period beginning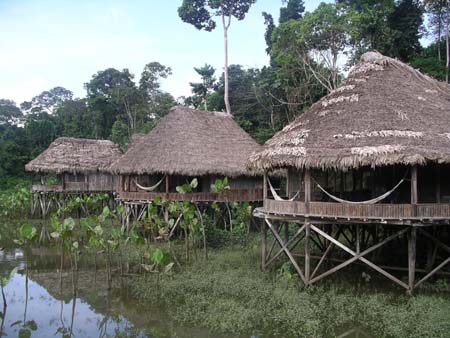 in 2011. Kapawi has received several international environmental awards for its unique design and approach.
After a motorized canoe ride on the Pastaza River, we arrived at the lodge and began with an introductory briefing. This included a major emphasis on the eco-friendly practices that are followed here and the implications to us as guests. For example, hot water is available only through solar-heated water bags that are placed in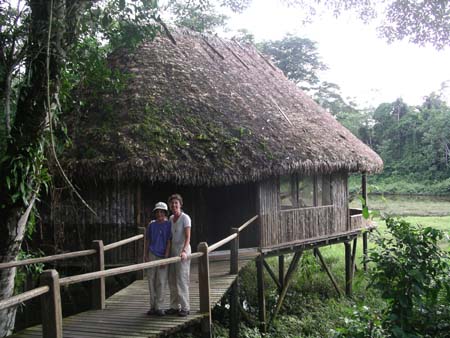 our cabanas each afternoon - that means that on rainy days (which occur very frequently), we'll be taking cold showers… It was also made clear that we really are in the middle of a vast jungle, and were told what to do if we encounter unexpected "critters" in our cabanas or anywhere else.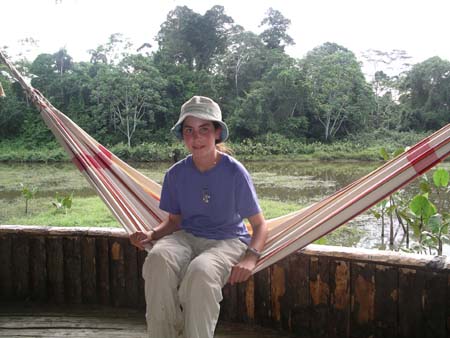 Our cabana is actually quite comfortable, and overlooks a beautiful lagoon filled with interesting birds (including a large white egret that spent the afternoon here today), fish and obviously a large collection of insects and frogs whose collective sounds create quite a large racket especially in the evening. We have our own balcony overlooking the lagoon, complete with ha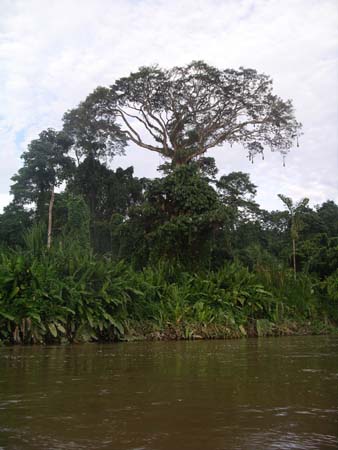 mmocks that David and Katie quickly claimed as their own. Our beds are outfitted with mosquito nets which we were warned to definitely use.
The air here is as humid as you'd expect in a rainforest - basically 100% humidity. There is absolutely no breeze at all, and we learned that wind only occurs during times of storms. The cold-water showers that we learned about may not be so bad after all!
Although Kapawi has room for 50 guests, there are only 16 of us here now and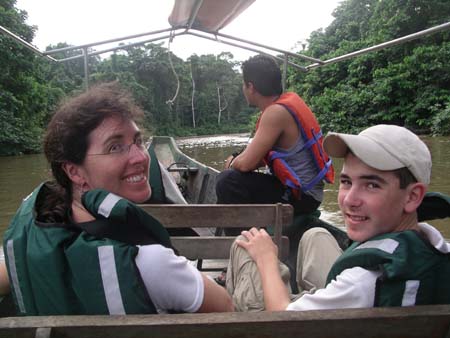 we learned that this is actually somewhat typical. We were happy to hear that there wouldn't be too many people here during our short stay.
After lunch, we rested in our cabanas and then returned to meet our naturalist guide, Alex. He gave us an overview of the daily schedule at Kapawi, which basically includes early-morning bird watching, breakfast, a morning activity followed by lunch and then an afternoon activity. There's also an opportunity for a late-night program following dinner. The activities include hiking, boat rides, fishing, bird watching, caiman watching and visits to local Achuar communities,
Our first activity today was a motorized canoe ride where we had our first opportunity to see some of the over 500 species of birds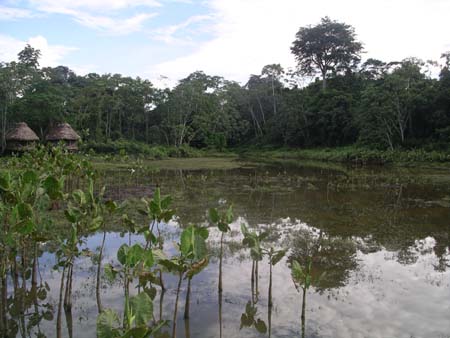 that live here. We successfully spotted a few of the toucans that had eluded us when we visited the cloud forests earlier during our stay in Ecuador, as well as several other interesting birds including macaws. Paula is continuing her detailed record of all our sightings, and will be including this in a future journal entry. We also saw a group of the "pink dolphins" that live in the rivers here. We could only catch a glimpse of their bodies as they repeatedly surfaced, but it was enough to make out the unique pink color of their skin.
Before dinner, we met again with our naturalists (there's a 7:00 briefing every day…), and split into groups to learn more details about the activities. We were happy to find that the people we're with (mostly Americans) share similar interests, including fishing. Based on these discussions, we agreed that tomorrow we'll take a rainforest hike in the morning, and will set out for an excursion to fish for piranhas (!) in the afternoon. Sounds great to us!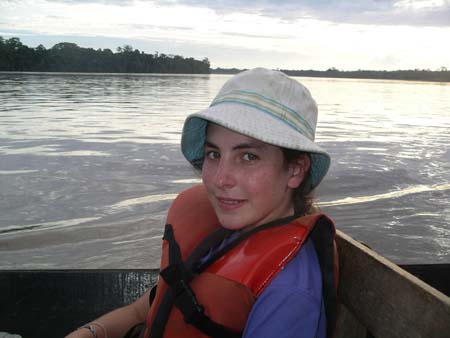 During dinner we had an interesting conversation with the operations manager from Canodros, the company that owns Kapawi. To date, over $2 million has been invested at Kapawi, and we got the distinct impression that Candros never expects to recover its investment and is much more focused on preparing the Achuars to take over the operation seven years from now than on recovering its initial investment.

Finally, after dinner we went on a night walk in the forest. With the help of our Achuar naturalist and his flashlight, we were able to see many very interesting insects including a variety of jungle-sized walking sticks, spiders, grasshoppers and centipedes. David again gets the "best sighting award" for finding a beautiful nocturnal vine snake that was wrapped around the branches of a tree eating its nightly meal of insects.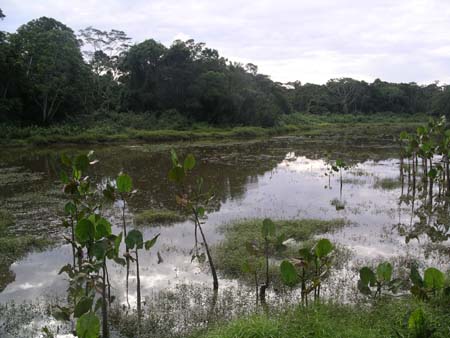 With the air still very hot, sticky and still, we all wisely opted for cold showers before bed (very tired and happy that we decided not to sign up for the 6:00AM bird watching tomorrow!). Tomorrow we are looking forward to our first opportunity to explore the rainforest during the daylight, and especially to fishing for piranhas on the Pastaza River.