Tuesday, April 13
Paula and Steve: What a new world this is! We're not in Asia anymore, that's for sure.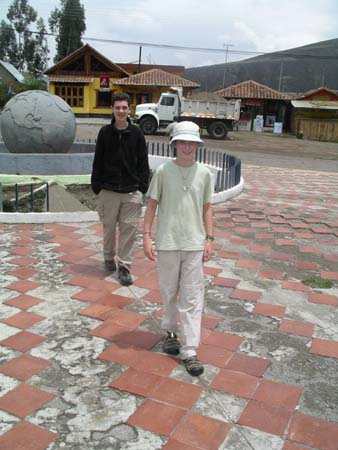 Today's plan was to drive north from Quito to a small town in Ecuador's highlands called San Pablo. Here we will stay for four days, relaxing, hiking, bike riding and exploring this very beautiful area. We were a bit worried that altitude sickness could impact us on our first day here (especially given all the time changes we've put our bodies through), but fortunately everyone seems to feel fine so far. That's good news since we plan on being at high altitudes for much of our stay in South America (Quito is at 10,000 feet, and Cuzco in Peru is at 12,000).
We will have time to explore Quito later during our stay but this morning headed north into the Highlands of the Andes Mountains. The drive was very scenic, starting in the arid land around Quito (filled mostly with scrubby vegetation and cactus), and then heading down into the Cayambe valley which is green and filled with corn fields and grazing cattle. Along the way we passed by Ecuador's largest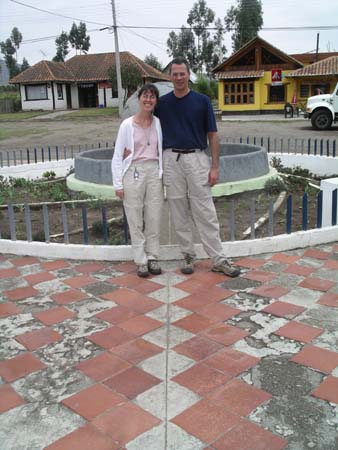 volcano, Pichincha, which last erupted in 1999. It was a major eruption, and Henry (our guide here) showed us amazing pictures of the mushroom cloud of ash that explode from the crater. We couldn't believe that he had taken these shots right from his apartment window. Volcanoes and earthquakes are a common part of Ecuador's very dynamic environment.
We stopped along the Pan-American highway (this road heads all the way from Alaska down to Argentina!) at a spot that marks the equator. David and Katie enjoyed walking along a line that has been laid directly on the equator, and we also had fun taking pictures with one of us in the southern hemisphere, and the other in the north.
San Pablo sits up at 8,700 feet and as we climbed out of the Cayambe valley we had wonderful views of the Imbabura volcano, which rises imposingly over the entire San Pablo area. Fortunately, this volcano is dormant, and has not erupted for over 500 years.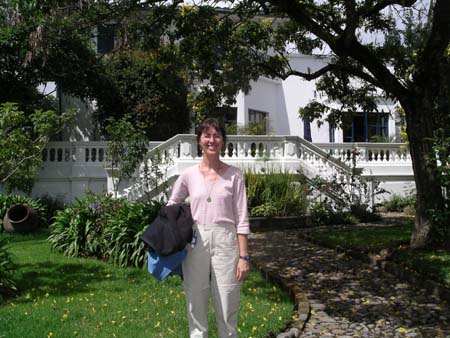 We arrived at Hacienda Cusin, our home for the week, delighted to find cozy rooms complete with fireplaces and large living areas, and all kinds of activities to keep us very occupied. The setting is very peaceful, and we're surrounded by beautiful gardens and mountains. We plan to partake in horseback riding, mountain biking, and will also take advantage of the hacienda's videos, game room, libraries and relaxing patios.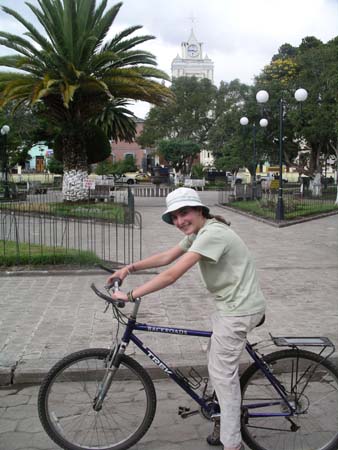 After lunch, we rested and then set out on bikes to explore the town of San Pablo. As we entered the town square, we thought we were back in one of the small villages we visited in Spain! A large church stands at the center of the town, immediately behind the well-manicured square. The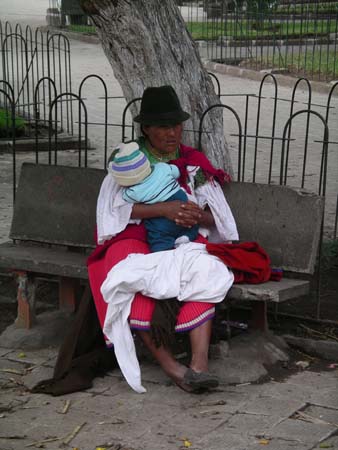 cobblestone streets, small shops and small gatherings of people reminded us very much of several places from our time in Europe.
It was fun to ride through the streets, observing women in traditional dress, men walking their pigs, and children playing. The people here belong to one of Ecuador's 250 ethnic "communities." All together, these communities make up about 35% of the total population. Most of the rest of the people are known as "meztisos", a mixture of Indian and Spanish descent.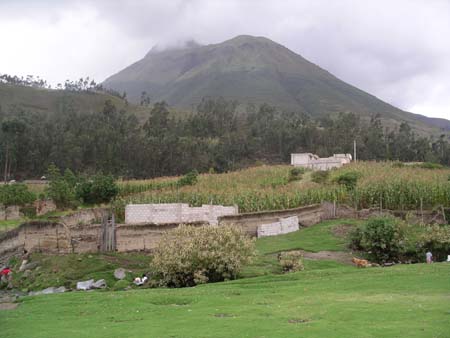 We eventually arrived at a large green area next to San Pablo Lake. Here we saw a large group of women and children washing clothes in a stream. The pasture was filled with cattle, and we watched as older men and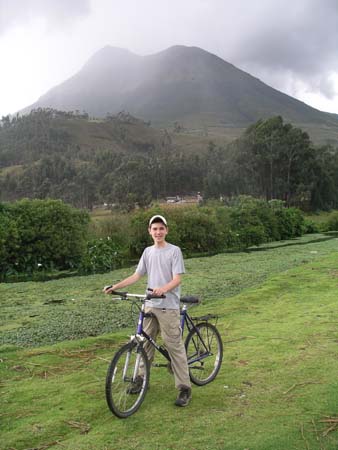 women herded their cows at the end of the day to be returned to their farms at home. Despite the cloudy weather and drizzle, this area was extremely peaceful and beautiful, and quite a change from the landscape of Asia.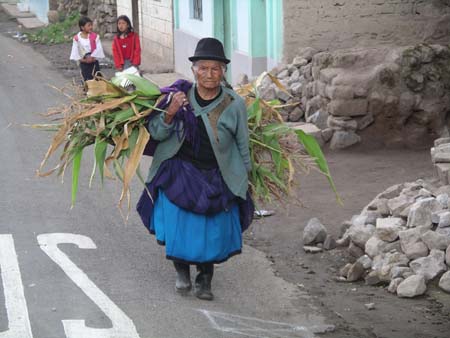 We rode back to the hacienda and went out for a brief bird watching walk with Henry (who is a real pro, and came complete with CD's that play specific sounds to call the birds!). Ecuador is well known for its huge variety of birdlife, but today's rain kept most of them away. We did have fun watching two beautiful hummingbirds in our garden.
Tomorrow we plan to visit an area near here that is home to some additional volcanoes, lakes and hiking trails. We also hope to spend more time in some small villages.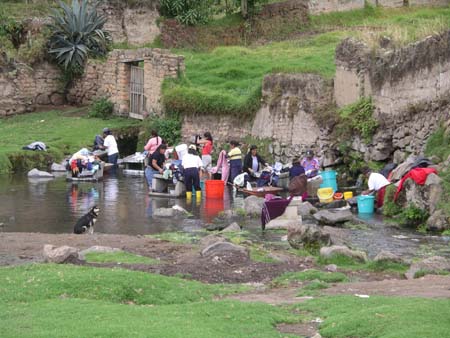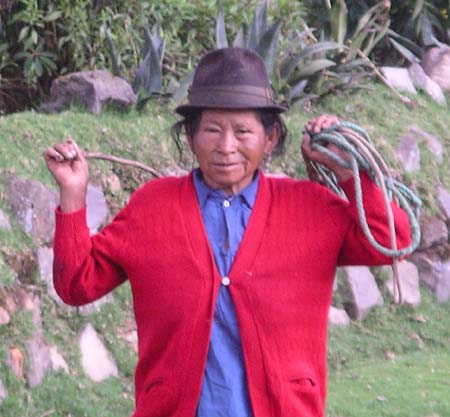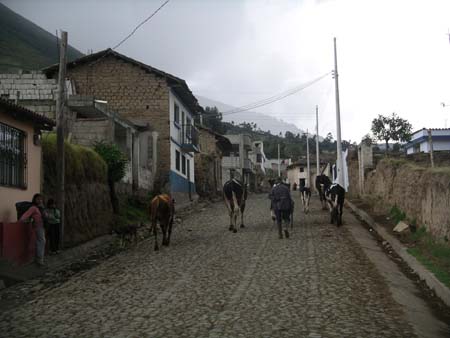 David's Daily Dump: The Town of San Pablo. Today as I rode my bike down the cobbled roads of San Pablo, I couldn't help thinking to myself how glad I was to be in such a new place. It's not that I didn't like Asia, I loved it. It was just very intense and I was ready for a change. I can't explain the joy I felt coasting down the streets while staring up at the great Imbabura volcano, the lush green fields, and the spectacular old town. I was looking forward to South America and Africa since the beginning of the trip and it's unbelievable that we are finally here!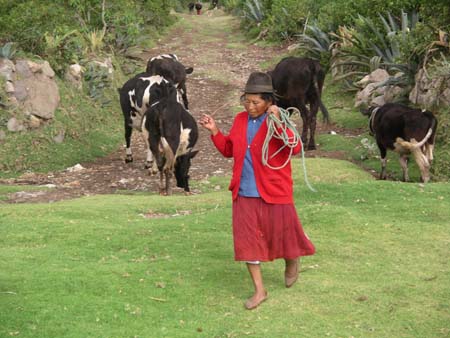 It wasn't hard to tell that we were out of Asia and in some other part of the world. Everything was totally different. After we arrived at our small hacienda (farm in Spanish) resort, we decided to try to beat the rain and explore the town. We rented bikes and peddled to the small town center which reminded us of Spain. There was a beautiful catholic church, a small park, and gardens full of thriving flowers. We made our way along the bumpy road trying to find the lake within the town. On the way we spotted wonderful old women with colorful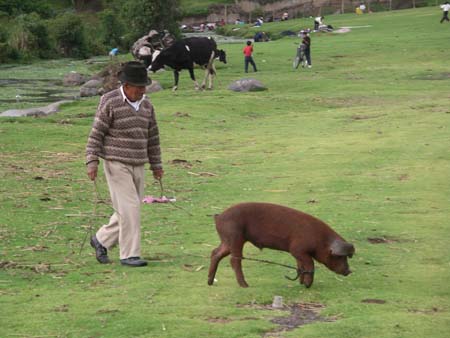 traditional clothes and old men herding fat pigs on the roadside. Everything was just so different from anything we had seen in Asia. It was peaceful, green and relatively quiet. It was great, even with the light drizzles and cold breezes.
We eventually spotted a side street that ran down to the water. When we got down to the end of the street, we found ourselves standing in the middle of a huge grassy field, with dogs wrestling, cows grazing, pigs snorting, and many woman washing their clothes in what appeared to be a mountain spring. There were boys playing marbles and football, and lots of people just enjoying themselves. The coolest thing was seeing all the women washing their clothes. There must have been over 30 people (including children) dipping their dirty clothes in the water then wiping them against the rocks. It was especially neat watching them from a distance at the base of the huge magnificent volcano.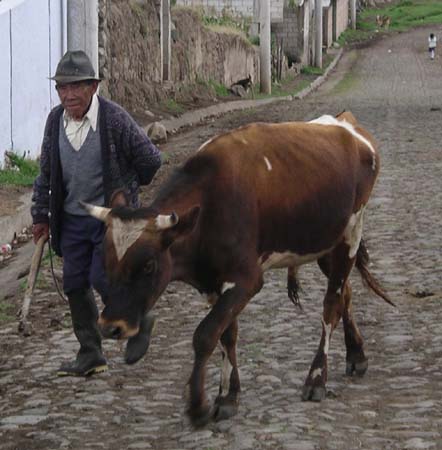 It was starting to rain and everyone was gathering their livestock by making weird noises and hitting them with twigs. Some of the cows that went into the stream got rocks thrown at them until they waded up on shore. The rain then started to pick up and we heard huge rumblings in the distance (thunder). We raced back on our bikes just beating the rain that loomed in the distance.
I am really looking forward to exploring South America and Africa for the next three months and being more adventurous. Our trip today made me realize even more how excited I am to be here and how happy I am to be exploring this part of the world. I really cannot believe I'm here.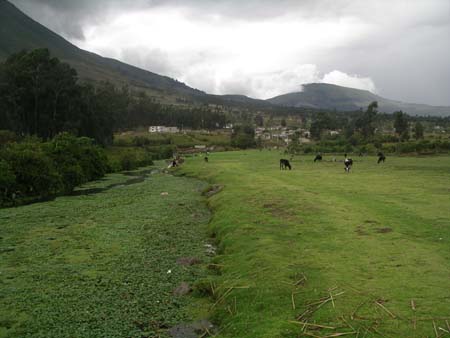 Katie's Kwick Kwacks: Ecuador's Biodiversity. Today we had a little introduction on the amazing biodiversity of Ecuador. Ecuador has the largest amount of biodiversity per square mile in the world, and we are looking forward to seeing and learning about all of the different areas, terrains, and natural wildlife during our stay here.
We learned that the country has four very different regions: the lowlands along the coast, the highlands among the Andes mountains, the jungle, and the Galapagos Archipelago. The lushness of this country comes from the environment of these areas, as well as the cultures within them.
Today we were able to sense the extreme differences in scenery during our drive, and even had the opportunity to stand on the equator. Within only an hour of our trip to St. Pablo we had gone through dry land, marsh land and mountains. We went up and down through mountains and farm land, and were continuously updated on our elevation. This was a totally different experience for us, and we are excited about exploring all of these types of biodiversity throughout our time spent in Ecuador.