Monday, April 12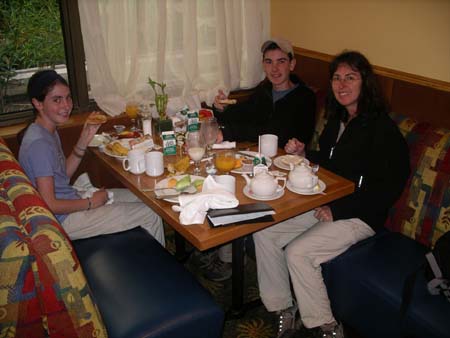 Steve: This was another long travel day, starting with our final American meal from our brief stay back in the USA (bagels with cream cheese, cereal and eggs - it was great!). We then flew from Los Angeles (an amazingly crowded airport) to Miami, and then connected to our flight to Quito, Ecuador.
We arrived safely in Quito right on schedule at 10:00PM, accompanied by all of our luggage. We'd have to say that our travel from Tokyo to Ecuador was an unqualified success.
We're now at an altitude of 9,000 feet, and have already started the process of drinking as much as we can. Hopefully we'll all do well in the thinner air - we'll see…
Tomorrow we'll be making a 2-hour drive into Ecuador's highlands, for a four-day relaxing stay at a hacienda. We feel that it's very well deserved!