Friday, August 8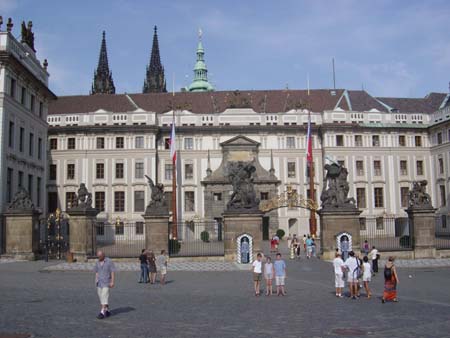 Steve: We spent the morning getting set up for the week. This meant finding out about services (i.e. LAUNDRY, always an interesting process, and something that always seems to need to be done…), exploring Wenceslas Square where we're staying, and grocery shopping. Our first trip to the supermarket was a fun and memorable one, as Katie describes in detail below. Paula also did her normally wonderful job of making our place feel "homey" (as Katie calls it). This meant hanging our Europe map on the wall, unpacking all our books and souvenirs and arranging them on shelves, and rearranging the furniture!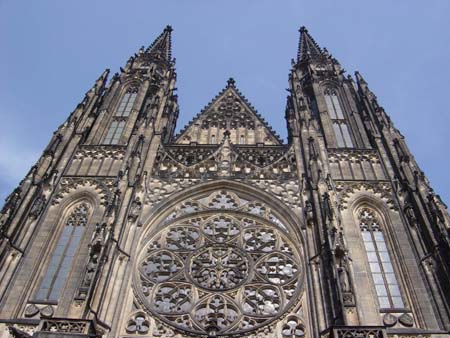 This afternoon we decided to explore Prague Castle. The castle dates back to the 9th century, and has undergone several major reconstructions, the latest happening in the 1920's. This is the largest ancient castle in the world, and felt like a small town once we got inside the walls. There are several courtyards, chapels, gardens, palaces and galleries here, and it would definitely take at least a day to fully explore everything. We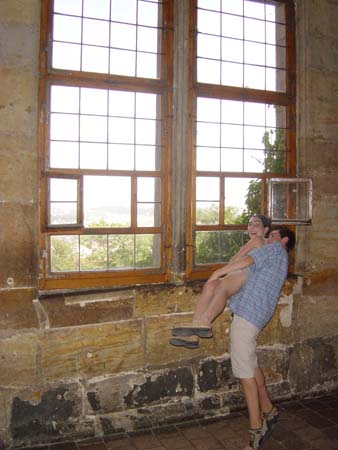 decided to buy a ticket that got us into the main attractions, which included the St. Vitus Cathedral and the Old Royal Palace. The kids had fun re-enacting history in Old Royal Palace. In 1618, Protestant nobles rebelled by throwing three of the Emperor's assistants out the window. This event ignited the Thirty Years' War. David decided to try to throw Katie out the same window, but was stopped by one of the guards brandishing a rifle (just kidding…).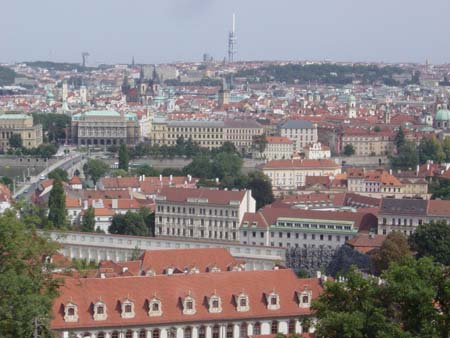 The view of Prague from the castle is wonderful. It's easy to see from this vantage point why Prague is often called the "city of 100 spires". There is a huge television tower which has been built and unfortunately is the tallest structure (by far) in the city. It's hard to believe that the government allowed this to be built in such a visible location - it's a real blemish on an otherwise beautiful view…
After seeing the castle, we took some time to explore the streets of Mala Strana (Little Quarter). This is the quieter side of the city, and the streets are fun to wander through. We stopped at a small café for a mid-afternoon snack before walking back through the Old Town Square on the way back to our apartment.
Our first night cooking our own dinner turned out to be a very funny and memorable experience, as Katie describes below…

Distance Walked: 3.45 miles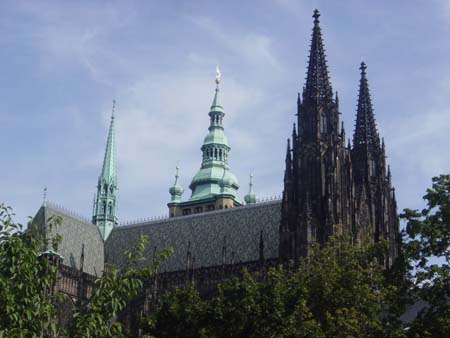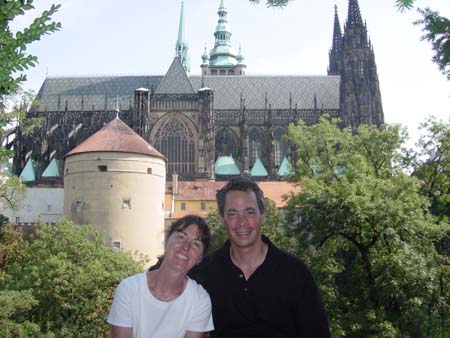 Katie's Komments
The topic for today is… Getting food at a Czech grocery store
Now that we can finally cook our own food, we made our first attempt to buy food at a grocery store in Prague. This was a lot more challenging than we ever expected…
After getting brief directions from the front desk, (they only said there was a grocery store across the street below a clothes store), we began our adventure through the city. After struggling to walk further in the blazing heat, we finally asked a shop owner for directions. Her instructions were a little unclear so in desperation we looked down in the metro station as we were told grocery stores were typically underground. It soon became clear that we may have taken "underground" a little too literally. We continued to trudge on and in our frustration asked another shop owner who got us heading in the right direction and gave us the name of the grocery store. Inching closer… we ended up asking one more woman who pointed it out very quickly as it was right beside her shop.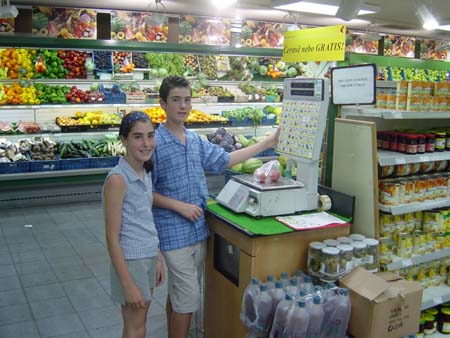 We were very relieved when we found the store but soon realized this was only half of the battle. After struggling to figure out how to get a shopping cart (we found out we had to pay for them) we began our shopping. We decided to get some fruits and vegetables first, and discovered we had to weigh and label the produce. Fortunately there were pictures of each item on the scale, we would have never figured out the names! We then split up the items on the shopping list and continued our search. We looked through all sorts of candy-it was very interesting to see the popular candy in the Czech Republic! As a special evening treat we decided to get popcorn. That will be easy enough…or will it? To our disbelief there were tons of kinds of popcorn. We decided on one kind but soon discovered there were five different flavors of that brand. Of course to add to our stress we couldn't read the labels. We decided to take all of them as a little experiment. Fortunately, we bumped into someone who lived in the states for a while and spoke very fluent English. We asked her what types of popcorn we had gotten thinking they were probably butter, salt, or regular. She read the labels for us and told us the flavors were butter, salt,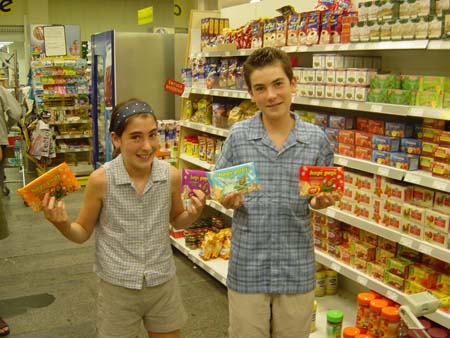 cheese, sweet, and bacon. This gave us a good reason to narrow down our choices! After struggling to find still water which is very hard to find in Europe, we found more supplies without much difficulty. We got creative with how to distinguish similar foods from one another-we tasted what we thought was sugar from a bag that had spilled on the shelf and discovered it was really salt. We finally completed the shopping list and began to pay up front. After discovering we had to pay for the bags, we stuffed them to their limit and heaved our supplies to the hotel. We unpacked the food into our tiny refrigerator and were prepared for our first home cooked meal in over a month.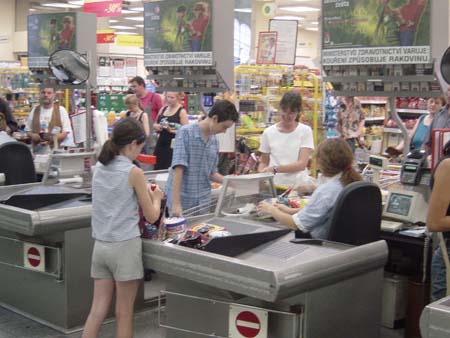 When it came time for dinner we gathered our supplies and prepared for a very basic meal--pasta with red sauce, salad and bread. We had a total of two small pots to work with and an extremely tiny stove. Shortly after we began to cook our meal Dad noticed something strange about the butter-it seemed creamy. We tasted it and realized that we had just frosted our bread, dumped on most of our pasta, and sautéed our garlic in cream cheese! We all laughed and looked at the label more closely. The container was very similar to our butter containers back in the states. Were they doing this just to annoy tourists? It sure seemed that way! We continued our meal and quickly decided this was not going to be the best meal we ever ate. The sauce was sweet as well as the garlic as we had to use Italian dressing to cook these in now that we didn't have butter. We all had a good laugh though…we learned a lot! After our meal we cleaned up and were relieved to know the difficult adventure was over…or was it? Minutes later we noticed tons of bubbles coming out of the dish washer. The entire area soon became a bubble world. Did we use the wrong detergent? Nobody knows…bum bum bum!
Tune in next time to find out about the beeping clothes dryer on Koppel Adventures!
David - TORTURE
Ever since the 13th century, torture was been widely practiced throughout the European nations. Torture was common in Europe during the Medieval Ages for punishment and confession. It was used by every European nation, except for England and Sweden. It was also illegal in the American colonies. We have been to several torture museums in Europe, including Bratislava (Slovakia) and Cesky Krumlov (Czech Republic). Many of the tools used for torture are disgusting and terrible. It is very hard to imagine that these tools were actually used for hundreds of years.
The most detailed torture museum we have visited was in Cesky Krumlov. There we saw a variety of torture instruments and torture methods. We saw actual knives that were used for cutting off tongues and fingers. We also saw shackles, axes for beheading, prison cells, and dunking capsules (cages that were dunked under water to drown people). Some of the shackles we saw were lined with spikes! There was a chair that was covered in metal spikes, and prisoners were forced to sit in it for hours! Another form of common torture was stretching the body. Some prisoners had their hands tied to one horse, and their feet to another. The horses were then whipped, and they ran in opposite directions. The horses would pull all of your joints apart, and sometimes rip off your arms and legs. You could also be burned at the stake, hung, or spun around on a wheel for hours at a time. The cruelest torture we saw at both museums was done to Christians. Prisoners were tied upside down and cut in half with a huge saw pulled by a man on either side. They would start cutting in between the legs, all the way up the neck. We found this truly disgusting! We also saw Spanish boots which were lined with spikes, which prisoners would wear for days! Since the medieval ages, torture has been abolished all around the world, and hopefully will never be brought back again.