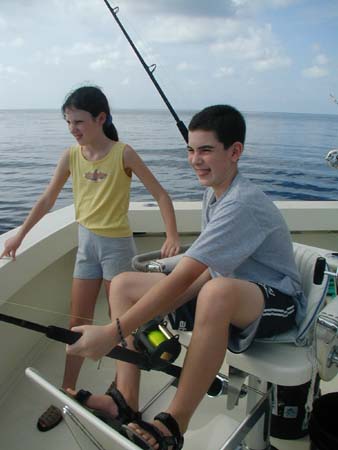 January 4, 2003 (Saturday)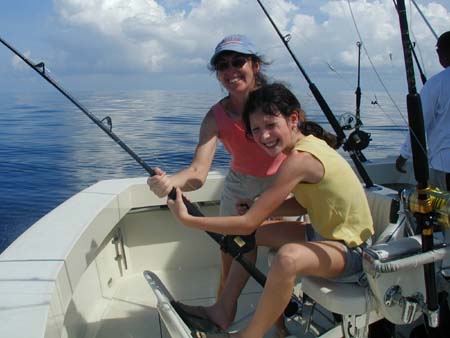 We were up again early for breakfast so that we could make it to the pier in Quepos for our 7:30 departure on "Catch Um", a 48 foot fishing boat. The boat was managed by Captain Johnny LaGrone, an American who has lived in Costa Rica for 12 years. He was recommended to us by the captain of the boat Steve was on in Australia. The boat was very comfortable with just the four of us, the Captain and two crew members. There was a downstairs cabin with bedroom, kitchen, bathroom and main living area - all with air conditioning - and this made the day-long adventure easi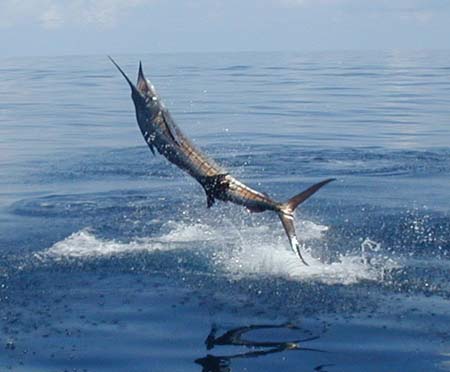 er for us all.
The trip out (approx. 20 miles) was beautiful, with mountains and rainforest visible in the distance. The water was perfectly calm, making it easy to see Ridley Sea Turtles (which often had birds resting on their shells), porpoises and flying fish. The porpoises swam in pairs. They often raced the boat and jumped over the boat's wake - very entertaining!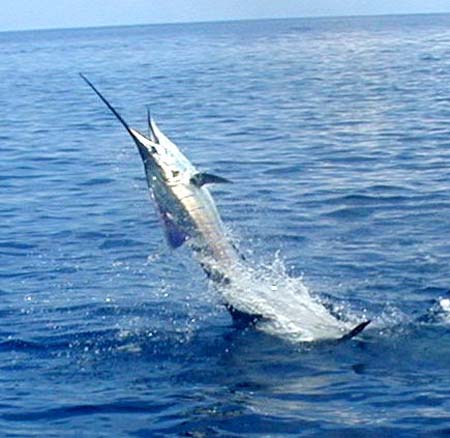 Not long after setting out all the lines (using 4 "teasers", one center bait, and another bait ready for the "switch), we hooked our first sailfish and David quickly jumped in the fighting cha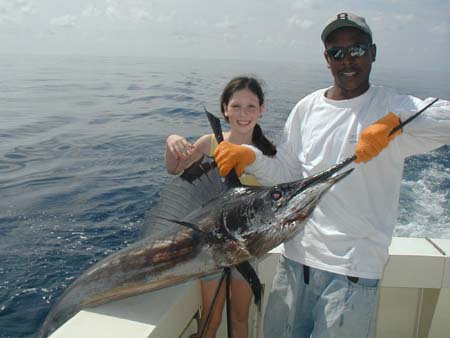 ir. It took quite an effort on David's part, and we marveled as the fish repeatedly jumped high in the air. When David finally had him up to the boat, the crew took out the hook, and hoisted him over the side of the boat for a picture. The fish was beautiful - blue, purple and silver - and weighed 85 pounds! We quickly released him and he swam away. It wasn't long before th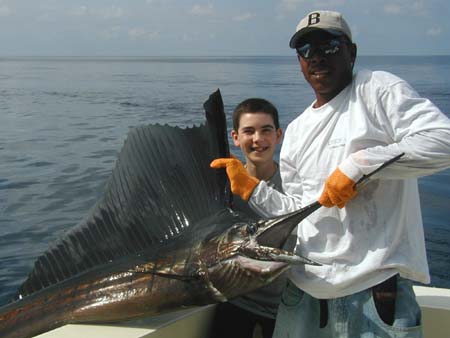 e rest of us all had a turn and before the day was over we had hooked 9 sailfish, successfully bringing in 7. Steve's last fish was the biggest at close to 100 pounds, and put up a huge fight. This was actually a slow day for the Captain, who had also hoped to catch tuna or mahi mahi for us to bring home, but we were thrilled the sailfish and our exciting adventure. It was also interesting to see our experienced captain observing birds and fish in his radar to see whether each area was good for fishing.
We returned tired and hungry, and went out for dinner at Barba Rjoa, a local favorite. - Paula