Educational Activities & Books Read in Costa Rica
Ernest Hemingway's The Old Man and the Sea (1952). Classic short story about a fisherman's relentless battle with a giant marlin. Wonderful story to share before our day fishing for Sail Fish!
Robert Siegel's Whalesong (1981). This is a classic fable of Hruna a humpback whale and his journey into love, mystery, and spiritual awakening in the waters of the world. (143 pages, easy reading)
Kathryn Lasky's The Most Beautiful Roof in the World (1997). This a fasinating book describes the life of a scientist who studies the rainforest. The are wonderful pictures, stories and facts about the rainforest and how it is studied.
Marion Morrison's Costa Rica (1998) and Tracey West's Costa Rica (1999) were both nice children's books with history and facts on the country perfect as background material for the trip.
Dorothy Hinshaw Patent's Children Save the Rain Forest (1996) describes the rain forest and how children have raised money to purchase and protect land in Costa Rica.
Elaine Landau's Tropical Rain Forests Around the World (1990) describes dangers of rain forest deforestation.
Rebecca Johnson's A Walk in the Rainforest (2001) describes the rainforest.
Educational activities included guided day and night tours in the rainforest as well as day hike on an active volcano.
Encouraged use of spanish to order food, talk to store owners and get directions. We also had 10 minute, "Spanish Only," conversations during our walks and car rides.
We were fortunate to have friends living in Costa Rica who shared with us their observataions of the country and introduced us to Ticos. This allowed us to learn even more about the country and culture.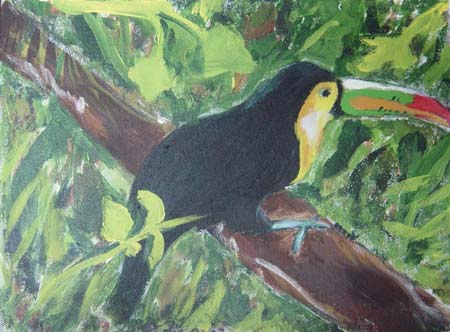 A Poem by Katie
As I check my bed,
visions of scorpions ring in my head.
When my covers are clean, I slip in between.
I hope night time critters won't be seen.
This is the first part of my evening routine.
I then dream of what may seem like an adventurous scheme.
I dream of the things I encountered that day,
monkeys swinging,
Tucans singing,
and ant bites stinging.
Before I know it, it's morning,
I look outside and see rain pouring.
It's time for breakfast and you know what that means,
fresh from the oven, rice and beans.
A Painting by Katie - Acrylic on Canvas - 2003