Monday, March 29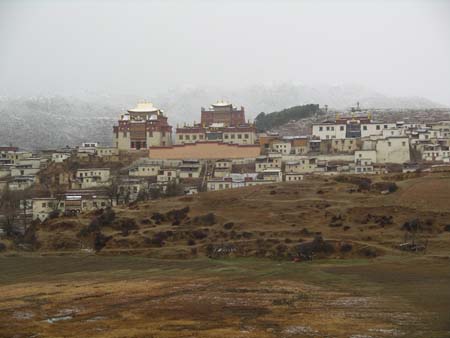 Paula and Steve: We awoke to find the mountains and grounds surrounding our hotel covered in a fresh covering of snow. So after breakfast, we bundled up into as many layers as possible (using socks for gloves!), and headed out to visit the Songzanlin Monastery.
The monastery is over 300 years old and sits on a small hill just outside of Zhongdian making the roofs of its golden temples easily visible. All the buildings in the monastery were destroyed during the Cultural Revolution and the main temples have been restored only during the past few years. Living quarters for the 700 monks are still under construction.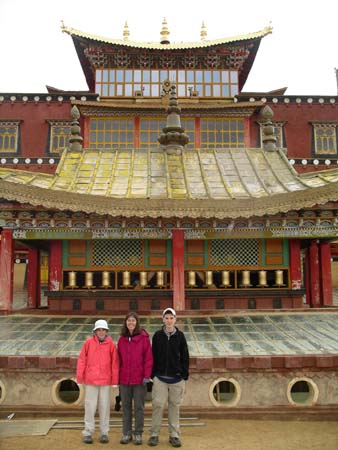 There are a huge number of tourists who visit the monastery, and they're literally everywhere - even inside the areas where monks study and chant. We couldn't help but think that this distracts the monks from their daily routines, but we're sure the financial benefits are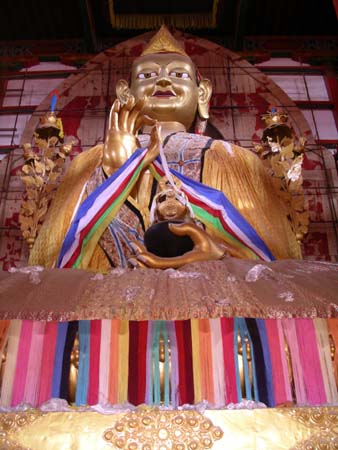 important to the monastery. We climbed a steep set of stairs to the main temple which houses the biggest Buddha we have seen to date. The temple's woodwork is elaborate and colorful. We also had an opportunity to peek into a room where many of the younger monks were chanting over scriptures surrounded by candles and burning incense.
Our guide, Lee, introduced us to one of the monks (a friend of his) who is 22 and has been here for nine years - he plans to live here the rest of his life. He invited us to sit in his kitchen around a small wood-burning stove to warm up, and we were all to pleased to accept. We spoke with him about life in the monastery, and the impact tourists have on the monks. He surprised us when he told us the more tourists the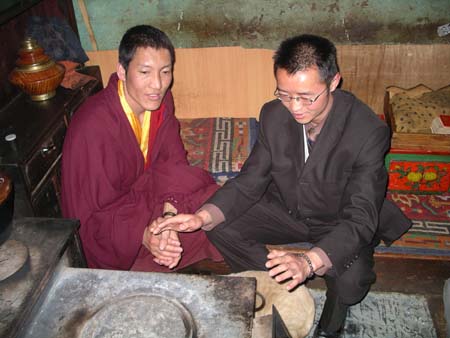 better and we wondered how much the monastery depends on the money from admission. While we were talking to him a Tibetan woman joined us and had a long conversation which we later learned was a request for a loan. The monk explained that the monastery does provide loans at low interest rates to the villagers.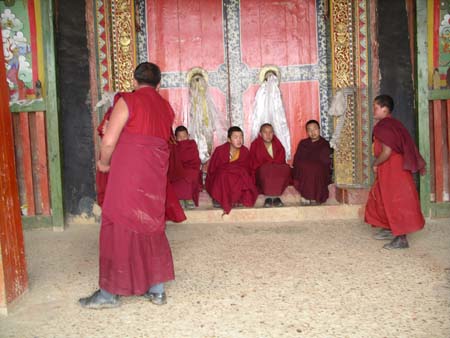 We asked the monk what the most difficult part of his life is (knowing the strict restrictions that monks must abide by). Interestingly, his reply was: "Nothing is difficult." He went on to tell us that becoming a monk was a decision he made long ago, and is totally comfortable with. We believed him.
We walked around the monastery, noting the large number of very simple living quarters for the monks. The monks live with very few comforts, but at least are permitted to make periodic visits outside the monastery to visit friends and family.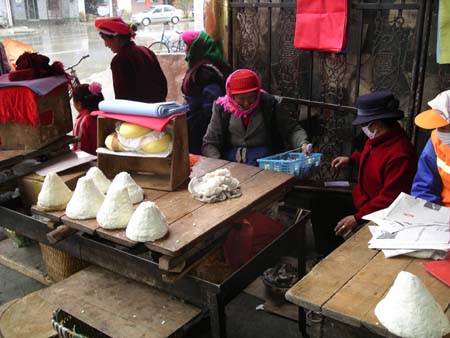 Now thoroughly wet and cold, we headed back into Zhongdian for a quick trip to the local market and lunch. Zhongdian's market is very small, and today's weather kept many people off the streets. The only new food we saw being sold was the same yak cheese that we ate yesterday during our visit to the home in Benzilan. It has a very sour taste, and is served with sugar.
The weather forced us to eat at a hotel, along with the standard large groups of tourists. Unfortunately, the small local restaurants that we've grown to really love are all open-air, and we needed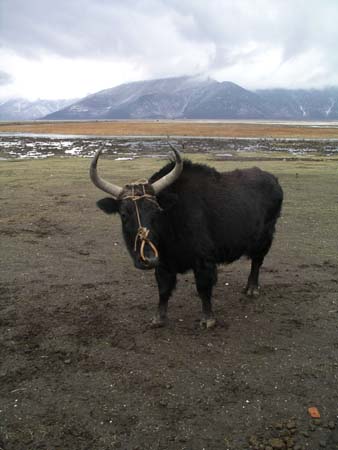 some heat to thaw our poor toes. We hadn't eaten in a tourist restaurant in quite awhile, and this was a reminder of how different the food is from what the local people eat. In fact, none of the dishes that we were served were particularly good and we all found oursel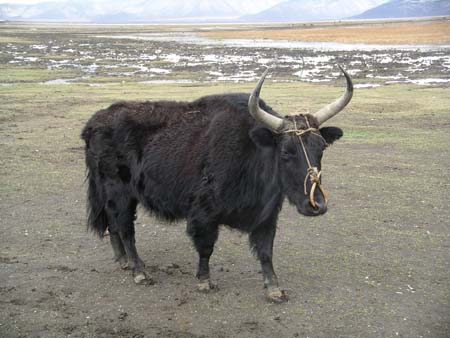 ves trying to fill up on white rice. What a disappointment…
By the time we finished lunch, the rain and sleet had slowed enough to allow us to explore one more local village. We passed through several pastures with yaks, and stopped at an area that also maintains horses that people ride into a large meadow framed beautifully by mountains. What we were most interested in were the yaks, large ox-like creatures with long hair and horns. The yaks are used both for milk and meat, and are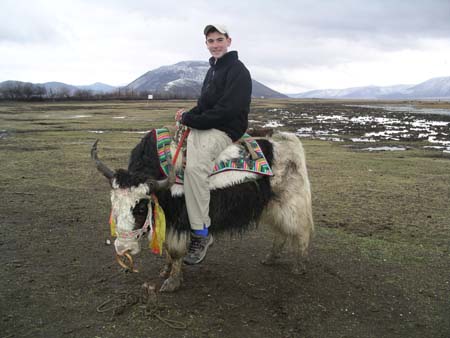 native only to Central Asia. Their hair is spun into rope and woven into cloth, and the hide is used for leather.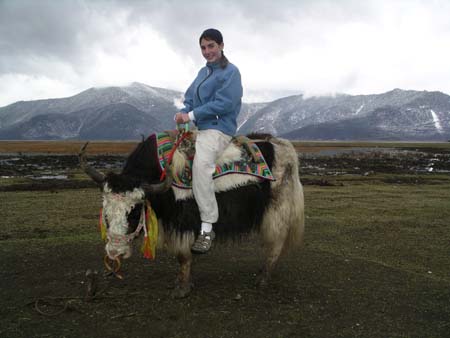 We found a large black yak that cooperated by posing beautifully in front of the meadow with snow-covered mountains in the background. He was actually very shy, running whenever we got close. He also frequently dug his horns into the ground, throwing mud forward. A young boy saw our interest in the yaks, and actually rode one toward us (we didn't know yaks could be ridden!), offering to let David and Katie have their pictures taken with the hairy creature. For five yuan each, we agreed - how many other opportunities woul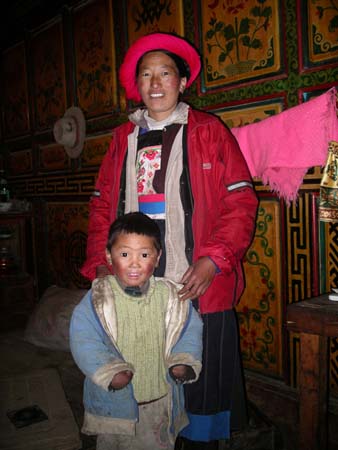 d any of us have to sit on a yak?
After spending time with the yaks we visited our last Tibetan village. This village was not as wealthy as the ones we saw yesterday, but the homes were still much larger than those we have seen elsewhere in the Yunnan province. We visited one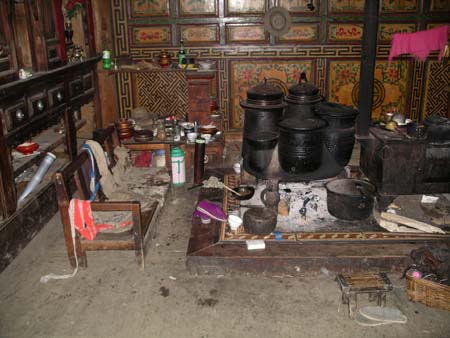 home with a kitchen and living area that reminded us almost of an old colonial home in early America. It has a beautiful wood-burning stove, pots hanging from the ceiling, and an old-fashioned butter churn. We enjoyed meeting the mother and her nephew, and had fun taking their picture and showing them the image on our camera.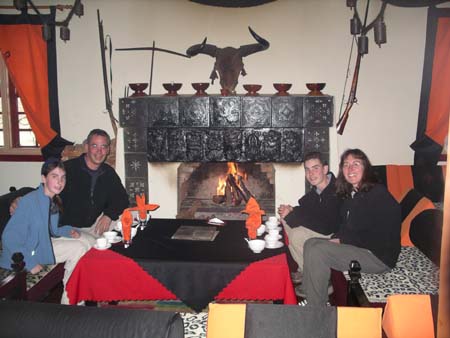 Tired and still very cold, we retreated to our hotel in the middle of the afternoon and spent time reading and relaxing. Dinner this evening was a wonderful "hot pot", a black kettle of boiling broth that was continually replenished with a variety of meats, mushrooms and vegetables. We are the only guests staying at our hotel (it's still too early in the season for foreigners to come, and the Chinese tourists all stay in the modern hotels in the city), and we've enjoyed receiving special treatment throughout our stay. All our meals have been in front of a wonderful fire, much needed in this unexpectedly cold air.
Tomorrow we have an early-morning flight to Kunming, and then will connect to Beijing where our flight to Tokyo departs the following day.