Sunday, March 28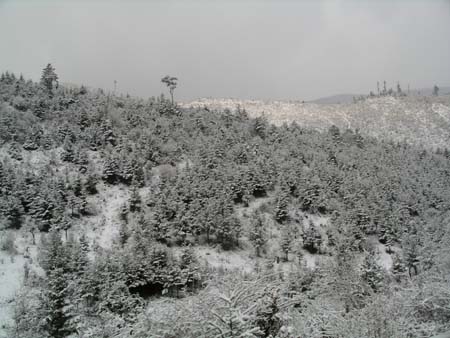 Paula and Steve: We woke up today to cool, cloudy and rainy weather - one of only two such days that we can remember through our entire travels through Asia (the other was in Xi'an here in China). Our plan was to drive 160 kilometers through the mountains toward the Tibetan village of Benzilan, located near the border with Tibet. We had arrangements to visit a family, providing us an opportunity to understand more about Tibetan culture and lifestyle.
As we departed Zhongdian, we quickly began climbing on a steep and windy mountain road that is paved, but of course lacks any semblance of guard rails. Within a few minutes, we were shocked when the rain turned into a wet snow and we all started thinking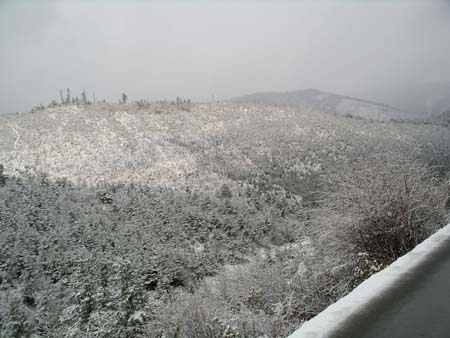 about turning back - the thought of a 2 ½ hour drive through snowy mountain roads was not appealing. Fortunately, just as we were all discussing our options, the sun began to peek through just enough to keep the roads clear of snow and we decided to push on (albeit at a very slow pace…).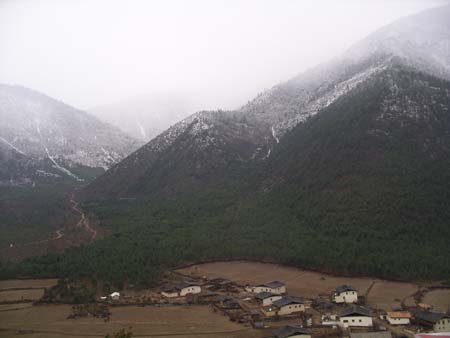 As we continued our climb, the scenery became increasingly beautiful, especially with the newly-fallen snow on the trees and mountainsides. The road took us directly along the sides of the mountains, providing spectacular (and somewhat scary) views of the huge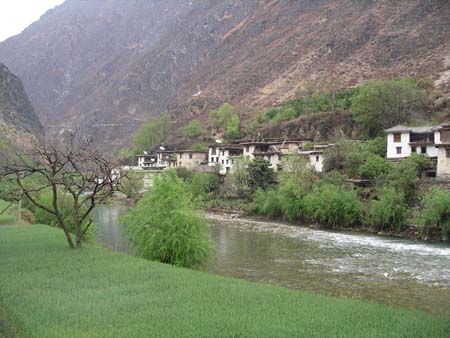 valleys below. Several villages were visible, mostly Tibetan with their distinctive large white homes.
We decided to stop at a Tibetan village called Gonju, home to 50 families with homes lining a beautiful river. The village is in a wonderful setting, surrounded by mountains and green fields of wheat. Because of its unique location between mountains and its somewhat lower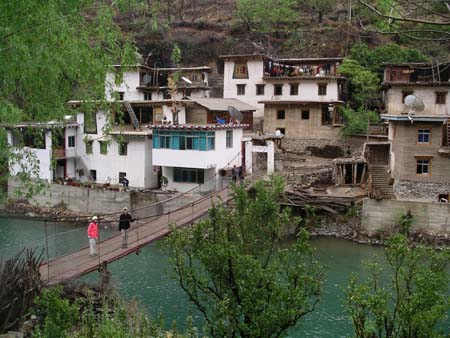 mountain elevation, Gonju actually enjoys relatively warm weather all year, and we were surprised to see several fruit trees and cacti growing around the homes.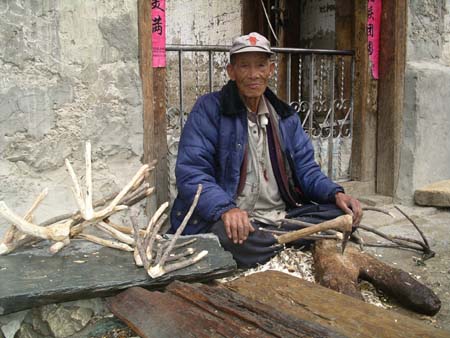 Villages in this region are famous for their hand-carved bowls, and most of the families have workshops and bowls for sale right in their homes. The bowls are made of walnut, and we couldn't resist buying several both for ourselves and for gifts. This was also our first glimpse inside a Tibetan home, and we were immediately struck by its size, the beautiful wooden floors and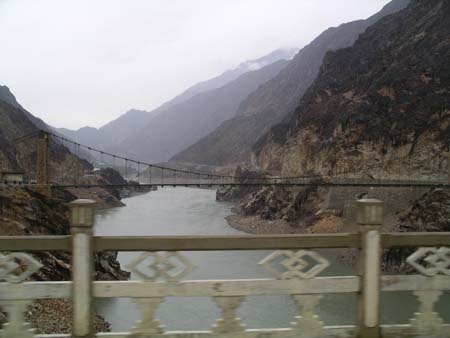 the intricate wood carvings around all the windows. These villagers obviously enjoy a much more comfortable lifestyle than the Naxi or Black Yi.
After leaving Gonju, the road gradually left the mountains and we eventually joined up with the Yangzi River. The last 13 kilometers of road actually hugged the river, and it was interesting to see the various trails that once served as important paths for traders, many bringing tea to Tibet. The Yangzi also marks the border between the Yunnan and Sichuan provinces.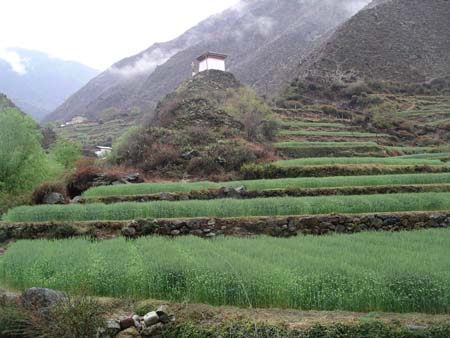 We continued toward Benzilan, arriving just in time for lunch which we enjoyed at another small restaurant on the main road. Today's meal included snow peas, the Chinese spinach that we've grown to love, bean sprouts, fried pork, noodle soup and rice. The grand total for the four of us: $4.50.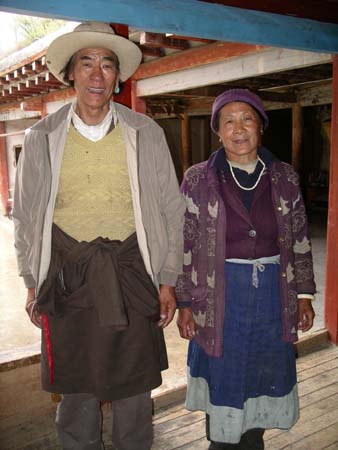 After lunch, we drove to a spot where a path led up toward one of Benzilan's several small villages, home of the Norbu family that we were visiting today. Although it was raining, the walk was very scenic, passing through tiered wheat fields and a white hilltop pagoda, up toward several large white Tibetan homes.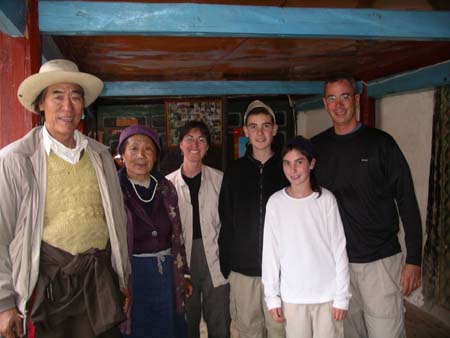 When we arrived at the home, we were greeted by Mr. Norbu and his wife. This older couple is warm and friendly, and they took pride in showing us their home of 24 years. Like most Tibetan homes, this one has three stories - the first story is for animals, the second is for the family and the third is set aside as a Buddhist shrine. The Norbu's shrine holds many Buddha statues, and a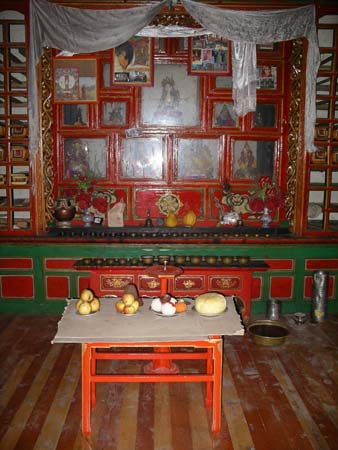 wooden cabinet filled with old scriptures. A large patio off the shrine provides a beautiful view of their wheat fields and the nearby stupa.
The home is decorated with carved woodwork and painted in many bright colors. The Norbus have several modern co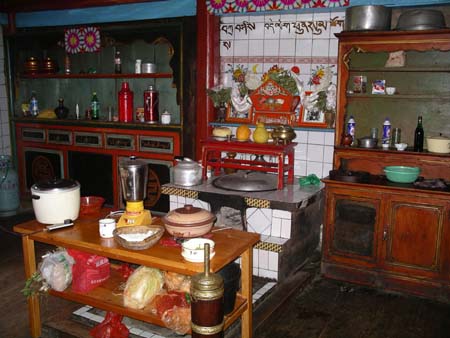 nveniences that we have not seen in other Chinese villages including satellite TV, VCR, and a large and well-equipped kitchen. They pay a small tax for use of the land but otherwise have few expenses.
The family is self-sufficient, raising their food on the land and earning additional income by gathering mushrooms that are in high demand by the Japanese market. Mr. and Mrs. Norbu have also had the opportunity to visit the United States, and have two children living in Philadelphia. When we asked them what they thought of the States, they said it was "great and very clean." These were actually the first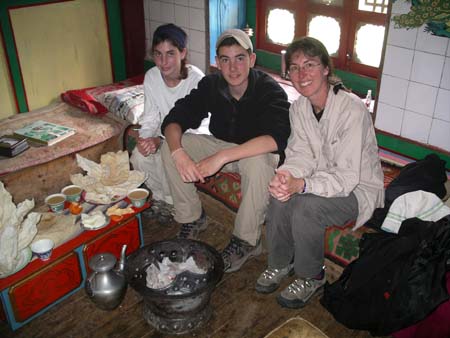 Chinese that we have met who have been to the United States.
We also had an opportunity to try some "yak butter tea" with the Norbus. This traditional Tibetan tea is made from yak milk (although our guide explained the female yak is called a dri and therefore it should really be called dri butter tea), tea and salt. This tea is supposed to provide long-lasting energy and warmth for the farmers during the cold days on the plateau, but is a taste that must be acquired. It reminded us of very rich, salty chowder broth more than tea. They also served us flat bread and fruit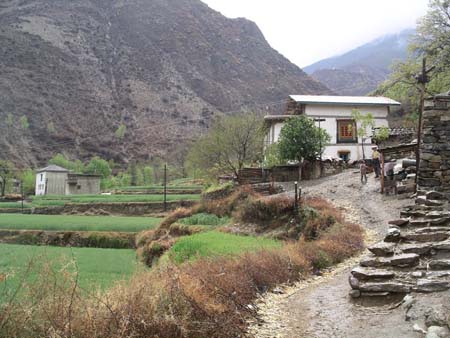 before we prepared to make the drive back to Zhongdian.
Leaving Benzilan, we were struck with the apparent disparity between the lifestyle of the Tibetans and the other ethnic minorities we have seen. The Tibetans live in much larger, substantial and better equipped homes, yet seem to rely on the same sources for income. We have tried to understand this difference, but so far have not received particularly convincing answers to our questions.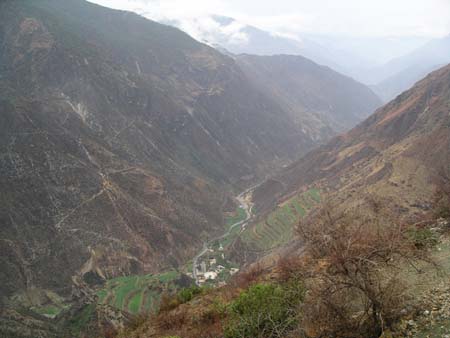 The drive back was scenic, but as we approached the mountain pass we again found ourselves in heavy snow which continued until we reached our hotel. Our guide Lee invited us to his home for dinner and prepared some of the fish he had purchased from some fishermen in Gonja. Lee was recently married and he and his wife live in a new apartment just outside Zhongdian. It was fun to see a new Chinese home and share a great meal.
Tomorrow we plan to visit Zhongdian's monastery and several Tibetan villages in the area before we head back to Beijing on Tuesday.