Wednesday, March 24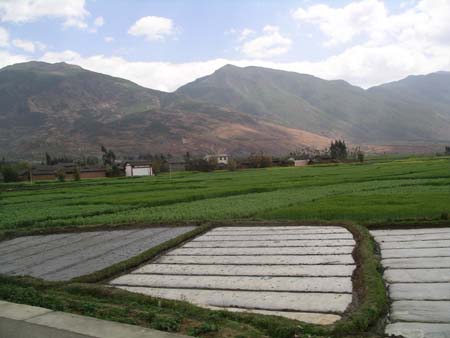 Paula and Steve: The drive from Dali to Lijiang took us the entire morning but the scenery was beautiful as we weaved our way through the mountains. This is what we pictured Southern China to look like - green fields, dramatic mountains, and small villages scattered across the valleys. The road snaked through the mountains, and at times we peered down steep cliffs (with no guardrails, of course…) and saw nothing but villages and farmland.
Along the way, we stopped in the village of Xinhua which we had been told was an interesting village, famous for its silver handicrafts. Unfortunately, this turned out to be the worst destination we've visited in China. We knew something was very wrong when we had to line up with scores of tour buses who were all being registered by officials at the gate to the village. We later learned that this is an effort by the government to control where each busload of tourists (all Chinese) will be deposited in the village in order to "spread the wealth" among all the shops and restaurants.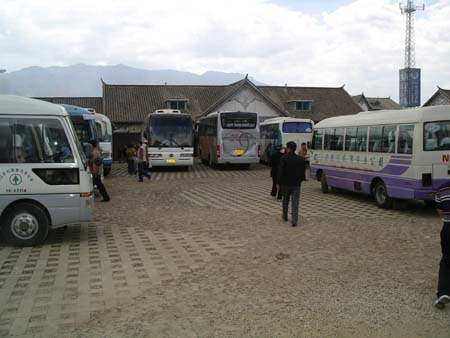 After literally fighting through traffic to reach a parking place among all the buses, we were immediately confronted with huge amounts of construction. We had never seen anything like it - as we walked through the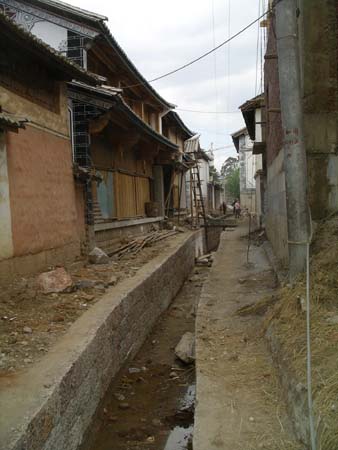 village, we found ourselves dodging construction vehicles and men with sledge hammers (some is pictured here). The entire village is in the process of being reconstructed. This is not an exaggeration - literally every house and building is being renovated. Although Lee told us that the construction is possible because the people of the village are wealthy, we were unconvinced. We have seen too many tourist sites and villages here and have seen plenty evidence of how the government is building and controlling the tourist industry. To us, this is just another village that the government is in the process of making into a shiny new tourist attraction.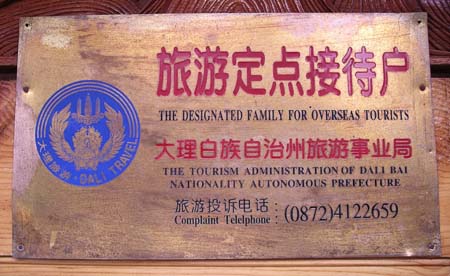 We then went to the "tourist restaurant" (of course) that was on our plan for the day. What a disaster. This place had been taken over by a huge group of Chinese tourists, shouting at each other across the room. The owner tried to convince us to sit in the only available table, right in the middle of the flow of tourist traffic in and out of the restaurant. We sat for a minute, but after seeing the unappetizing food that was being served as part of the "set menu", Lee finally agreed to take us somewhere else. We are still trying to avoid restaurants with the "Designated Family for Overseas Tourists" signs.
Today, we couldn't leave the village of Xinhua fast enough.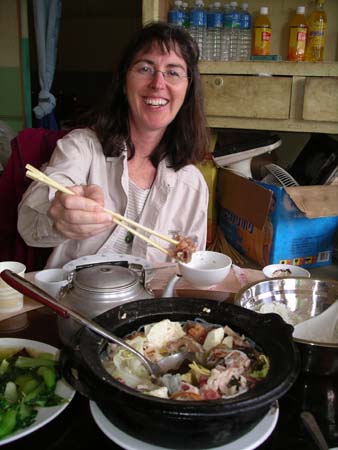 Outside the village, we found another small but delightful local restaurant (with a tiny road-side kitchen) and were again rewarded with another wonderful meal. We were a bit concerned about all the different parts of the pig that we found in our soup but it was delicious (Paula thought that one particular food was pig brain, but Lee told us that it was plain meat that had been fried in flour - what a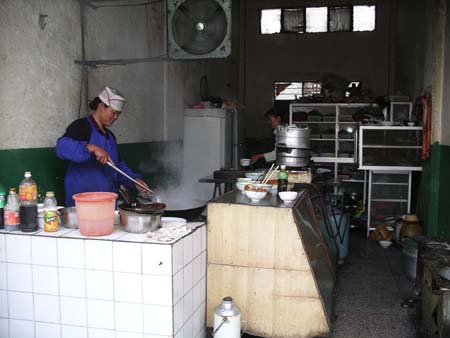 relief since we had already eaten several of these tasty nuggets…)! We also had wonderful assortment of vegetable and meat dishes. We realize that the authentic Chinese food that we get here is actually nothing like what we get at home. The taste and selection is totally different, and we're all enjoying these very special meals.
After lunch, we had to say goodbye to Lee as a new guide was awaiting us in Lijiang. We wished Lee could continue on with us but the government only licenses guides for specific locations.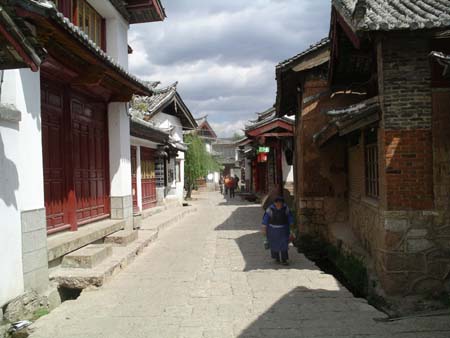 As we approached Lijiang, we could see magnificent snow covered mountains in the distance. Lijiang has been an important trading community for centuries with goods flowing from India and Tibet on to Dali and the rest of China. We met our new guide, Panjingmieg (which actually means "fat is beautiful") outside the old city walls. Panjingmieg is from the Naxi ethnic group and she explained in this culture fat women are viewed as strong. This is important because they traditionally serve as the primary money-earners for their families (men traditionally stay home with the children while the women work in the fields).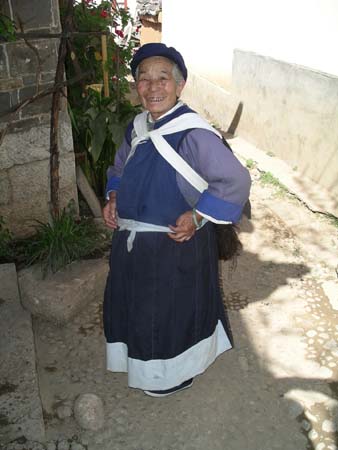 Panjingmieg walked us into the old town where the streets are too narrow for cars. Along the way, she shared with us more about the Naxi ethnic group which is composed of about 300,000 people, most living in the Lijang area. Naxis have their own verbal language as well as a written language which is totally pictorial. Though the children all must learn Mandarin Chinese in school, they still speak the native language at home. Panjingmieg indicated the younger generation still holds on to many ancient traditions and the people of the older generation still often wear the traditional dress. We also learned that the culture deeply respects nature and that this is reflected in their eating patterns, customs and beliefs. We were happy to hear that the Naxis don't eat dogs.
The traditional dress of the women here is somewhat different from the Bai. They still dress in blue, but the Naxi have their own style of clothing and headdresses. We did manage to get a couple of pictures, but have found the women to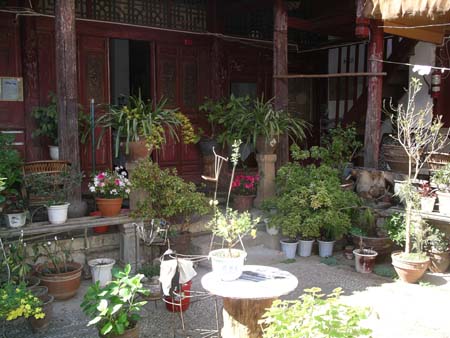 generally be very shy.
The center of the old town, while pretty, is unbelievably crowded with Chinese tourists and lined with shops and restaurants. It's probably the greatest concentration of tourists we have seen anywhere so far. Interestingly, we see very few Westerner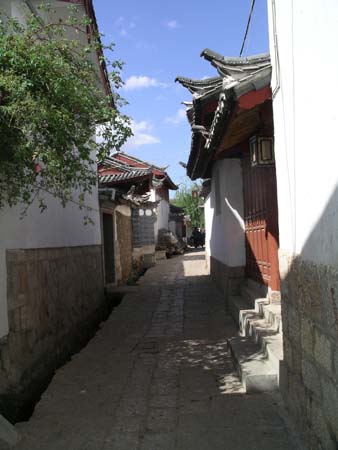 s here - this has surprised us… At least it wasn't hard to get away from the crowds and duck down quieter streets where everyday life seems to be thriving. We visited in two homes - both have rooms built around open courtyards and are large enough for extended families. The wood shutters and stone floors are beautiful. The homes have, larger than most Naxi homes. However, there are no private bathrooms in any homes in the old city - people must use communal facilities along the streets.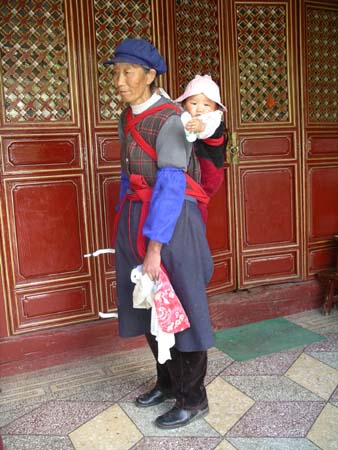 In the second home, we were invited to sit and talk with two of the family members. The daughter is a teacher and speaks excellent English. It was interesting to speak with them about life here and in particular the educational system. We again asked our question about why so few students go to the university. They insisted this was because most students cannot afford college and the government can't afford to build more universities. We still wonder if there is more to it than that. We know, for example, that China is spending $180 billion for the 2008 Olympics - surely there must be s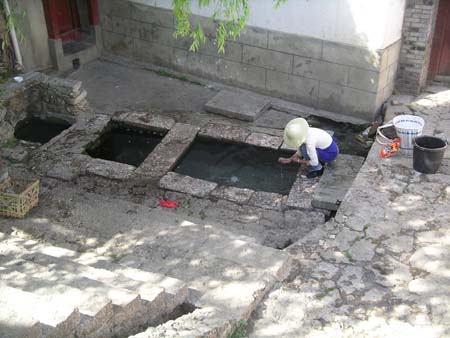 ome money available to build more universities…
Lijiang is sometimes referred to as the "Venice of Asia." While this is no Venice, there are a number of narrow canals flowing through the streets that bring water from the mountains above. There are rules regarding how the water is to be used. For example, until 10:00AM e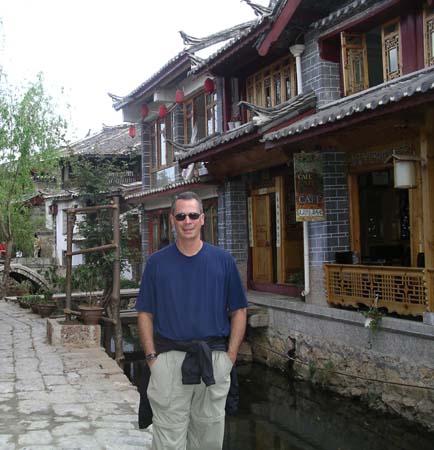 ach morning, it's only to be used for drinking (that's so no soaps or other pollutants are put in by one family and drunk by another). Later in the day are the designated times for washing food and also clothing. In specific areas, there are actually three separate basins - one for drinking, one for cleaning food and another for washing clothes.
We are looking forward to exploring Lijiang and the surrounding countryside villages with Panjingmieg tomorrow. Our plan is to visit places that are not frequented by the buses of Chinese tourists. We'll see!
Katie's Kwick Kwacks: My Experience with Negotiating in Dali. Today I had a very interesting experience while negotiating in a market here in Dali. We have been looking for a small piece of embroidery to buy as a souvenir, and our guide helped us pick out a good person to buy it from. When we met the woman she followed us wherever we went, despite our attempts to tell her we had to go back to our van and would be right back. We could tell she really needed a sale.
Despite her desperation, we could tell she was a genuinely nice woman, and enjoyed following to her to a small workshop on the top floor of her house. The storage room was packed with many different types of embroidered pieces. We already decided that it was my turn to do the bargaining, so I stuck to my own strategy: don't act as if you already love the piece - it isn't nice, it's just interesting. You don't need to buy it, they need to sell it. This idea gives the buyer a leading advantage in negotiating position. When I found an interesting piece, I casually asked how much it cost. "One-hundred-fifty yuan (eighteen dollars)," she said looking at mom. At this point she believes I'm an innocent little girl, just wanting a skirt to add to my dress-up box. She was wrong.
We have learned from our guides here in China that there is a whole different system of so called "tourist prices." We have been told that the price that most shop owners ask tourists for is usually two or three times what it would be for local people. Very few tourists understand this, and are usually getting ripped off on their purchases. Although I had no idea the price this woman was willing to sell for, one thing was for sure - I was not going to be fooled this time.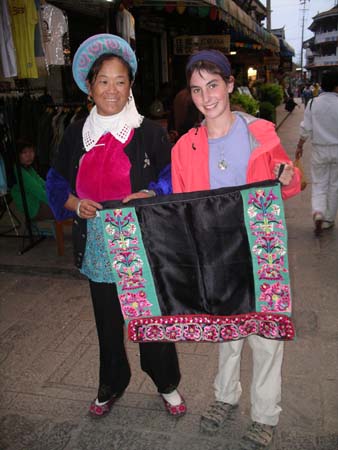 When she said the price I began passively nodding my head as I thought of my starting number. She was now smiling and offering me a top to go with it. I finally turned and said "60." I couldn't help but smile at the look of shock on her face. "No, no, way too cheap for me", she said! I waited a moment and then stated clearly, "70, final." She looked over at her helper and they exchanged uneasy glances. "Ok, 120 very good price." This time I didn't hesitate. "70 final," I repeated, giving her a concluding hand motion. "100, final price," she said. I wasn't fooled. I repeated my final price again and again as the woman kept lowering price - "90…85…80..."
She stopped, amazed that I hadn't budged. "Ok, 75 final"!!! "No - 70," I said, determined to stick with my lucky number. She repeated her final number a couple more times and then shook her head. Without another moment of thought, I dropped the skirt and walked out of the door. I didn't make it very far. "OK, OK, OK" she said ushering me back in. I smiled and she smiled back. As she put the skirt in a plastic bag, she chuckled in disbelief and kept at looking at Dad saying, "She's very clever"! Before long we were all laughing together, and I was happy to have given a sale to such kind women. When we said goodbye, we took a picture of me and the woman holding the embroidery.
So, here are the final results: I reduced the price from eighteen dollars to eight dollars, which is less than half of the original price. I also lowered the cost more than two dollars lower than what our guide told us an item like this should cost. I was very proud of myself and have come a long way since Istanbul, where I was first introduced to bargaining. At that time I wanted nothing to do with it, but now I find it enjoyable and realize that it's just part of everyday life in Asia. This experience has definitely changed my feelings about the concept, and I can't wait for my turn to negotiate again.