Tuesday, March 23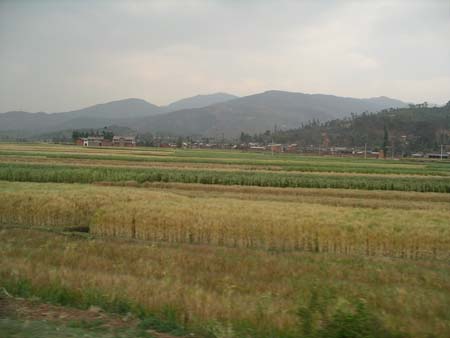 Paula and Steve: Today's plan called for more exploration of local villages and markets, this time in a mountain area populated primarily by people of the "Yi" ethnic group. Our final destination was the village of Weishan, about 35 miles (but over an hour and a half drive) from Dali.
The drive was lovely as we made our way up into the mountains passing small villages along the way. Lee told us that these villages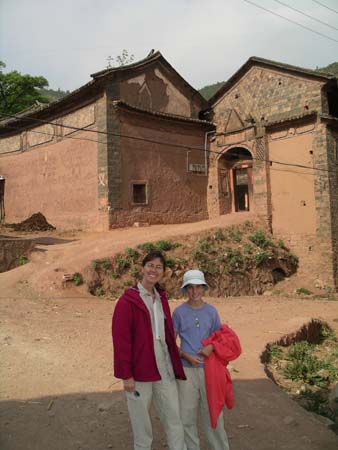 are almost all occupied by the Yi ethnic group, and our first opportunity to see the Yi people came in a small village that we passed on the road.. As we walked down into the village, we were immediately confronted by groups of large (and a little intimidating) barking dogs. Each household appears to own multiple dogs, many with litters of pups. We happily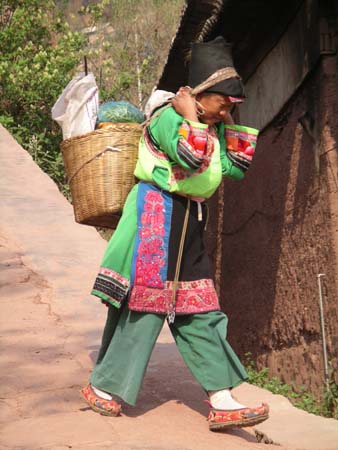 admired the puppies until Lee informed us that the dogs were really not pets but instead are raised for their meat. In fact, most people in China's countryside eat dog meat - we just learned this today. Lee told us that if you eat too much dog meat you get a bloody nose! Fortunately, cats here are in better standing (although not as common) and we were pleased to see several plump and content cats later in the day.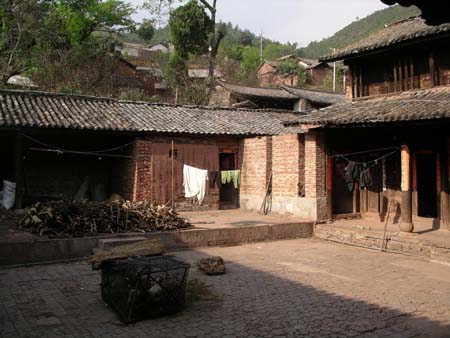 One of the first things we noticed about the village was the construction of their homes. Most of the houses are made of mud or clay and we could see where the foundations were eroding because of water. The people of this village herd livestock and farm on terraced plots. We saw several of the women in the village in traditional dress - all beautifully embroidered in bright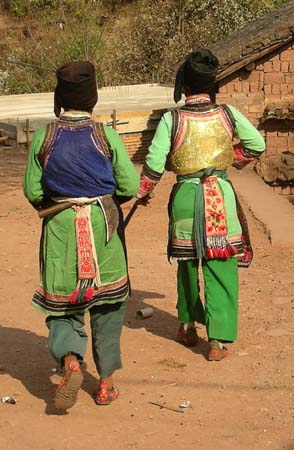 colors. We were able to view one home where several families share a courtyard filled with animals. The wood carved shutters are beautiful, though discolored from the cooking which is done over an open fire inside the home. We realized that the shutters were very similar to the antique one that we recently purchased to bring home.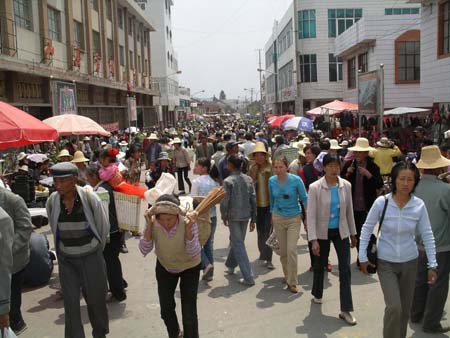 As we continued our drive, we suddenly found ourselves in heavy traffic. The road was crowded with horse-drawn carts all loaded with people and their market purchases. It was clear that somewhere there was a very large market not to be missed, and Lee got directions from someone passing by. This was a wonderful local market, probably the largest we have seen anywhere. The main road was absolutely packed with people as were the side streets crisscrossing back and forth. We saw many different ethnic groups at this market - Bai, Yi, Han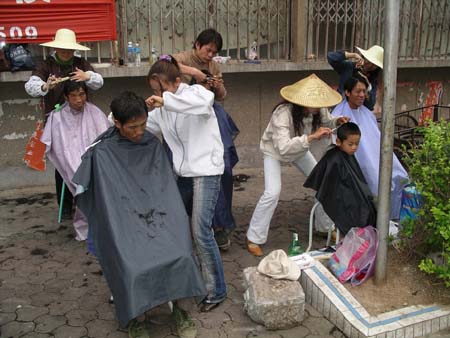 and Muslim. Along one of the main streets, people were lined up for haircuts being given by "barbers in training." We had fun seeing a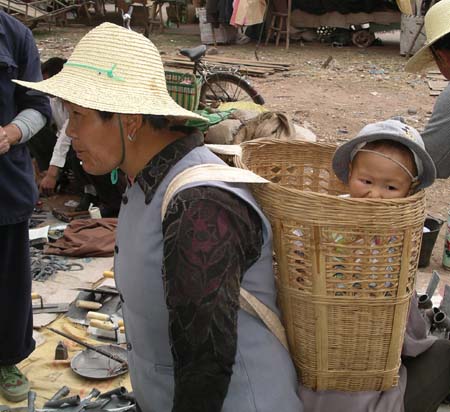 large variety of animals for sale including rabbits and pigs. The kids had fun making a few small purchases: a pipe used by all the older men and a "real horseshoe" certain to be lucky!
We were the only tourists in the market and the eyes of the locals followed us wherever we went. Even our guide Lee commented on how we were being watched. Several older gentlemen even tapped David on the shoulder and gave him the thumbs up sign.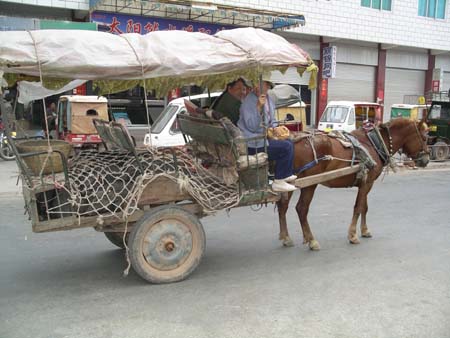 Before having lunch in the village, David and Katie tried their luck at a ring toss game. They lost but the storekeeper insisted they take home a goldfish he placed in a cup of water. After naming the goldfish, Mao (after Chairman Mao of course), we quickly found him a home in the fish tank at a local restaurant that we stopped at. Lunch was great, primarily because we were too far away to eat in one of the "tou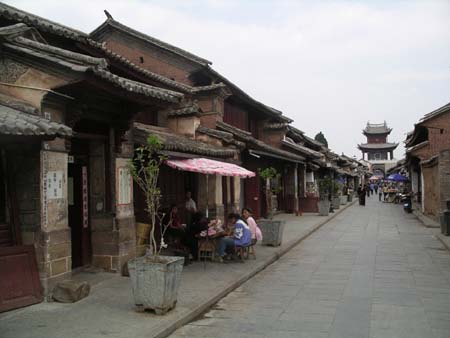 rist restaurants." The local noodle soup has become one of our favorites and is made with rice noodles. A special chili sauce can be added to make it extra spicy. Lunch came to a grand total of $5.00, and included a pork dish, fried corn, the
noodles, rice, vegetables and drinks.
We also thoroughly enjoyed visiting the town of Weishan. This was once the capital of the region and retains the charm of Dali without the hoards of tourists. The main street of the town is lined with beautiful old homes and shops. Each has beautifully carved wooden shutters and the traditional Chinese roof. The people here were very friendly, many saying hello to us as we walked along.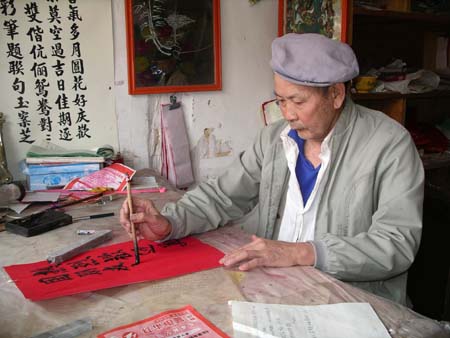 Katie spotted a shop selling spring couplets or "chuliens." These are red banners with hand-painted Chinese sayings that are displayed around a home's doorframe to welcome spring. At the request of a friend, we had been looking (unsuccessfully) everywhere for these - it's the wrong season. Today Katie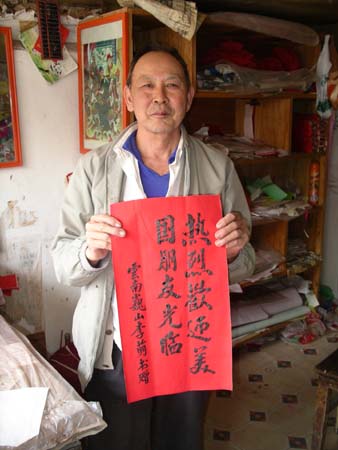 was proud to spot some in the back of a small shop whose owner was sitting behind a large desk writing Chinese characters on banners. After speaking with the man, he went back into his storage closet and found as many of these couplets (all left over from this year and being stored until next spring). We purchased as many as we could to bring home. He was quite surprised and pleased with our purchase and insisted on making us a personalized banner before we left. The banner reads, "A warm welcome to our American friends who visited here." He signed it with his name, Mr. Lee Meng and the name of the town and province. We love it and can't wait to find a special spot for it at home.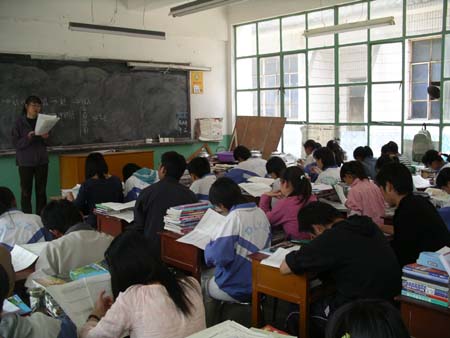 After winding our way back to Dali, Lee offered to take us to the local middle school. The school has about 800 students from grades 7-12. We were surprised by the large number of students in each classroom - easily 50-60. Lee told us this was normal. We also learned that all students board at school starting at this age because the government feels this is the best way to make sure that kids study hard and stay out of trouble. Lee seemed surprised that this wasn't the norm in the U.S. Chinese students also study English for at least four years and must pass difficult examinations in several subjects in order to apply for the university. Admission is extremely competitive, and the students feel tremendous pressure - only 25% of students are accepted at the university level. Apparently the government can't afford to build new universities (that's what Lee told us). We wondered whether this is at all used as a means to intentionally limit the number of college-educated people here. Also, it appears that there would not be enough professional jobs available if larger number of people graduated from universities.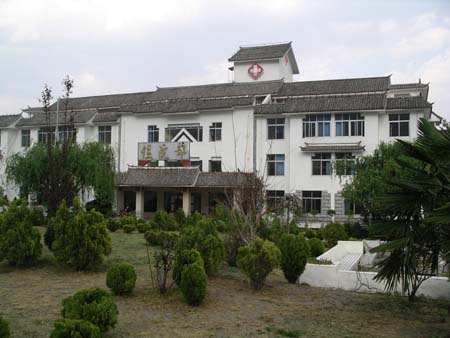 We also visited the public hospital in Dali. The hospital was better equipped, cleaner and more modern than the facility we toured in Cambodia, but still not the standard we take for granted in the U.S. We saw nurses all wearing traditional caps. The rooms were crowded with 4-6 beds each and again with no privacy. Families were expected to assist with ca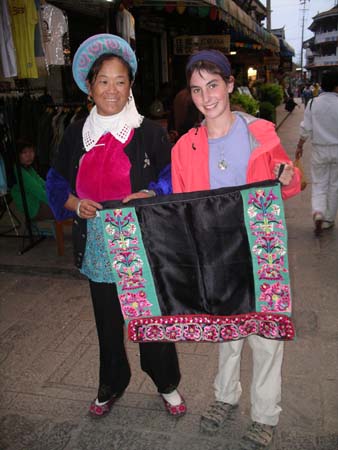 re and meals. Lee told us that the SARS epidemic did not affect anyone in the Yurran Province last year.
Finally we headed back to the shopping area in Dali for a few last purchases. Katie wanted to buy a sample of the embroidery that is done here. We're going to let her tell the story of how this process worked, but basically we put here in charge of selecting what she wanted and also of negotiating the price. What started as an asking price of 150 Yuan ended up as a purchase for 70 Yuan! Katie was VERY proud of herself. Then, while we were waiting for the embroidery to be wrapped, she was offered a hair clip for 30 Yuan. Katie offered to pay 10 Yu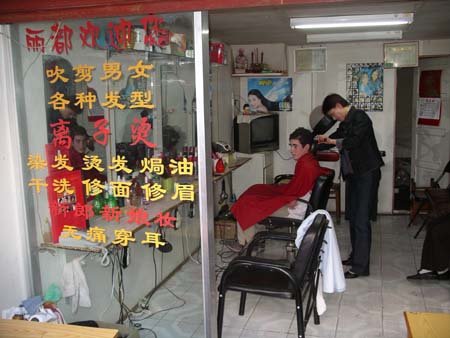 an, and never budged! It was all very fun to watch, and even Katie admits how far she has come in understanding the principles of negotiation. She remembers her first and very negative reactions from when we were in Istanbul, and now views this very differently. This will all be described in detail by Katie in an upcoming journal entry…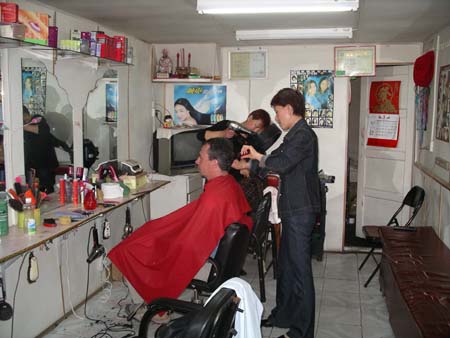 Before dinner, Steve and David got haircuts in a small shop on the street in Dali. A young woman smiled and greeted us warmly when we asked if we could get cuts, and before we knew it we were sporting new shears - Chinese style! As always, this is fun to do, especially trying to communicate how we want our hair to be cut (usually an intersting task accomplished with hand signals…). These will probably be the cheapest haircuts we'll ever have - $1.25 each!
Tomorrow we'll be driving to Li Jiang, the next destination of our adventure in China.