Tuesday, January 20 and Wednesday, January 21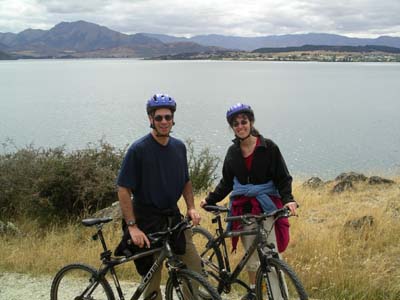 Steve: Following our first week of staying in remote areas of NZ, Wanaka feels almost like a large city. In reality, it has a population of around 3,500 that swells significantly during the summer months. Fortunately, most vacationers have left (school is starting again soon) and so we're visiting at a perfect time. Wanaka sits on a beautiful lake surrounded by striking mountains, and has a cute town center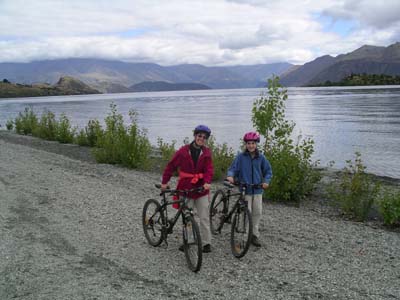 that caters mainly to tourists. The entire area is scenic, with numerous mountain ranges and lakes. We have found Wanaka to be a very relaxing and surprisingly quiet place, and are happy with our decision to spend time here instead of Queenstown - we understand it's much larger and more commercial.
These two days have both brought blue skies and crisp, refreshing air. We're still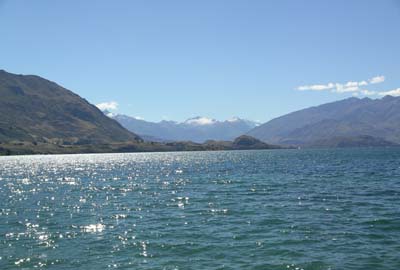 beating the odds regarding rain (but we know this can change easily as we head further south tomorrow). On Tuesday morning, we rented bikes and took a ride on a path that hugged the shoreline, often climbing small hills that gave us great views of the surrounding mountains. This area is a mountain biker's paradise, with many trails that provide stunning views. Following a few hours of schoolwork back at the Edgewater Resort, we drove into town and hiked up Mount Iron, a rocky knoll that was carved by glaciers and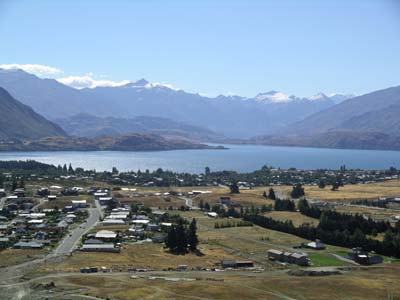 stands alone near Wanaka's center. The summit provides 360-degree views of the entire region, including Lakes Wanaka and Hawea, and several surrounding peaks and valleys. We decided to spend most of the late afternoon on the summit enjoying the panorama, and reading our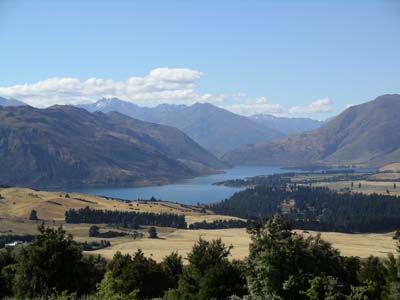 books. Finally, we realized how hungry we were and headed back into town for dinner.
Today we hired Reg, a local fishing guide, to take us out on the lake for a morning fishing expedition. The day was perfect - absolutely no clouds and no wind. Reg told us that this was only the 3rd trip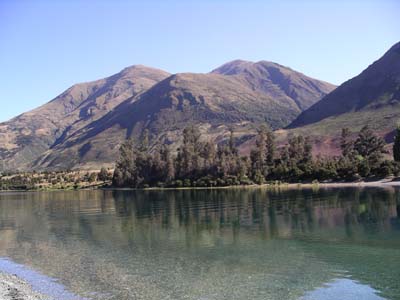 he'd been able to do all month because of the weather - most days either bring heavy winds or rains. It was great to get out on the water and explore the lake. David was the proud fisherman for today, nicely landing a Quinnet Salmon. Although none of the rest of us caught fish, we all enjoyed the opportunity to be on the boat and to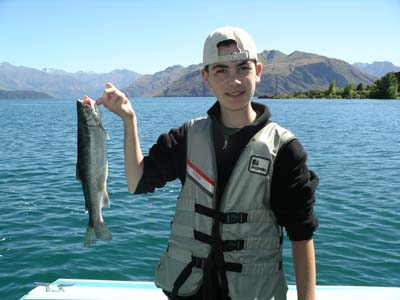 explore Lake Wanaka.
This afternoon David and Katie tried their luck fishing from shore. They're having a great time, and David was thrilled to get a fish on his line, only to lose it before bring it to shore.
Tomorrow we're headed south toward Doubtful Sound for a 3-day stay on Lake Manapouri.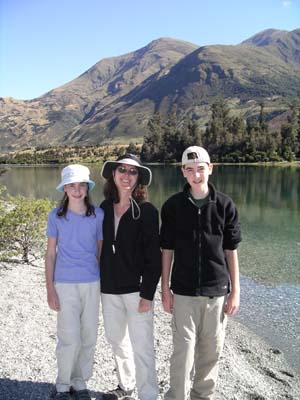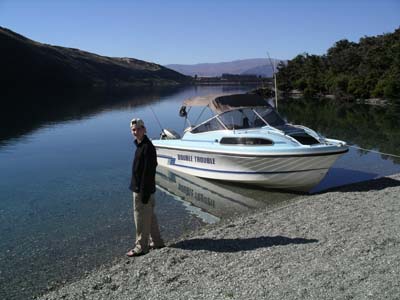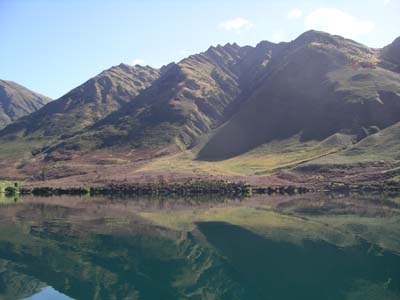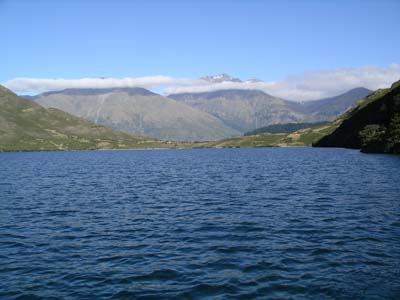 David's Daily Dump - New Zealand Droughts. Today I read the local newspaper from Wanaka, and read many articles concerning the serious drought that has been affecting the South Island. Southern New Zealand is experiencing one of the worst droughts in its history. Towns like Otago, Dunedin, and Alexandra in the Southern region of the South Island are becoming extremely worried, and are considering seeking government help with fundraisers and irrigations systems. Rivers are beginning to dry up, and many farms in the area are running short of fresh water and feed. Many farmers are being forced to sell a great deal of their livestock, and reduce cow milking to once a day to preserve food. Last week, a meat company reported that they had slaughtered 100,000 more lambs than the week before! The drought is a huge problem for the South Island, and could devastate most of the farming regions in the weeks to come.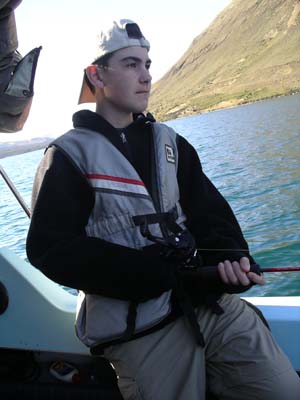 David's Daily Dump - Freshwater Trout. Today we took a fishing trip out on Lake Wanaka with a guide. We didn't catch much, but I caught my first freshwater fish: a Quinnet Salmon. Although it didn't put up much of a fight, I still enjoyed reeling in my salmon. Salmon is only one of the major types of fish that liv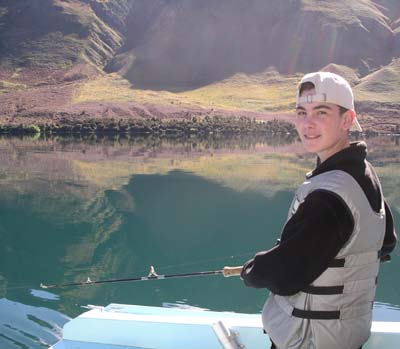 e in the lake. Rainbow and brown trout are very common, and the main game fish of the lake. Trout are not native to New Zealand, and were introduced from Britain and the United States. Brown trout are native to the British Isles, and are the most prized trout to catch because of how much of a fight they put up. Their upper body is spotted with brown specks, with a silver underbelly. They can even slightly camouflage according to their surroundings! They live mostly in cold freshwater streams, but occasionally migrate into lakes and ponds. The rainbow trout is quite similar, except for their long shiny pink stripe across their upper body. They also live in lakes and cold streams, and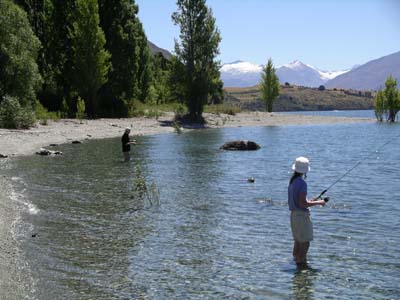 are native to Western United States.
After our fishing trip, Katie and I went fishing on our own on the lake from the shore. Although we had no luck, I did hook one fish, but lost it as it leaped out of the water and spit the hook. I guessed it was a brown because of the silver belly I caught a glimpse of as it jumped. Well, stay tuned for more fishing reports tomorrow from Captain David!
Katie's Kwick Kwacks: Diversity in the University of Otago. I read a very interesting newspaper article about the growing diversity in a major school in this area of New Zealand, called the University of Otago. The University has an ongoing number of students from different countries including India, China, the USA, Malaysia, Germany, and France. Last year, the school attracted students from more than eighty oversea countries. The largest number of oversea students comes from the USA - 525 students. They have many connections with families from faraway countries, and many efforts have come forth to make the school's community even more mixed and friendly. They have set a high goal for themselves in terms of the diversity at the school, and hope to reach that goal by next year. As you can see schools in New Zealand have a very strong focus on diversity and work hard to create a welcoming community for people worldwide.