Sunday, January 18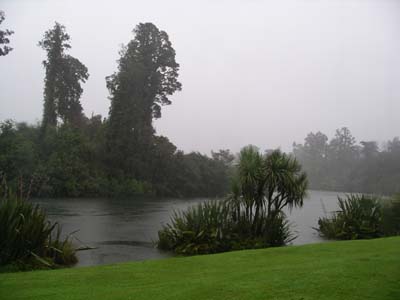 Steve: RAIN! Today the rains finally came. We've been told about how it rains here 3 days out of every 7, and so far hadn't seen any at all - so we were due. The rain started at 2:00AM and continued non-stop all day long. This wasn't just any rain - this was a "rain forest" rain. It came down hard, with a strong wind that often blew it horizontally. Over 2 inches had fallen between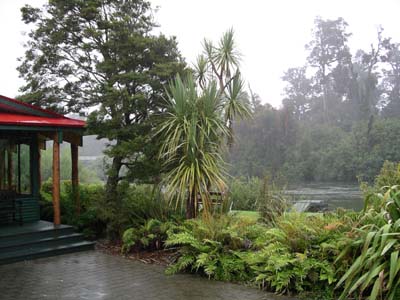 9:00AM and 2:00PM, and the river that runs beside the lodge had visibly risen up its banks. With its strong current, it was hard to believe that this was the same lazy river that we had kayaked on so easily yesterday.
We had hoped to take a guided seacoast walk that ended at a seal colony, but the trip was cancelled because of the weather. Normally the hikes move ahead even in rain, but today's high winds created unsafe conditions along the beach. So… we spent the day in the comfort of the lounge at Moeraki Lodge reading, studying, and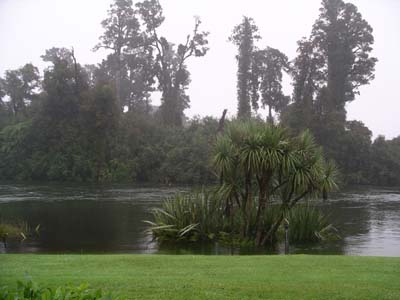 catching up on our journals (we were 2 days behind!). Katie is nearly finished with Angels and Demons (by Dan Brown,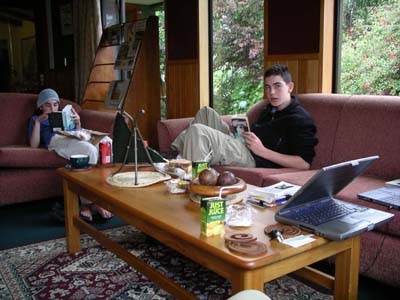 author of The Da Vinci Code), and it's usually a fight to get her to put the book down. David finished The Changeover, a novel that takes place in New Zealand. He claimed to not like it, but wanted to finish quickly so that he'd be ready for Katie's book when she's finished. We also spent time studying more about New Zealand and its geology, wildlife and history.
Tomorrow we plan on driving to Wanaka, but may spend some of the early part of the day here at Lake Moeraki (depending on the weather).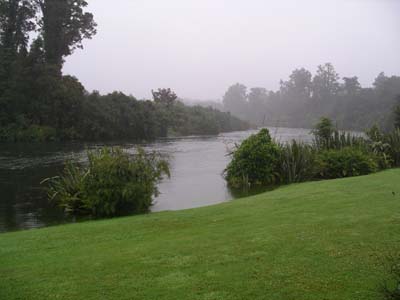 David's Daily Dump: New Zealand Weather. The weather patterns in New Zealand are both intricate and amazing. Weather varies significantly from the North and South Islands, and even from the east and west coasts of the South Island! Today we learned about the normal weather patterns of the South Island. I learned that the west coast is extremely wet, while the eastern coast is very dry and arid. This is because of the chain of mountains that splits the South Island in two. As the winds approach the island from the west, they are forced upward by the Alps, where it is very cold. The air is then unable to hold its moisture, and releases it on the west coast and mountains. As the clouds move eastward, not only do they lose all their moisture, but they are also carried off by the strong winds, leaving the east coast scorched and extremely arid. These huge rain and wind storms are called Nor'westers, and are similar to the Nor'easters that we have in New England. Kiwis (New Zealanders) describe the difference between the two coasts to be like "stepping into another world." Observing the magnificent rain fall today was wonderful. I loved watching the river slowly rising to within 20 feet of the lodge, and taking hikes to discover that the footbridge to get to the start of the hike has been washed away be the river. Although we didn't get to see the seals, I did enjoy experiencing "real rain."