Friday, July 4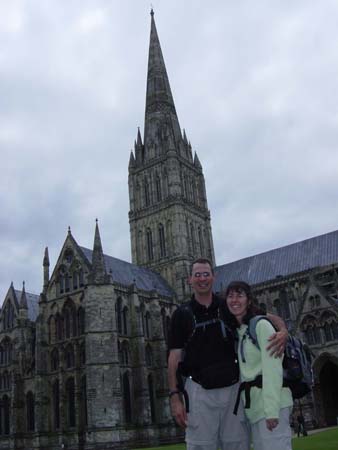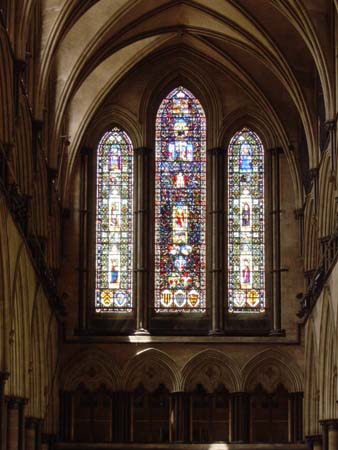 Today was our day for venturing from the city out to the countryside. After a hearty English breakfast at a small restaurant, we took a train from Waterloo Station to Salisbury. Salisbury is in the southern part of England, and a convenient location from which to rent a car and drive to Stonehenge and Bath (I didn't really want my first left-side driving experience to be on the hectic streets of London).
After we arrived in Salisbury, we took some time to explore the town before leaving for Stonehenge. Salisbury's main attraction is St. Mary's Cathedral, which was beautiful and easy to visit - they also allowed photography. In the adjacent Chapter House, we were able to see one of only four remaining original copies of the Magna Carta (out of 40 originally produced). Written in 1215, the Magna Carta has served as the foundation for government in England and its territories. It was interesting to read translations of many of the commitments that King John made to his subjects. The Magna Carta also influenced our own constitution as well as that of many other modern governments.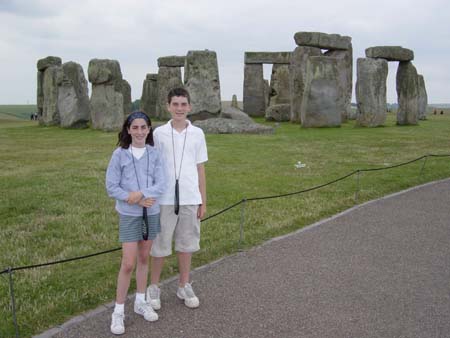 We then rented a car and departed for Stonehenge. I hadn't driven on the left since the time we were in England in 1985, so I tried to take it easy at first. Fortunately, we were able to use our laptop and a hand-held GPS as our own navigation system, which helped significantly on the roads. In England, roads are not always well marked, and signs indicating that an intersection is near never seem to give you much warning. Driving through the roundabouts can also be a challenge - the thing to remember is that traffic on the right always has the right-of-way. ~Steve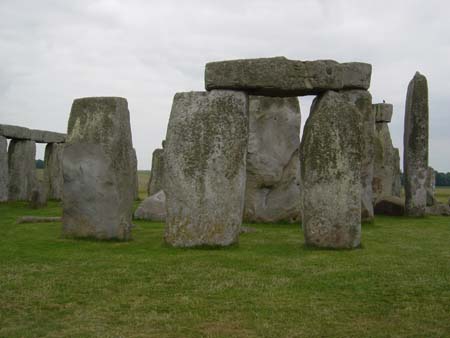 We drove to Stonehenge, an extraordinary formation of rectangular rocks that form huge circles. Stonehenge is over 5,000 years old, and is very mysterious. No one knows why or how it was formed. Some of the rocks in Stonehenge weigh over 45,000 tons. No one can imagine how men brought these rocks to the site and lifted them upright. Many people believe that the men must have used various types of tools, such as pullies, levers and wedges. Another puzzle is exactly who made Stonehenge. It could have been prehistoric men, or perhaps not even men (some people think aliens built Stonehenge). Stonehenge acts as a very accurate calendar. During the summer and winter solstices, the sun rises through a stone gateway. Stonehenge is made up of 2 circles (one inside the other) and a stone in the middle of the circle. These stones have many and myths that may never be solved. This was very cool and a great learning experience for all of us. ~David
We then made the 30 minute drive to Bath, where we had reserved rooms at a Bed and Breakfast (Monkshill - www.monkshill.com) in a nearby village called Monkton Combe. We got a little lost as we approached our B&B, but were happy to drive by a cricket match in process. We had seen cricket on television, and had asked people to explain the rules - we had also wanted to see an actual game. Although we approached this opportunity with open minds, our attention span was very limited. We tried to interpret what was happening, and even saw a few runs scored, before a relatively quick departure. We've been told that some cricket matches can last multiple days, with a single batter being up to bat for longer than an entire day.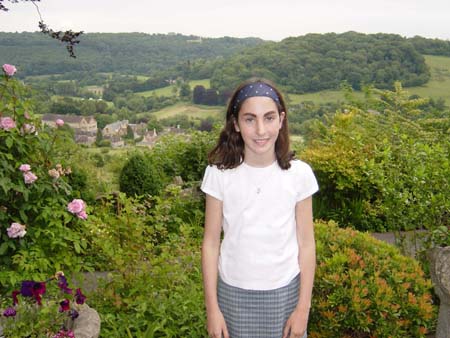 We finally arrived at Monkshill, and were greeted by Mike Richards and his wife Catherine. This was exactly what we were looking for - there were fantastic views of the English countryside all around us, and the house was beautiful. Mike maintains a wonderful garden, complete with a goldfish pond and a croquet field (is that what they call it?). Mike is a serious croquet player, and gave us all lessons in the strategy of the game - we never imagined that this game could involve so much strategy. We enjoyed a family game before leaving for dinner at a cute local pub (The Top Hole). After a wonderful meal, we drove back (there was still daylight at 9:45PM!) and played a little more croquet under the lights before going to bed.
Distance Walked: 1.61 miles