Sunday, March 7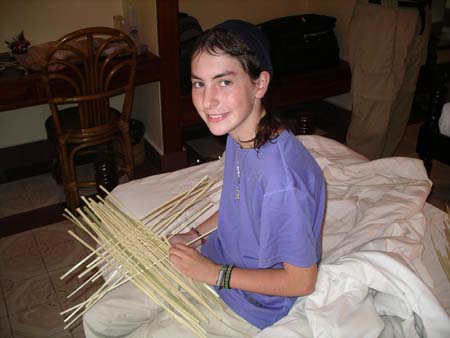 Steve: We spent our final morning in Luang Prabang relaxing at our hotel (Le Celao) and enjoying our last views of the Mekong River (for now - we'll see it again in the Yunnan province of China). Katie enjoyed having the extra time to continue work on her bamboo-weaving skills - her new love! Laos turned out to be a perfect destination for us - we really felt like we were seeing traditional life in Southeast Asia, untouched by modernization or tourism. It was also good for us be somewhere with a slower pace - especially before our upcoming time in Bangkok.
Our Bangkok Airways flight left the tiny Luang Prabang airport on time at 1:50, and we arrived in the Bangkok airport for the fourth time (we'll land here one more time on our way back from Cambodia before we fly to Beijing). We were met by our guide, Annie, and taken to downtown Bangkok for a short rest before dinner, and the evening's "main event" - Thai kickboxing!
We tried to eat at a restaurant called Harmonique (highly recommended to us by Stanford in Hanoi and by our local guide here for its great Thai food), but it's closed on Sundays. During our short walk to the restaurant, we were hounded by at least 5 tuk-tuk drivers, and got a quick sense for some of the scams they try. Our favorite was a driver who saw us look into the windows of the closed restaurant, and then literally followed us down the street as we walked, telling us that he'd take us to the "Harmonique 2" restaurant. Of course, all he wanted was a fare, and probably a commission from whatever restaurant he ended up taking us to. We also stopped in a small hotel to ask where Harmonique was, and were told that magically, it was just inside the door! When we clarified and said that we were looking for Harmonique, we were ushered inside, told that this WAS Harmonique, and shown the menu. We all laughed and left quickly after taking a very quick glance at the set-price Indian food menu in this seedy little joint…
We ended up having our first "real" Thai meal at our hotel - it was very good, and we'll probably try back at Harmonique tomorrow night…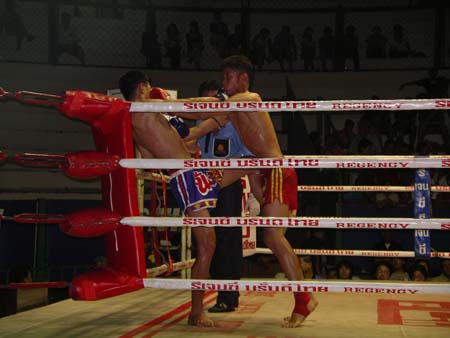 After dinner we were taken to one of two kickboxing stadiums in Bangkok. Kickboxing is the national sport of Thailand, and there are events every night. This was added to our itinerary based on our request to see "real life" in each country we visit. Annie told us that kickboxing is extremely popular here, and that significant amounts money is bet on the fights (all legal). She told us that we had ringside seats, but that the boxing is "quite aggressive" and so she may not be joining us at our seats!
We arrived to find a stadium that was much smaller than we expected (it seats 900), and our seats were literally ringside. There was strange music being played by a small group of men with various instruments, and the two boxers were in the ring doing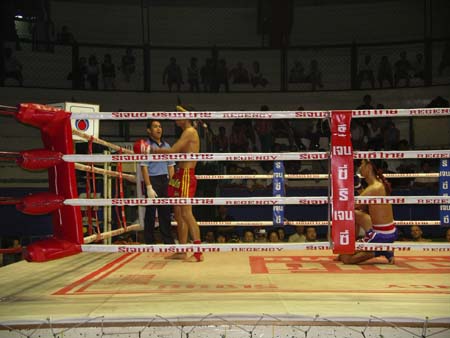 what appeared to be a very unusual slow-motion dance. The routine included visits to each corner of the ring, kissing the mat, looking and chanting toward the sky, and various prayers. We learned from Annie that this is the traditional way that the boxers pay their respects to their teachers.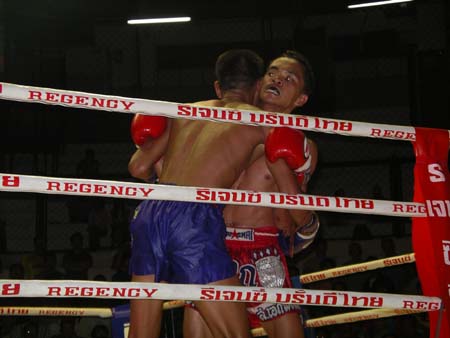 Things picked up very quickly after the fighting began. Each fight consists of five 3-minute rounds. In kickboxing, the contestants are allowed to use almost any part of their body, including the head, fists, elbows, knees and feet. The kicking and kneeing are particularly vicious. Often, the fighters would end up in an embrace, repeatedly delivering knees to their opponents' stomach or kidneys. Each knee would result in a loud grunt from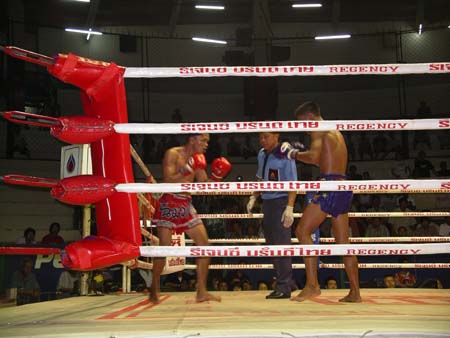 those in the crowd supporting the boxer who had delivered the blow. As the fights moved into the later rounds, the fighting became more intense and the crowd grew louder. It was quite a scene!
Between rounds, the fighters received intense body massages, and instructions from all kinds of coaches and people who yelled and motioned from just outside their corners. The fighters would look first at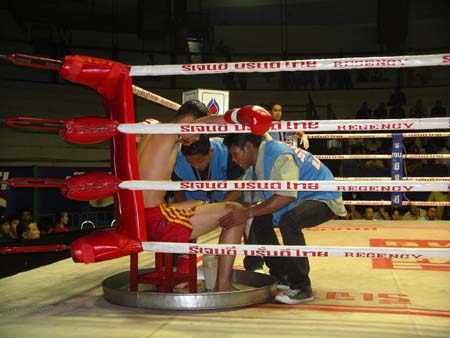 one person, then another, and from what we saw there was no way they could understand the barrage of advice they were receiving.
There were 10 fights tonight, but we stayed only for 4 (this was plenty for us to get the "experience"), including the "main event." We saw 2 fights that finished with decisions, and 2 knockdowns. The first knockdown was particularly ugly, and the loser ended up bloody and unconscious. No matter. He was quickly taken away on a bamboo and leather stretcher, and the next boxers were ushered in.
After the main event, as holders of ringside seat tickets, we were entitled to have our picture taken with the victor. What a treat!!!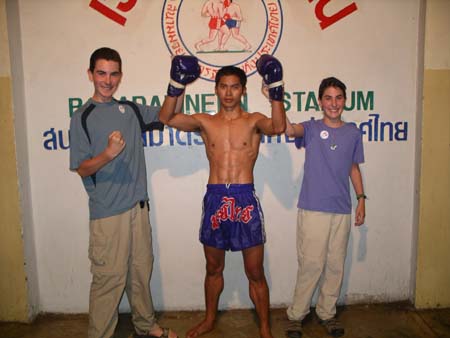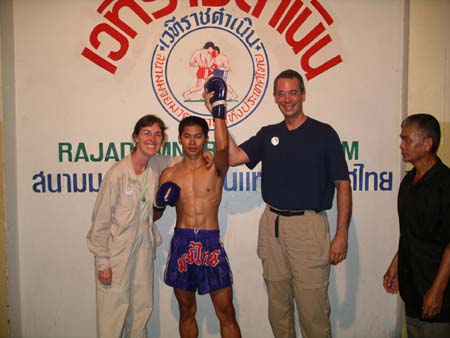 Tomorrow we have a full-day planned exploring the bustling city of Bangkok.