Saturday, May 29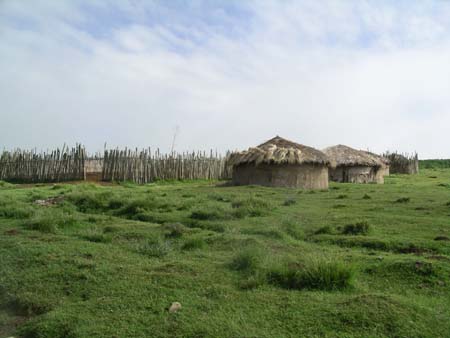 Steve: After several days restricted to our Land Rover and with basically no exercise, today was a great change of pace. Our plan for the day included driving to the rim of Empakaai Crater and then hiking down to the crater floor to explore its lake and resident pink flamingoes.
Our ride to Empakaai took much less time than expected because the road has been recently repaired - Nassibu remembers that the last time he came to Empakaai the drive took several hours over badly gutted dirt roads. Our trip took only 1 ½ hours and we arrived at our "Thomson Adventure Camp" before noon.
We passed by several Maasai villages today, and Nassibu began talking about the Maasai culture and specifically how they use the lands of the Ngorongoro region. Many of the villages that we saw are temporary, as the Maasai move after food for their cattle has been exhausted in one area. However, the area surrounding Ngorongoro crater is particularly productive and so several of the Maasai villages that we saw today are actually permanent. We will have numerous opportunities to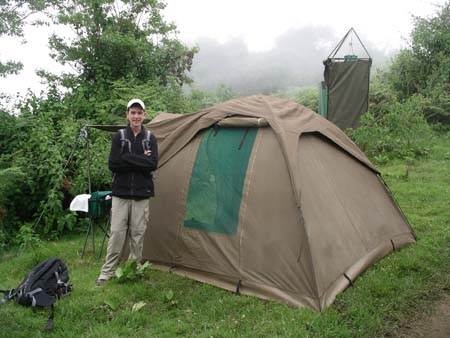 learn more about the Maasai over the next few days as we visit villages and meet families.
Empakaai crater is six kilometers wide and its walls rise approximately 1,000 feet above the floor. It's an area that is not usually frequented by tourists, but is exceptionally beautiful.
This morning brought thick fog and although our camp sits right on the rim of the crater, we were unable to see anything but cloud as we began our hike. Accompanied by Nassibu, Justin (our Maasai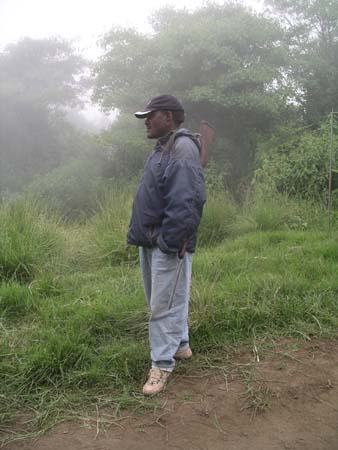 guide for the next few days), and an armed park ranger (pictured here, and always ready to protect us at any sign of danger), we began our hike down the side of the crater. All campers and hikers must be accompanied by an armed ranger to protect against wild animals that frequent the area, primarily buffaloes. Nassibu assured us that he had never heard of any problems with animals bothering people here…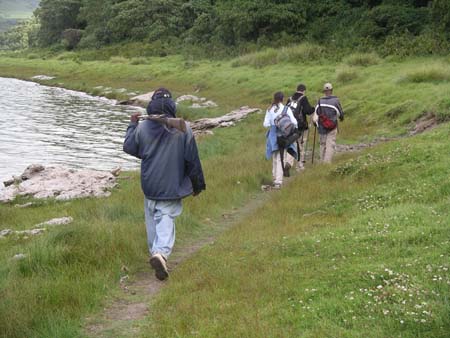 The hike was steep at times, and we found it unusual to be walking down on the way there (as opposed to hiking up a mountain). We descended the 1,000 feet and reached the crater floor after 1 ½ hours finding that the weather had begun to clear nicely. Most of the crater floor is covered by Empakaai Lake, which is unusually deep at over 85 meters. The lake is also a home for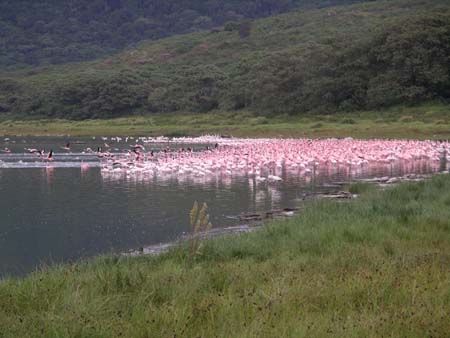 large flocks of greater and lesser flamingoes, and we enjoyed seeing them fly repeatedly across from one shore to another. These flamingoes are easily frightened, and as we hiked around the lake we were treated to the beautiful sight of large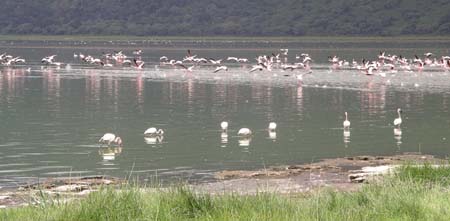 flocks flying all at once. This made us think back to our time in the Camargue in Southern France, and how excited we were there to see only 2 or 3 of these beautiful birds in flight…

We ate lunch by the lake, and then walked along the shore before heading back up to the rim during mid-afternoon. The sun was now shining brightly, and we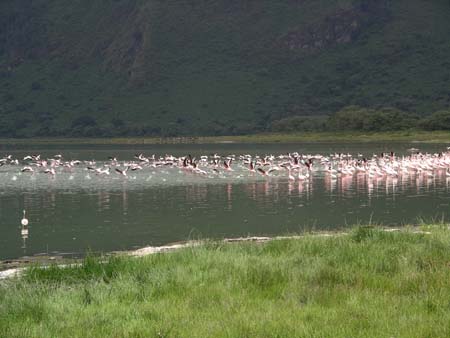 had great views looking down into the crater as we hiked. Although we didn't encounter any buffalo, we were attacked repeatedly by ants that seemed to take delight in climbing up our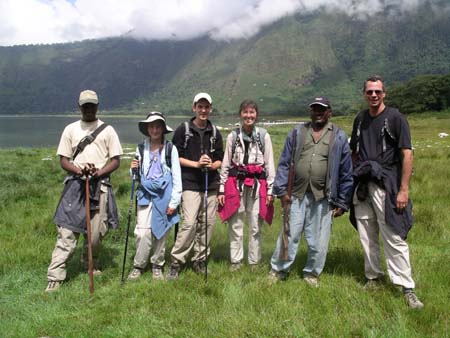 shoes, into our pants, and then delivering painful little bites. Even when we walked quickly, the large "soldier ants" always seemed to find a way to latch onto our shoes and became quite an annoyance.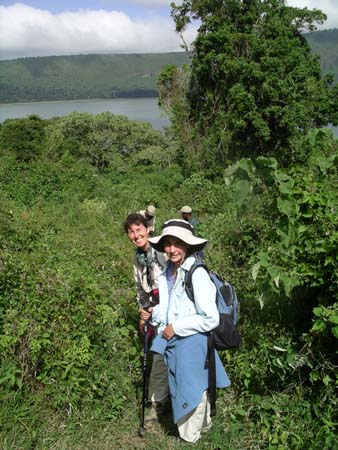 We reached our camp to find a staff of 8-10 people working busily to complete setting up the camp, cooking us dinner, and making a fire. We feel a little guilty about being taken care of by so many people. There's even a friendly Maasai warrior who has brought seven donkeys that will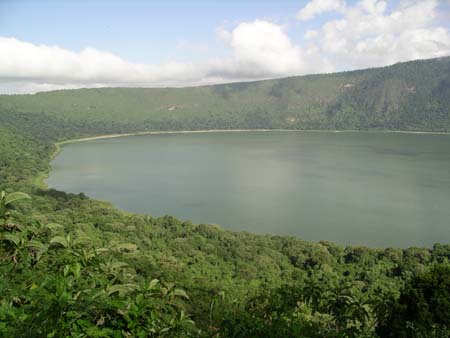 be used tomorrow to carry our gear to our next campsite. Although an "Adventure Camp" is not the same as a "Classic Camp" (these are the names that Thomson gives to its camps), it is clear that we will be more than comfortable here. There is a shower tent, a toilet tent, small cots in our tents, and a separate dining tent.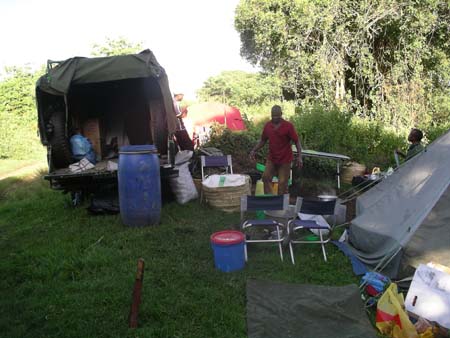 Tomorrow we will be hiking along the Rift Valley toward an area called Acacia Forest beside the Oldonyo Lengai volcano, where we'll set up camp again. On the way, we'll be stopping by Naiyobi, a Maasai village where we hope to begin getting more exposed to the local culture.
Animals seen today:
Slender Mongoose
Blue Monkey
Flamingo
New birds seen today:
Sunbird