Thursday, June 3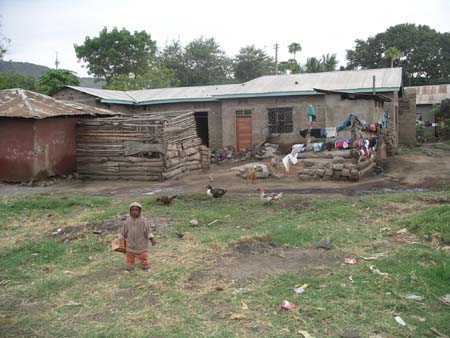 Paula: After leaving E'Unoto Retreat, we stopped at the village of Mto Wa Mbu. This community is unique in Tanzania because almost all of the 120 tribal groups in the country are represented here by its 27,000 residents. What unite these individuals are their desire to farm in an area where there is good soil and adequate water throughout the year.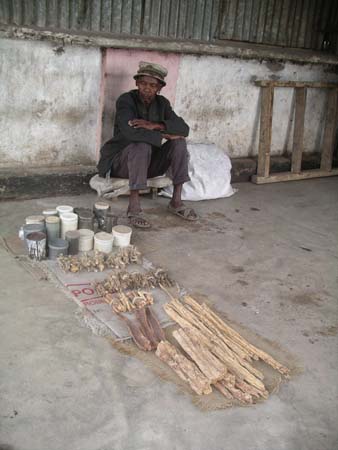 We enjoyed walking through the community and observing daily life. We visited the local market, several small shops, a mill for shelling and grinding rice and corn as well as a kindergarten. In the kindergarten we found one room with fifty children who were 5-6 years of age. This private school teaches the children in English and we observed the children practicing their alphabet and counting skills.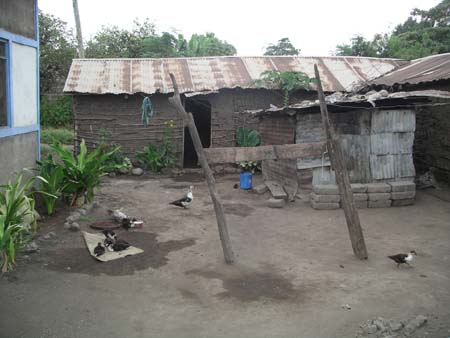 We observed several local medicine men selling a variety of traditional remedies all from various tree barks. These natural medicines are used for hypertension, malaria, colic and even to facilitate the clotting of blood. Our guide explained that the local hospital often chooses to use these traditional cures.
The various tribes here are organized in small neighborhoods of ten homes. Each home has a representative "headman" who helps to resolve local issues. Most of these families have farms of various sizes outside the village where primarily the men work in the fields. The homes are made of various materials - bricks, mud or concrete - and include roofs of rice grass, banana bark or tin. Bricks are considered the best building material but are expensive so many homes are slowly built over 5-10 years. Electricity is available and affordable for most and a tap with water is shared by residents in each neighborhood.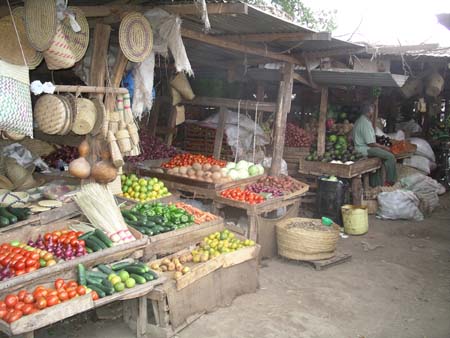 While many tribes are represented here, the most common are the Maasi who live in the surrounding plains, the Mbulu which live in the highlands and the Chaga a tribe from Kilimanjaro. We also saw several Muslims representing tribes from the coastal areas of Tanzania. While many of the people speak Swahili, they also all have their own native languages. Except for the Maasi, we were not able to identify tribes by their clothing. Our guide explained that accent, facial features and height were usually good clues to an individual's heritage.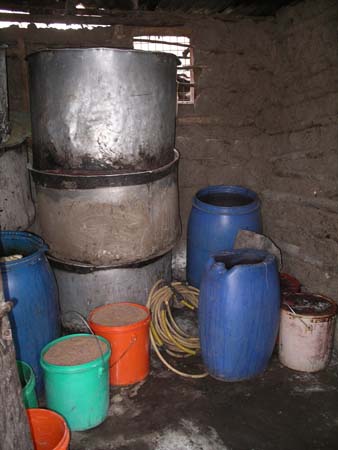 While most of the residents farm rice, corn or bananas, we also saw women weaving baskets, beer being made from bananas (yes, bananas!) and carpenters crafting furniture. It was interesting to learn that most of the people in the village trade with food products and cattle instead of using money as currency. We also saw cattle locked with padlocks in their gates to protect them from the Maasi who consider ALL cattle to be their own.
We left this village and continued on to Gibbs Farm, our home for the next two nights. We were surprised to find the road paved and complete with painted lines. This is the first paved road we have driven on since leaving Arusha. Gibbs Farm is a comfortable lodge that sits within a large coffee plantation in the Ngorongoro Highlands. The farm also keeps animals and a large organic vegetable garden that we toured in the afternoon. The farm has a wonderful view looking out over the surrounding farmlands cultivated by the Mbulu tribe.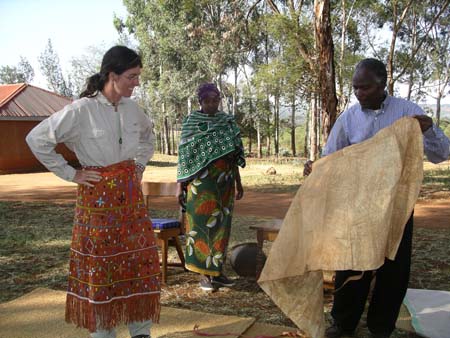 Before dinner, we visited with an Mbulu (also called Iraqw) family to learn about their traditional culture. Daniel and his wife Elizabeth explained to us the complex rules of their tribe which traditionally included various councils to settle disputes and specific rituals and rules around marriage. Th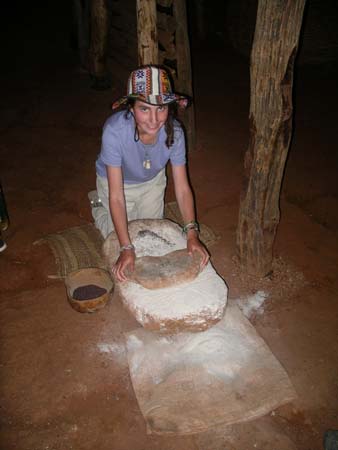 e Mbulus are also polygamous (as are most of the Tanzanian tribes) and in the past depended on herding cattle. They, like others, struggled with the Maasi who often stole their animals. As a result, they developed a housing style that protected them from the Maasi. Basically their homes were built partially underground so that when the Maasi came to rob during the night the Mbulus would be awoken by the sounds of footsteps on their roofs. Cattle were also kept inside their homes.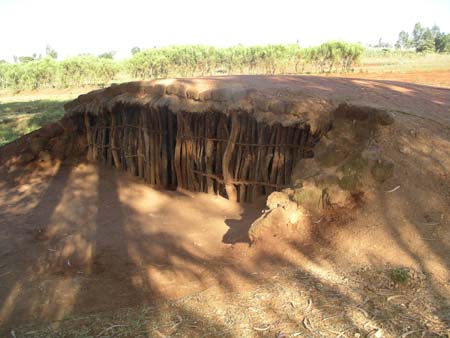 While most Mbulus in the highlands don't use this style of home today and depend more on agriculture, those who live in central Tanzania still practice traditional methods and we hope to observe them during our travels in the next few days. We also learned about how the Mbulus use goat skins to make clothing and drums. The goat skin skirts are dyed and then decorated with beads in elaborate symbolic designs. Daniel also has learned how to produce a biogas from cow dung and showed us how he uses this fuel to provide gas for cooking, heating and lighting in his home.
In the evening, we enjoyed the wonderful organic foods produced here on the farm and headed to bed early in preparation for another day exploring the wildlife of the Ngorongoro Crater tomorrow. This wasn't a part of the original plan but when we realized that the crater is only 1 ½ hours drive away, we couldn't resist another opportunity to see the amazing wildlife of Tanzania up close. Fortunately, Nassibu was very accommodating in making the necessary arrangements for us, and so we're all very excited about heading back into the crater.