Monday, July 21
Today we drove from Chamonix to Grindelwald in Switzerland. We have never driven in Europe before, and it was fun driving from one country to another in such a short period of time. We started by driving through a mountain pass that led from France into Switzerland, where we were stopped at the border patrol and told that we needed to purchase a pass entitling us to drive on Switzerland's motorways. The pass cost around $30 and is valid for an entire year - hardly a deal since we only plan to be in Switzerland for a few days! Of course, there's no pass you can buy for short-term driving…
The drive through Switzerland was beautiful. The green mountain-sides and Swiss-style chalets brought back memories for Paula and me. The mountains are similar to those in France, but there is much more farm land and green space along the sides of the mountains. We saw several vineyards, and didn't realize that there were so many in Switzerland.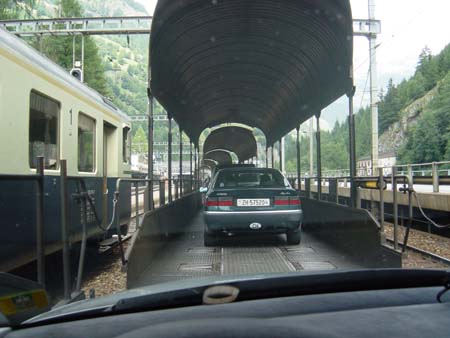 Our drive included a unique adventure - the opportunity to take a "car train" through a long mountain tunnel (called the Lotschberg Tunnel). After paying the toll, you simply drive right up on the train (single file), and get ready to go. We made the mistake of straddling two cars of the train, and fortunately someone behind us pointed this out. Who knows what would have happened to our car as the train made its twists and turns! The train speeds through the tunnel, and everything is basically pitch black. It was an unnerving experience for me, but Paula and the kids seemed to enjoy it.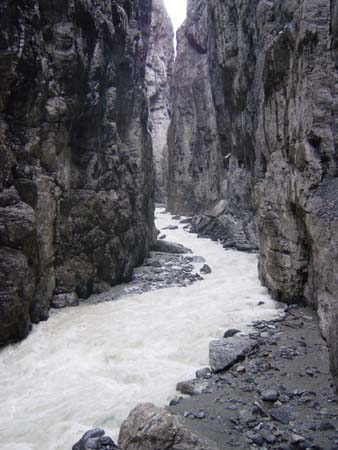 We arrived in Grindelwald at 4:00, and drove through town to get a sense of what's here. Things have definitely been built up since 1982 when Paula and I were here, but not so much that it's overwhelming. It's still a very attractive town in a valley surrounded by snow-covered mountains. We found a neat bed and breakfast hotel on our drive, located up on a hill looking directly out at the Eiger Mountain. We decided to stay here instead of the hotel we had reserved from France based on an Internet search. In the future, we'll probably find hotels in the small towns we're visiting by simply driving around and looking - there doesn't seem to be any shortage of rooms in any place we've been, and we think this will work much better for us.
We took a quick trip to the Gletscherschlucht Glacier gorge. This is an impressive gorge with a rushing river below. We were able to walk about 1 kilometer into the gorge - it was hard to imagine how a glacier could have possibly carved such a deep and narrow path through the earth.
Tomorrow we hope to take a cable car to a place called First, where there are magnificent hikes (these are the ones that Paula and I did in 1982). However, the weather forecast is not great, so we'll have to see how things work out. ~Steve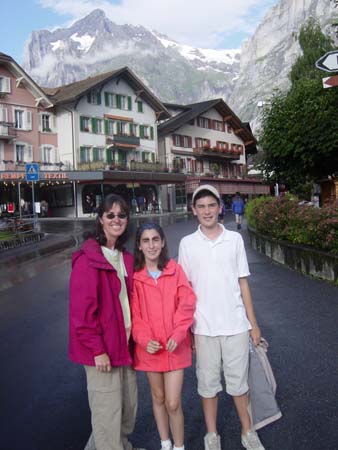 After driving up the side of a mountain, we drove into an enormous train that carried cars. We weren't sure what we were supposed to do, so we hesitantly parked our car on the train between two of the cars of the train. We decided that we were supposed turn off the engine by looking at what everyone else was doing. After struggling to find a spot (we were told we would be split in two if we parked in between the cable cars!), we sat back in our seats, not knowing what lay in the dark tunnel ahead. After going slowly above ground for a couple of minutes, we moved quickly into the tunnel where we immediately screamed. It was pitch black and we were going at full speed forward. It felt like we were on a roller coaster, or having a nightmare. Dad even said it brought back memories from when he was having an MRI on his back. We felt claustrophobic and were just hoping for some source of light. It was a frightening experience, and we were all relieved when we got through the darkness. ~Katie
Distance Walked: 2.51 miles