Wednesday, October 29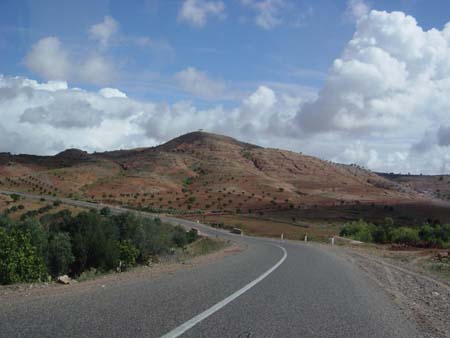 Steve: When we finalized our Morocco travel arrangements several weeks ago while we were in Siena, we knew that this would be a long and tough day. However, we all did very well - I think we've all definitely become travel-hardened. This is probably a good thing, as we'll have much longer journeys during our next trip to Australia and Asia.
All week we debated as to whether to stick with our original itinerary that included driving to Marrakech from Essaouira, and flying to Casablanca to catch our flight to Spain. The alternative was to simply drive directly to Casablanca, which required an extra two hours in the car, but avoided the hassle and potential problems with an extra connection (especially since we had a third flight this evening from Madrid to Seville). In the end, my personal travel experience from my days at Accenture told me that driving was a better option, and it would also let us see more of the country. David and Katie had done fine on the 2 ½ drive to Essouira (the taxis here are large and comfortable Mercedes), so they agreed that the 4 ½ hour drive to Casablanca would be acceptable. With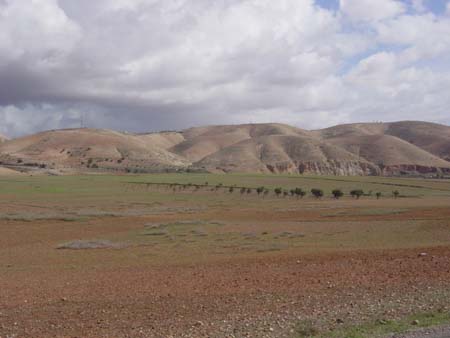 this change, we left Essouira at 10:30 and arrived in Casablanca on schedule at 3:00 for our 5:20 flight to Madrid. We arrived in Madrid at 8:30 local time, and took a 9:45 flight to Seville at arrived at 11:00 PM. This was a long day!
Our decision to drive to Casablanca turned out to be a very good one. There are so many interesting things that we see on the roads here, that in some ways it makes the driving actually enjoyable (as long as we're not the ones doing the driving!). Today we saw terrain very different from the desert between Marrakesh and Essaouira. The area north of Essaouira gets much more rain, and is filled with hills and even some green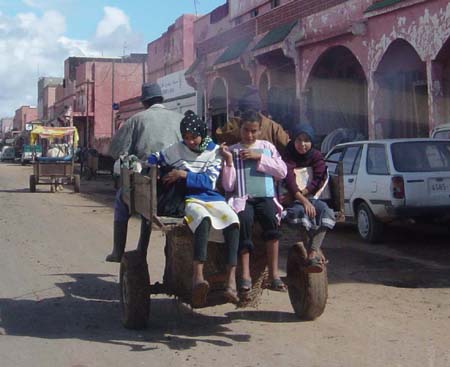 pastures. There is also a great deal of farm land, and we were amazed to see the number of farmers plowing their fields using animals. This surprised us, especially since we knew that agriculture is the number one industry in Morocco. Some farmers walked behind solitary donkeys, others rode carts pulled by one or two horses, and still others were using camels. Given the amount of large fields we saw today, it was hard to imagine all this area being covered using animals. The soil is very rocky, and the plowing work must be very difficult. Still, from what we saw it appeared that large areas had already been plowed in preparation for the upcoming growing season, and the work was progressing steadily.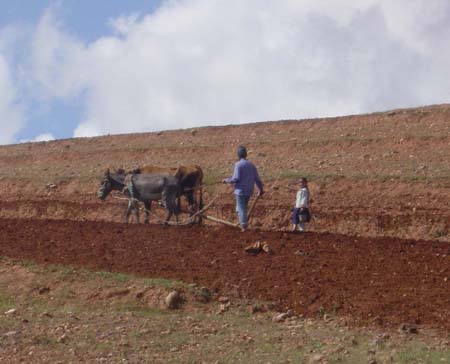 In yet another example of the intermingling of old and new here in Morocco, we saw several farmers plowing their fields with modern tractors. Many of these were being used right next to fields where the animals were doing the work - a very unusual sight…
Today's drive also made us think more about how hard the people here have to work to earn money. Mixed in with the ubiquitous sheep herders and farmers we saw people selling all kinds of products from the road side. People waved bunches of mint (used for the tea) at us, they pointed at their flocks of live turkeys for sale, they stood idly by makeshift shops selling large quantities of ceramics, and they hung straw baskets on tree branches. With the village markets being the primary source here for everyday essentials, it was hard to imagine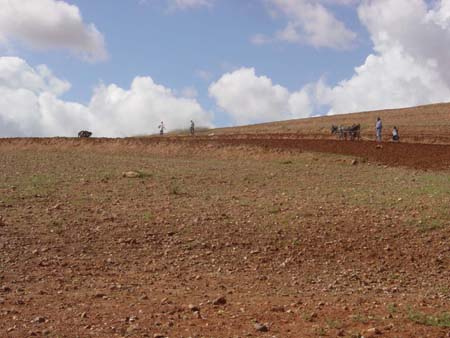 how these people could make much money from the sides of the road, but it was clear that this is what they probably do every day.
One of the funnier things we saw today was a dog running across the road with a live (at least we think it was still alive) chicken in its mouth. It was leaving the scene of a village market, where it had apparently made its grand theft and was escaping for a peaceful feast.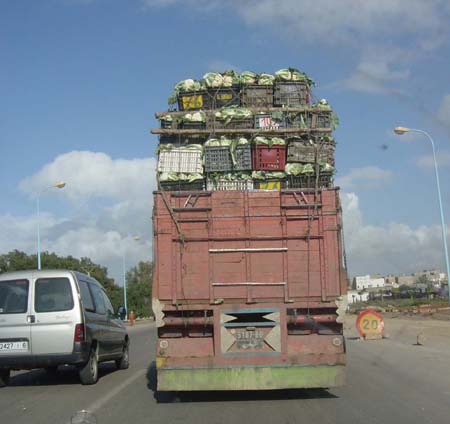 It was interesting again today to see all the means for transportation that are used here. There is a very colorful array of animal-pulled carts and vehicles on the roads, and we always seem to see some things that we find striking. Today we saw several trucks that were piled unbelievably high with loads of produce - we were surprised that they could travel at highway speeds without tipping.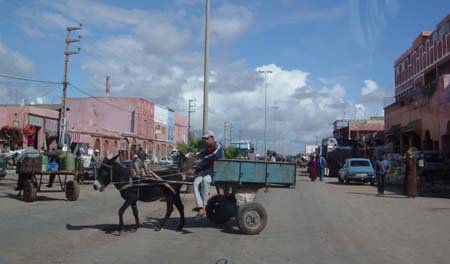 We saw police checkpoints in place in almost all the villages that we passed through today. Several times the police motioned to our driver to pull over, but as soon as they saw that he was carrying tourists they let him go. Our driver told us that the police generally check people's papers and the loads that they're carrying. Given the number of checkpoints we saw today, it would be very difficult for anyone to use the roads while living or working here illegally.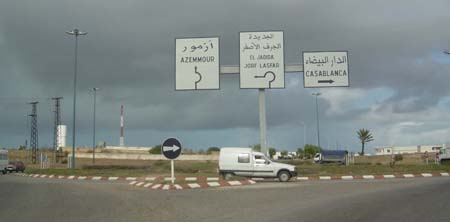 The Casablanca airport was easier to negotiate this time around. However, we had to just shake our heads at how they elect to simply not announce or post anything about your flight. We knew that our flight left from Gate 2, but that was it. At one point, a Royal Air Morocco agent appeared at the gate, and the boarding process simply consisted of everyone immediately getting up from their seats and crowding into the line. The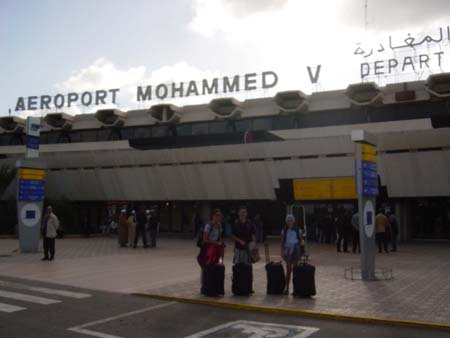 security at the airport is also worth mentioning. We noted that we had to go through three separate metal detectors today (one to enter the airport, one at the main security checkpoint and still another at the gate for our flight). We also counted five separate checks of our passports. We're not sure if this is all normal, or was instituted following the bombing here last May. In any case, we actually like seeing these kinds of measures in place in foreign airports.
Upon our arrival in Seville, we took a taxi to the hotel and David engaged the driver in a nice little conversation in Spanish (the driver spoke absolutely no English). The primary topic of discussion was Spanish football, which was blaring loudly on the radio when we got in the taxi. I've told David and Katie that from here on, they're responsible for communicating with the people we meet - my French is useless here! People in Spain have seemed genuinely appreciative when David and Katie try to communicate in Spanish - it's nice to see.
After checking in to the hotel, we had a midnight dinner at a local tapas bar (many of the bars and restaurants don't even get going until 11:00 PM, and this one started to fill up as we ate), and finally crashed after a very long day. Tomorrow we're looking forward to exploring Seville.
Distance Walked: .93 miles