Tuesday, June 22 and Wednesday, June 23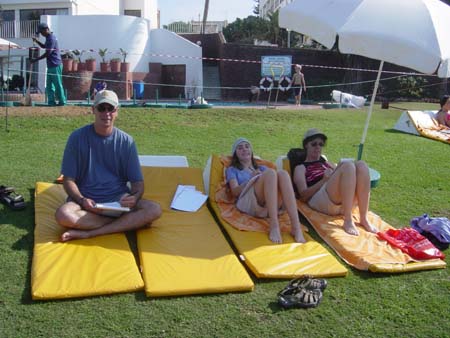 Steve: Durban's north coast looked like a perfect place for us to continue relaxing and unwinding, and so we left Knysna on Tuesday morning, and drove to the airport in George for a flight north to Durban. From Durban it was only a short drive until we were on the beach at the Umhlanga Sands Hotel in the town of Umhlanga Rocks.
We spent our two days here relaxing and working on writing our travel memories. We wrote over 40 pages from our first trip, and we expect that by the time we finish recording our memories from this part of our adventure we could have even more.
The stretch of coast that we're on is fairly warm (especially since these were the first two official days of winter), and the water is much safer for swimming. Although we were hesitant at first, we were told that despite the sizable waves there are no problems with undertow. Additionally (and most importantly!) there are shark nets that have been put in place along this entire section of coastline. With those assurances, we did venture into the waters of the Indian Ocean, and had a great time playing in the surf. We also found the water to be surprisingly warm.
We originally planned on spending three nights in Umhlanga, but have decided to leave a day early and head to the Zulu Nyala Game Lodge in Hluhluwe. The lodge has its own private game reserve, and is located between the Hluhluwe and St. Lucia wildlife areas. We look forward to having some extra time to view more African wildlife during our last days here.
Tomorrow we'll drive to Hluhluwe in the morning, and hope to have time for wildlife viewing in the afternoon.
We can hardly believe that we have only nine more days before beginning our trip home to Boston!!!