Friday, July 2
Steve: We spent our last day preparing and packing for our long trip home. It was a day of mixed emotions - excitement that we were finally headed back to see friends and family, and sadness that our adventure was actually ending.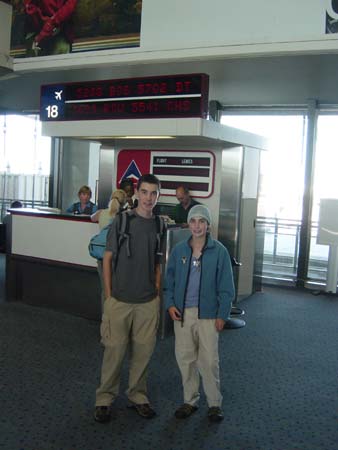 We also had our second "memory party", the term we used at the end of our first trip in November for the time when we sat together to share memories of our travels. During the past week we have all worked hard in writing down all of our fondest memories, resulting in over 35 pages of reflections from the past six months. We write our memories independently, and it's great fun to see what things stick most in each others' minds. Many of the memories appeared on each of our lists, but sometimes one of us came up with a special recollection that no one else hat thought of. As we did for our first trip, we have posted our memories on our web site (there's a link from the home page).
We also watched several of the short movies that we have taken throughout our travels, and looked back at many of our pictures. We are very happy to have documented everything in such detail - even after a few months it's easy to forget names, places and events. We are happy to have a permanent record of everything we have done.
Late in the afternoon we made our way to the Johannesburg airport. Checking out of a hotel and in for a flight was something we had done so many times before - it was hard to believe that this would be the last time…
Our flight from Johannesburg to New York was extremely long, consisting of two 8-hour segments. The plane stopped at 3:00AM in Senegal for refueling and a security check before continuing to JFK airport in New York. We arrived in New York right on schedule at 7:00AM and had no time making our 9:00AM connection to Boston. Although we had been traveling for nearly 24 hours, it was still amazing to think about the fact that we were able to make it from Johannesburg to Boston in less than a day!