Wednesday, August 20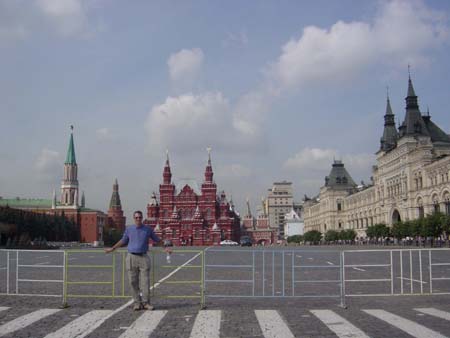 Steve: Our train arrived in Moscow right on time and a taxi got us quickly to our hotel. We immediately noticed the wide boulevards, sometimes with six or more lanes - this was already very different from St. Petersburg. Moscow feels like a much larger city. We intentionally decided to stay at a modern, more Western-style hotel while were in Moscow, and found the Marriott Grand Hotel to be exactly what we were looking for. It's on the main street (Tverskaya) and it definitely caters to Americans. Everyone speaks English, there's an American-style breakfast, a concierge desk, a swimming pool and even a wireless internet system! At this point in our travels, we are all ready for this type of change.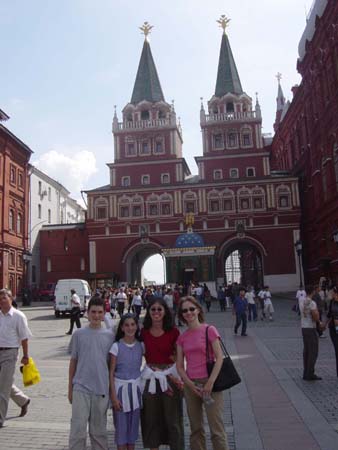 After a good breakfast and getting settled in our room, we were ready to explore Moscow. Our friends the Kluges in Reading had put us in touch with Anna Maslova, one of Laurel's cousins living in Moscow. We have been emailing with Anna over the past several weeks and were extremely excited that Anna would be able to spend the day with us walking through the center of Moscow. We find that the first day in any new city is often our most enjoyable.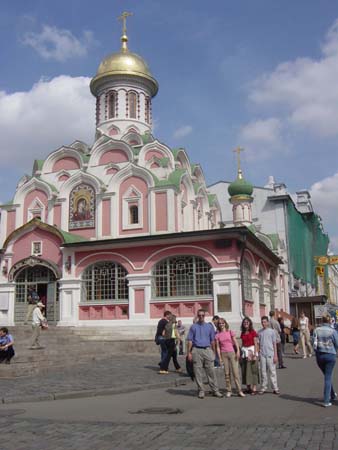 No matter how much we've read, we never know exactly what to expect, and we love the feeling of anticipation as we approach famous sites and areas in new cities. Anna is studying art in Moscow, and has lived here all her life - it was wonderful to have her along with us today, and we had a great time exploring the city on foot.
We started by walking to the Kremlin and Red Square. Paula and I have many memories of reading about the Kremlin and seeing it on TV during the 1980's - it was a very interesting feeling walking there today as visitors. We remember clearly the days when the Kremlin and Red Square were symbols of the threat that the USSR posed to America and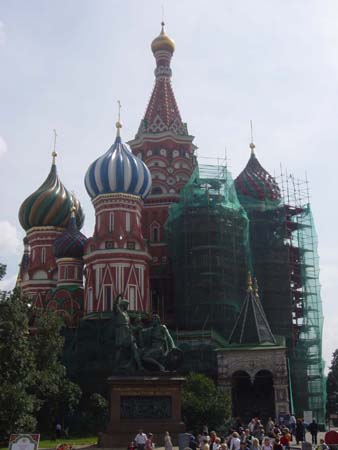 its allies. The Red Square area was closed several weeks ago due to fears about terrorism - this actually gave us a good feeling about how large the area is (since are no pedestrians allowed). Unfortunately, this means that we were not able to see Lenin's tomb, which is something we had hoped to do. The buildings and architecture around the Kremlin are all very beautiful - especially the State History Museum and St. Basil's Cathedral (currently undergoing restoration). Anna showed us several towers that have been rebuilt since the Soviet era - they originally were torn down by the Soviets to allow tanks and other military equipment to roll through Red Square. We decided not to actually go inside the Kremlin complex today to visit its museums and collections - we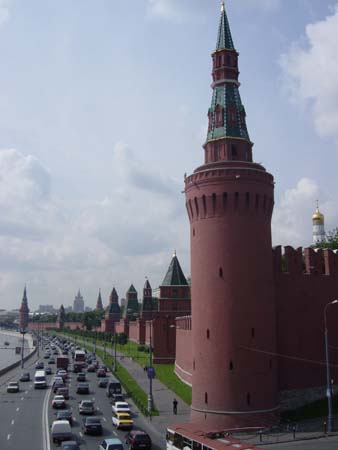 plan on saving that for another day.
Before leaving the Kremlin area, we walked onto a bridge over the Moscow River to get a better view. This gave us a good appreciation for the overall size of the Kremlin - it's very impressive. We were also able to see the broad mix of architectural styles in Moscow - modern buildings mixed in with traditional Russian cathedrals. One of Stalin's "Seven Sisters" really stood out. These are large buildings that Stalin ordered to be erected to show the world that the USSR could create impressive structures, just like in the West.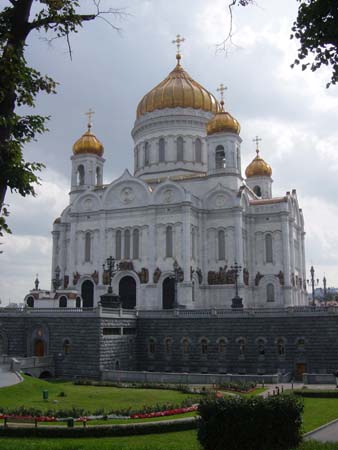 We walked to the Christ the Saviour Cathedral, currently the largest church in Russia. Anna explained that the original cathedral had been destroyed by Stalin, and had recently been totally rebuilt (completed in 1997). Stalin had planned to replace the cathedral with a huge "Palace of Soviets", but the project never happened and instead the cathedral became the world's largest swimming pool. The reconstructed cathedral (the project cost $350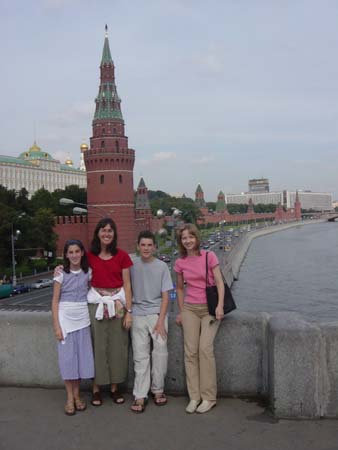 million) has been very controversial in Moscow - many have strongly objected to idea of a modern total reconstruction of such an important church.
We walked to the Arbat, a long pedestrian mall filled with shops, street performers and artists. This is one of Moscow's most famous streets, and we enjoyed strolling the length of the mall and talking with Anna more about life in Moscow. We had an interesting discussion about the people of Russia, and why they sometimes appear not as friendly or eager to help as in Western Europe. Anna suggested that this may be a lasting legacy from Soviet times when people were taught to be distrustful of others.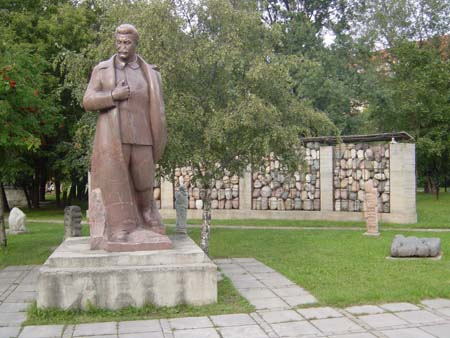 We took the Metro to the Gorky Park area to visit Sculptures Park. This is a collection of Soviet statues that have been removed from their original locations and displayed here. The most ironic statue was one of Stalin, located just in front of a contemporary piece memorializing the victims of his regime. It was also very interesting to see the wide variety of busts of Lenin, Brezhnev and several others that are displayed here. It seemed to us that this collection was created as a unique way of acknowledging the major impact that these people have had on the recent history of Moscow, while no longer honoring them as individuals.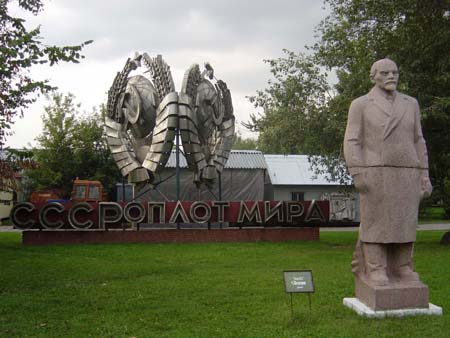 Remembering our unfortunate Metro experience in St. Petersburg (ending up going in exactly the wrong direction), we wouldn't let Anna leave us without a lesson on using the Moscow metro. Fortunately, she's a real pro, and was able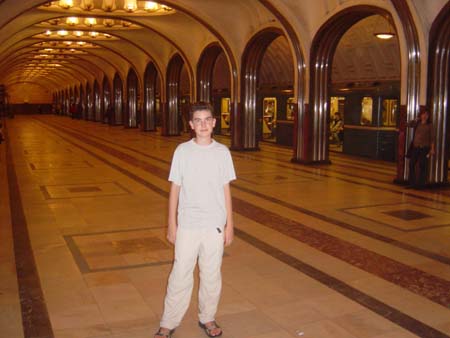 to give us very clear directions on how to get back to the hotel (complete with hand-drawn maps!). Sure enough, we made it back with no problems, and enjoyed taking some time to take pictures at the Mayakovskaya station near our hotel (this apparently won a major award at the 1938 World's Fair in New York).
We decided that we were ready for an American meal (our first since we've been on the road!), and thoroughly enjoyed nachos, fried mozzarella sticks and hamburgers at TGI Fridays near our hotel. Moscow feels like a much larger city than St. Petersburg, and there are many more restaurants like this that specifically cater to Americans (the prices were even listed in dollars).
We will have three more days here before leaving for Istanbul. Our plan is to spend one day traveling with Anna to a small town and monastery about an hour away, another day on the outskirts of the city in an area called Kolomenskoe, and our final day touring the Kremlin and some of Moscow's museums.
Distance Walked: 5.77 miles