Sunday, January 25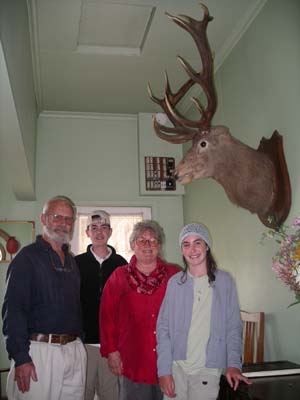 Steve: Today we said goodbye to Jack and Klaske Murrell, and their wonderful guest house in Manapouri. We had a great stay here, and found Fiordland to be an amazingly beautiful area. Jack and Klaske were great hosts, and we especially enjoyed hearing Jack's stories about the history of the region.
After taking care of errands in Te Anau, we set out for the 300 kilometer drive across the South Island toward Dunedin and the Otago Peninsula. The road was straight, easy and very quiet. Until we reached the Pacific coast, we saw very few cars and the towns that we drove almost appeared deserted. In general, not many people live in this part of the country, and Sundays are probably even that more quiet. These little towns reminded us of the small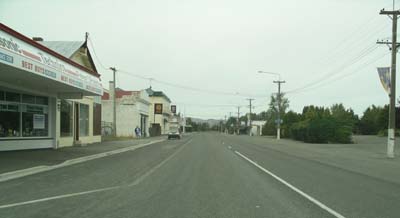 farming communities of Indiana - most had a small general store, school, a community hall and a rugby field. The prominence of a church as we frequently saw in Europe was evident. We didn't see many homes outside these small urban areas and assumed that the farmers live in town and own land where their sheep graze in the countryside.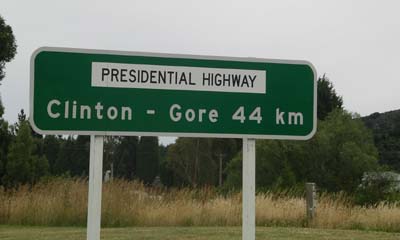 Two of the towns that we drove between were named "Clinton" and "Gore" - it was pretty amusing to see this section of the road coined "The Presidential Highway"! We chuckled at the American influence even here in a remote part of New Zealand - about as far away from the USA as possible.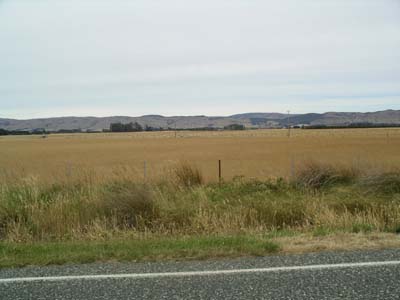 The drought that has caused so much hardship here was very evident during our drive. Most of the pastures were brown and very dry, and we felt kind of sorry for all the sheep grazing on the dead grass. We saw a few fields with irrigation equipment, but this is very expensive and most of the farmers can't afford this luxury.
As we arrived on the outskirts of Dunedin, we were surprised at the size of this city. We had read that this was once the largest city in New Zealand, but we haven't really seen any large urban areas here yet. From Dunedin, we headed east to the Otago Peninsula. This is New Zealand's most renowned nature area, and contains an impressive range of wildlife including seals, sea lions, rare penguins and hundreds of varieties of birds. It's particularly well-known for the Yellow-eyed Penguins that nest on the beaches and for its Royal Albatross colony. Since we missed the season for the Fiordland Crested Penguins on the Tasman Sea, w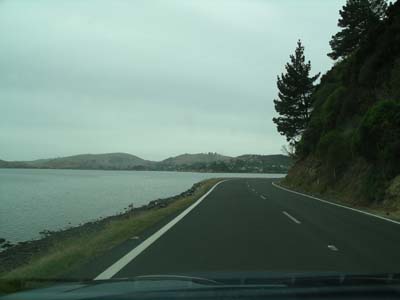 e came determined to see them here - we were not to be disappointed!
The drive into Dunedin and along the Otago Peninsula was somewhat nerve-racking. We found it much harder to do the left-side driving when 4-lane highways and entrance/exit ramps were involved. However, this didn't come close to preparing us for the road along the peninsula which is narrow, windy, and frequently provides only about a 1-foot shoulder between the pavement and a drop-off to the beach. Unbelievably, there are no guard rails. We found ourselves trying to limp along at slow speeds, but the locals were continually speeding up behind us and forcing us to find curves where we could get over to let them by. At one point we saw an accident where a car narrowly avoided being pushed over the edge (probably a 10-foot drop down).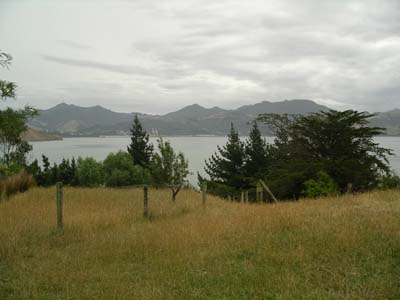 Our arrival at The Homestead made the drive well worthwhile. This is a wonderful place. We have an apartment that sits up on a hill with great views of Otago Harbor and hills that are dotted with sheep farms. There are sheep all around us (including pet sheep that belong to Ray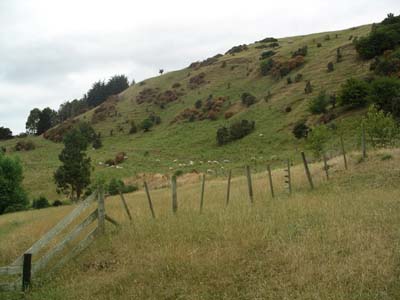 and Maggie, the owners). We were greeted by the sound their "baaaas", and were warned by Maggie (the owner) that they may serve as our alarm clock tomorrow morning! Katie's in heaven… The apartment has more space and creature comforts than probably anywhere we've stayed so far, and we're already wishing that we could spend more time here.
There is only one small village near here - it's called Portobello and it contains one small food shop, a coffee shop, a restaurant and a carry-out fish and chips place. That's it, which is fine with us. After settling in, we made a quick drive into Portobello and ordered ourselves a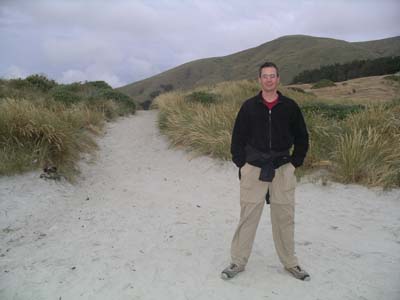 wonderful dinner of fish and chips which we took for a picnic meal on Allans Beach. This is a beautiful stretch of sandy beach surrounded by dunes and beach grass that reminded us a little of Cape Cod. We were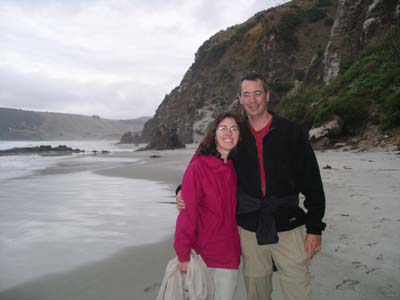 delighted to find the beach deserted, and greatly enjoyed our meal while watching the waves pound into shore.
After dinner, David set off to explore some of the rocks near us and came running back to say that he had almost walked onto a sea lion, but he thought that perhaps it was dead. We all went to explore, and found this huge creature to be very much alive, sprawled out and flopping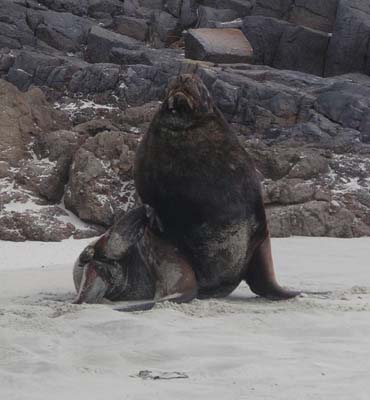 sand on itself. We had been warned that the sea lions can be somewhat dangerous, and had a good laugh (after the fact) about how close David had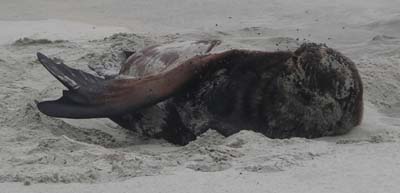 come. Apparently, the sea lions that live here are a specific breed, called "Hookers Sea Lions" (the common name has become "New Zealand Sea Lions"). There are only 160 of these that live on the South Island, and 153 of them are males. The rest live on the North Island, and the males are the only ones who swim this far south. The seven females are slowly adding to the population here, which at one point had been wiped out by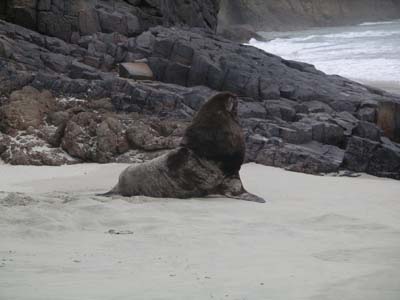 hunting.
Anyway, we were fascinated with the size and mannerisms of this guy, and watched him for over an hour. There was something very special about coming upon such a large animal in its own setting in an area where no one else is around.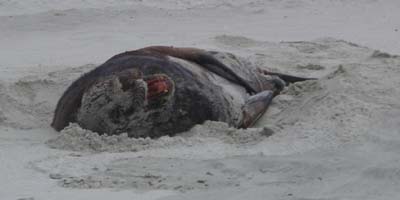 We had fun trying to capture a picture of one of its many huge yawns (we were finally successful after many tries), and particularly enjoyed watching him eventually sit up, look around for several minutes, and then waddle back into the surf where he disappeared. Great stuff! We have since learned that it's very unusual to see a sea lion actually walking (or even moving!), so we feel lucky to have caught this one at the end of his afternoon nap.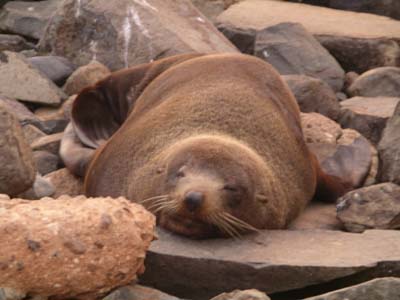 Our final stop this evening was on Pilot's Beach, where we had learned that Blue Penguins nest and can be seen each night on their return from the water. This beach was also filled with wildlife, with fur seals and numerous birds all over. This was our first opportunity to see the Royal Albatross, huge birds that were gracefully soaring over the peninsula (we'll see more of them tomorrow).
We quickly saw several Blue Penguins deep inside nests along the shore (these blurry pictures are the best we could get, as it now had become very dark). There are over 60 pairs of Blue Penguins that nest on the beach, and each day large numbers of these birds head out to sea in search of food. They walk out at 3:00 o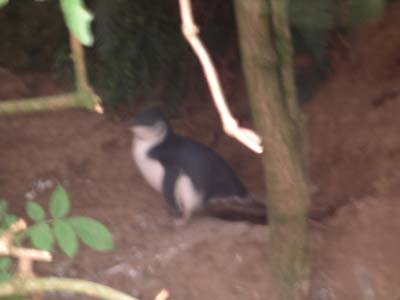 r 4:00AM under the cover of darkness, and don't return until it gets dark again. Their day is spent fishing, collecting food to return to their nests.
This evening, it finally got dark at 10:00PM, which is when we saw the first penguin appear on the beach below us. Then, right on signal, the first group of penguins (probably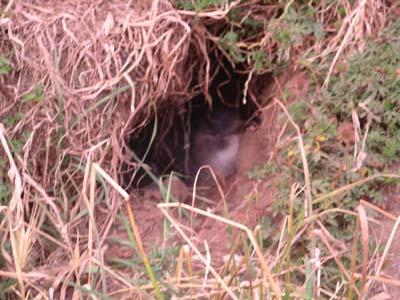 10-15 of them) popped out of the water and began walking as a group up a trail and through a gate right to an area where we (along with about 15 other people) were waiting to see them. It was spectacular! The penguins always walk up the same trail every evening, and it's possible to wait for them right at the top of the beach on their way to their nests. After they left the beach, several of the penguins stopped right in front of us to preen before returning to their nests. Often, one or two would appear and seem to wait for other groups to join from behind before proceeding. The Blue Penguins have many natural bird predators, so they always travel in numbers and under the cover of darkness.
The highlight for us was a penguin that stopped immediately in front of where we were sitting. After most of the penguins had come through, we backed up to survey the beach, and then sat down again when we saw this last straggler come through. Apparently, we were in the way of his path to his nest, so he came right by us and paused. He was literally 12 inches from us, and spent most of his time right in front of Katie who was worried that he may peck her hands (we had been told by the naturalist to simply remain still as they walked). We were the envy of all the other observers who turned to watch as this penguin sat by us. Unfortunately, it was way too dark for pictures, so this memory will have to remain in our heads.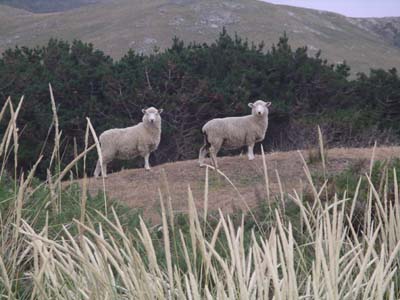 Obviously, with its 40 million sheep (as compared to 4 million people!), we see them everywhere. Even during our walk at Allan's beach, there were sheep grazing in the dunes. Although we've taken many pictures of sheep, this one has to be our favorite! We just loved how they posed for the picture...
Tomorrow we plan on spending time at the Royal Albatross colony and at a reserve for rare Yellow-Eyed Penguins. This is the only place in the world that these can be seen, so we're looking forward to it!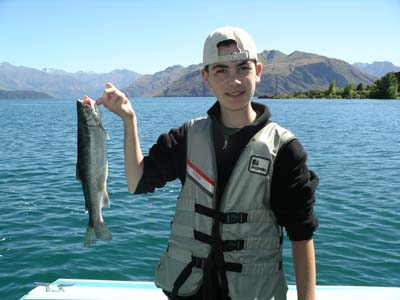 David's Daily Dump: Quinnat Salmon. Last week on our fishing trip on Lake Wanaka, I caught the only fish of the day, a Quinnat Salmon. This Salmon is not native to New Zealand, and was introduced from the United States in the 1800's. In America it is known as the Chinook salmon, and grows much larger than the Quinnat Salmon. Salmon are on a huge downfall in New Zealand at the moment. Fewer and fewer salmon are returning to their birth stream each year to breed. No one really knows where the salmon have gone, but most suppose they are just slowly diminishing because of anglers, predators, and manmade dams and hydro-stations.
Another reason salmon are becoming extinct in New Zealand is because they die breeding. The Quinnat Salmon have evolved to become sexually mature at 2-4 years old, while the Chinook salmon becomes mature at about 8 years old. This means that Quinnat salmon don't grow very big, and don't live a very long life. Hatcheries all over the country are hatching millions of eggs at a time, and are attempting to increase the salmon population. Studies show that only 3 or 4 fish out of a million eggs will live to return to their birth stream. Anglers are putting down their rods, and are helping to increase the salmon population. Fishermen say that rivers without salmon would be like the Alps with no snow, or the fields without sheep. I read in a magazine that one of the best fishermen of the year in New Zealand caught 11 salmon. He figured out that it took him 65 hours of fishing per salmon!!!! I feel lucky that I was able to catch one of these beautiful fish, considering how rare they are.