Thursday, January 22 and Friday, January 23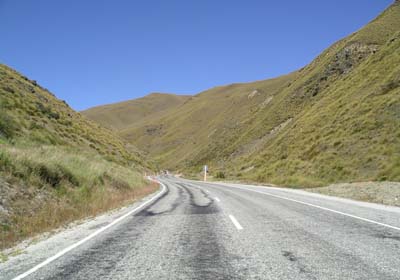 Steve: We have now moved to Fiordland, with some of the most spectacular scenery that we've seen yet. Fiordland National Park is in the southwest corner of the South Island, and is famous for its rugged fiords, mountains, lakes and lush vegetation. It's also home to the Milford Track, one of the best-known walks in the world.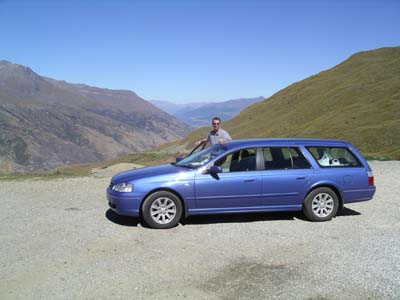 On Thursday, we left Wanaka and made the drive over the Cardrona Pass, down through Queenstown and eventually to Manapouri. We had another great drive, highlighted by our drive over the pass which was absolutely beautiful. The picturesque road winds its way through mountains that rise steeply on both sides - we were never able to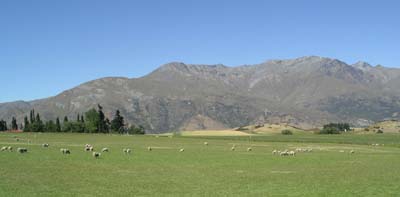 see more than a bit of road ahead of us. At the top of the pass we stopped to take in the views, and then stopped several more times as we made our way down toward Queenstown. The scenes with sheep lazily grazing in green pastures framed by dramatic mountains were our favorites.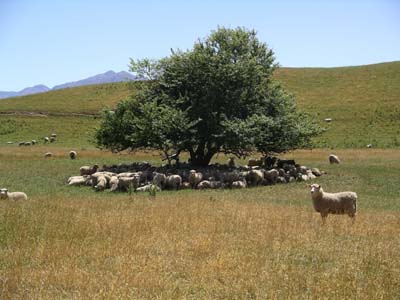 We had been curious to see what Queenstown was like, since many people stay there. From what we saw, the scenery is very similar to Wanaka, but the area certainly looks much more developed. We know that Queenstown is more crowded, so we're happy that we went to Wanaka instead. Lake Wakatipu is absolutely huge, and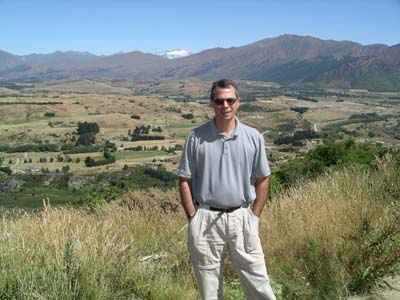 Queenstown and its attractions only occupy a small part of the lake - we drove right along the lake for a full 30 minutes admiring the deep blue water and the huge cliffs that surround it. We saw no development or boats at all on that part of the lake, and were happy to see so much beautiful land that has been left undisturbed.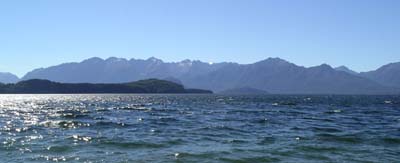 Manapouri (located on a lake by the smae name) along with its larger sister town of Te Anau, is considered to be the gateway to Fiordland, and its myriad of activities for outdoor enthusiasts. There are all kinds of hikes (what they call "tramps"), boat trips, kayak excursions, and helicopter and airplane tours (Air Fiordland will fly you anywhere!). Some of the tracks, like the Milford Track, require several days of hiking and have huts interspersed along the way.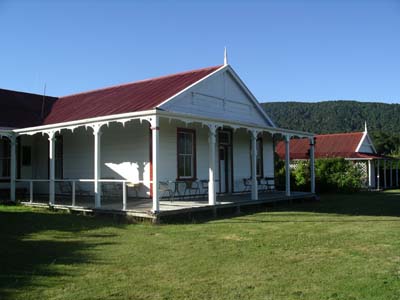 We're staying at a guest house called Murrell's Grand View House, located in Manapouri (population 205). This charming B&B was established in 1889, and is run by Jack Murrell and his wife Klaske. Jack's family has been involved in much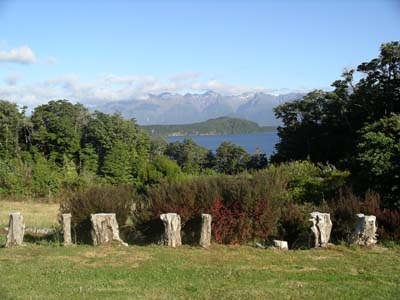 of the original exploration of this area, including the discovery of the Wilmot Pass that leads from Lake Manapouri to Doubtful Sound (our destination for Saturday). Jack and Klaske are charming people, and we've enjoyed hearing their stories about how this area was initially developed starting in the 1800's, and the role that Jack's family played. Murrell's Grand View House only has 4 guest rooms, and all have great views of Lake Manapouri and the mountains that surround it.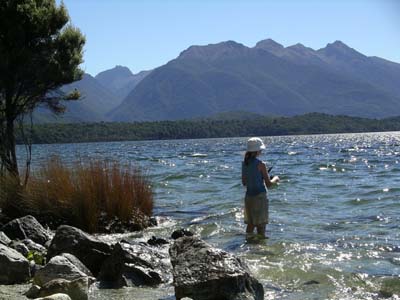 After arriving and settling in on Thursday afternoon, we walked down to Lake Manapouri to enjoy the beautiful weather, relax by the shore, and cast our lines in our never-ending hunt for fish. We were successful in the first two endeavors, but despite seeing fish near our lures, we couldn't get any to bite. It didn't matter too much, however, because we loved simply spending time alongside this lake, referred to in some of our books as being one of the most beautiful in all of New Zealand. During the evening we drove the 20 minutes to Te Anau to explore the town and have dinner. Te Anau is also very nice, and has several shops and restaurants that cater to the outdoor enthusiasts that stay here.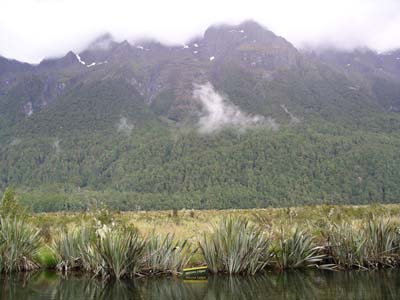 On Friday we spent the day driving and exploring the 120 kilometer road that leads to Milford Sound. This has to be one of the best drives we've ever done. The Milford area gets over 220 inches of rain annually (there are only 160 days without rain each year), and the morning brought intermittent rain that varied between light drizzle and heavy downpour. The rain created a wonderful mysterious effect along the cliffs an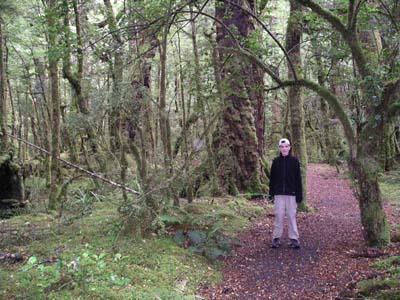 d mountains, with beautiful cloud formations that hung low in the valleys. At times, the clouds would clear and we'd see various patches of blue sky allowing us to catch momentary glimpses of the tops of the mountains and cliffs that surrounded us.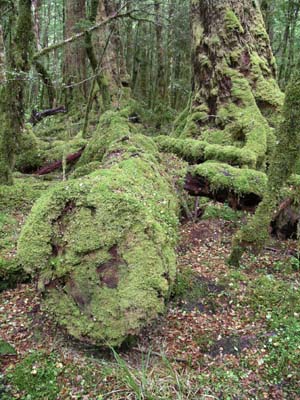 We stopped several times to walk and explore the many lakes, streams, valleys and nature trails that line the road. Gunn Lake was one of our favorites - there's a short walk that leads into a forest that is absolutely covered in thick moss of all shades of green. The moss is everywhere, growing up the trunks of live trees and on the many dead branches along the ground. The forest appears to have a lush green carpet that permeates everything. Combined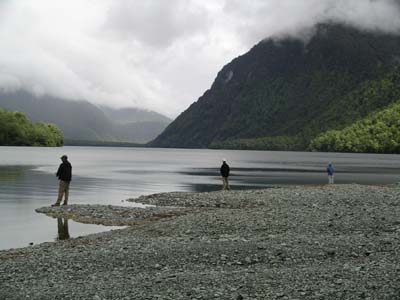 with all the ferns and other moisture-loving plants, the color and feel of this forest was unlike anything we've seen before - a very special place.
We also found a small bay with calm water that was great for fishing. Again, we saw several trout cruising along the surface, but none that would bite! This didn't take too much away from our enjoyment, because this lake, like all the others around here, is in a very beautiful setting.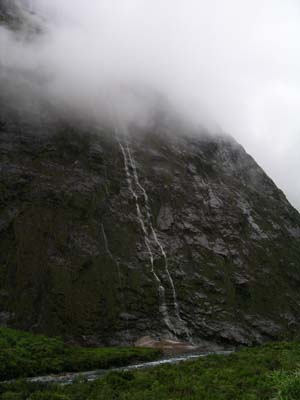 From Gunn Lake we continued our trip toward Milford and soon found ourselves driving through gorges lined with huge cliffs and hundreds of waterfalls. The water appeared to start in the clouds and crash down the vertical rock faces toward the streams and rushing rivers below. At every turn, we saw new waterfalls and we often found ourselves stopping just to watch and hear the sound=s. At one spot, just before Homer tunnel, we took a short walk up to a particularly be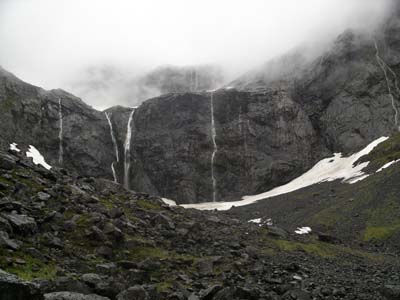 autiful area with several waterfalls that careened into snow banks below.
Homer tunnel was quite an adventure. It's about ½ mile long, and was cut right through solid rock by several hundred workers from 1935-1953. The tunnel is extraordinarily narrow, and has no lights inside. It's so dark that the car headlights seem to not do anything - we thought they were broken (this probably also resulted from the lack of time available for our eyes to acclimate). We had heard about this during breakf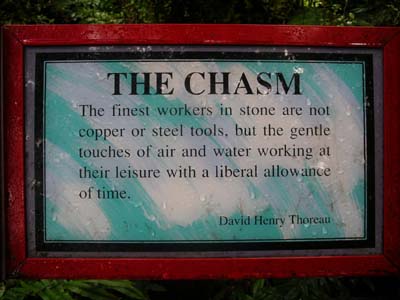 ast this morning from a couple that had just made this drive, but we didn't really believe them until we experienced it ourselves. Fortunately, there was little traffic, so we slowed to a crawl and nervously inched our way through. It's scary to imagine what it would be like during rush of buses that we understand make this drive each morning and return in the mid-afternoon.

We made one more stop after the tunnel to see what's known as "The Chasm", an impressive rock formation formed by the rushing waters of the Cleddau River. There's a quote from Thoreau that's posted here and is very appropriate. The power and sound of the water as it gushes through and over smooth rocks is awesome.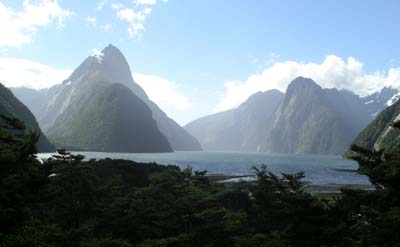 Finally, after 6 hours (including our many stops and diversions), we arrived at Milford Sound. Only a small portion of the sound is visible from the small village, but we were able to get a good sense of how spectacular it is. The fiord is 22 kilometers long, and is lined with sheer peaks that shoot up from its crystal clear waters. Tomorrow we're taking a cruise on Doubtful Sound and are looking forward to getting a closer perspective on the beauty of New Zealand's fiords.
The weather had cleared by the time we drove back, and we now were able to see many of the cliffs and mountains that were covered in cloud and fog earlier. The waterfalls were even more spectacular, fed by the heavy rains from earlier in the day. We also stopped to visit a pair of Keas that were being fed by people at the entrance to Homer Tunnel. It's very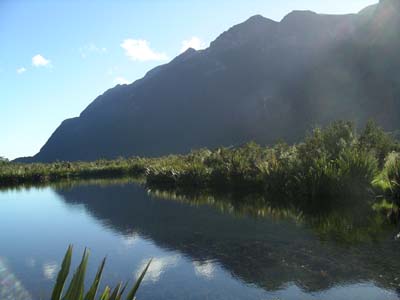 unfortunate that people feed these wild parrots - there are only 3,000 of these birds left, and the feeding is hurting their numbers. One of the birds flew in and actually landed on our car, eating the rubber molding around our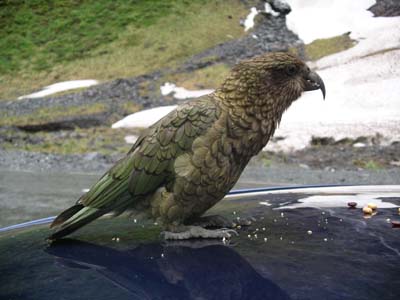 windows until it was enticed by some other people with an offer of peanuts and crackers.
We arrived back in Te Anau tired, but feeling like we had just experienced some of the most spectacular natural scenery anywhere in the world. Unfortunately, as often seems to be the case, as we look at our pictures they don't come close to capturing the setting and our impressions. In any case, we are looking forward to seeing more of Fiordland tomorrow during our cruise on Doubtful Sound.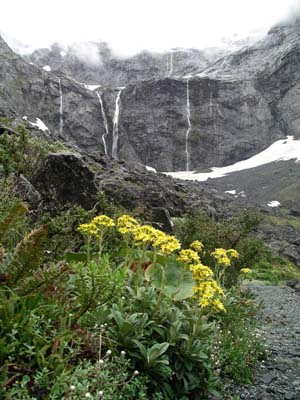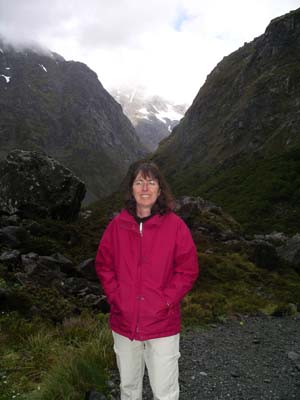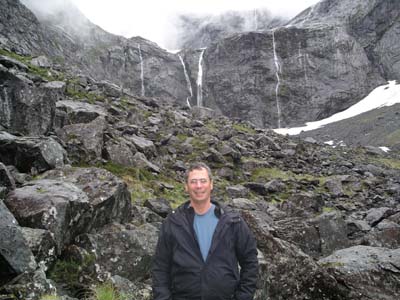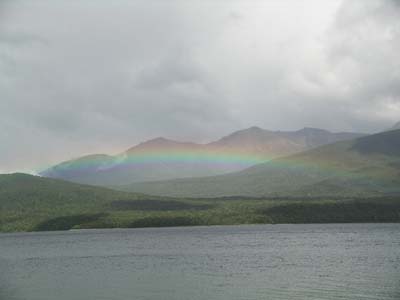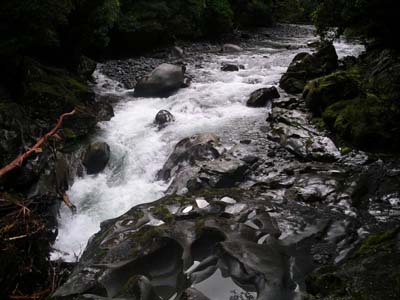 Katie's Kwick Kwacks - The Chasm. Today we went to a very interesting rock chasm located on the Cleddau River. The chasm consisted of many large boulders carved and hollowed into fantastic shapes by the forces of rushing water, rain, and wind. It was hard to believe that all of these amazing shapes were formed over thousands of years by only natural elements. The sound of the fierce rushing water falls echoed through the hollowed, smooth rock creating breathtaking effects. We learned that the form of the Cleddau River changes its path dramatically as it passes through both soft and hard rock. It is constantly branching out and creating new remarkable passages through the hollowed rock. This force also creates some spectacular waterfalls. The waterfalls slam down, grinding the rocks in its path. As the water swirls, the chipped rock moving with it, it creates an extremely strong force sometimes drilling the stone deep underground. A famous author named David Henry Thoreau once wrote, "The finest workers in stone are not copper or steel tools, but the gentle touches of air and water working at their leisure with a liberal allowance of time." This quote is a perfect example of the natural beauty of this chasm. All in all, experiencing the power of this amazing rock chasm was a wonderful experience that I will never forget.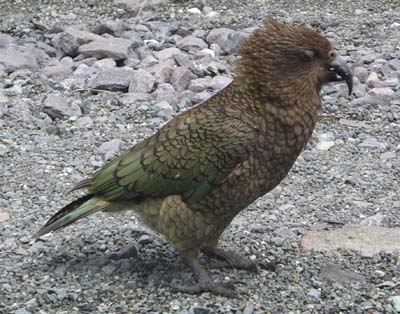 David's Daily Dump - The Kea. Today on our hike to Milford Sound we encountered the world's only alpine parrot, the Kea. We were admiring the waterfalls and beautiful mountains, when it landed on the top of the car next to us. We had only seen this bird once before, and we enjoyed seeing him once again. The Kea was recently determined to be the smartest animal on earth, smarter than chimpanzees or dolphins. They are known in New Zealand as "mountain clowns" and are very mischievous. They have been known to steal unguarded possessions, and even take car keys. After a while, the Kea jumped onto our car, making us a tourist attraction. Japanese tourists flooded toward him, and took picture after picture after picture! He chewed up the rubber on the outside of the doors, and almost got in the car a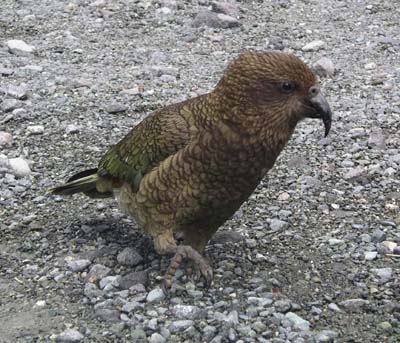 couple of times. He even left us a present on the back of our car before moving on to another car. The Kea is a fully protected species in New Zealand, and is only native to this country. There are only 3,000 left, although they are not considered endangered. The Kea has dark green feathers, and magnificent orange feathers under their wings. They build their nests in hollow trees and rock crevices, and can lay up to four eggs.
Humans cause a huge problem for the Kea. Many tourists feed the keas junk food which disrupts their natural diet of leaves, berries, and insects. The Keas are then encouraged to hang around public areas, such as parking lots, and make a scene to get food. Most of the tourists who feed the Keas are not from New Zealand and do not appear to know what they are doing, despite the numerous signs and warnings. We wish that people would heed these warnings and protect this unusual parrot.