Friday January 9 - Monday, January 12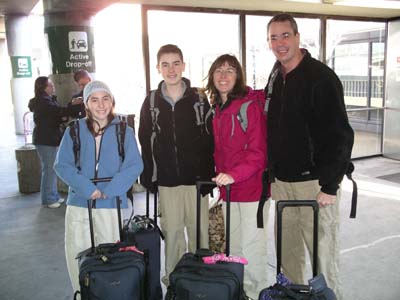 Steve: We made it! The second phase of our travel adventure has officially begun. We left Boston on Saturday morning, spent a wonderful day in Los Angeles with our friends, the Hirschs, and arrived here at Arthur's Pass on the South Island of New Zealand at 1:30PM local time on Monday (that's 7:30PM Sunday back in Boston). Our trip consisted of a 6-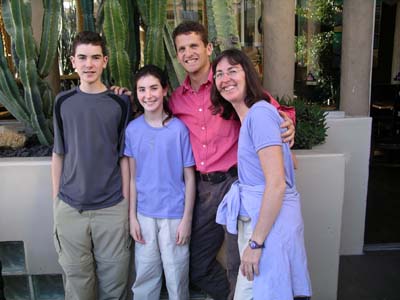 hour flight to LA, a 13-hour flight to Auckland, a 2-hour flight to Christchurch (on the South Island), and a 2 ½ hour drive to the Wilderness Lodge at Arthur's Pass. Whew!
This was David and Katie's first time in Los Angeles, and it was wonderful to visit with our friends David and Becky Hirsch and their children Gracie and Jonah. Starting from their beautiful home in the Santa Monica mountains (in the middle of endless views and coyotes that keep them awake at night), we began our day with a short hike followed by breakfast on the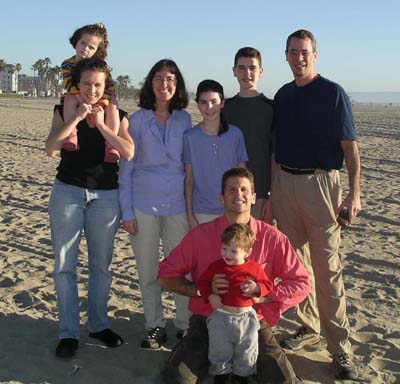 beach. We then completed a whirlwind tour of several hand-picked areas of LA including Malibu, Beverly Hills and Venice Beach. The memories of the gated homes, beachfront estates, the lush campus of Pepperdine University, Beverly Hills' Rodeo Drive and the produce in a Whole Foods market that we shopped will serve as great contrasts for some of our upcoming adventures. It was a great first day (yes, LA counts as Day 1 of our trip).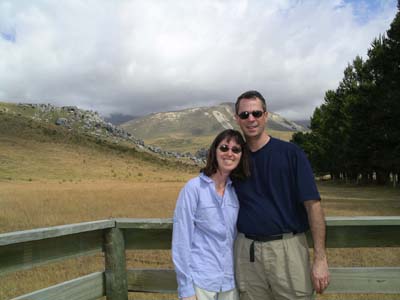 Our flight left LA at 7:45PM Saturday - not very good timing for us New England Patriots fans. We watched the first 2 1/2 quarters of the New England / Tennessee playoff game from the airport, but needed to board the flight just as Tennessee scored to tie the game at 14-14. Fortunately, as we found out after arriving in Auckland at 5:00AM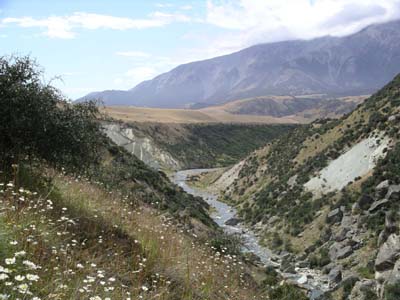 Monday, the right team won.
The 13 hours on the plane wasn't nearly as bad as we feared, and we all managed to get a fair amount of sleep. Interestingly, the jet lag is easier than when flying to Europe - in both cases you arrive early in the morning, but when heading west there's much more time available on the plane for sleeping. So we actually arrived in Auckland not feeling overly tired, and having to make another flight to Christchurch wasn't that bad.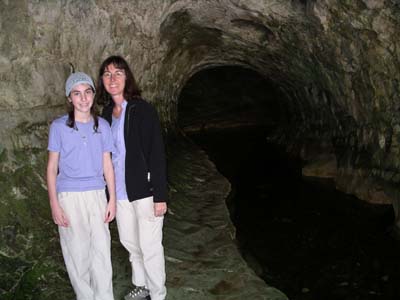 The drive from Christchurch to Arthur's Pass was absolutely spectacular. The scenery is just as it appears in The Lord of the Rings, and several times we could envision the many battle scenes happening on mountainsides and valleys as we drove by. We drove up and down mountains, through dense fog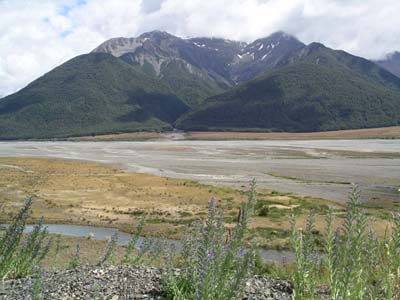 followed by bright sun, beside large gulleys and beneath snow-capped peaks. It's summer here, but we've already felt wide variations in temperature depending on elevation and wind. We made several stops along the way, including an area called Castle Hill Basin where we were able to explore underground caves filled with running streams.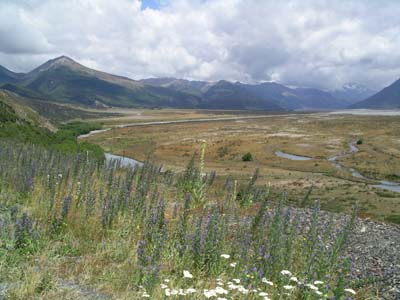 Wilderness Lodge at Arthur's Pass is a remote lodge that offers a variety of outdoor guided activities including hiking, canoeing and fishing. There's also a working sheep farm here, and the lodge provides demonstrations of sheep herding, shearing, etc. Our rooms look out over a valley toward a beautiful mountain range, and the setting is spectacular. We're looking forward to a relaxing 3 days here before we set out to explore more of the South Island.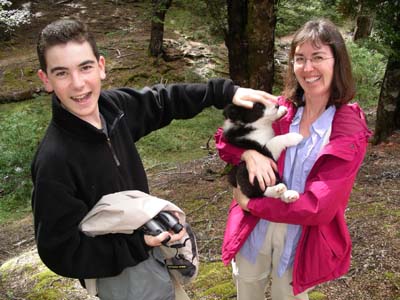 This evening we took a walk with Jerry, who is the owner of Wilderness Lodge. We started with a very fun demonstration of sheep herding. Jerry's dog, Skip, showed us the finer points of keeping a herd together. It was fun to see how the dog worked the herd, and to also watch a new puppy try to partake in the fun. Before dinner, we also enjoyed a discussion and demonstration of how New Zealand wool is harvested and exported all over the world.

So we're off to a good start. We know that the New Zealand and Australia portions of our trip will provide great opportunities to see wildlife and beautiful scenery. We're also hoping to get a good head start on reading several books that we've brought in preparation for our upcoming visit to Asia.
David and Katie will soon be writing entries to share their thoughts now that our travels are continuing again. Personally, I couldn't be more excited. This is going to be a very special experience for our family.