Wednesday, March 31
Steve: Another long travel day has finally brought us to Tokyo, our last stop in Asia. Beijing's airport was crazy - one of the tougher places we have had to negotiate. However, we have to admit that flying on United Airlines with a plane full of Americans (all headed for connections back home) was a nice change. It certainly was much quieter, but we did miss chuckling silently at people posing for endless pictures on the plane, shouting at their friends across the aisles and getting up to move around during takeoffs and landings. Paula noted that on this flight no one even asked her how to recline her seat!
We arrived in Tokyo on schedule, and got an immediate sense of the efficiency that the Japanese are known for. Everything about the airport is orderly. The best example is the immigration area, where uniformed men guide people through the process, there are signs indicating length of the line from various points, electronic bulletin boards flash important information, and manual passport stamps have been replaced by computer-generated stickers. Even the airport limousine bus service is well organized and run almost like an airline, complete with baggage claim checks.
The drive from the Narita International Airport to downtown Tokyo is a long one - it took us over 90 minutes, and traffic was only one contributor to the travel time. It's simply a long way, and Tokyo sprawls on forever. We entered what looked to me like the center of the city after less than an hour, and I thought perhaps we had arrived early. But then we kept driving and driving through several areas that all were filled with tall buildings and hotels. Unbelievable! I guess we shouldn't be surprised, given Tokyo's position as the world's largest city with over 30 million people in its greater metropolitan area.
We arrived to our hotel tired, hungry and all nursing colds. After relaxing and getting settled, we set out for dinner, craving some good old American food. Learning that a "Sizzler Steakhouse" was located just across the street, our decision was an easy one - we were there! This Sizzler comes complete with a huge soup/salad/nacho/desert bar - just what we needed - and we all thoroughly enjoyed huge dinners of salad, steak, potatoes, chips with salsa and ice cream sundaes. Sticker shock here in Tokyo set in quickly, as our bill at what we assume is a moderately priced restaurant came to $130.
Travel days usually don't provide many photographic opportunities, but we couldn't resist taking a picture of the toilet in our room. We had heard from friends about some of the "high tech" versions in Japan, and David and Katie were particularly pleased to find one right in our hotel room! It comes complete with various buttons and sensors, and directions that are unfortunately only in Japanese. We all got a laugh when Katie tried it out and we heard screams coming from inside the bathroom - something about water squirting her in unusual places… Anyway, we couldn't help but compare this with some of the "toilets" we have encountered elsewhere in Asia, and particularly China. Although the comparison's not entirely fair (since we're in a hotel instead of a public facility), it's hard to resist thinking about some of our other experiences. So, as a reminder to ourselves, we're putting a pictorial comparison here as a permanent record…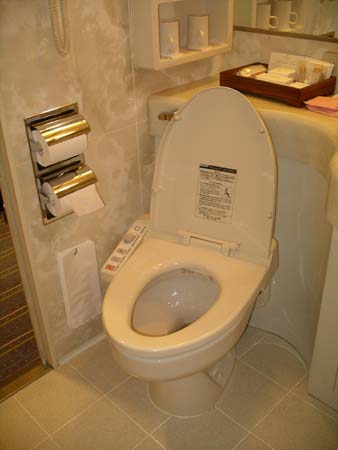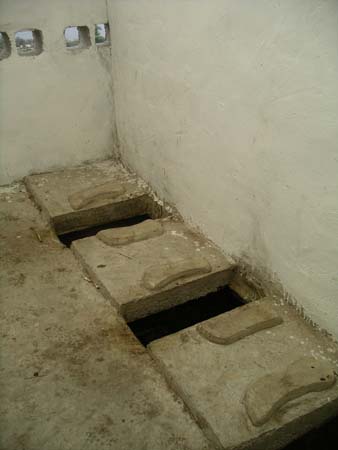 Tomorrow we plan to begin exploring the city of Tokyo, and hope to become experts with its subway system in a hurry…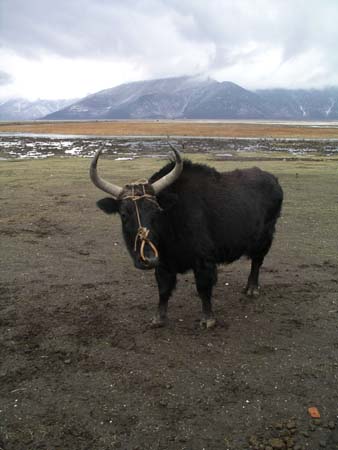 David's Daily Dump: Uses of Yaks in Tibet. Although we are not quite within the Tibet border, Zhongdian has given us a taste of the real Tibetan lifestyle. We have discovered that the Tibetans are much different than the other ethnic minorities we have seen in China, such as the Bai and Yi. Their houses are much bigger, and they seem to be much wealthier. One of the things that I find the most interesting about the Tibetans is how they depend on yaks.
We learned from our guides, books, and friends how big a part yaks play in Tibetan's lives. The Tibetans use the yaks for meat, milk, butter, tea, and warm blankets. They also weave the hair into cloth and rope and use the hide for leather. We were anxious to try yak meat, butter, and butter tea which we had heard so much about.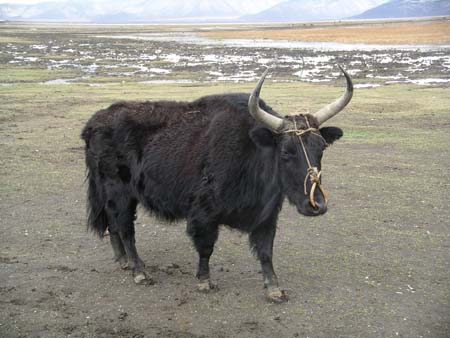 We first tried yak butter tea (really dri butter tea because female yaks are called dris) at a Tibetan house in the countryside. This Tibetan family has a son living in Philadelphia, and the parents have been to America twice and visited over 13 states! We trekked to their home through the mud in the middle of a snow storm (I am proud to say that I have officially caught a Tibetan snowflake!).
When we arrived, we were served our first glass of yak butter tea (sounds appetizing huh?). It was a light brown color and resembled a glass of black tea with milk. We all tried it at once and just about felt like gagging…really. It was like drinking melted butter loaded with salt! It was different from anything we had ever tried and actually pretty sickening. I tried to drink as much of it as I could to be respectful, only to have my cup refilled every time I took a sip. We also got to taste yak meat at a local restaurant which was much tastier than the tea. I kind of tasted like bacon except less salty and fatty. In fact I really liked it and polished off the whole plate.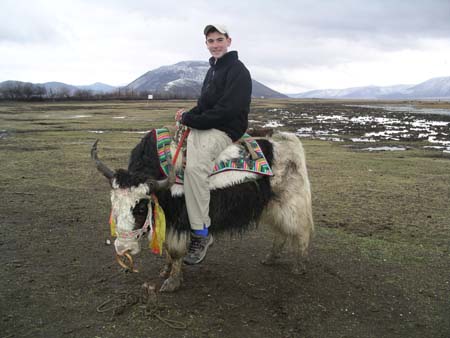 As we made our way toward Zhongdian, we all had our eyes peeled trying to get the first glimpse of a yak: a huge hairy beast that somewhat resembles a cow. The first thing we spotted on the roadside was an animal called a "zu," crowned the stupidest animal on earth by the Tibetans. A zu is a crossbreed of a yak and a cow. The zus and used for plowing the fields and doing all the dirty work, while the yaks graze all day and wander around the countryside.
It's pretty hard to tell the difference between yaks and zus. Zus have less hair than the yaks with long skinny tails and shorter horns. Then we saw our first yaks munching grass in the fields and lounging about. They were actually pretty cool and really intimidating. They are gargantuan and have huge horns with long black hair. We heard that they can grow to be taller than 6 ½ feet and weigh more than 2,200 pounds!!

We wanted to get a closer look at the yaks and see them in the small villages where they are really used, so the following day we visited a small ranch and a local Tibetan village where we got to see the yaks up close and personal. The small ranch we stopped at had many yaks, but only two were up close to the fence trying to steal the horses hay. We took many pictures of the unusual beasts and even got to sit on a multicolored one (black and white). We saw the yaks running through the fields in the distance and rubbing their horns in the mud. Then we went to a small village where we saw yaks wandering the dirt streets and drinking from the stream running through the town.

It's really amazing how the Tibetans depend on the yaks and how their lives revolve around them.