Saturday, February 14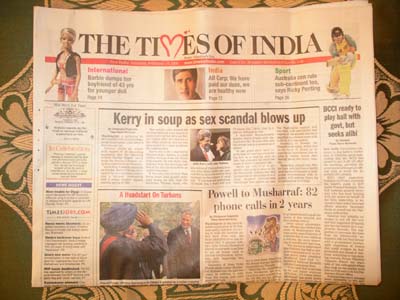 Steve: Our amazement with India's focus on American politics was reinforced this morning as the headline of today's edition of The Times of India was about the new sex scandal involving John Kerry. This is a national newspaper with a circulation of over 5 million covering a huge country of over 1 billion people. The Hindi papers also ran this as their main item today. Certainly, the John Kerry story is newsworthy; we just never expected to see it as the top item adorning a major Indian newspaper.
After an early breakfast, we made the 10-minute drive to the Taj Mahal. On our way, Uptal told us that there are two groups of people in the world - one who has been to the Taj, and the other who hasn't. He told us that we were about to become part of the lucky group. He also informed us that this would be his 205th visit here, and for that he considers himself to be one of the luckiest of the lucky!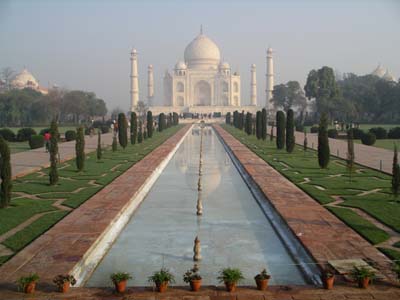 We were required to park about a kilometer from the monument, and transfer to an electric vehicle. This regulation has been in effect for approximately 10 years, and is part of a major effort by the government to reduce the pollution that had been taking its toll on the white marble of the Taj. Of course, we were greeted by the normal array of people pushing postcards, beads, books and other miscellaneous trinkets into our faces. We've learned that it's best to politely but firmly say "thank you, we're not interested" and keep walking (which often can be difficult - these people are skilled at staying directly in your way).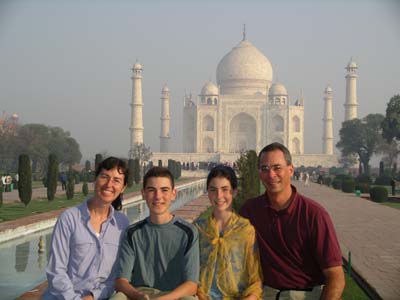 Today was Valentines Day, perfectly fitting for our occasion to visit the Taj Mahal, the world's most famous monument of love. The Taj was built during the 22 years from 1631 to 1653 by the Mughal Emperor Shah Jahan as a mausoleum for his second wife who died in childbirth. 20,000 people were involved in its construction, and many of the artists apparently had their hands amputated after their work was done to ensure that it could never be repeated. The marble was all brought here from far-aw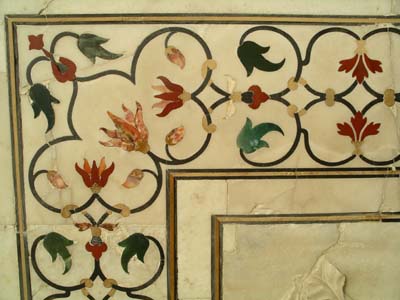 ay locations in India (including Markan, located 260 kilometers away), and the Taj is filled with semi-precious stones carved into beautiful patterns. The entire structure is a perfect exercise in symmetry. The tombs of Shah Jahan and his wife, Mumtaz Mahal, are located underneath the Taj, but are not accessible to the public. For obvious reasons, the Taj has become the de facto tourist symbol of India. We read that there are 2 pictures taken here every second, which David calculated is over 63,000,000 pictures every year!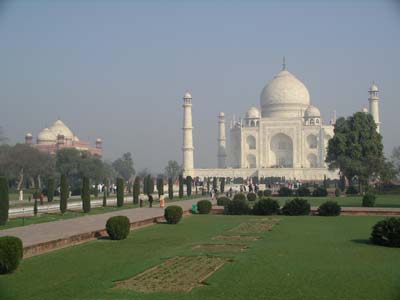 This was a perfect morning for us to be here - the crisp air, clear skies and bright sun were ideal. The foggy mist that had enveloped our prior mornings in India (a common occurrence in the winter here) was gone. The initial walk through the entry gate (and second security screening point - the first ones we've seen in India), provides a wonderfully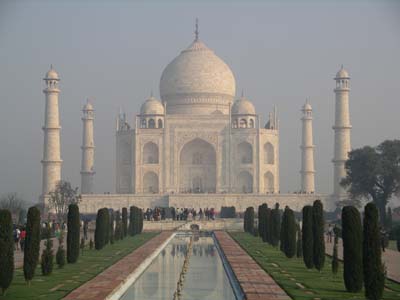 impressive view of the Taj Mahal. The monument is set on a large marble platform behind a long set of ornamental gardens and pools, and its beauty is absolutely breathtaking. The Taj Mahal is meant to be experienced, not studied - there's very little history here. We thoroughly enjoyed gazing at the Taj from various vantage points, walking through the grounds and the inside of the monument, and are happy to now be in the lucky group of people that Utpal described.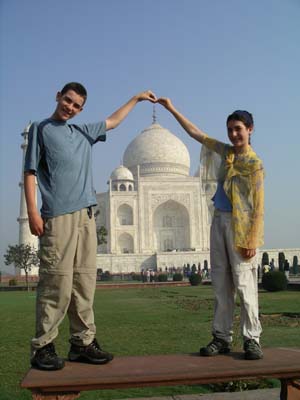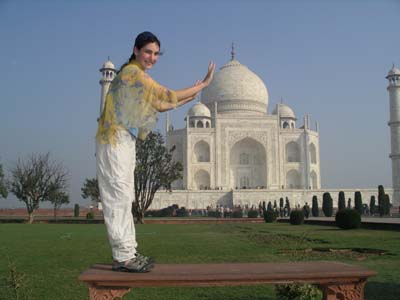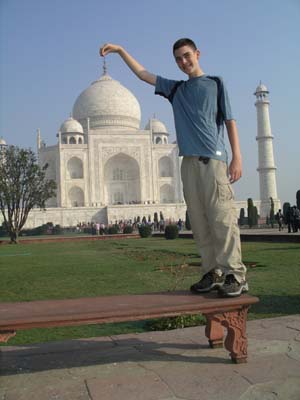 We left the Taj and made our way through Agra on our way to Fatehpur Sikri. This is a deserted city which between 1571 and 1585 was made the capital of India by Emperor Akbar. It is said that Akbar agreed to move the capital here from Agra as part of a deal with a mystic who Akbar credited with bringing him an heir. Akbar had been unable, through any of his three "legal" wives,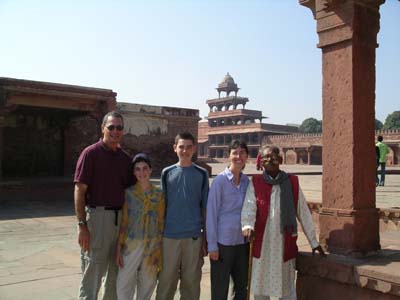 to have a child before meeting the mystic and making the deal to relocate India's capital to this location between the towns of Fatehpur and Sikri.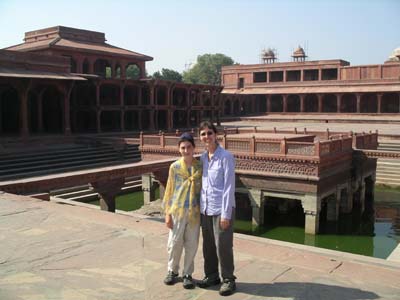 Fatehpur Sikri was considered brilliant architecturally, but strategically was poorly located and was plagued by water shortages. After 1585, it was completely abandoned and the capital moved back to Agra. It was interesting to walk through the ruins of the city today, and to see Fatehpur Sikri's grandiose palaces, kitchens, and entertainment and living areas.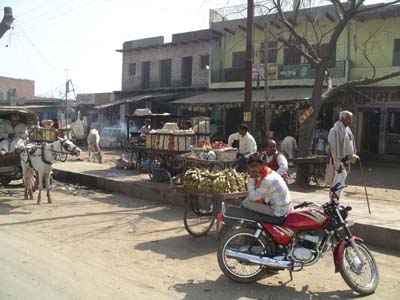 We continued our drive west toward Saiwar, our final destination for today. For the first time, we began to see small villages and some of the agriculture that India is well known for. We started on the Agra-Jaipur highway, heading initially to the village of Mahwah for lunch. Each drive in India brings new and often unusual sights. For us, one of the highlights are the women dressed in bright colors who carry all kinds of loads on their heads including jugs, baskets, and large bundles of hay or grass. One of these women was balancing a huge bundle on her head, while at the same time walking on the highway and using both hands to hold a baby that she was nursing.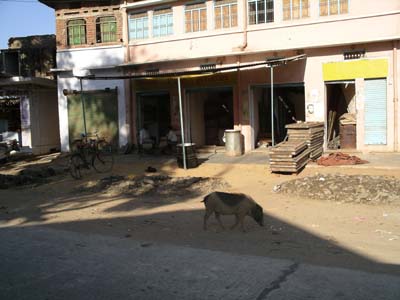 Today's drive passed by several animals including wild peacocks and monkeys in the road. We saw many camels being used in the fields and also pulling carts on the highway. For the first time, we saw large numbers of pigs roaming through villages, often eating through heaps of trash.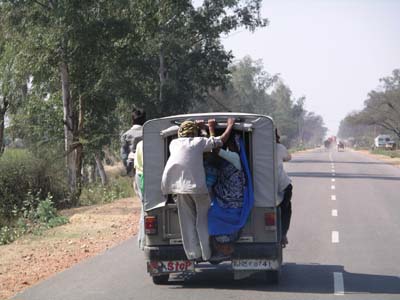 One of the most striking and scary sights are the small vehicles that are jammed with villagers, including many who ride on the outside bumpers and hold on. It's hard to count, but there are probably 15 people who jam into these small jeeps that travel at normal highway speeds. When we asked, Utpal told us that this isn't legal, but that laws of this type are difficult to enforce in such remote areas. However, a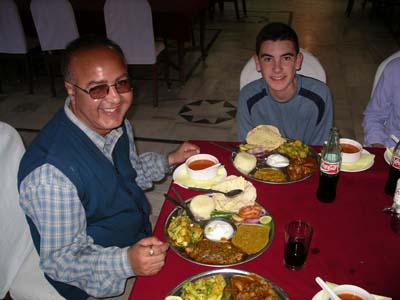 t one point we did see one of these vehicles that had been stopped by an officer.
Lunch was another taste treat including a variety of traditional Indian foods (again ordered by Utpal for us to sample various items). We had to laugh when David proclaimed Indian food as one his favorites! He did, however, made it clear that this doesn't take the place of Italian food.
We began our final drive toward Saiwar along a side road that detoured off the main highway. We were now driving primarily through farmland set within rolling hills. As we passed through several small villages, Utpal often stopped the car to make sure that we were headed the right way. Although Utpal's been guiding people through India for almost 20 years, Saiwar is one place he hadn't visited.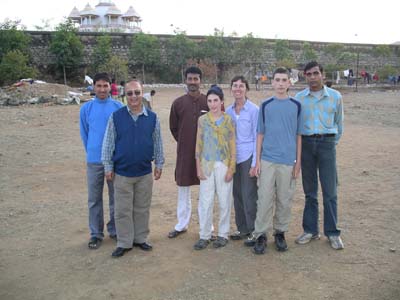 We had selected Saiwar as a destination on our way toward Jaipur as a place where we could visit schools, families and other social organizations. After a longer-than-expected drive of 3 hours, we arrived at Bal Ashram, a facility that houses up to 100 boys who have been rescued from bondage situations in India. Similar to 2 other facilities in Delhi, Bal Ashram brings boys here (often after they've been rescued in raids) for rehabilitation and training. The daily schedule for these 6-16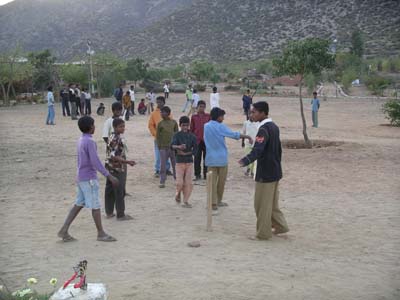 year-olds includes vocational training (carpentry, tailoring, welding, etc.), conventional education and health/physical education. We had a wonderful meeting with the manager of Bal Ashram (Mahesh), along with his program director and several of their staff members. We learned that Bal Ashram is part of a much larger and growing movement ac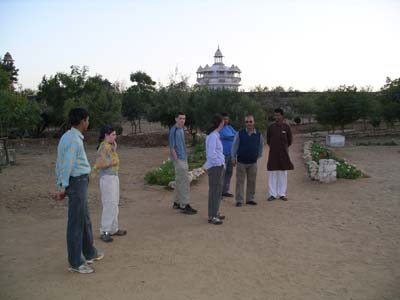 ross India (and the world) to put an end to child labor. One of the boys here (who we saw playing cricket), had the opportunity to travel to the White House, and we saw a picture of him along with President Clinton.
After learning about Bal Ashram, we walked through the grounds which are set beautifully among gardens and surrounded by hills. What we saw were happy boys all engaged in a variety of outdoor activities, including cricket and make-do volleyball (no net). We also viewed the training facilities and housing that's made available to the boys. This was a very educational visit, and we greatly appreciated the hospitality and openness from Mahesh and his team. We were happy to make a financial contribution to Al Bashram as we left.
Finally, after another hour of driving, we arrived at our lodge in Saiwar. Although it was dark, it's clear that we're in a quiet setting in the middle of orchards and gardens. We'll look forward to exploring this area and the village of Saiwar tomorrow. We also are scheduled to visit a school in the morning, before leaving in the afternoon toward Jaipur.