Monday, October 13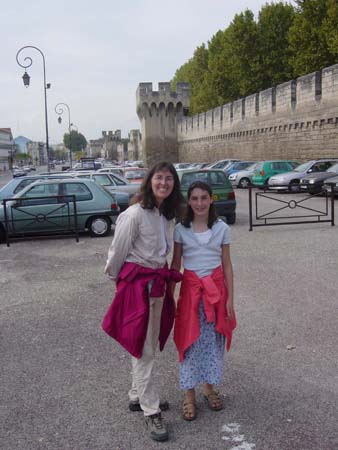 Paula: We spent the day exploring the town of Avignon and its Palais des Papes (Pope's Palace). We entered the city through one of its beautiful gates and were immediately impressed by the high walls (covering nearly 3 miles) and 39 towers. We began by exploring the many shops and restaurants along Rue de la Republique, having lunch in one of the outdoor cafes. We have been eyeing the Terre-e-Provence pottery, and found a shop where we could communicate (just barely) with the woman who worked there. We have now learned enough about the options and pricing, and now need to decide whether we'll make a purchase before we leave.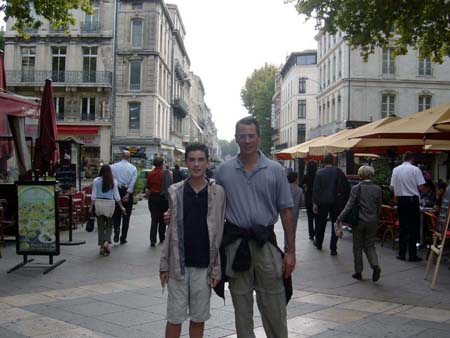 After completing our shopping, we walked through Avignon's streets and squares, and finally made our way to the Rhone River to tour the Pont St-Benezet. This bridge over the Rhone River was started in 1177. The bridge held special significance during the Middle Ages as a major route for traders and the pilgrimages made between Spain, France and Rome. The bridge has been repaired and rebuilt many times, and most of it was finally washed away by the River in the 1600's. The banks of the river in Avignon are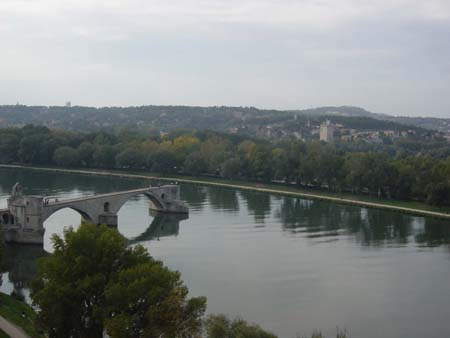 beautiful and clean. They have been protected from commercialization and have walk and biking trails on either side. From the bridge, we climbed the Palace's rampart up to the Rocher des Doms. These pretty gardens provide landscaped open space and excellent vistas of the town and countryside.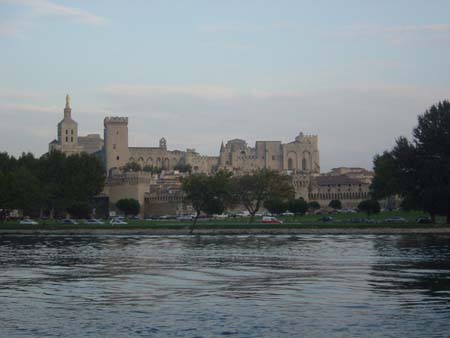 Finally, we toured the Palace itself. The fortress-like palace was built in just 20 years time in the 14th century to provide refuge to the popes during a period of unrest in Rome. It is considered the biggest Gothic palace in the world and its shear size is most impressive. Although popes only lived here from 1309-1377, Avignon was ruled by papal legates until 1791 when it was annexed to France. Unfortunately, much of the palace's interior was destroyed in fires but the exterior is still a very imposing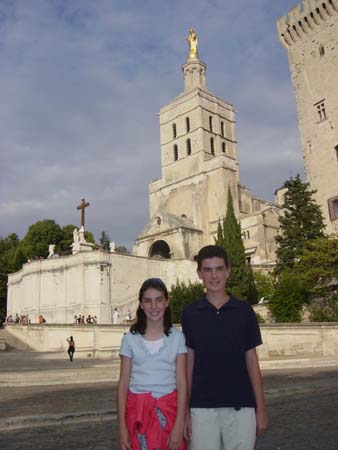 structure.
We enjoyed another nice meal in Arles, this time at Restaurant l'Escaladou on the way back this evening. We selected another restaurant serving traditional Provencal food. To our delight, this included several seafood dishes including terrines, a wonderful bowl full of tiny clams drenched in garlic and herbs. The kids were pleased to find Zeus waiting at our door when we arrived home and he was again invited to spend the night.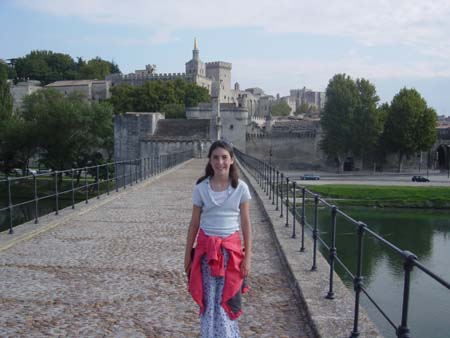 Tomorrow we will return to St. Remy-de-Provence and have made reservations for a walking tour that follows in Van Gogh's footsteps.
Distance Walked: 4.53 miles